Quincy cops brave frigid waters for good cause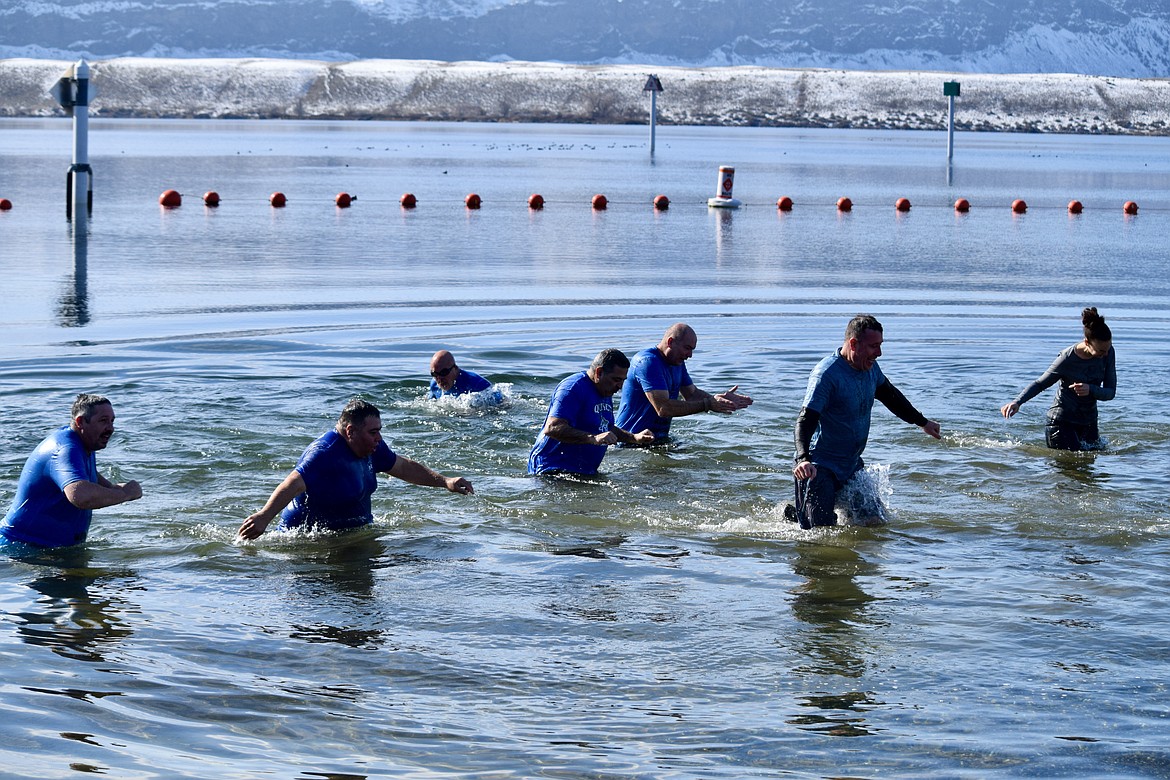 A group of Quincy Police officers start to make their way back to shore after taking the "polar plunge" on Saturday into the Columbia River at Crescent Bar to raise money for the Special Olympics. QPD officers raised over $4,500 for Special Olympics Washington during the noon event, and the water was cold, according to QPD Chief Kieth Siebert.
Charles H. Featherstone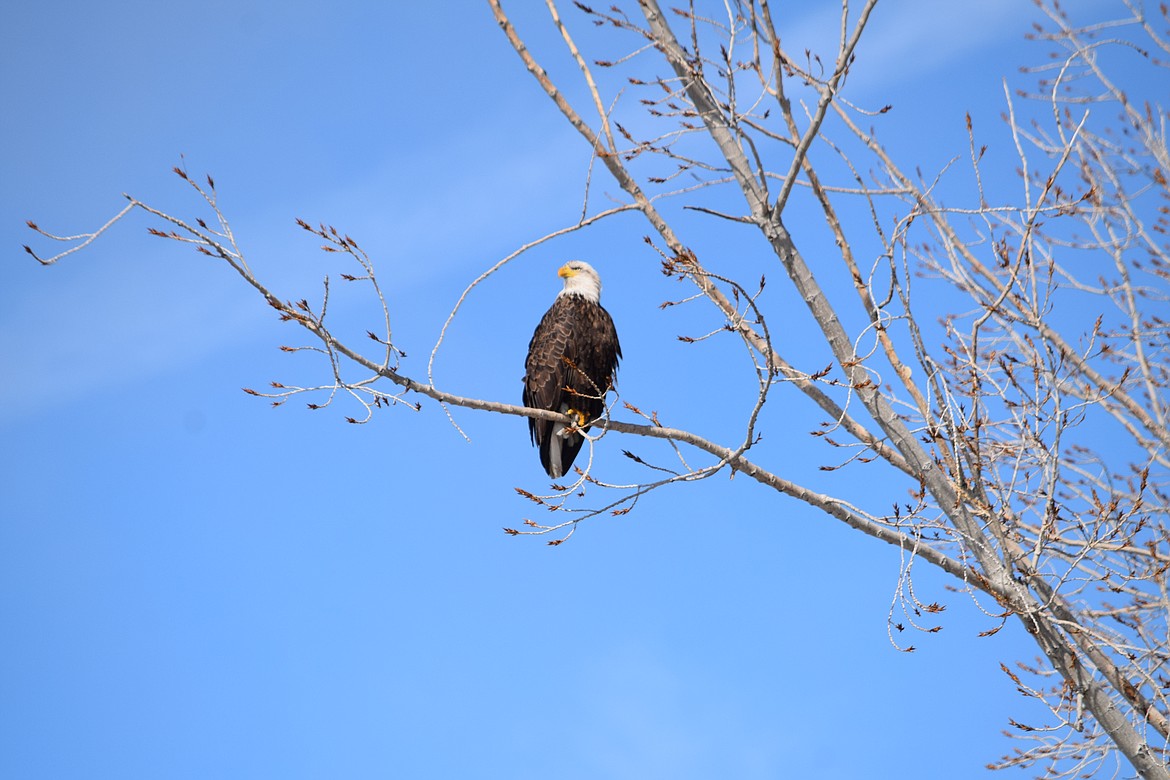 A bald eagle watches as Quincy Police officers prepare to take the Polar Plunge to raise money for Special Olympics Washington on Saturday at Chinook Park in Crescent Bar.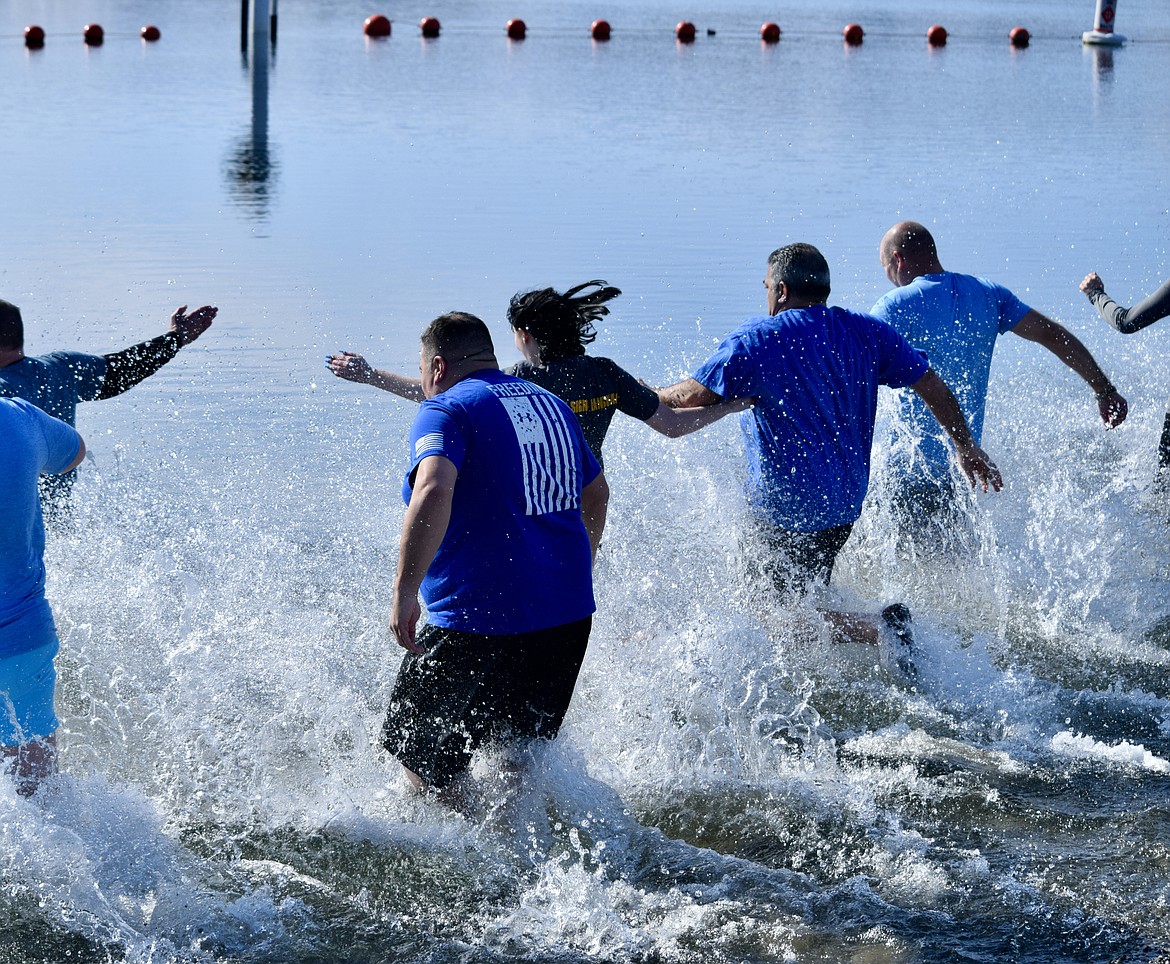 A group of Quincy Police officers take the "polar plunge" on Saturday into the Columbia River at Crescent Bar to raise money for the Special Olympics. QPD officers raised over $4,500 for Special Olympics Washington during the noon event, and the water was cold, according to QPD Chief Kieth Siebert.
Previous
Next
by
CHARLES H. FEATHERSTONE
Staff Writer
|
February 22, 2021 1:00 AM
CRESCENT BAR — It was a mad dash by nine Quincy police officers, department staffers and family members into the icy water of the Columbia River and mad dash right back out.
"That was exhilarating! That was the best rush … no, it was cold," said Quincy Police Chief Kieth Siebert, as he dripped icy Columbia River water. "I think that was the coldest water I've hit yet doing this."
It was the Quincy Police Department's annual "Copcicle," Polar Plunge, Saturday, part of Special Olympics Washington Polar Plunge Challenge meant to raise $350,000 statewide for Special Olympics programs. It's something the QPD has done for the last several years, Siebert said, and according to Special Olympics officials, as of Sunday afternoon, the agency raised $4,578 so far this year.
"People sponsor team members, and the challenge is to get into the water," said a shorts-clad Siebert before scrambling into the swimming area off Chinook Park. "You're supposed to go in and get completely wet, but I don't know how that's going to work."
"You get in, you get wet, you get out, and you do it as a group," Siebert added.
"Oh my gosh, it's freezing," said Juliana Mancini, 19, whose father Sal is the QPD's school resource officer. "Once I got in my past my knees, I was trying to figure out if I wanted to keep going."
Mancini went into the water because her father asked her to, and because it's for a good cause.
"I'm like, why not?" she said.
Siebert said the QPD took up the challenge from an East Wenatchee detective some years ago, and it's hoping to get more area law enforcement agencies involved in the Polar Plunge.
So far, Siebert said the QPD has had few takers.
"Grant County Fire District 3 is here. We challenged them to create a team and compete next year," Siebert said. "Whoever raises the least amount of money will buy breakfast, cook breakfast, serve it and clean up for the other team."
"They're pondering it," the chief added.
GCFD 3 Interim Chief Tony Leibelt was on hand Saturday, with other EMTs and firefighters, just to make sure none of the officers got into trouble as they scrambled in the water.
"We've got equipment, throw rope, life preservers, AEDs, and we brought the trailer so they don't freeze," he said.
But as for participating in the future, Leibelt said, "somehow, in some fashion," firefighters might join the police officers in the water. But not him.
"I don't like water that well. That's why I donated, so I don't have to go in the water," he said. "It's all for a good cause."
Charles H. Featherstone can be reached at cfeatherstone@columbiabasinherald.com.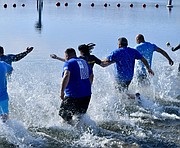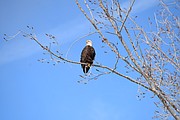 ---