Moses Lake team helps get rover safely on Mars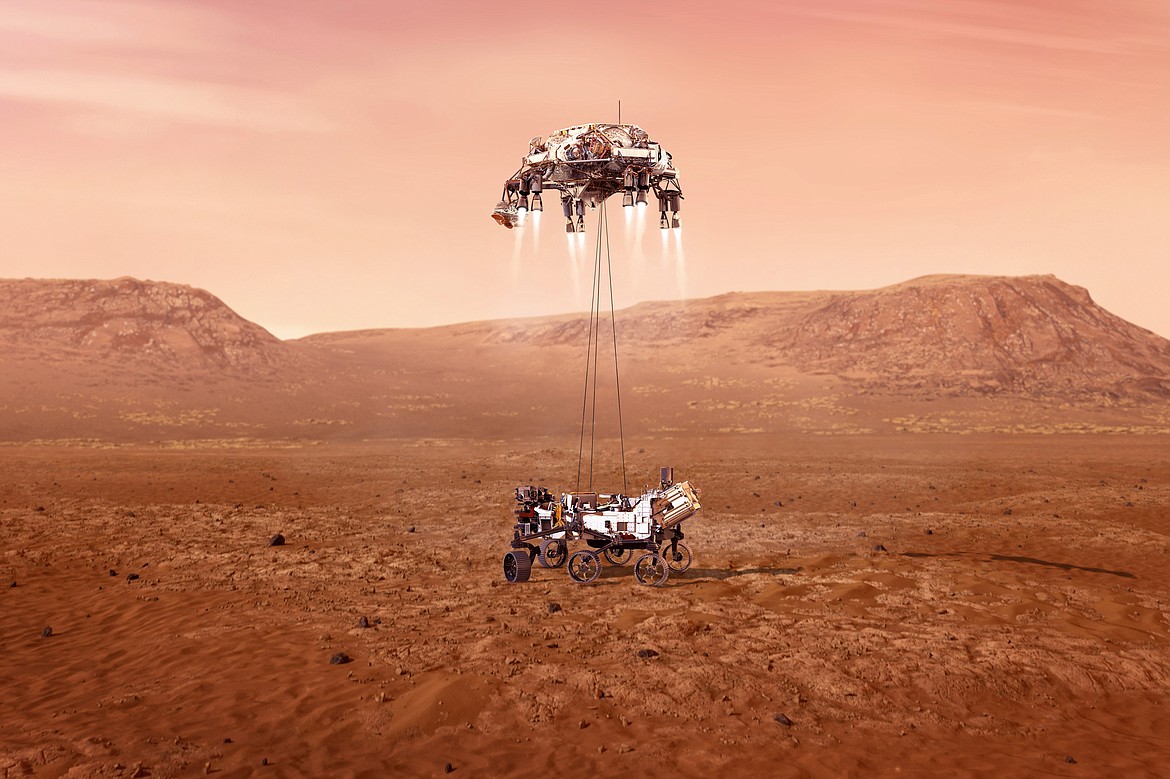 This illustration provided by NASA shows the Perseverance rover, bottom, landing on Mars. The landing was carried out successfully Thursday, with the help of General Dynamics in Moses Lake.
NASA/JPL-Caltech via AP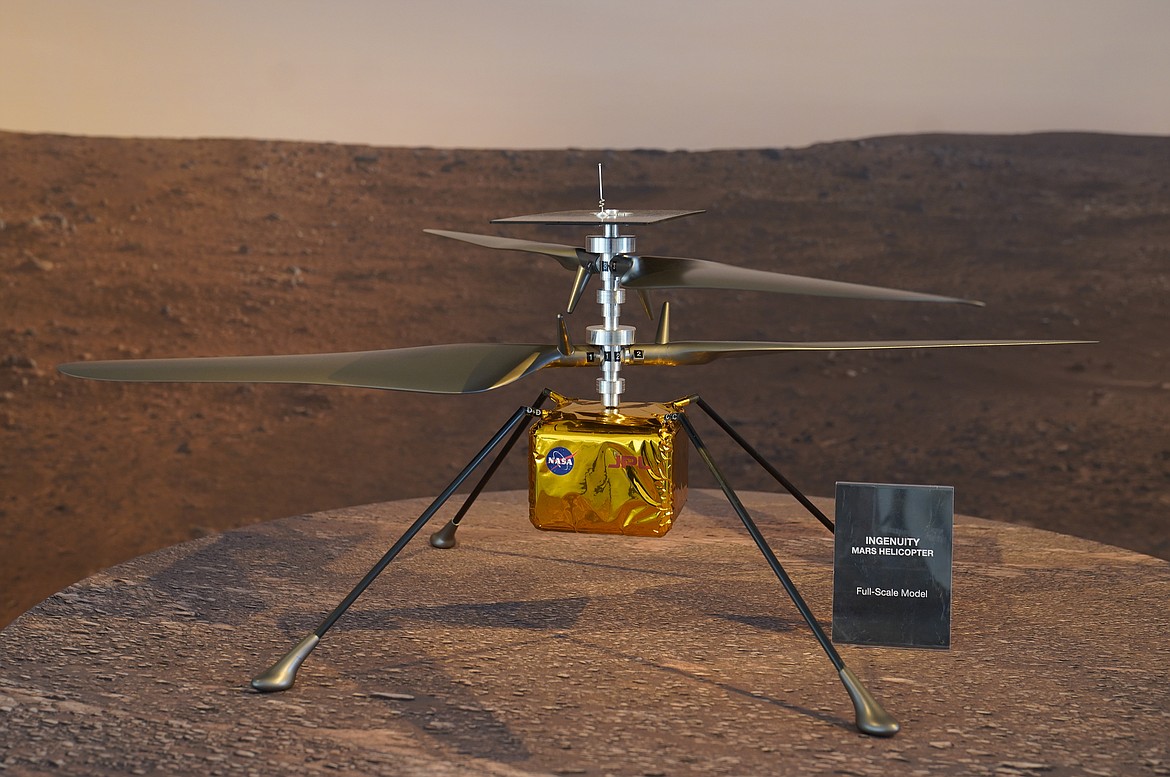 A model of the Mars Helicopter Ingenuity is displayed for the media at NASA's Jet Propulsion Laboratory Wednesday in Pasadena, California.
Previous
Next
by
CHARLES H. FEATHERSTONE
Staff Writer
|
February 22, 2021 1:00 AM
SEATTLE — It's getting a little easier for Paul Lichon to breathe whenever NASA attempts to land on the planet Mars.
But it's still nerve-wracking, he said, and the kind of thing that keeps him on edge the night before.
"We are more relaxed than yesterday," Lichon said during a Zoom interview Friday morning, the day after NASA's Perseverance rover touched down successfully on Mars.
Lichon is the director and general manager in Seattle of General Dynamics Ordnance of Tactical Systems Division's Seattle operations, which designs precision explosives for both NASA and the military.
Explosives used to deploy parachutes in the thin, Martian atmosphere, which are made and tested in Moses Lake.
"I have to admit that this is now the seventh time we've done this, so we're feeling a little bit more confident," Lichon said. "But it's always a worry because you never know what happens and if anything does happen, is it due to your equipment, or is it due to something else?"
"Until you hear back that everything is successful, that the parachute deployed, the spacecraft landed, you're kind of crossing your fingers behind your back," he said.
It has been a busy two weeks around the planet Mars, with the arrival of the United Arab Emirates Space Agency's Amal — Arabic for hope — orbiter on Feb. 9 and China's Tianwen-1 orbiter and lander on Feb. 10. The Chinese probe will spend the next few months scouting Mars for landing sites, and if all goes well, the rover is expected to touch down sometime in May or June.
But Perseverance and its experimental Ingenuity helicopter didn't get to slow down and look around for a place to land. They had to go from a 12,000 mph cruise from Earth to Mars to a safe landing, in what NASA scientists believe was a former river delta several billion years ago, in the space of around an hour.
For the 2,263-pound rover, which was launched last year, it was a nail-biting descent that required everything — including the deployment of the parachute in a way analogous to hurling a wadded up T-shirt out of a tee-shirt cannon — work exactly as intended at exactly the right moment.
According to Lichon, that meant some significant changes even as the company used skills it has gained from past Mars landings.
"This vehicle was heavier than all the other ones that have been flown," Lichon said. "And the parachute itself had to be sized differently and made of different material so that it could the job."
Everything about the design was both familiar and new, Lichon said. The vehicle's weight required tougher equipment to ensure the parachute would hold, Lichon said, so the General Dynamics teams in Seattle and Moses Lake worked closely with the parachute's manufacturer and with the Jet Propulsion Laboratory in Pasadena — the organization running the mission — to constantly hone the design of the explosive package needed to deploy the parachute.
"The entry, descent and landing team works very closely together on all aspects of it," Lichon said.
Still, like an airbag, Lichon said the deployment system is only one charge.
"I can't go into too many details, but it is basically one explosive, and that's why this is a critical, single point system," he said. "The explosion has to go off, or else the whole thing crashes."
Still, even knowing the system worked and helped to get the rover down safely on Mars, Lichon said there's still something to be learned, when the data comes, on how the system worked, including video from a host of cameras showing all aspects of the descent, even the unraveling of the parachute.
"Typically, all we have is data from pressures and timings and things like that," he said. "This time we'll have even a little visual information well."
If all goes well, Perseverance will spend the next few years wandering around Jezero Crater looking for signs of ancient martian life. The probe will also collect samples of martian soil, hopefully to be picked up and returned to Earth by a future European Space Agency probe.
Closer to home, Lichon said GD's Moses Lake operations will continue to manufacture and test explosives for NASA, this time to get astronauts safely home.
"We're working on the Orion program, doing parachute deployment systems along with some other things we do for NASA," he said. "That's being tested over in Moses Lake."
The Orion spacecraft, currently under construction, is set to be used in NASA's Artemis program to return U.S. astronauts to the moon by 2024. An unmanned test flight of the first Artemis mission is expected later this year.
Lichon is happy to bask in the glow of a safe landing on Mars, but he is also hopeful of more work, getting astronauts back home and probes safely to the surface of distant worlds.
"I appreciate the success we had yesterday," he said on Friday. "And I look forward to continuing to work with NASA on other opportunities like that."
Charles H. Featherstone can be reached at cfeatherstone@columbiabasinherald.com.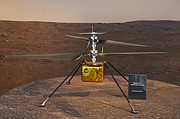 ---