MLSD nurses help keep bodies and souls together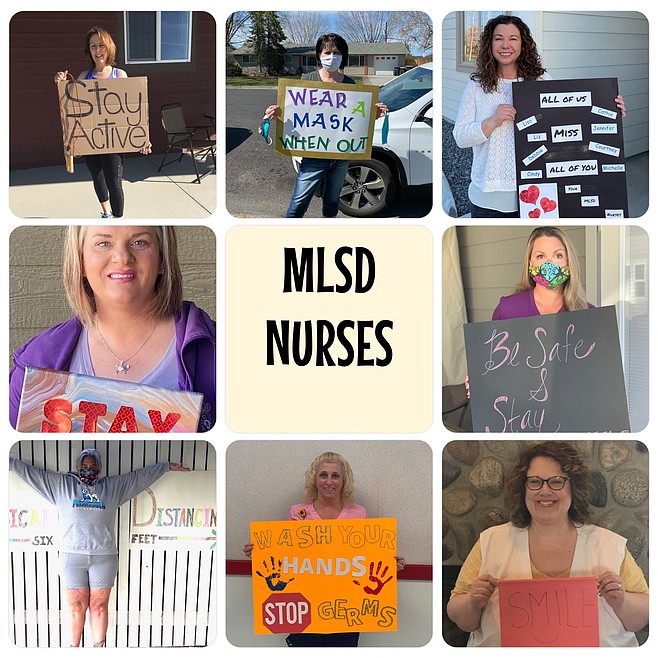 The Moses Lake School District's eight school nurses (clockwise from upper left): Jennifer Zook MaGee, Lisa Ballard, Debbie Johnson, Courtney Russell, Cathie Hunt, Cindy Welsh, Liz Pray, Michelle Starnes. The Moses Lake School Board honored the nurses during the Thursday, Jan. 14 meeting.
Courtesy Photo Cathie Hunt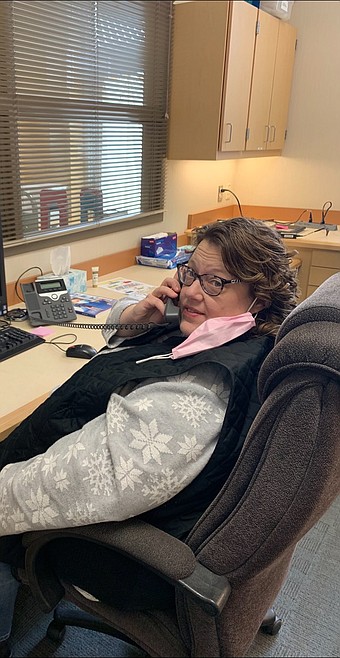 Moses Lake School District Nurse Cathie Hunt hard at work in her office at Park Orchard Elementary School.
Previous
Next
by
CHARLES H. FEATHERSTONE
Staff Writer
|
February 19, 2021 1:00 AM
MOSES LAKE — Moses Lake School District Chief Operations Officer Joe Connolly has some advice for school districts looking to reopen their schools.
"Make sure your school nurses are part of your reopening effort," said Connolly during a school board meeting in early January. "We wouldn't be where we are without the work of these eight individuals."
During that meeting, Connolly honored the MLSD's eight school nurses — Jennifer Zook MaGee, Lisa Ballard, Debbie Johnson, Courtney Russell, Cathie Hunt, Cindy Welsh, Liz Pray, Michelle Starnes — for helping to keep the district running during the COVID-19 pandemic, which saw the schools closed, and then reopened with a number of restrictions — masking, social distancing, deep cleaning — the pandemic has imposed.
"This group of talented people has really gone in so many directions, working individually with students and families with their own potential exposures and risks," Connolly, a former health care administrator, said. "I have never heard one of them even complain or say, 'Why me?'"
"I can honestly say it is a blessing to work alongside each one of them," Connolly said.
For the nurses, it's just a matter of doing the jobs they have been called to do.
"We get to keep these kids in school, and that's a great thing," said Jennifer Zook MaGee, the nurse at Chief Moses Middle School and Midway Elementary.
A nurse for 22 years, MaGee said she has worked in the MLSD since October 2019, after moving here from Tonasket — just before the pandemic hit — and went into nursing because she always liked helping people and as a child, watched how nurses in particular helped care for the sick people she knew.
"Nursing seemed to be the best way to help people live the life that they could," MaGee said.
"I love kids, they're so full of life," MaGee added. "I've worked in doctors' offices, hospice and surgery, but I've done school nursing the longest. I just love being around kids. They keep you on your toes."
MaGee said the biggest part, for her, has been communicating with parents, especially as state and federal guidelines have changed over time.
"Communicate and educate," she said. "Keeping track of the number of students who are out with symptoms, if anyone needs to be quarantined, and keeping that information correct."
Hunt, who has worked for the MLSD for 20 years and is currently the school nurse at Park Orchard Elementary, also said she became a nurse because she likes helping people stay healthy, emotionally and physically.
"I fell in love with school nursing during my nursing school internship," Hunt said. "You can really help students and staff."
Because the job is not just caring for students, but looking after the well-being of staff, Hunt said. And that's been especially important during the pandemic as nurses had to work closely with school administrators to get schools open and keep them open.
"It was stressful making sure everyone is emotionally and physically healthy," she said. "The emotional is the bigger part for students and staff."
Hunt said nurses have been busy contact tracing when students were sick, working with the Grant County Health District to keep schools and school districts up to date on the latest pandemic information, and help craft and implement any changes to district policies.
"COVID-19 is ever-changing, so we have to stay up to date," she said. "It's challenging, but we're okay."
She even said nurses regularly reach out to staff who tested positive and were quarantined to make sure they are OK.
"We check in on them," she said. "We're just being a support."
Sometimes, Hunt said it can be a simple matter of letting people know they aren't facing this stressful time alone.
"If I see somebody that's stressed at school, I'll reach out," she said. "There are people out there who care."
But Hunt was also emphatic — she's just a part of a very big team that includes not only nurses, but teachers, office staff, cooks, bus drivers and custodians, who are working hard to keep schools open.
"I just want everyone to know that we are a part of a big team and we are all equally as important to make this work," she said.
Charles H. Featherstone can be reached at cfeatherstone@columbiabasinherald.com.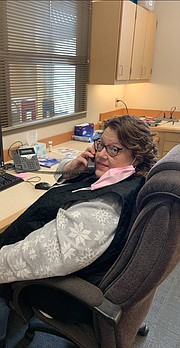 ---