Marjorie 'Peggy' Estella Sanislo (McNamera)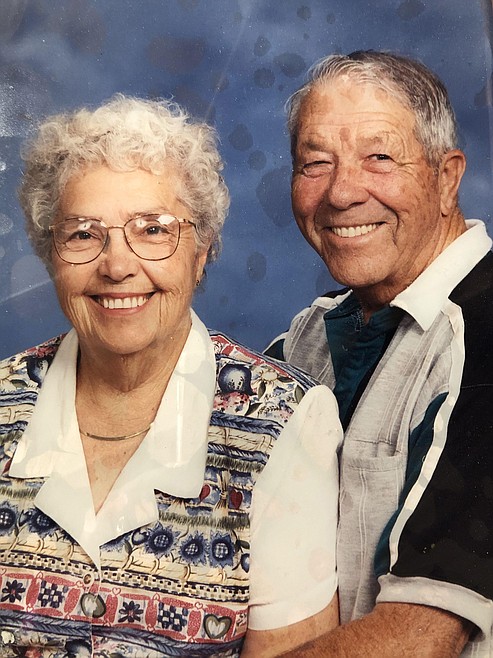 |
February 19, 2021 1:00 AM
May 17, 1921 – January 30, 2021
Peggy passed peacefully on Jan. 30 after almost a century of living "the good life." There was no stranger she knew and no favorites to be had. Peggy had a long productive life filled with family and friends whom she adored. Peggy was a mother to three children Mike, Ron and Tanna; Aunt Peg to so many and Granny Peg to so many more. Peggy charmed many strangers with her brilliant smile and quick wit. She was a vibrant soul who loved the Lord, family, friends and life.
She was born in Yakima, Washington, on May 17 or 18, depending on which story she wanted to tell if you asked. Peggy is preceded in death by her spouse Richard "Dick" Sanislo and her son Mike. Peggy is survived by one of eight siblings Paul (Bonnie) McNamera of Lakeside California; 2 children Ron (Cindy) Sanislo of Moses Lake, Washington, and Tanna (Edward) Taylor of Waynesville, Michigan; multiple nephews and nieces and a legacy of grandchildren, great-grandchildren and great-great-grandchildren who adored her.
Peggy, being born and raised in the Yakima Valley, knew Wenas, Nile and Ahtanum Ridge as home to many memories she shared with her loved ones over the years, memories like riding horseback across Ahtanum Ridge, walking miles to school in the snow as a child in Wenas and Nile and playing on Mount Clements with siblings. Being one of the oldest children, she spent lots of time being "second mom" to her siblings Bill, Mike and Paul.
Once she met Dick and married they made their home in many areas of Washington, but settled for several years in the Moses Lake area. Peggy spent many years as a stay-at-home mom raising her three children while Dick worked as a big rig backhoe operator across the state. After Mike, Ron and Tanna grew up and moved on, Peggy decided to pursue a career in home interior design. Over the next 15 years, she found her niche being a very successful consultant based out of the Moses Lake area, beautifying homes across Central Washington.
After Dick and Peggy retired they took up snowbirding in the warmer climates of the south, California and Arizona, and riding their Goldwing motorcycle with family and friends until the passing of Dick in 1997. Peggy loved the great outdoors, with her favorite places being within eyeshot of a garden or flowers she could watch grow and birds she could listen to singing. She spent many years camping with family and loving the huckleberry fields. She loved harvesting from the garden and munching on its produce. When inside she spent many hours reading and playing handheld games, and she also had a love for putting puzzles together with grandchildren. "Let's eat our dessert before dinner," she would say. Peggy had a true sweet tooth.
After Dick's passing, Peggy returned to the Yakima area where she was surrounded by many family members. Another of her favorite pastimes was going to church and then finding a small group to share coffee and chatter with. Peggy spent many years in her 70s and 80s traveling with her daughter Tanna and husband Edward. She loved adventure which she found wherever he went. She spent eight years in Hawaii off and on, but would once again settle back in the Yakima area. One of Peggy's most treasured adventures was traveling with a friend to Rome in her mid-80s, which was organized by Holy Family Catholic Church. Peggy would often be seen holding a rosary.
Family and friends are encouraged to attend a Mass of Christian Burial at St John Catholic Church in Naches, Washington, hopefully in the month of May 2021.
---