Ephrata senior O'Neel picks University of Montana Western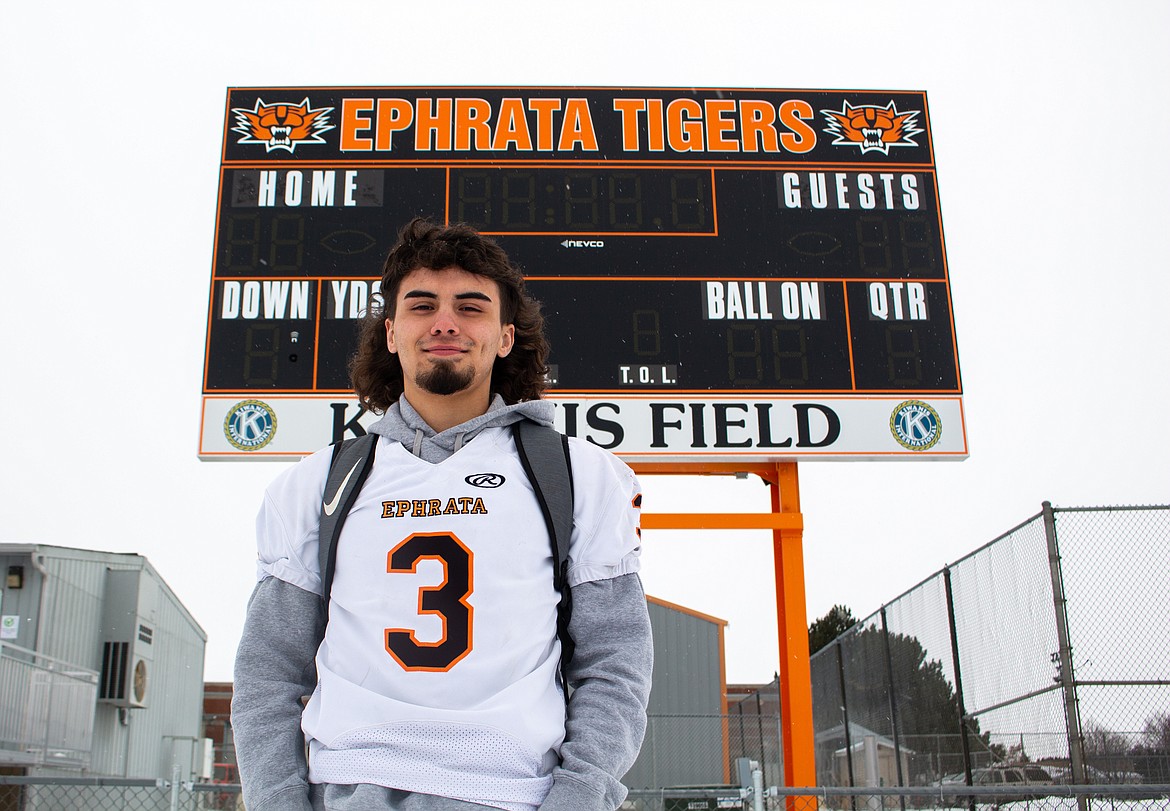 Ephrata High School senior Tony O'Neel stands behind the end zone at Kiwanis Field in Ephrata on Thursday afternoon.
Casey McCarthy/Columbia Basin Herald
by
CASEY MCCARTHY
Staff Writer
|
February 19, 2021 1:00 AM
Staff Writer
Ephrata High School senior Tony O'Neel extended his football career when he signed a commitment last week to join the University of Montana Western in the fall.
O'Neel was all over the field for the Tigers in his first three seasons and said it was exciting to secure his dream of playing college football.
"With the way COVID is going on and Washington not being able to play much, I didn't think I was going to get the opportunity," O'Neel said. He visited the University of Montana Western in early February, "and I really enjoyed the place, enjoyed the coaches."
He said UMW's recruiting coaches kept up with him almost every day after first reaching out. The steady contact helped him recognize they really wanted him and made his decision feel like the right choice.
The Ephrata senior said he's been sort of an "all-position" type of player at the high school level, but will be playing wide receiver in college. O'Neel said the team already has some studs at wideout and is excited for the chance to learn fron them during his first season.
"It's gonna be super awesome for me. I've always liked to learn more about the game," O'Neel said. "I'll probably put some weight on my first year, I'm redshirting. I've got a lot of time in the weight room to focus on myself so I'm hoping to put on maybe 25 pounds next year by the end of the season."
The Ephrata Tigers football team hit the field for its first practices this week, with the spring season on the horizon.
Being back on the field has him pumped, O'Neel said.
"We've had two practices this week, and every day the team's bringing the momentum," O'Neel said. "They love the fire because, heck, we had the season torn away from us, and now we get a second chance to get out there, and our whole team is making sure we don't waste it."
For himself, O'Neel said he doesn't really set personal goals and really doesn't care about who scores or who gets the ball. He only cares about wins.
Facing off against some tougher and unfamiliar opponents this season as the lone 2A school in the NCW Region will be a challenge the team will feed from, he said.
As a senior, he is looking to take a larger leadership role this spring.
"With our other guys leaving, Carter Mills, Mac Laird, I know I've got a big leadership role to take on with the guys every day," O'Neel said. "I try to keep them involved, talk a lot during practice, keep them motivated to keep trying better."
O'Neel said it helps having a big group of seniors around him to work with.
The EHS senior credited role models ahead of him in the program. He said Ephrata Coach Jay Mills did a great job of including him, even from when he was a sophomore.
As the season kicks off for O'Neel and the Tigers, he said he's looking at winning at least three of the five games scheduled. And to give himself something to shoot for, he said he's hoping to have 15 touchdowns — three per game.
(This article has been updated from the original to provide the correct name of the University of Montana Western.)
---