Spring Market prevails at fairgrounds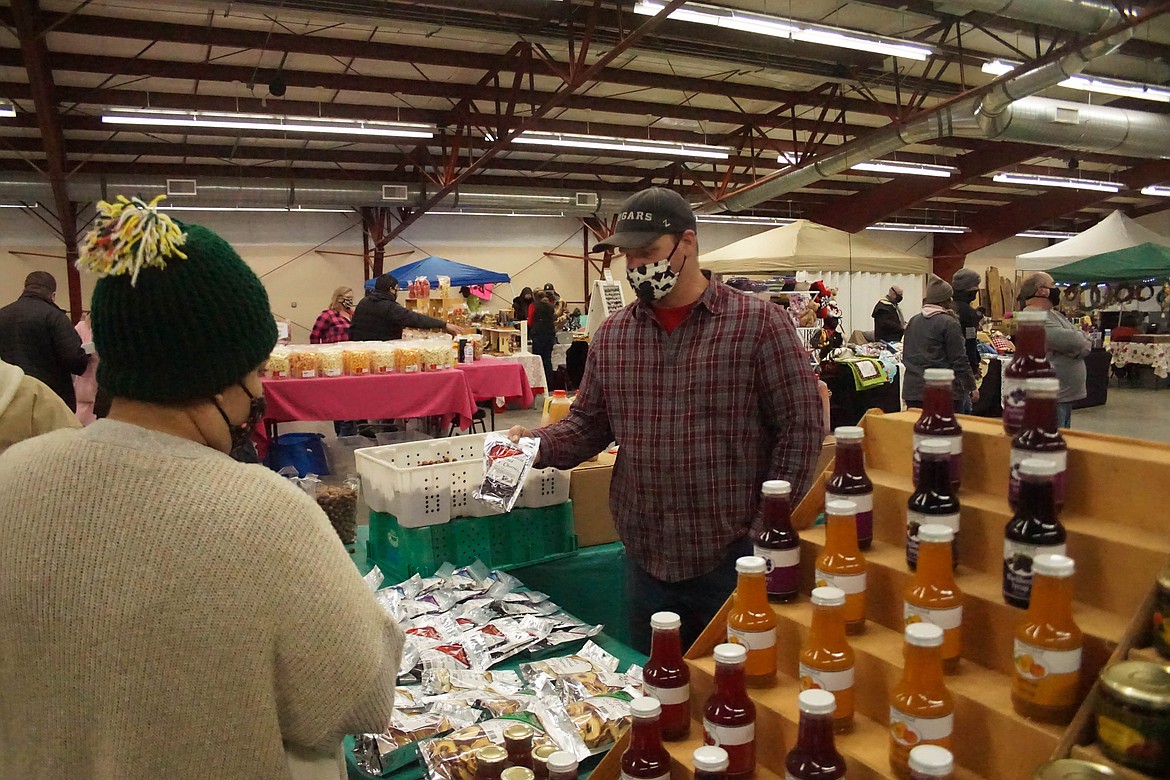 Mark Rowley of Fresh Picks, WA, displays chocolate covered cherries at the spring farmers market on Saturday.
Sam Fletcher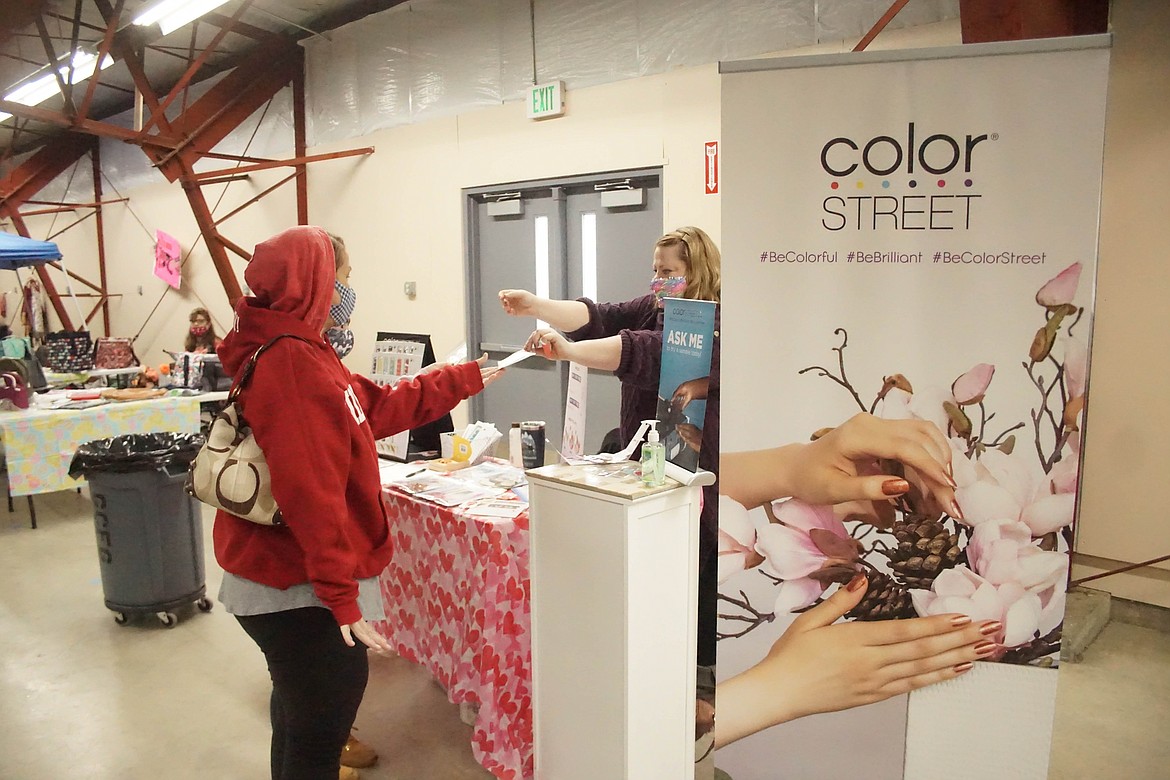 Ashly Beebe of Color Street, hands out nail samples at the spring farmers market on Saturday.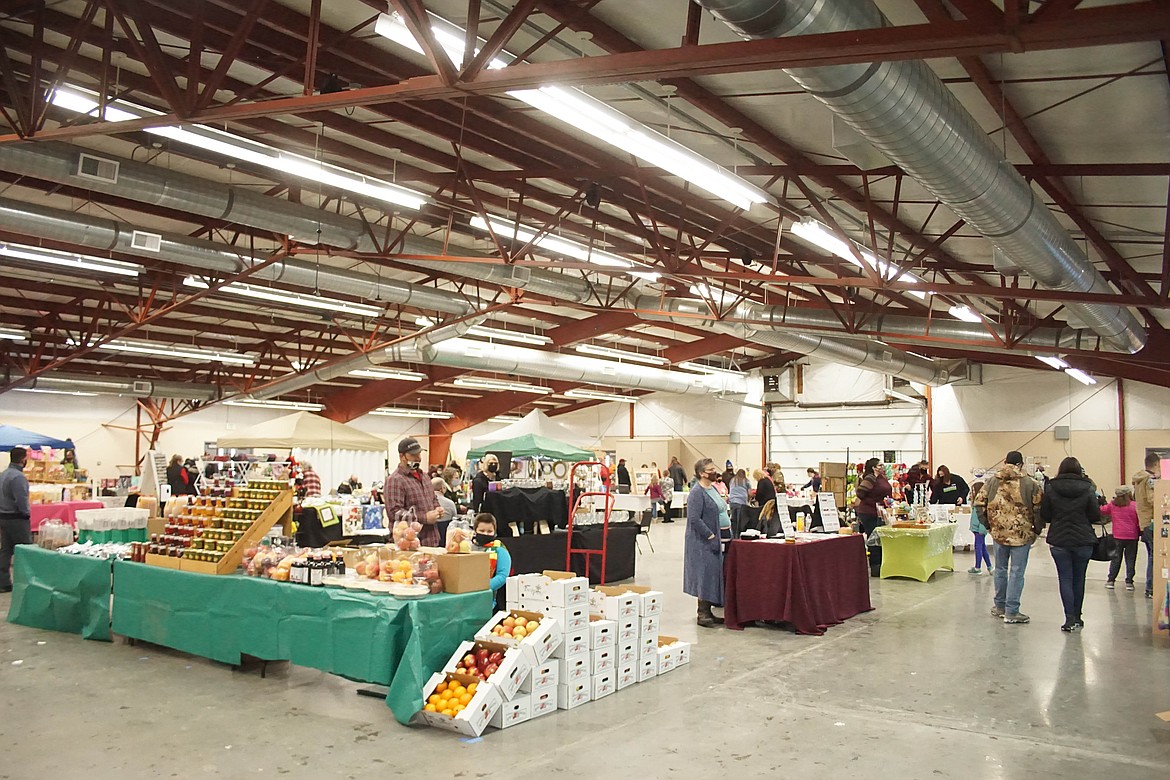 Around 40 booths filled the Grant County Fairgrounds commercial building for the spring farmers market Saturday.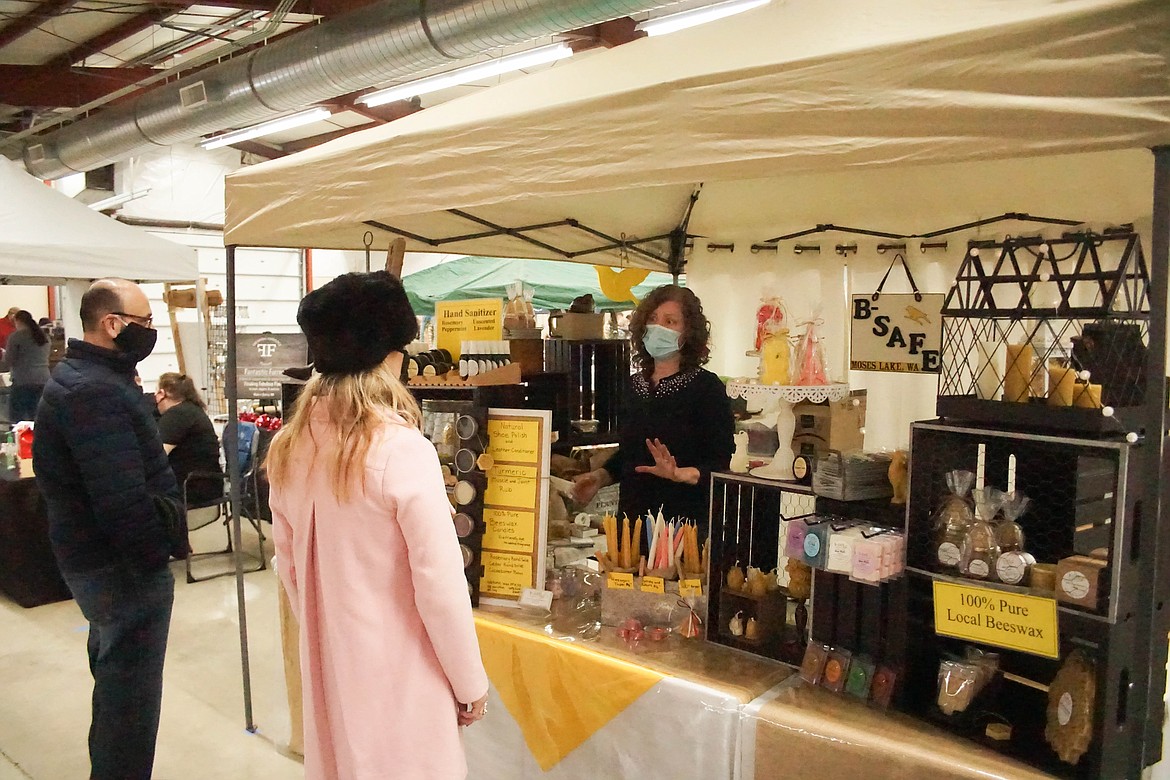 Brenda Herat of B-Safe Products, discusses her different soaps at the spring farmers market on Saturday.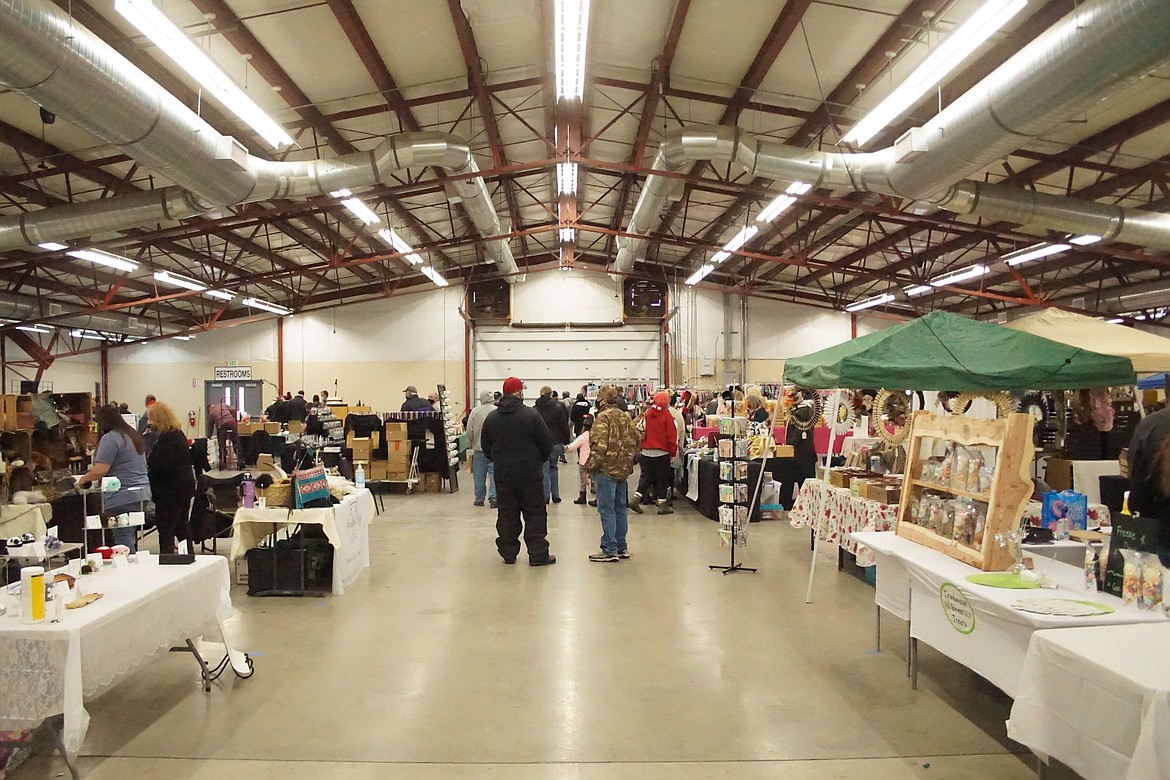 The Grant County Fairgrounds Commercial Building homed Saturday's spring farmers market.
Previous
Next
by
SAM FLETCHER
Staff Writer
|
February 17, 2021 1:00 AM
MOSES LAKE — The Moses Lake Farmers Market board was worried the annual Spring Market wouldn't happen right up until the day of the event.
The markets have faced significant obstacles, said Jeremy Quilter of the market's board of directors. Despite the success of the summer farmers markets, COVID-19 restrictions nixed the winter one.
"We as a market work really hard to make sure that our patrons are protected, and their safety and well-being is always our first priority," Quilter said.
While they normally hold the "offseason" markets at Columbia Basin Technical Skills Center, the building was unavailable, he said. Working closely with the Grant County Health District and the Grant County Fairgrounds, organizers set up shop Saturday in the fairgrounds' commercial building, at 3953 Airway Drive NE.
"Grant County's in a really good place where we feel comfortable and competent to follow the guidelines and still be able to open up," Quilter said.
Formally known as Cupid's Market, it's now named after the end of winter. The new location and ongoing pandemic restrictions weren't the Spring Market's only obstacles. The night before the market came one of the heaviest snowfalls of the year.
Despite all of these hurdles, the market prevailed.
Around 40 vendors built a maze in the fairground's commercial building, with tables displaying leather bags, engraved glasses, clothing, soap, lures, candles, woodwork, metalwork, lawn ornaments, pottery, jewelry, cider, honey, popcorn, baked goods, rubs, pies and more.
Patrons weaved about the rows, sheltering from the snow and cold, enjoying a diversity of samples.
Saturday was Brenda Herat of B-Safe Products's third Spring Market, she said. This was the most unique.
"We're in a whole different location," she said. "I'm excited people are coming out even though it's snowing."
Color Street's Ashly Beebe was signed up for the canceled winter market, she said, making this her first time at the Moses Lake Spring Market.
While the pandemic and the weather meant goings were slow, she said she's happy they were having one at all.
Many vendors rely on the markets for their income, Quilter said. That's why, despite all the concern, it was important to keep the farmers markets alive and running.
"We are small business owners, and we're locally-owned and locally-sustained," Quilter said. "With restrictions, we were able to still open our farmers market here in town, but we weren't able to travel, the way it was set up in a different county, so it hurts."
None of it would be possible without Moses Lake's community, he said.
"Our vendors are awesome. Our patrons are awesome, and it was neat to see new families and new people coming through the market that we hadn't seen before."
Also on Quilter's list of praise are the organizations sustaining the community.
"I think the fairgrounds really needs to be recognized for all of the work they've been putting into our community," he said. "The Grant County Health (District), they're amazing people, and they're working so hard to make sure our community can continue to thrive."
Sam Fletcher can be reached via email at sfletcher@columbiabasinherald.com.
---