Face coverings, social distancing still vital in Phase 2
by
CASEY MCCARTHY
Staff Writer
|
February 17, 2021 1:00 AM
While more of the state has moved into Phase 2 of the reopening plan, the importance of following social distancing and safety guidelines for COVID-19 are still important to avoid steps backward, said a local doctor.
Dr. Zubair Ali is an adult and internal medicine physician with Samaritan Healthcare in Moses Lake and discussed over the phone Tuesday the importance of the "norms" of wearing a mask and social distancing.
"It's hard not to sort of just jump out there and go back to what was normal before," Ali said. "It kind of feels like we're at the end of the school year and everyone's about to get released into summer and that first day everyone's throwing their papers around in the air."
Ali said we can't do that as a community because the risk of infection still remains and a small percentage of the population has received their vaccinations. He said as more people are vaccinated and the infection rate continues to drop, things will be safer. But he said it won't be an overnight thing.
Rate of death is still very high in the United States and specifically here in Moses Lake, Ali said. Thankfully, he said infection rates are coming down, but still remain above the national average.
Interacting with COVID-19 patients who need treatment during his rounds at the hospital can be sad, he said, especially when they were following the guidelines and got the virus from someone who maybe was more active.
"You're not only protecting yourself, you're protecting your family, your parents, your grandparents and your children," Ali said. "It's a community effort to stop these things."
Ali said, as a people, we stopped these things before, mentioning viruses such as mumps, measles and polio.
He said he isn't sure what the "magic number" is we'll need to reach before things can get back to normal. Once somewhere between 60% to 80% of the population is vaccinated, Ali said it will probably be safe to return to normal depending on recommendations from the Department of Health.
"We don't know that yet and there's still people getting sick all the time," Ali said.
After a rough period for case numbers early this winter, numbers fell, making way for the region locally to move into Phase 2. Ali said it was interesting to see the numbers go down recently.
Generally, he said wintertime is when infection rates for viruses like influenza go up, with people being close together indoor for a long time.
"I think it has less to do with being stuck indoors and not being able to go outside and more to do with everything starting to work in terms of vaccines, social distancing and hand washing, things like that," Ali said.
He said people should think about a family member who is either at risk or hasn't been infected yet, which could encourage social distancing guidelines.
Elderly patients have been among the worst affected, Ali said. Many of his patients avoided health care altogether due to fear of contracting the virus and let some other health issues, like blood pressure or diabetes, go unchecked, he said.
Other patients typically go to Canada to get their medication at a cheaper price and have been unable to do so with the borders closed down in the past year, Ali said.
"We need to do anything we can to protect our community members and that does mean playing our role in wearing masks, continuing to socially distance, washing our hands, using hand sanitizer and if you've been exposed or have someone you might think you may have been exposed to, isolating and taking care of these things," Ali said.
Casey McCarthy can be reached via email at cmccarthy@columbiabasinherald.com.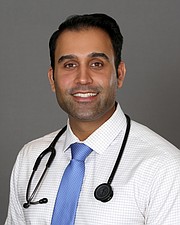 ---