Othello business owners glad to get to Phase 2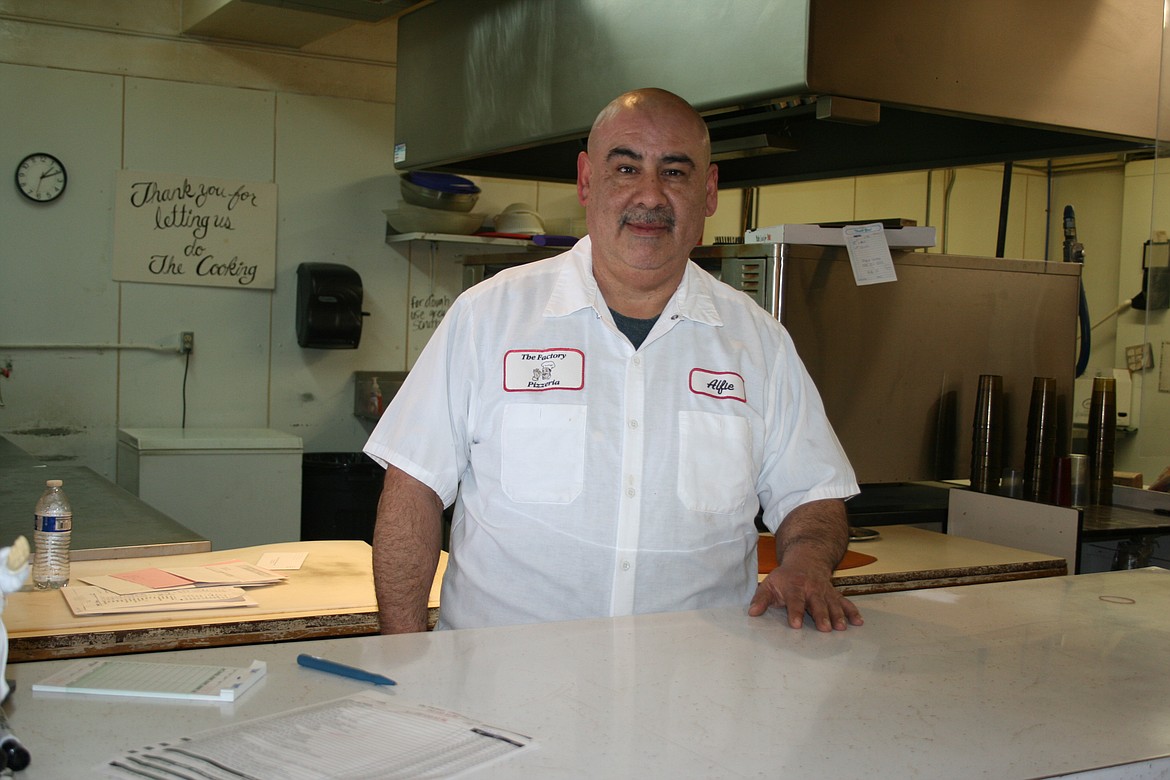 Alfred Voorhies, manager of the Pizza Factory restaurant in Othello, in his kitchen. The restaurant will reopen for in-person dining today.
Cheryl Schweizer/Columbia Basin Herald
by
CHERYL SCHWEIZER
Staff Writer
|
February 16, 2021 1:00 AM
OTHELLO — Traditionally, the Pizza Factory is closed Monday, but manager Alfred Voorhies was in the shop, getting ready for Tuesday.
For the first time since November, the restaurant's dining room, at 103 S. First Ave., is open for limited in-person dining.
Nancy Gonzalez, co-owner of Checo's Mexican Grill, said the plan was to open dining, at 1180 S. First Ave., Monday. But the combination of a snowy morning and President's Day meant reopening had to wait until Tuesday, and hopefully better weather, she said.
Othello and Adams County, along with the rest of eastern Washington, was in Phase 2 of the reopening plan imposed by Gov. Jay Inslee. Inslee announced Thursday most eastern Washington counties were eligible for Phase 2 and the rest were eligible Sunday.
Among other things, restaurants are allowed to reopen for in-person dining up to 25% of the building's capacity. Gyms also can reopen up to 25% of building capacity, but the owner of Anytime Fitness in Othello was not available for comment.
Restaurants were allowed to offer outdoor dining prior to Phase 2 and some restaurants used tents and heaters. The Ironworks Cafe & Market, at 335 S. Broadway Ave., met requirements by opening its big sliding door. Owner Erika Rattray said she was happy to advance to Phase 2.
"We're excited to be able to not have our door open, and it's warm," Rattray said.
Rattray said she returned from a trip to Coeur d'Alene, where the rules have been less restrictive than in Washington. The chance to meet friends and go out for a few hours does a lot for mental health, she said.
"Much better," Gonzalez said. "It's no fun being closed."
Voorhies was outside, where some friends were plowing his parking lot Monday. Othello residents have done what they could to support the Pizza Factory and other businesses during the lockdowns, he said.
"The community has been very supportive of businesses that have tried to stay open," he said.
Customers gave a couple of his workers extra tips, he said, and offered to help out if he needed it.
"To make sure they (the workers) are okay. To make sure we're okay," he said. "It's just been awesome,"
Most of the Pizza Factory's business was takeout, he said, so the pandemic didn't have the impact it would have if the restaurant depended on its dining room. But Voorhies said he was ready to reopen.
"It means I get to see my customers," he said.
The interaction with customers was sorely missed, he said.
"What I do miss is seeing the kids, seeing the people." Voorhies said.
(This story has been updated to reflect the correct spelling of Erika Rattray.)
---