Basin business owners, community members discuss moving to Phase 2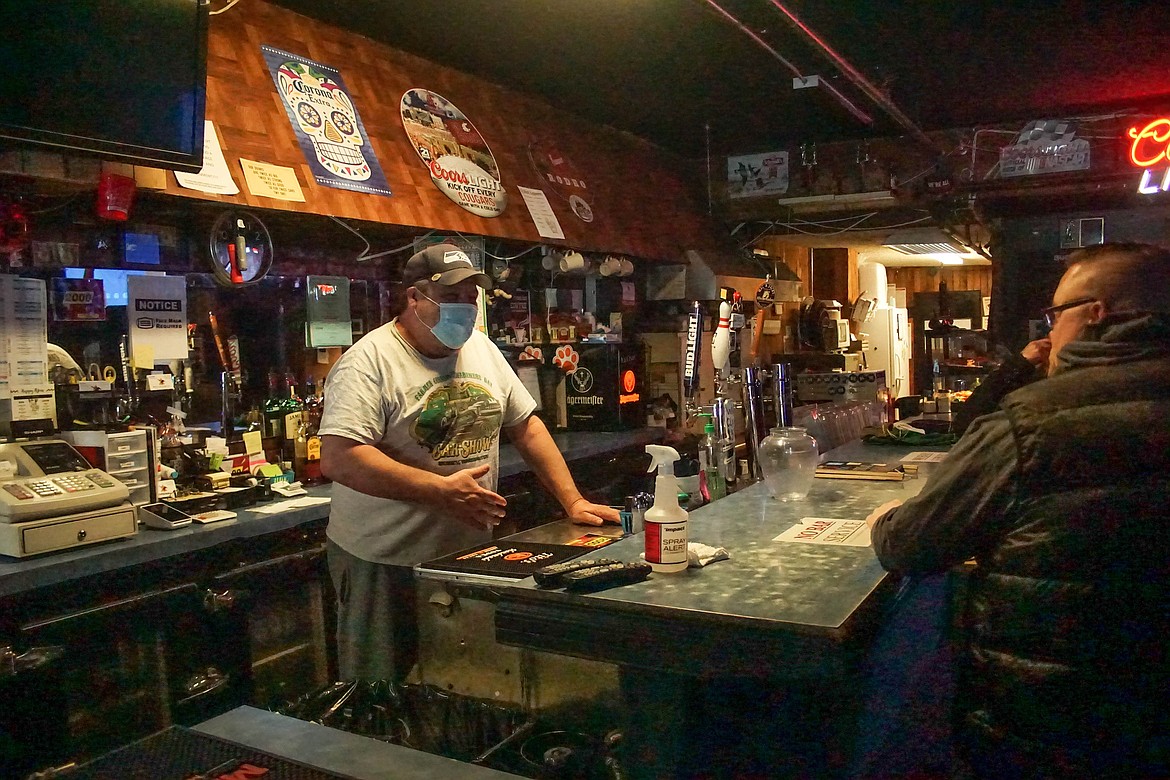 Clay Ripperger serves patrons on the first day of phase two at Big Daddy's Sports Bar in Ephrata.
Sam Fletcher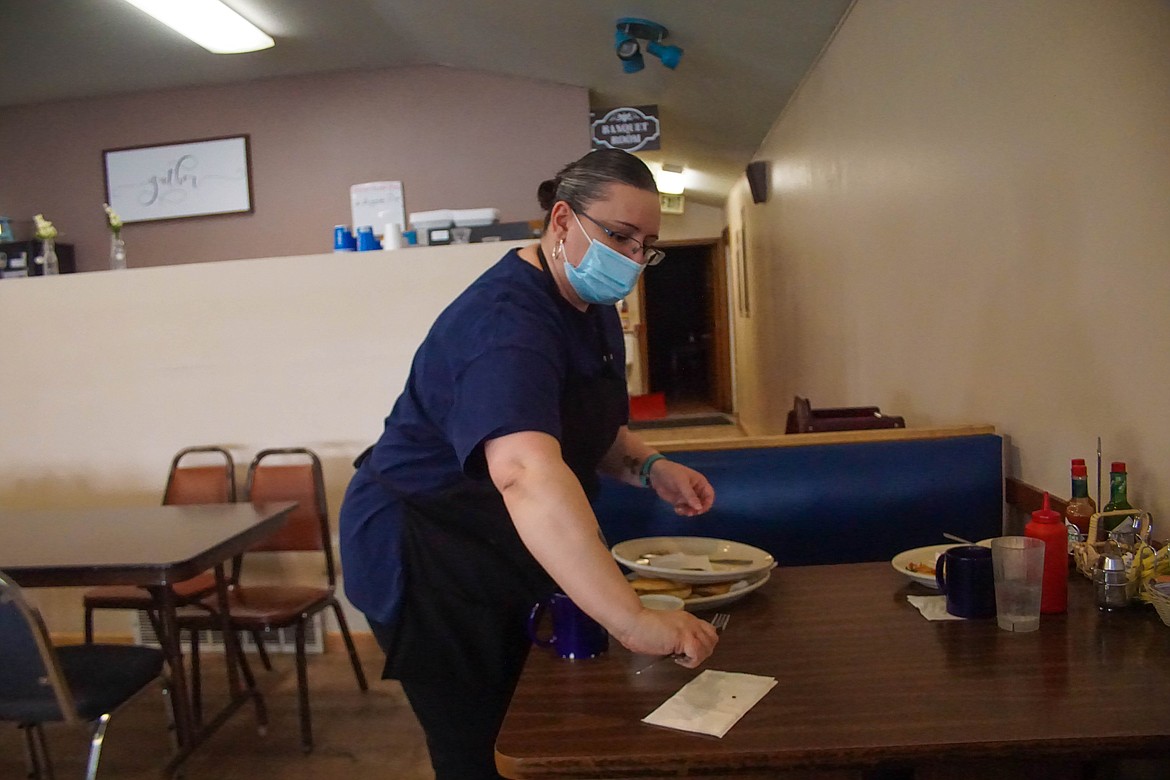 Megan Belize buses tables at The Country Deli in Ephrata.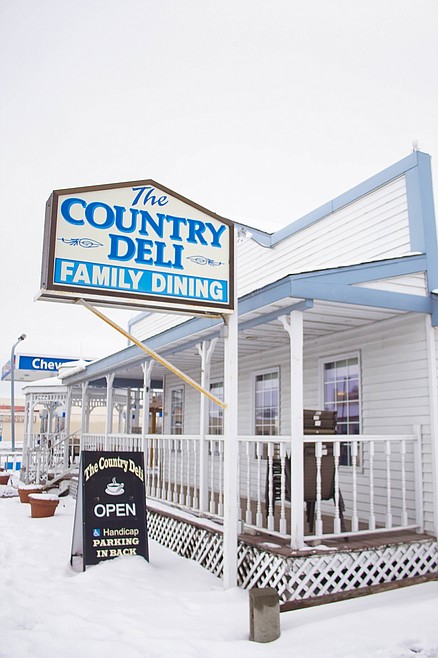 The Country Deli at 245 Basin Street Northwest in Ephrata.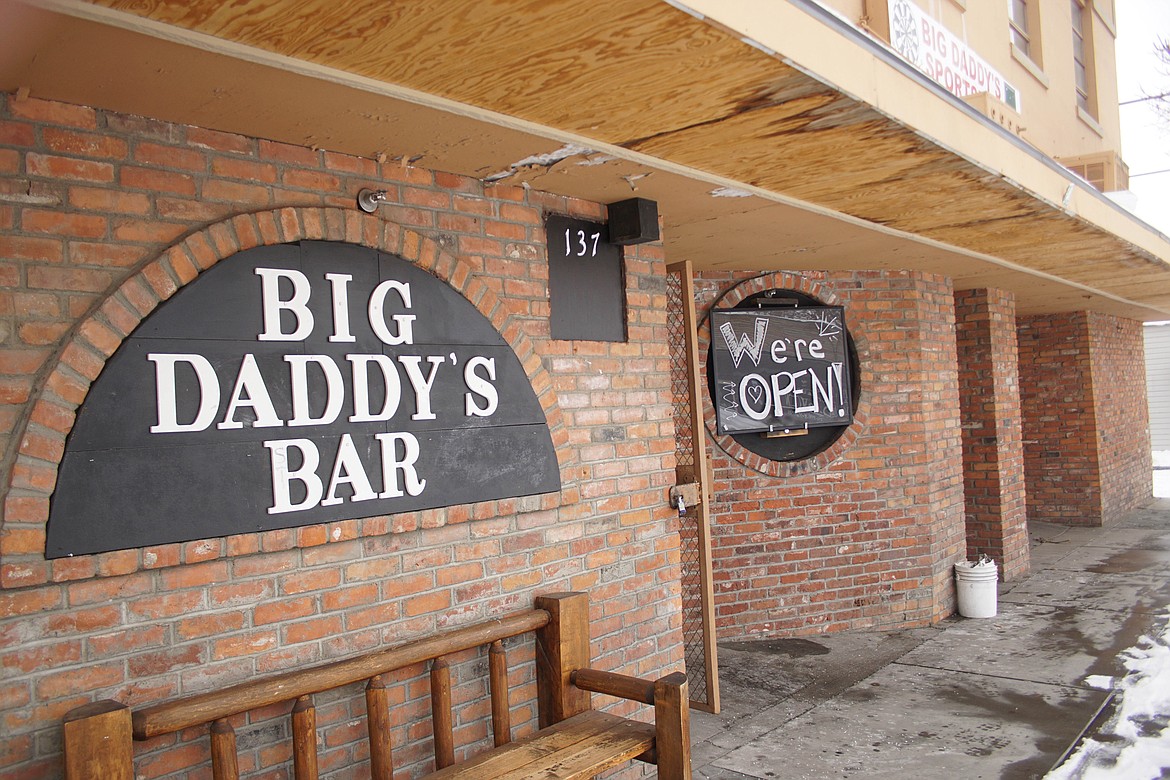 Big Daddy's Sports Bar at 137 1st Ave. Northwest in Ephrata.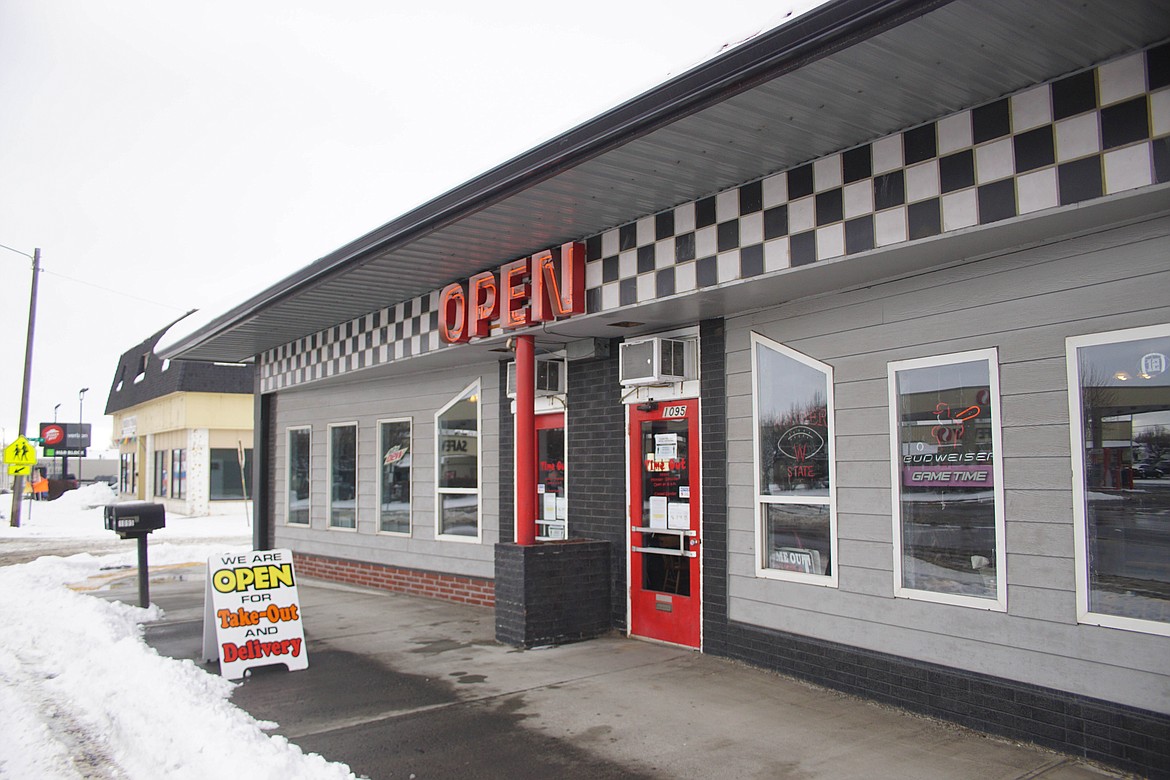 Time Out Pizza at 1095 Basin Street Southwest in Ephrata.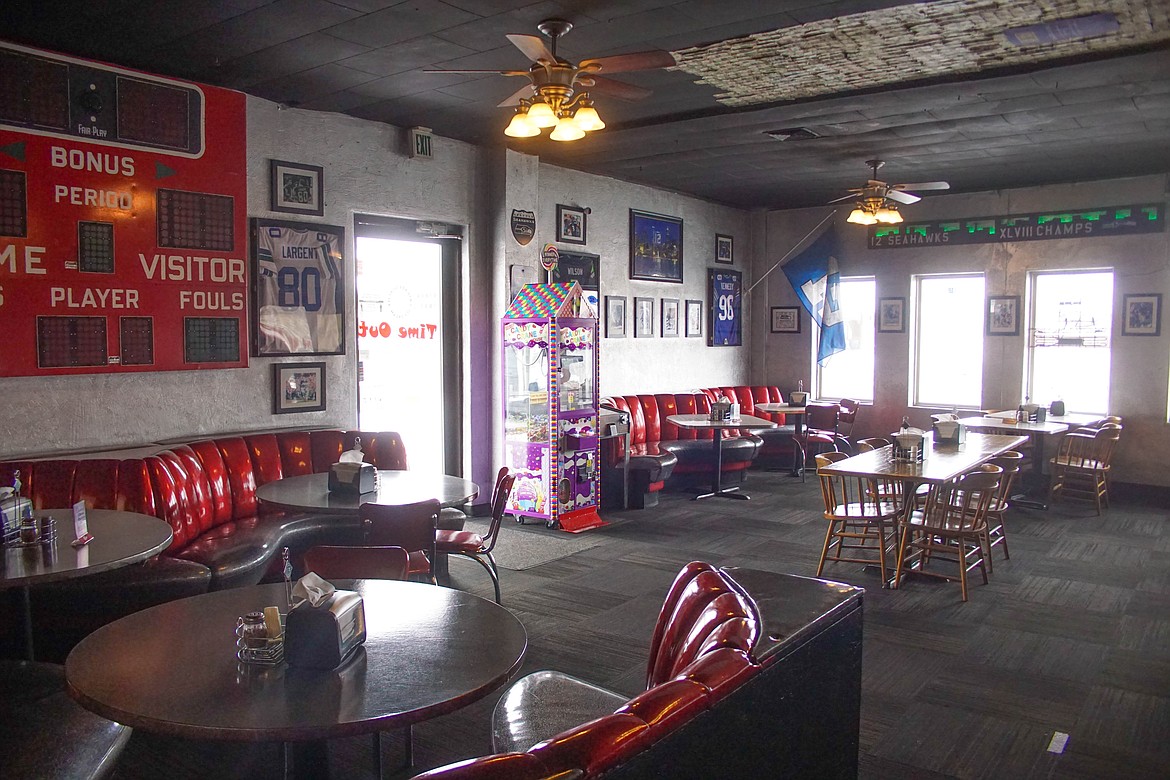 Indoor dining is now available for phase two at Time Out Pizza in Ephrata.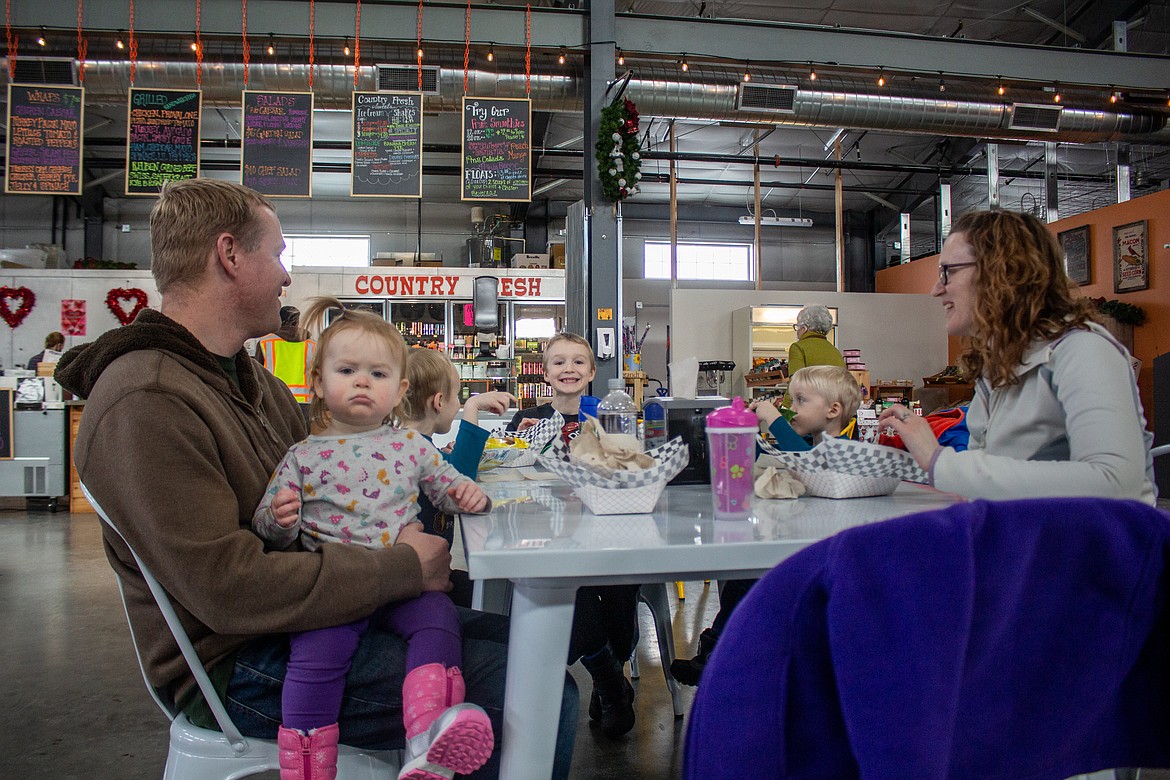 Left to right, Nicholas, Micah, Isaiah, Jonah and Holly Van Dyke sit down for lunch at the Quincy Public Market on Monday afternoon.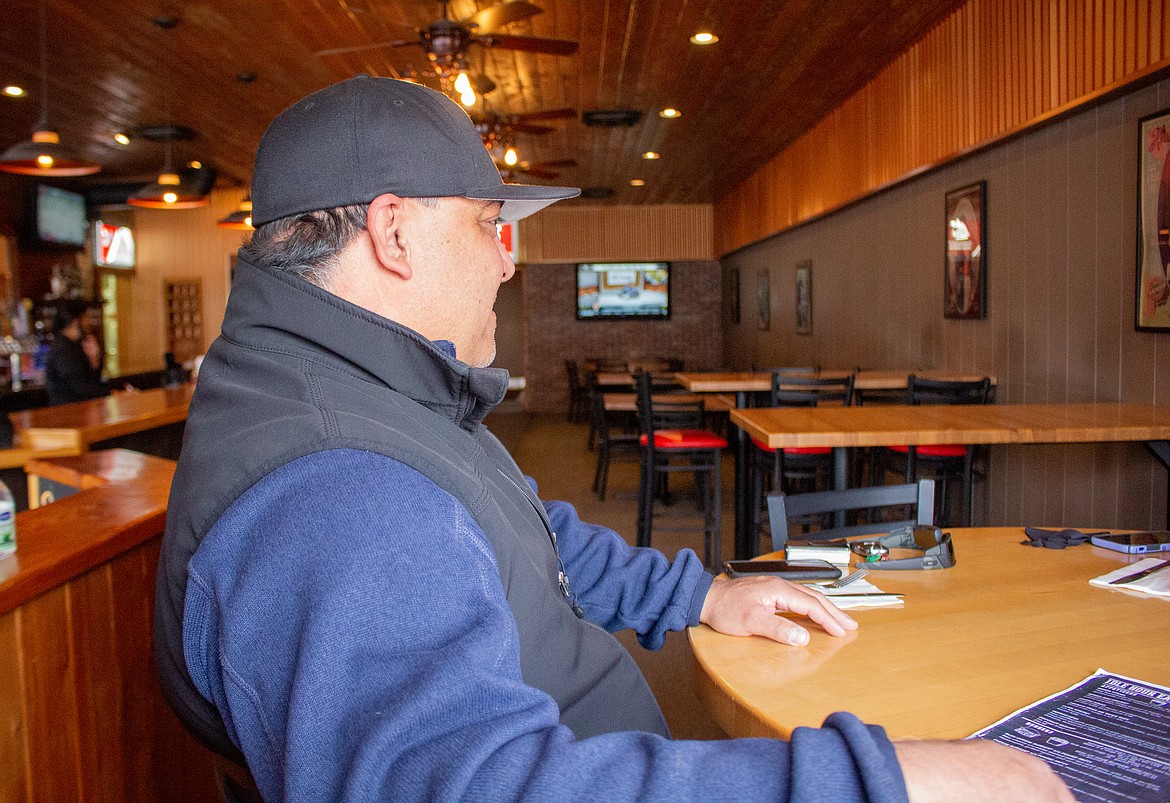 Steve Rubio sits down for lunch at Idle Hours Eatery & Spirits on B Street Southeast in Quincy on Monday afternoon.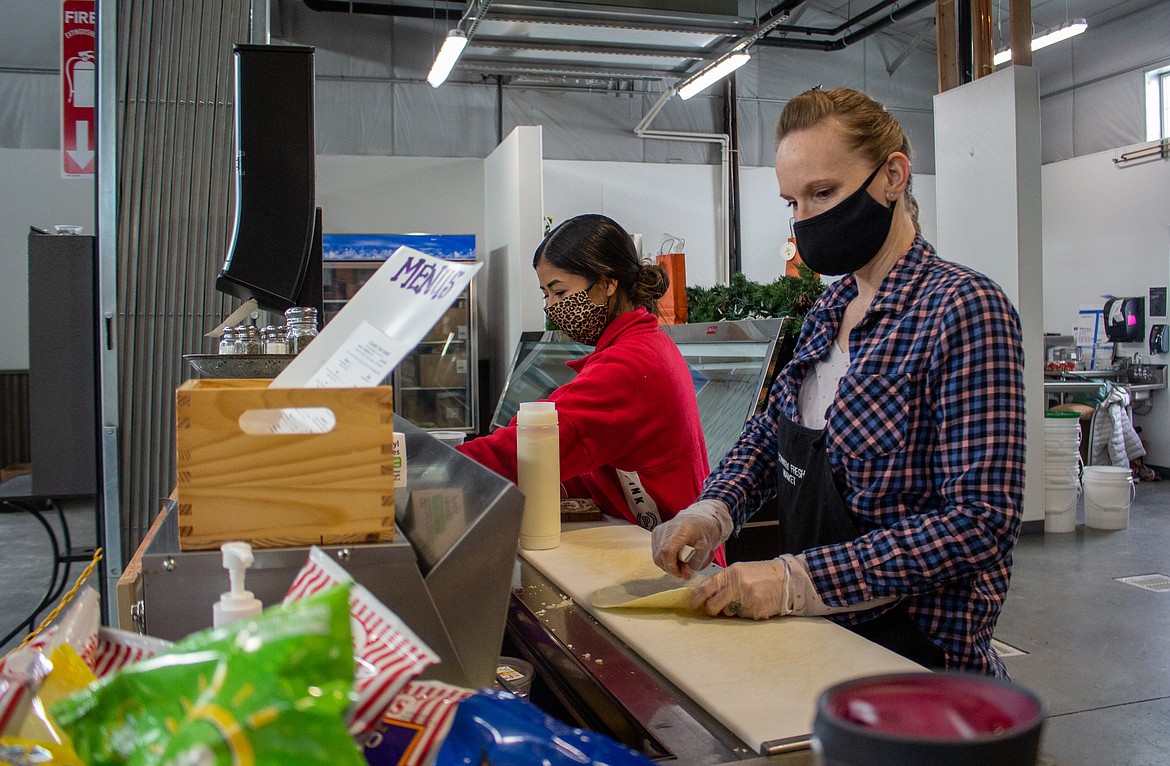 Left to right, Siria Avila and Bridgett Wall get some sandwich orders ready to go at Country Fresh inside the Quincy Public Market on Monday afternoon.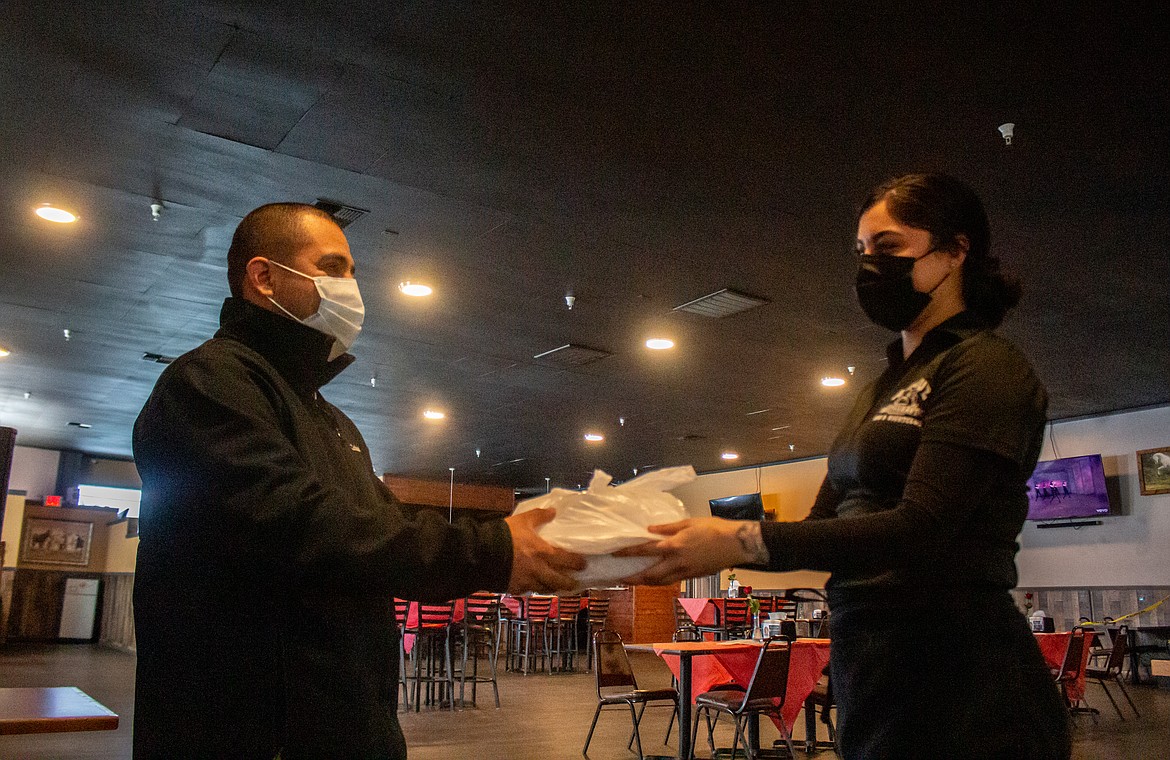 Valentin Santiago, left, receives his takeout order from Makayla Mendoza at Andaluz de Quincy on South Central Avenue in Quincy on Monday afternoon.
Previous
Next
by
CASEY MCCARTHY & SAM FLETCHER
Staff Writer
|
February 16, 2021 1:00 AM
Business owners and community members began adjusting Monday to opportunities available since Washington state transitioned into Phase 2.
"A lot of the local people just didn't have a place where they could go sit and have a beer," said Clay Ripperger, manager of Big Daddy's Sports Bar on First Avenue in Ephrata.
While all businesses were affected differently during Phase 1 restrictions, they rejoiced in the wake of Phase 2 of Gov. Jay Inslee's reopening plan.
Big Daddy's Bar was first shut down in March 2020, Ripperger said. To reopen, it had to re-up its menu and swap its nightclub license for a restaurant one. In September, it finally reopened just to be shut down again, back to Phase 1, in November.
"It's been a long process," Ripperger said. "They shut us down in November, and we've just been in limbo land waiting for Inslee to let us reopen."
Even with the new phase, many bar owners in Ephrata are choosing to remain closed until they can operate at full capacity, Ripperger said. Right now, Big Daddy's can only allow 25% of its maximum capacity of 240 patrons.
"That's 60 people," Ripperger said. "I'll take the 60 people."
'We're thrilled'
Other Ephrata businesses were affected less by phase changes. Pizza is built for takeout, said Jen Johnson of Time Out Pizza on Basin Street, so it didn't lose much business when indoor seating halted.
The Country Deli, also on Basin Street, had seating with doors open and a carbon dioxide tank during Phase 1, said waitress Megan Belize. While every other table is now marked off, unable to be used, she said she is happy patrons can dine in the warmth again.
"We tried the to-go thing when everyone was doing to-gos and we just couldn't do it," she said. "We couldn't stay open. There wasn't enough business, so we're thrilled that we're back open."
Andaluz Restaurant, Bar, Nightclub on South Central Avenue, in Quincy, opened for indoor dining Sunday. Owner Blanca Acevedo said there weren't too many people dining in for the first couple of days and was expecting it would take a few weeks for people to start making their way back.
"People have been calling asking if we're already open so I think it will pick up within a week or two," Acevedo said.
Acevedo said the business had to transition away from the nightclub side when COVID-19 hit and focus more on the restaurant. She said owners are planning to wait until Phase 4 to reopen the nightclub.
She said the menu was modified while closed to offer deals to the community and entice people to takeout and delivery options. Now, it is able to welcome patrons back inside and she said it will stop deliveries.
Acevedo said they tried an outdoor dining area for a short time, but found it to be too cold for patrons.
'Phase 3 can't come soon enough'
Peyton McCreary, manager at Quincy Swim & Gym on B Street, said moving into Phase 2 just opens things more, allowing the chance to have more people come into the gym. McCreary said he is happy to see the transition and added it is always hard turning a member away because it's at capacity.
"It kind of feels messed up when we have to turn members away when they want to come in and work out," McCreary said. "We have to say there's too many people in here already, you have to come back in three hours or whatever."
McCreary said he didn't had much trouble with too many people in the gym Monday afternoon due to the holiday and inclement weather. Now in Phase 2, he said every step closer to being back to normal is good to see.
"Phase 3 can't come soon enough," McCreary said.
Janet Jones, owner of the Quincy Public Market on F Street, said the market's had open-air dining for a few weeks, leaving the windows and doors open. Jones said patrons didn't seem to mind the cold and were just happy to be out.
Now in Phase 2, she said the guidelines are about the same, except not having to keep the cold air coming through.
"I think people weren't even paying attention to all that because people just wanted to get out," Jones said. "We've had quite a few older people. It's hard on them, so they're just happy to get out. They wear their coat and it's cold anyways."
Jones said she believes people are getting more optimistic as things open around town. She said things aren't ever going to be the same, but they don't have to be so horrible.
Jones said the Quincy Public Market is waiting to open its restaurant until after Phase 2 because it is tough to keep a restaurant going with just 25% capacity. She said she can't afford to keep opening and closing, and no one wanted to work under those conditions.
'Some sort of normalcy'
Nicholas and Holly Van Dyke of Quincy came out to the public market Monday afternoon with their three children for lunch. Holly Van Dyke said it has been months since they have been able to go out to eat with their kids.
"He doesn't even remember coming to the market," Holly Van Dyke said of her youngest son. "It's like his first time even though he's been, but it's been like a year."
Van Dyke said it was a fun way to get out of the house and told the kids they were going on an adventure when they left the house.
Steve Rubio met up with some friends for lunch Monday at Idle Hours Eatery & Spirits on B Street in Quincy. Rubio said mentally, it helps to come out and eat with friends again.
Rubio said not going out to places like restaurants has been tough, especially on older people like his 81-year-old mother.
"She's been out a couple of times with us, but even coming out in a group, she wants to take it easy and not be in that situation," Rubio said. "So for her, I think it will be nice for her to go into a restaurant and sit down and have some sort of normalcy in her life."
Cari Mathews is executive director for the Quincy Valley Chamber of Commerce. Mathews said moving to Phase 2 is a huge help for local restaurants, as they can have customers inside again.
"It's stuff for people to do, they need to congregate," Mathews said.
She said the chamber will talk with local business owners in the next few weeks on how the transition is going and make sure everyone can stay open. She said a lot of businesses have been able to do well with takeout options while closed to the public, but for some smaller restaurants, it wasn't feasible.
She said the chamber will make sure there aren't any steps backward and get closer to "the norm" we're all striving for.
---