Cardiac rehabilitation clinic helps patients regain independence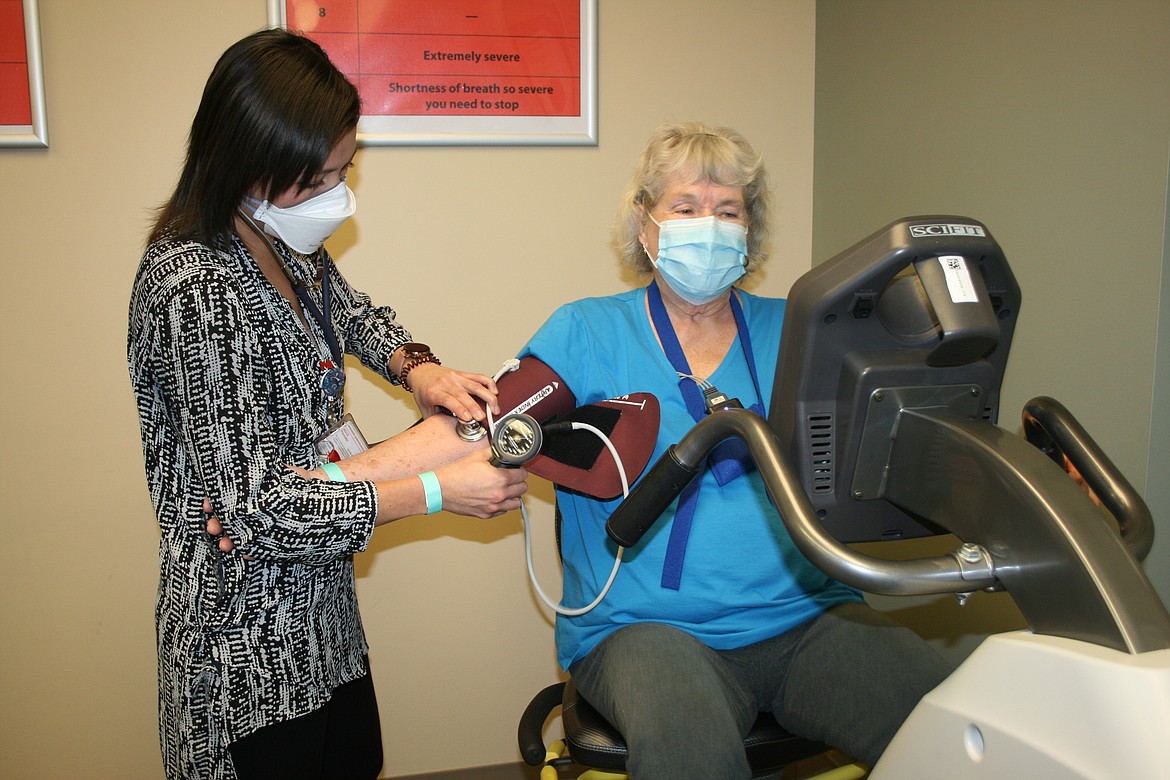 Jennifer Estep (left), lead physiologist for Samaritan's cardiac rehabilitation program, takes blood pressure for rehab patient Petra Hovland.
Cheryl Schweizer/Columbia Basin Herald
David Hofheins uses an exercise machine during a class in the cardiac rehabilitation program at Samaritan Healthcare.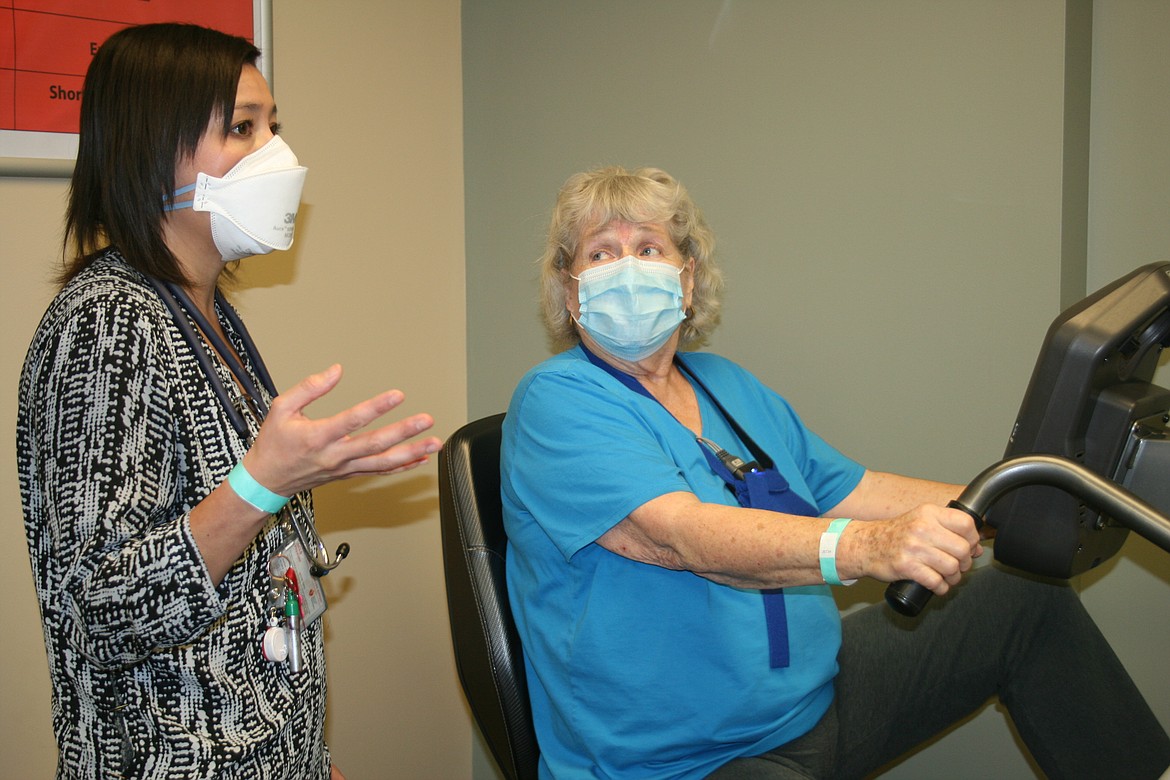 Jennifer Estep, lead exercise physiologist for the cardiac rehabilitation program at Samaritan Hospital, talks to patient Petra Hovland.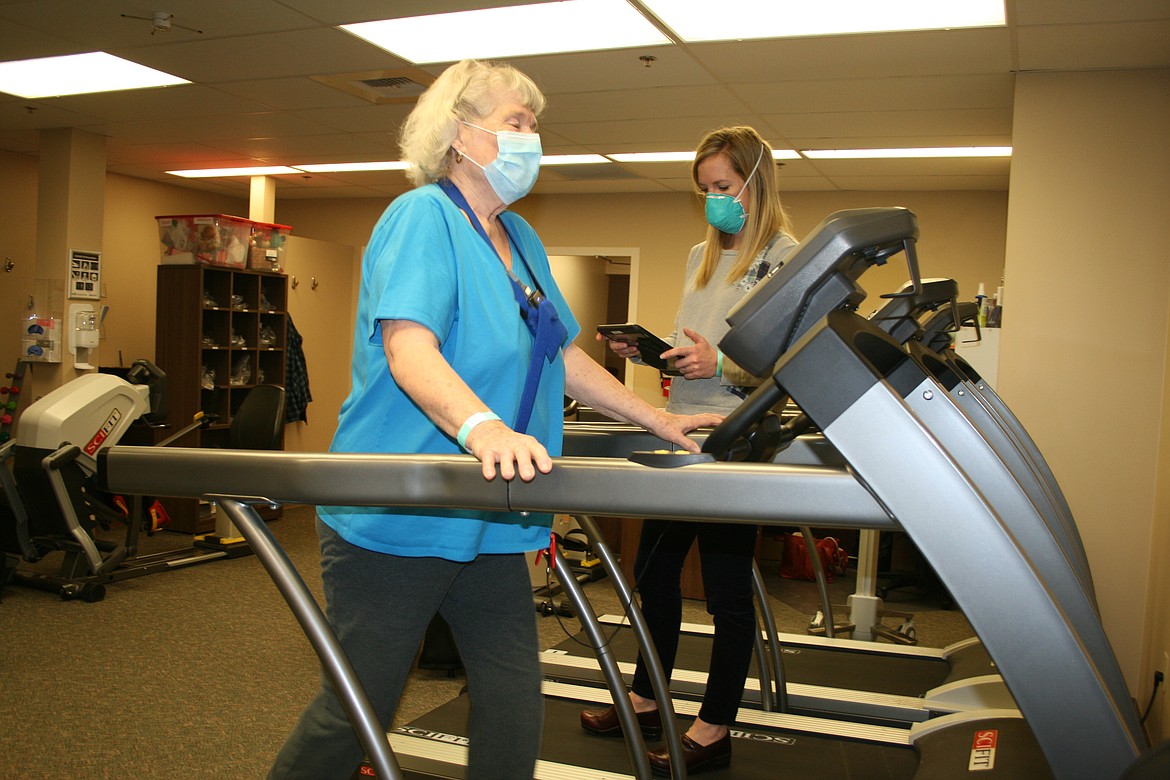 Petra Hovland (foreground) walks the treadmill, monitored by exercise specialist Megan Peters. Hovland is a patient in the cardiac rehabilitation program at Samaritan Hospital.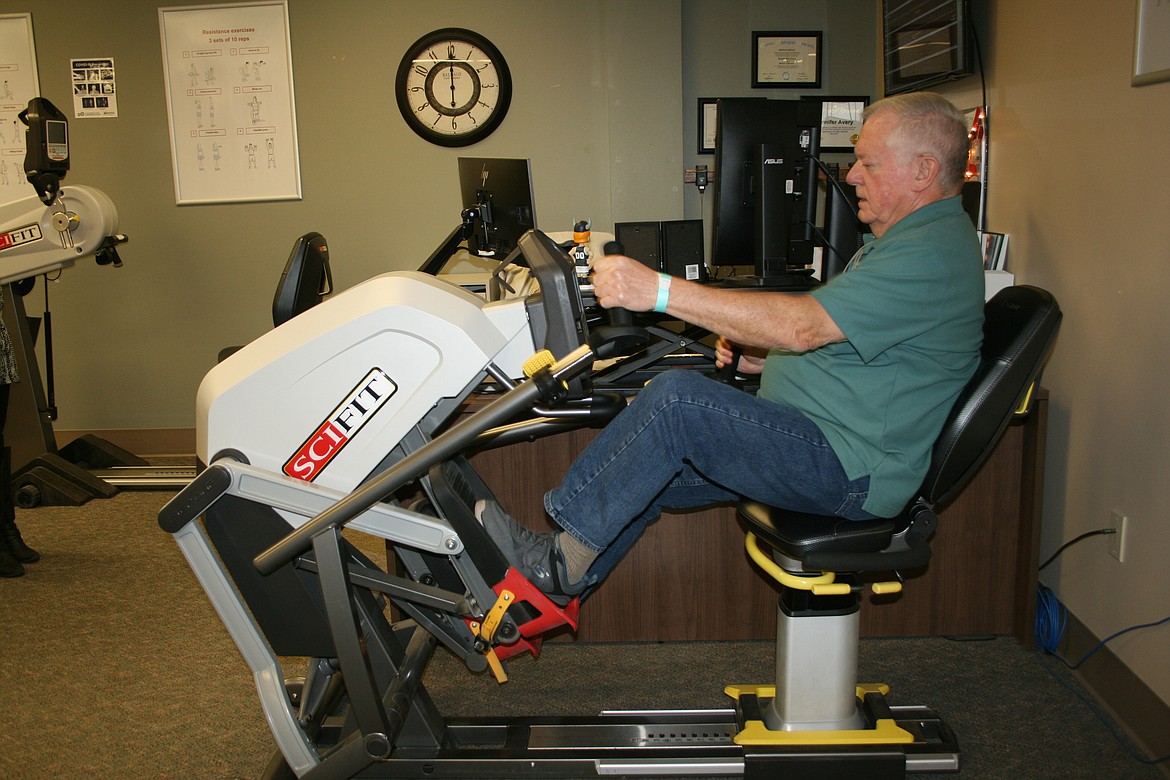 David Hofheins exercises leg muscles during a class at the cardiac rehabilitation program at Samaritan Hospital.
Previous
Next
by
CHERYL SCHWEIZER
Staff Writer
|
February 15, 2021 1:00 AM
MOSES LAKE — Jennifer Estep said she has a message for the patients entering the cardiac rehabilitation program at Samaritan Hospital on East Wheeler Road.
"I tell my patients, 'You're not done yet. You might be 70 (years of age) and post-open heart surgery, but you are not done yet. You have a lot more to do,'" Estep said.
Estep, a cardiac rehab exercise physiologist, is the program director. Cardiac rehab exercise specialists Melissa Vaughn and Megan Peters monitor and support patients in the program, which mixes exercise and education for patients after heart surgery and teaches how to manage heart disease.
There's a program for people with pulmonary disease as well. And, in many cases, cardiac and pulmonary disease, and rehabilitation go hand in hand, Estep said.
Patients are referred by a physician.
"We do cover a lot of different types of cardiovascular diseases. It can be anything from a heart attack patient to somebody who's had open heart surgery. We've had the really great opportunity to work with a heart transplant patient. We also work with patients who essentially have a mechanical heart that runs on a battery," she said.
"Heart failure. I think that's an important one, because that's one that people don't really associate as a cardiovascular disease. Because it's so silent," she added.
Heart failure occurs when the heart can't pump as much blood as it should.
"It's not that the heart has failed, it's that it can't work as efficiently as it used to," she said. "Heart disease has all kinds of different sub-categories, and we've seen pretty much just about everything."
Patients attend rehab three times per week for 12 weeks, and it's been open throughout the coronavirus pandemic, except two months in spring 2020 in which most hospital operations were suspended.
Keeping the program open required reducing individual class size and expanding hours. Patients now come in through a designated entrance to reduce contact with the rest of the hospital.
The exercise program is designed to challenge participants.
"We work our patients at moderate- to high-intensity levels. So when you come through our cardiac or pulmonary rehab program, you're going to leave sweating," Estep said.
And work is the operative word. On Feb. 8, David Hofheins and Petra Hovland were working out to the sound of The Doors and Fleetwood Mac. Hofheins went from an upper-body exercise to a modified stair-stepper, and Hovland from the treadmill to the stationary bicycle, with barely a pause.
But unlike the gym, vital signs are monitored periodically.
Exercise is only half the program. Patients also get education about heart disease, and lifestyle changes that will help them avoid further illness.
"How to manage all of the other risk factors," Estep said. "When it comes to heart disease, we just don't have a heart attack one day. There are several things in our lifestyle that have contributed to the heart disease."
Participants learn about reducing blood pressure, reducing stress, proper diet and sleep habits, among many other topics. The education is required, and Estep said she thinks that's one of the factors making the program a success.
"This is a great place. I think it's going to make the rest of my life much better," Hovland said.
Estep said helping patients improve their lives is the goal.
"You see this person truly grasp the control that they have, when they felt they didn't have any control where they were at in their heart disease or pulmonary disease," she said.
Patients have regained the ability to drive, even people who thought they'd never be able to drive again.
"These are things that make people tear up," she said. "They gained back their independence."
That's why Estep said she places an emphasis on walking.
"When you are walking, you are independent. And when you are independent, you have control of your life," she said.
She cited the case of a patient who was reluctant to use the treadmill until a class reunion gave her the motivation to not only walk, but walk more than 20 minutes at a time.
"Seeing them actually achieve their goals is amazing," Estep said.
Cheryl Schweizer can be reached at cschweizer@columbiabasinherald.com.
---