Murder investigation presents emotional, fiscal challenges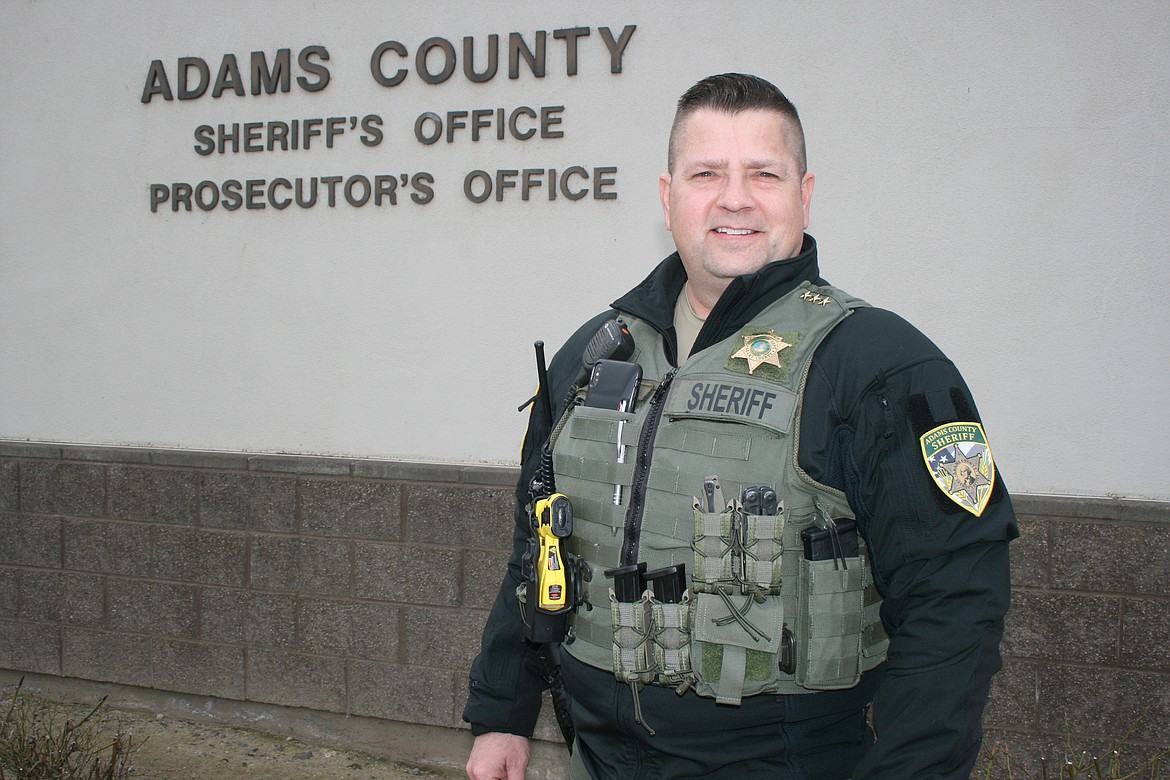 Adams County Sheriff Dale Wagner outside the sheriff's office satellite station in Othello.
Cheryl Schweizer/Columbia Basin Herald
by
CHERYL SCHWEIZER
Staff Writer
|
February 11, 2021 1:00 AM
OTHELLO — Adams County Sheriff Dale Wagner said law enforcement officers know they'll face challenges, but it doesn't make things easier.
"Obviously, we all have a job to do. We know what we've kind of signed up for," Wagner said.
But sometimes it's more than experienced officers expect.
Wagner has been sheriff since 2015. He said a sparsely populated, mostly rural county, like Adams County, gets cases attracting regional and national attention. It was March 2016 when a man murdered his wife as they drove along Interstate 90. A Ritzville man murdered his dad in May 2020.
And another murder Jan. 28, 2021, was in the Edson Tracts, near Othello.
Mauricio Nava-Garibay, 28, of Othello, has been arrested and charged in the deaths of Dora Elia Martinez, 57, and her daughter, Guadalupe Martinez, 30, both of Othello. What happened to Dora and Guadalupe Martinez was bad. The kind of bad that is never forgotten.
"I've been here a long time. I've been here for almost 24 and a half years. I was a detective for many years," Wagner said. "For me, I've just learned to deal with it, based on my faith and my family and the circumstances that I have in my life, but it may affect others differently. That's why we need to look out for each other.
"The day after the incident (double murder), I asked all the sergeants (to), 'Hey, just keep an eye on everybody.' We've got some young guys here, we want to make sure that everybody is doing okay with this," Wagner added.
"We're small enough to know each other really well," he said.
Sheriff's deputies also work well with each other, and that's a help when it comes to support in challenging circumstances, if it's on the job, he said.
"You just look out for how people are reacting. You look for things that are abnormal," he said.
In a small department, like the Adams County Sheriff's Office, "it's a little easier sometimes to notice, not that we catch everything. But at times we can notice when somebody is having a struggle, and we'll ask about it.
"We are having a debrief with a mental health professional to make sure that we are all able to express issues, if we are having any, and those types of things," he said.
Deputies also have the option to request individual counseling.
"Not because anybody is struggling with it, but because we want to make sure that guys that may encounter it know how to deal with it and have an outlet to deal with it," Wagner said.
The challenge presented by a complex murder case extends beyond its effect on law enforcement officers. A complex murder case with national attention is expensive.
"The strain, when something like this occurs – and we've had a few of them in the past few years – it can drain a lot of (funds) that you weren't anticipating," he said.
"We're at close to $16,000 in just overtime money," Wagner said Saturday, regarding the recent double murder. "I'm going to be hitting at least $20,000 (in overtime) by the end of the month, more than likely. That takes a big chunk of my overtime dollars when it comes to the rest of the year, and the things that we may encounter.
"These are important cases that take a lot more time, a lot more detail, and a lot more resources," he said.
Law enforcement agencies in places like Grant and Adams counties also rely on a network of mutual aid agreements that provide assistance between departments. Officers throughout the region, mostly from Grant County in this case, as well as the Washington State Patrol and the WSP Crime Lab Response Team, helped in the initial investigation. That inter-agency support is important when it comes to complex cases, he said.
Wagner gave credit to his officers for their investigative work.
"This group that I have – they are really good. I can't say enough about the work they've done."
---