Othello's Jonathan Rocha heads to Montana for track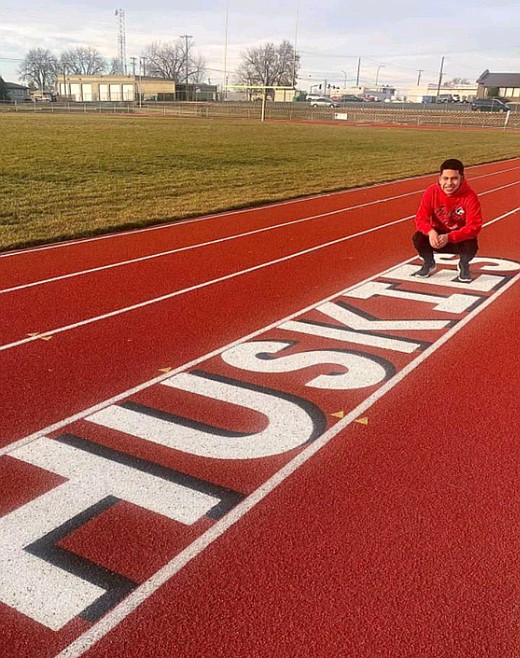 Othello High School senior Jonathan Rocha poses beside the Othello High School track after signing to compete the next few seasons in Billings, Montana.
Courtesy Photo/Jonathan Rocha
by
CASEY MCCARTHY
Staff Writer
|
February 10, 2021 1:00 AM
OTHELLO — Othello High School senior Jonathan Rocha will go to Montana State University Billings next season to continue his track career.
Rocha will compete in 100-meter, 200-meter and relay sprints, among other possible events, in Billings, Montana.
Rocha said it was great to reach this milestone before his senior year gets going.
"This was kind of my end goal for high school, because I told myself my freshman year I wanted to compete for a four-year university," Rocha said.
He said he is very excited to get the chance to further his academic and athletic career after he graduates from OHS in spring.
Without a season last year to showcase himself, Rocha reached out to universities and colleges through ncsasports.org, where he could post and share highlights of himself.
With his visit to MSU Billings, he said he found a program where the philosophy and focus on winning stood out.
Now with his signing out of the way, Rocha said he doesn't have to worry like so many of his classmates.
"I still see students around me that are very worried, especially student-athletes, because they just don't know where to go because their season's still up in the air," Rocha said.
For spring, Rocha said he has his sights set on improving his times on the track and possibly making a shot at the 100-meter school record. As a sophomore, Rocha said he wasn't too close, but had his junior season goals built around breaking the record.
Though the training and coaching he had since his sophomore season came to an end, he is confident he can make a run at it. Rocha said he will have a better idea of where he stands once he gets his first race in this spring.
Three people came to mind for Rocha when he discussed the individuals who helped him reach his goal of competing at the collegiate level: his mother, Maria Rocha, and track coaches Antonio Estrada and Rafael Ruiz.
Rocha said his mother is always supporting him and keeping him on track with his academics, while his OHS track coaches have helped him build the ambition to aim high.
"Antonio Estrada, he's always been there for me, not just as a coach, always near, especially through these crazy times," Rocha said. "He's not just a coach I can just go up to and talk to about workouts, he's someone I can genuinely talk to about other stuff. Ruiz is the same way."
Rocha said he is going to carry ambition his Othello coaches instilled in him to Billings. He said his goal is simple: aim for competing for a championship from day one.
---