Othello man pleads not guilty in double murder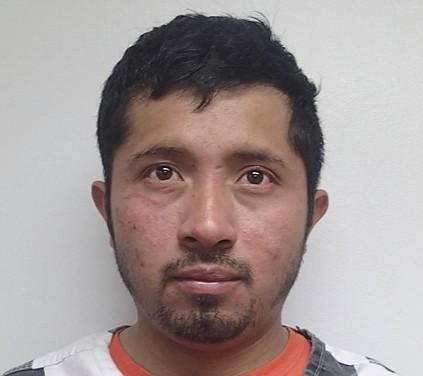 Nava-Garibay
courtesy photo
by
CHERYL SCHWEIZER
Staff Writer
|
February 10, 2021 1:00 AM
RITZVILLE — A man allegedly living illegally in the U.S. pleaded not guilty Friday in Adams County Superior Court in Ritzville to murdering two women Jan. 27 in their Othello home.
Mauricio Nava-Garibay, 28, is charged with first-degree murder in the death of Dora Elia Martinez, 57, and second-degree murder in the death of her daughter, Guadalupe Martinez, 30.
Both charges came with enhancements for domestic violence. A use of deadly weapon enhancement was included in the killing of Dora Martinez.
Nava-Garibay entered the plea in a video appearance before Adams County Superior Court Judge Stephen Dixon. Trial tentatively was set for March 23 in Ritzville.
The circumstances of the crime caused a flood of rumors in Othello, which Othello Police Chief Phil Schenck said Monday was a normal reaction. Schenck said on social media the two deaths occurring around the time of the murders were from medical issues.
"We believe Othello is healing from this horrible crime, but it will take time," Schenck said.
Othello Mayor Shawn Logan and Schenck met last week with residents of the neighborhood on East Cypress Street, where the murders allegedly occurred.
"We want people to feel safe. And Othello is a safe community," Schenck said.
Dixon declined a request from the Adams County Prosecutor's Office to increase bail to $10 million. It remains at $1 million. Nava-Garibay is in the Adams County Jail, but U.S. Immigration and Customs Enforcement (ICE) lodged an immigration detainer Jan. 29, the day after he was arrested.
"Mr. Nava-Garibay is a citizen and national of Mexico who is in the country illegally," said Tanya Roman, ICE regional communications director, in a statement. "On Jan. 29, U.S. Immigration and Customs Enforcement encountered Nava-Garibay at the Adams County Jail, where he is being held on charges of murder in the first degree."
Roman said reports ICE was attempting to deport Nava-Garibay were incorrect.
"ICE has only placed a detainer so that if he is released, if ever, we can detain him versus him being released to the community," she said.
Adams County Deputy Prosecutor Peter Palubicki said prosecutors originally requested $10 million bail, and renewed their request due to the result of the victims' autopsies.
Palubicki said a member of the King County Medical Examiner's Office, which conducted the autopsies, told him the results of Guadalupe Martinez's autopsy did not match Nava-Garibay's account in the statement of probable cause.
Guadalupe Martinez sustained "significant trauma" to the front of her skull, Palubicki said, and more stab wounds than Nava-Garibay's account.
Nothing was discussed regarding Dora Martinez's autopsy.
Note: This is an updated and expanded version of an article that appeared on Feb. 5.
---