Former Moses Lake soccer player continues career in Oregon
by
CASEY MCCARTHY
Staff Writer
|
February 5, 2021 1:00 AM
Former Moses Lake High School soccer player Anthony Cortez will head to Warner Pacific University in Portland, Oregon, in the fall to continue his athletic career.
Cortez graduated from MLHS in 2018 and played two seasons at Spokane Falls Community College in 2018 and 2019. With the pandemic in the spring, he said he decided to take the fall semester in 2020 to focus on his education and take a break from playing soccer.
"With all the uncertainty going on with COVID and stuff I wasn't sure if there was going to be a season, and I always valued education and got accepted into Gonzaga," Cortez said. "It was either go to my dream school or just play soccer at a different school."
After some time in fall 2020 away from the game, Cortez said he realized he had a lot left to give to the sport and reached out to some colleges that were looking at him while he played for Spokane Falls CC.
He said signing a scholarship to join Warner Pacific was exciting and it's a blessing to go to school while it's paid for. Cortez will also have some familiar faces to welcome him when he heads to Portland this summer.
"I'm actually going to be joining a few other former teammates from Spokane Falls, so I'll be familiar with some of the team," Cortez said. "They're really just looking to make the team more versatile. They already have a solid team and with me coming in, I'm just going to add more talent."
Seeing his former teammates' successes at Warner Pacific was certainly a factor in choosing to continue his career, Cortez said. He said he knows it's going to be a competitive team that will help him develop as a soccer player.
"That's a big thing for me," Cortez said.
While he's taking the spring semester as a gap semester to get prepared for the move to Oregon this summer, Cortez said he plans to pursue his degree in psychology in the fall.
He said this has been his longest time away from soccer since he started playing as a youth and is more ready to hit the field again than ever.
"With all this time off, it really made me want to never take it for granted when it's my last time on the field," Cortez said. "I have a lot of fuel in me and I'm ready to go."
Improving as a player and helping his team be successful are Cortez's main goals as he restarts his athletic journey, winning as many championships as possible, he said.
"Even a national championship, shooting for the stars," Cortez said.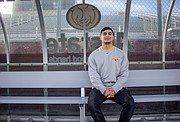 ---