Othello joining the Greater Spokane League 2A programs for athletics this season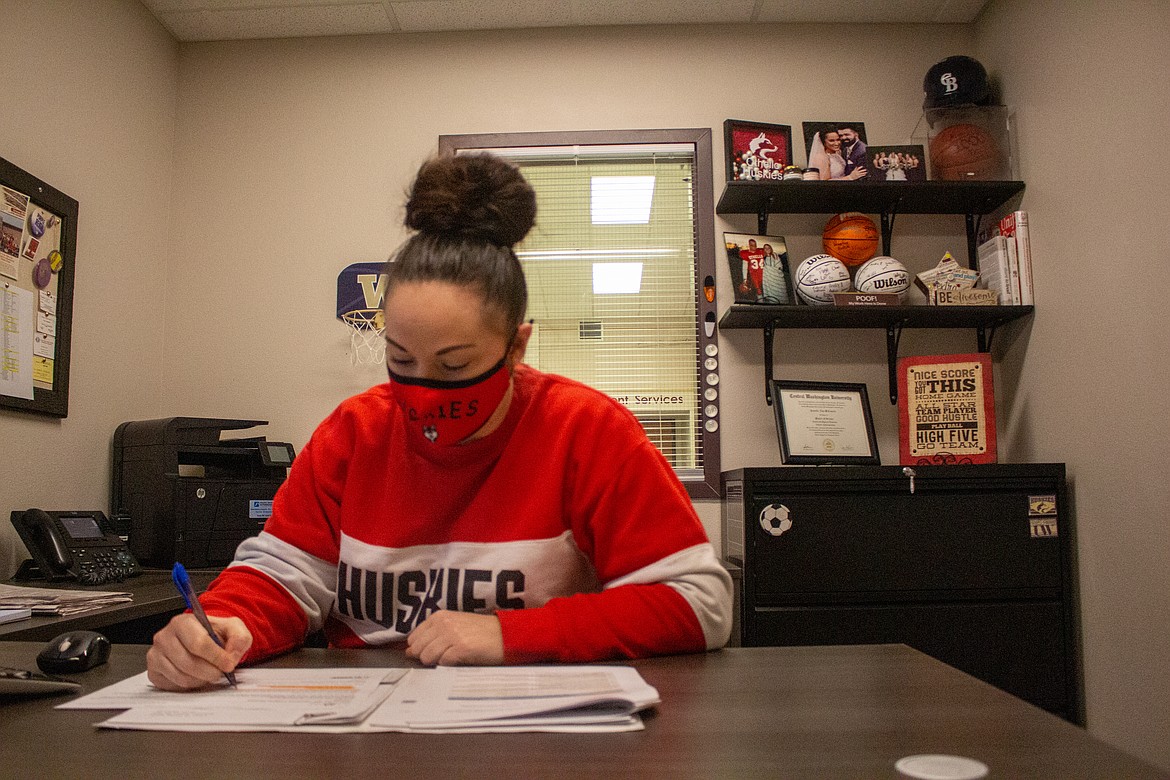 Othello High School Athletic Director Jenny McCourtie works at her desk in her office on Tuesday afternoon.
Casey McCarthy/Columbia Basin Herald
by
CASEY MCCARTHY
Staff Writer
|
February 3, 2021 1:00 AM
OTHELLO — Othello High School sports teams have a tentative plan in place for what competition will look like this season, after they received approval on Tuesday to join the Greater Spokane League for 2021.
The Huskies found themselves in a unique situation geographically when the majority of other Columbia Basin teams elected to join the North Central Washington Region for competition this year. The remaining Central Washington Athletic Conference schools fall into the South Central Region.
Othello Athletic Director Jenny McCourtie said she got the official word from the GSL around noon on Tuesday the Huskies had the green light to join the 2A programs in the league. The Huskies' competition this season includes: Clarkston, East Valley (Spokane), Pullman, Rogers, Shadle Park, West Valley (Spokane) and North Central, which will drop down to 2A for all competitions other than cross country.
"It's going to be some travel distance for us, but really that was our only option," McCourtie said. "I'm glad they gave us the green light because if they didn't, I don't know what we would have done."
McCourtie said it's tough having to find competition in Spokane with so many programs closer, such as Connell, Warden and Moses Lake.
As acting CWAC president this year, she said she'll be working with both leagues this season.
While it might not be ideal, she's glad to have a plan in place for her coaches and players.
"I would say we were at the point where no matter who we played, we'd be happy to play," McCourtie said. "But we're really happy to be able to still play 2A schools. Staying at the 2A classification is nice."
Start dates are staggered for the GSL. Volleyball is set to open first on Feb. 8 for practices. Football will open the following week, and girls soccer and cross country are set to open Feb. 22. The soccer start date was pushed back in hopes of avoiding as much winter weather as possible.
McCourtie said everyone she has talked to about the new plans has been supportive and excited to get going.
Keeping everyone in the loop on what's going on has been one of the biggest challenges of the last few months.
"Trying to get the message out that I know we're excited, but we've got a lot of planning to do still before we get there," McCourtie said. "We didn't know what league we're in. That's been a hard message to communicate."
She said the announcement of the Feb. 1 start date by the Washington Interscholastic Activities Association confused some people who thought that meant everything would open back up completely at the start of the month. She said she has tried to keep people informed about plans as they develop but doesn't want to give false hope.
"I'm just crossing my fingers," McCourtie said.
She said she feels better about the way things are going as COVID-19 numbers in Adams County seem to be improving and the vaccinations roll out.
Once the Huskies are able to compete, McCourtie said, she plans to have the first home competition for each team be Senior Night, just in case the season is cut short.
---