Moses Lake community leaders provide toolkits to fight pandemic blues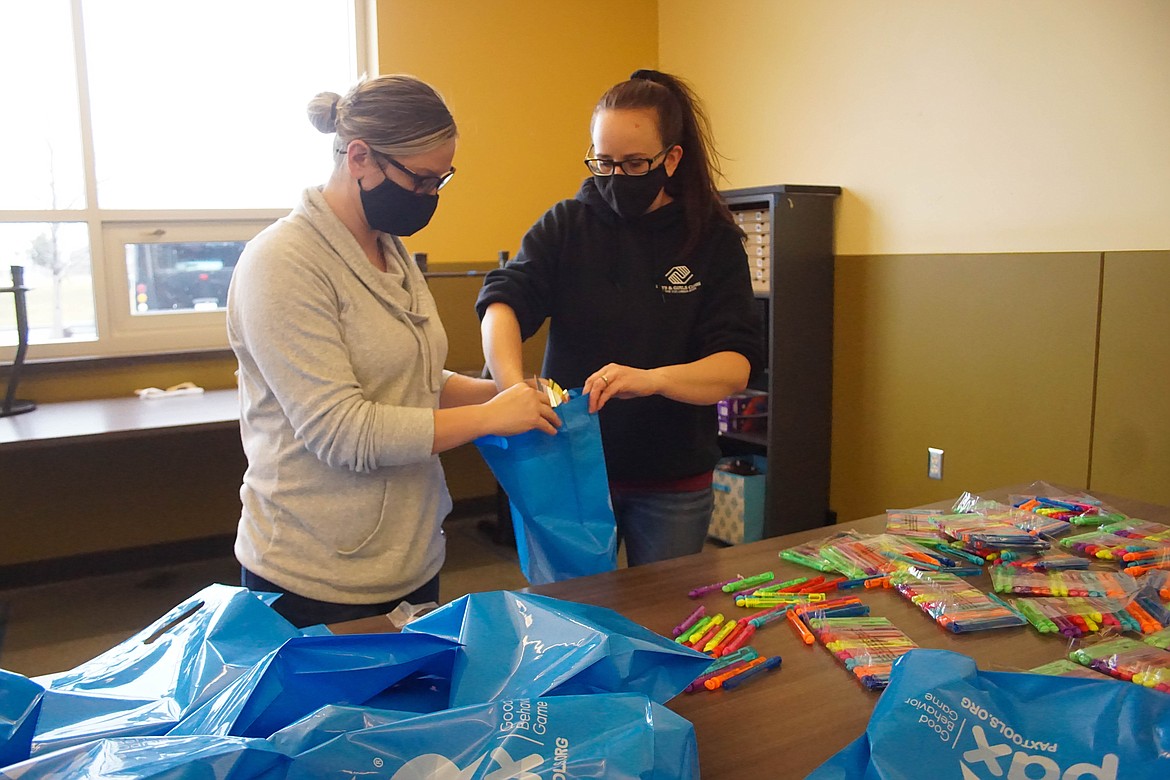 Boys & Girls Club program managers Kim Sayers and Rikki Spies assembling PAX Kits on Friday.
Sam Fletcher
by
SAM FLETCHER
Staff Writer
|
February 3, 2021 1:00 AM
MOSES LAKE — Peace, productivity, health and happiness. According to members of the Moses Lake Community Coalition, a group of stakeholders focusing on mental health and youth substance abuse, these values are more important than ever before.
The group's committed to promoting them, too. The Moses Lake Community Coalition and Larson Heights Elementary School are passing out "PAX Kits" to kids and parents to better cope with their feelings during the pandemic.
According to goodbehaviorgame.org, the PAXIS Institute studies how to maximize "peace, productivity, health and happiness of individuals, families, organizations and communities everywhere."
Representatives of the community coalition and elementary staff are PAX-trained, said Larson Heights Elementary counselor Janette Serrano-Vasquez. PAX families volunteer to assemble and distribute bags filled with "tools for the social emotional." This includes games and crafts for kids, such as pinwheels and fidgets, and organizational tools for parents, such as whiteboards and fliers for community resources.
Each week, families are given a PAX recipe card explaining how to start using the concept in their home, a fun project or tool to practice the concept, community resource information, substance use prevention message and mental health promotion material for stress management skills.
"The PAX Good Behavior Game is focused on peace, productivity, health and happiness," Serrano-Vasquez said. "Everything in the kit, we're coordinating it with those four core things."
The Good Behavior Game started with an in-class program, said Matt Paluch, vice chair of the Moses Lake Community Coalition. But in the spring after the pandemic began, they had to come up with a new plan.
With fewer resources available and more time at home, it's especially important, Paluch said.
"The reason we've been doing these is because with the pandemic, everybody's stuck at home and that contributes to a lot of tension sometimes, even with my kids," he said. "I'm not a teacher, so having them home all the time, I can see the friction that happens."
Monday through Friday, Larson Heights distributes free lunch to anyone through age 18, Serrano-Vasquez said. Now on Wednesdays, families can pick up a PAX Kit as well.
Aside from elementary students, they've seen people from the Washington State University GEAR UP program at Moses Lake High School, homeschool kids, Big Bend Running Start students, daycare providers and a grab bag of others, Serrano-Vasquez said.
It's only grown in popularity, she said. They give away 200 bags each week at a first-come, first-served basis, so some families have called ahead to reserve one.
"Everybody loves it," Paluch said. "It's something they look forward to when they go and pick up lunches, or come to pick up the kits themselves."
The PAX Toolkits have become more popular because families have more knowledge of both the program and the pandemic, Serrano-Vasquez said.
"People have the education," she said. "They know the fun stuff, you know? The good, the bad, and the ugly. They know what's in there and they want it."
This round of toolkits will be given out on Wednesdays from 11 a.m. to noon until Feb. 24, for a total of seven weeks, at Larson Heights Elementary School, 700 Lindberg Lane.
"This isn't just another new thing," Serrano-Vasquez said. "This is a strategy. There's evidence. There's science behind this, that it works. It provides peace, productivity, health and happiness. It can be used in the schools and outside of schools."
Sam Fletcher can be reached via email at sfletcher@columbiabasinherald.com.
Recent Headlines
---