Local police chief expresses concern, support for police reform legislation
by
Angelica Relente, Herald Legislative Writer
|
February 3, 2021 1:00 AM
Bills that would reshape law enforcement agencies have been introduced to the state legislature since the session began last month.
One local police chief says he has issues with some of them.
Some bills in this session, "if they pass, I would strongly consider leaving Washington state," Kevin Fuhr, chief of Moses Lake Police Department, said in an interview with the Herald.
Fuhr said officers in small towns interact with their communities differently compared to officers in big cities. The issue lies in passing legislation that would hold all law enforcement agencies to the same standard.
"We're not Seattle PD," Fuhr said. "We're getting blamed and legislated because of the faults of what … law enforcement over there is doing, or more importantly, not just in our state, but what happened in Minneapolis."
One of the many bills that looks to adjust policing efforts is House Bill 1310, which would create a standard for peace officers when they exercise physical and deadly force. HB 1310 would also modify peace officers' criminal liability protections.
Fuhr said officers need to make quick decisions when they deal with evolving emergency situations. In the heat of the moment, some officers may not make the best decision — holding them criminally liable for a mistake may cause some officers to resign.
"I think you're gonna see a lot of officers walk away from the job," Fuhr said.
Peace officers must use reasonable care when deciding if and when physical force should be used, according to the bill's text. Officers can only use physical force to make an arrest, prevent an escape or if an imminent threat is present.
"We don't use force unless we're trying to arrest somebody and unless they're threatening us or somebody else, but to limit it just to three things becomes very problematic," Fuhr said.
HB 1310 would require peace officers to use deadly force as the last resort. Fuhr said his officers only use deadly force if they are put in a situation where they have to do it, like when they are defending themselves or somebody else.
Fuhr said the passage of Initiative 940, a measure regarding police reform in 2019, showed Washington was at "the tip of the spear" when it comes to reforming law enforcement agencies.
"This bill would basically undo everything that was done in I-940," Fuhr said. "We're already … requiring de-escalation training (and) use of force training."
Representatives had not voted on HB 1310 as of Tuesday.
Another bill aimed at reforming the police, HB 1092, would require Washington State University to spearhead a program that would collect, report and publish information regarding peace officers' use of force, as well as other interactions they have with the public.
All law enforcement agencies in the state must participate in WSU's program, according to the bill's text. The agencies would be required to collect and report certain information to WSU.
Fuhr said he does not have a problem with HB 1092 passing because his department does not resort to the use of force often. In 2020, MLPD as a department exercised the use of force 31 times. On average, the department makes about 25-30 arrests per week.
"The only concern I would have is that I don't want this bill … to cost us anything financially," Fuhr said. "I don't want it to affect my budget."
Yasmin Trudeau, legislative director for the state Office of the Attorney General, supports HB 1092. She said no statewide database that collects information on peace officers' use of force or public interactions currently exists.
"We all need this data because it allows the public law enforcement policymakers to determine which policies and training do and do not work," Trudeau said during a virtual legislative hearing Monday.
Representatives had not voted on HB 1092 as of Tuesday. The bill also has a companion bill, Senate Bill 5259, which senators had not voted on.
Senate Bill 5066 is another bill Fuhr does not have an issue with. Under SB 5066, peace officers who witness a fellow peace officer engaging in excessive use of force must intervene and report it to a supervisor.
Fuhr said MLPD already has policies in place that require peace officers to report other officers' wrongdoings. Officers should already be doing the requirements outlined in the bill, he said.
James McMahan, policy director for the Washington Association of Sheriffs and Police Chiefs, testified against SB 5066 during the virtual legislative hearing Monday. He said the definition of the term "wrongdoing" in the bill is subjective.
Wrongdoing is defined as actions that are harmful or contrary to law, according to the bill's text. It also means a violation of professional or ethical standards, and it is something that is not a technical violation.
"The mandatory duty to report wrongdoing to the employer is going to overwhelm our agencies with these mandatory reports that would otherwise occupy our time for more productive things," McMahan said.
Senators had not voted on SB 5066 as of Tuesday.
Fuhr said he is against HB 1082, which would revise the priorities of the Criminal Justice Training Commission, according to the bill's text. The CJTC trains and educates those who want to become law enforcement officers, correction officers or public safety professionals.
One of the bill's priorities includes overhauling membership within the CJTC, Fuhr said. The bill would reduce the number of law enforcement members and increase the number of civilians instead.
"How do you have a police training board that doesn't involve (the) police?" Fuhr said. "You've got civilians that are telling police how they need to train. That is very problematic."
Additional steps would be implemented on background checks for those applying to become an officer, according to the bill's text, like checking all disciplinary records from previous law enforcement or corrections employers.
HB 1082 would also modify the certification and decertification process for peace and corrections officers, according to the bill's text. The CJTC may deny, revoke or suspend certification if the applicant or officer committed a felony regardless of conviction.
"They're talking about decertifying officers in this bill before they're even investigated for whatever issue," Fuhr said. "In this country, it's innocent until proven guilty."
Representatives had not voted on HB 1082 as of Tuesday. The bill also has a companion bill, Senate Bill 5051, which senators had not voted on.
If HB 1202 is signed into law, injured individuals could have a cause of action against a peace officer, who is acting under color of authority, if the officer engaged in conduct specifically listed in the bill.
Conducts listed in HB 1202 include actions like assault, battery and trespass, among other things. The state Attorney General is also permitted to investigate law enforcement employers and officers engaging in specifically listed conduct in the bill.
Under HB 1202, the plaintiff can name a peace officer's employer as the defendant. The employer is held liable if the injury the officer caused to the plaintiff is a practice or procedure approved by the employer.
Fuhr said the language in HB 1202 is heavily weighted in favor of the plaintiffs and does not provide an even ground.
"This is the one that scares me," Fuhr said. "Probably one of the biggest ones that scare me, as far as continuing this profession."
Representatives had not voted on HB 1202 as of Tuesday.
Fuhr said he is not a fan of HB 1203, which would require areas with law enforcement agencies to establish a community oversight board. He said local municipalities are already allowed to have oversight boards if they choose.
"If (we have) a good relationship with our community … and nobody's yelling and screaming and jumping up and down asking us for an oversight board, then why would we be mandated to do that?" Fuhr said.
HB 1203 would allow community oversight board members to examine internal investigations for accuracy and completeness, according to the bill's text. The board members can also access crime scenes and other investigations.
"This part of it scares the hell out of me," Fuhr said, referring to board members having access to crime scenes.
Representatives had not voted on HB 1203 as of Tuesday.
Fuhr had some reservations about HB 1267, which would permit the governor's office to establish the Office of Independent Investigations to look into certain incidents, like the use of deadly force, in-custody deaths and sexual assault, that involve peace officers.
The office would have an advisory board, director and investigators, according to the bill's text. Investigators cannot be a commissioned law enforcement officer at the time of their application unless they were approved by the advisory board.
"This new task force wants to create this new agency to come in and do these investigations, which I have no problem with," Fuhr said, "but … they want non-law enforcement people to do these investigations."
Representatives had not voted on HB 1267 as of Tuesday.
Proponents of legislation regarding police reform say communities of color have been disproportionately affected by the police. The death of George Floyd in Minneapolis, for instance, is just one example of why state legislators authored certain bills.
Fuhr said he believes racism exists not only in law enforcement agencies, but in every profession. Everyone has an implicit bias — people just need to be aware of it and make sure it does not affect their decision-making process.
"I think there are officers that are racist. I truly do," Fuhr said. "If (police) chiefs aren't fixing the problems that are happening, then shame on them, because they're making national news, and it's affecting all of us."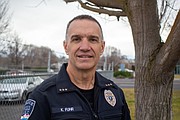 Recent Headlines
---