Basin wrestlers take first place at 2021 Tulsa Nationals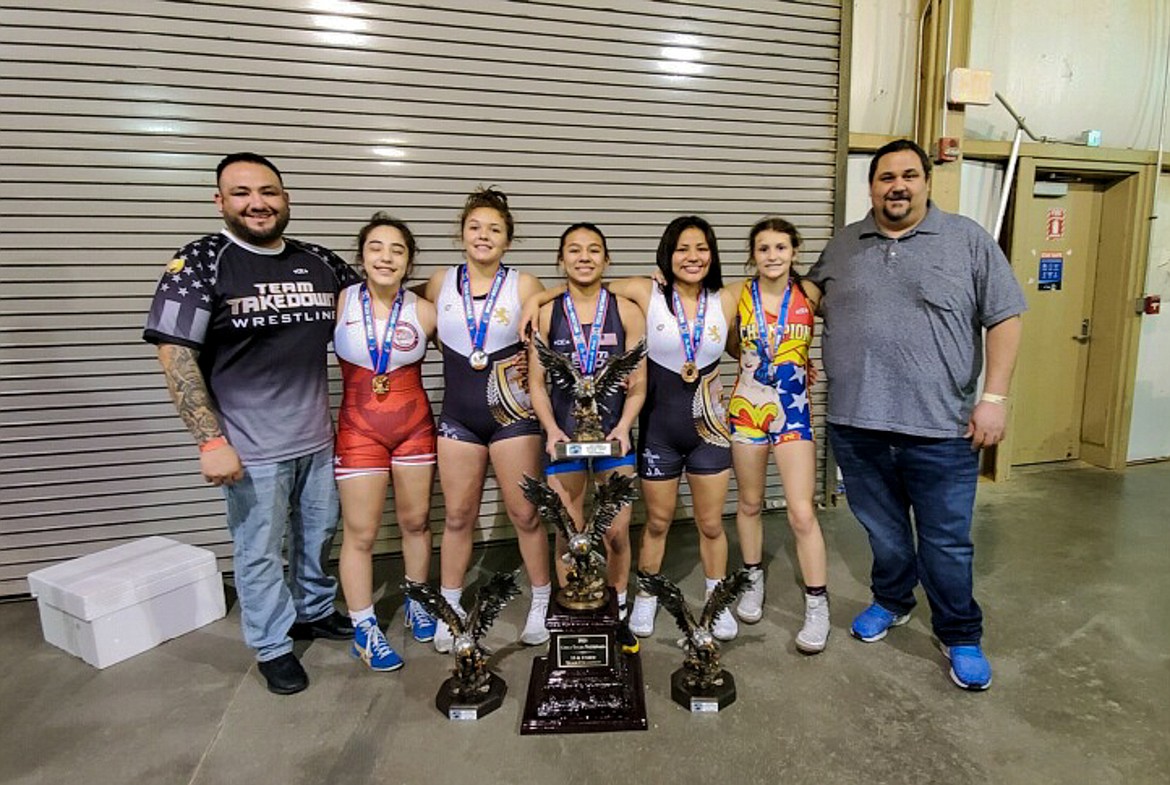 Left to right, Team Takedown Coach Junior Hernandez, Emma Villa, Shannon Workinger, Ashley Naranjo, Alondra Morales, Bianca Johnson and Assistant Houston Johnson after taking first place at the 2021 World of Wrestling Tulsa Nationals.
Courtesy Photo/Houston Johnson
by
CASEY MCCARTHY
Staff Writer
|
February 3, 2021 1:00 AM
TULSA, Okla. — Wrestlers from around the Columbia Basin with Team Takedown took first place at the 2021 World of Wrestling Tulsa Nationals tournament Jan 14-17.
Alondra Morales, Ashley Naranjo, Bianca Johnson, Emma Villa and Shannon Workinger combined to take the top finish at the Girls 15U division in Tulsa. Johnson and Workinger took first place in their weight classes Jan. 16-18 to give themselves a shot at the coveted Trinity Award.
To win the Trinity Award, a wrestler must take first place at the Kickoff Classic, Tulsa Nationals and Reno World Championships.
Ashley Naranjo nabbed a third-place finish in the 106-pound weight class in Tulsa, while Morales and Villa placed fifth in their weight classes.
Quincy junior Shannon Workinger said it was great having that level of success as a team and "representing the Basin." She said it was great to show the nation and everyone back at home just how good the wrestlers from Washington are.
"We can do some things. It's been really good," Workinger said. "They're all really good girls, and they're all amazing athletes, so it's been great to train alongside them."
Workinger said she's excited about the Reno World Wrestling Championships knowing she has a shot at the Trinity Award this summer after taking first place in Tulsa and at the Kickoff Classic. She said she feels fortunate to have been able to train with Team Takedown with the high school season on hold.
"I'm still really sad the high school season's not here because that's something everyone looks forward to, but overall I'm happy I've had the opportunity to train," Workinger said.
Workinger said her mother can't make it to all her tournaments or watch competitions across the nation, but said her family and friends have been able to watch her matches online and offer encouragement. She said it isn't the same as having them in the gym with her, but she is happy to have their support.
Heading toward the possible high school season this spring and other upcoming club tournaments, Workinger said she wants to focus on improving the mental aspect of her wrestling.
"I think wrestling is very mental and getting in my affirmations that I can do things, I think that's going to play a big part in my success in wrestling," Workinger said.
Recent success has been helpful in reinforcing her confidence, she said. The Quincy junior said going up against girls from across the country just showed her anyone can win on any day.
Moses Lake's Bianca Johnson will join Workinger in her pursuit of that coveted third leg of the Trinity Award after Johnson claimed the top spot yet again in Tulsa. She said the competition was tougher than she expected at the tournament in Oklahoma.
Facing off against new competition from around the country has been a big benefit of competing with Team Takedown this year, Johnson said.
"It's a great experience traveling around and getting a different feel of what other girls are like, what their training is like, their techniques," Johnson said.
With the Chiefs' season on hold this winter, Johnson said it has been nice to train at the club level. She said she feels like traveling to compete in different places has helped her get some added exposure with college coaches.
Johnson said she's hoping her training can pay off with a state title whenever she gets another shot at the Mat Classic, this year or next. Looking forward to tournaments, including the Reno Worlds, she wants to keep training hard.
"It's honestly really exciting," Johnson said. "I'm really thankful for my parents to give me these opportunities to travel around and go achieve these awards."
---