Flatware art: Mary Courtright turns forks and spoons into something unique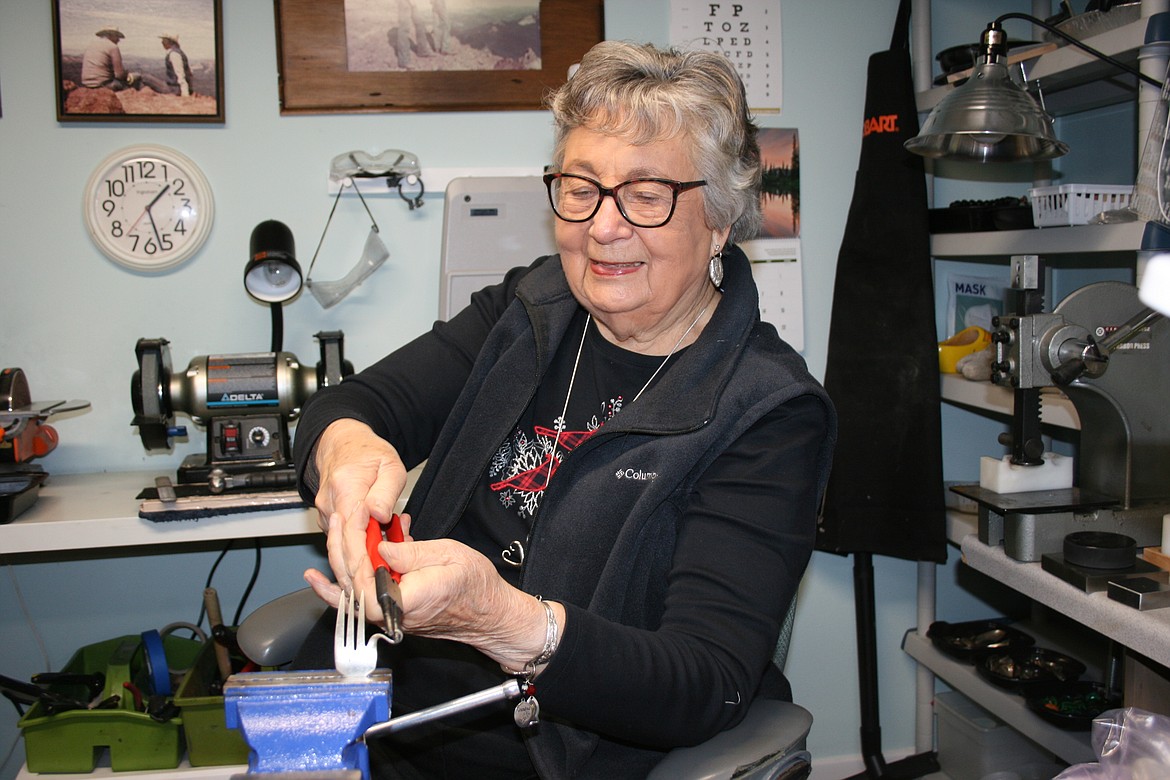 Mary Courtright bends the tines of an old fork into a reindeer pendant. Courtright uses silver flatware as the raw material for jewelry, figurines and other objects.
Cheryl Schweizer/Columbia Basin Herald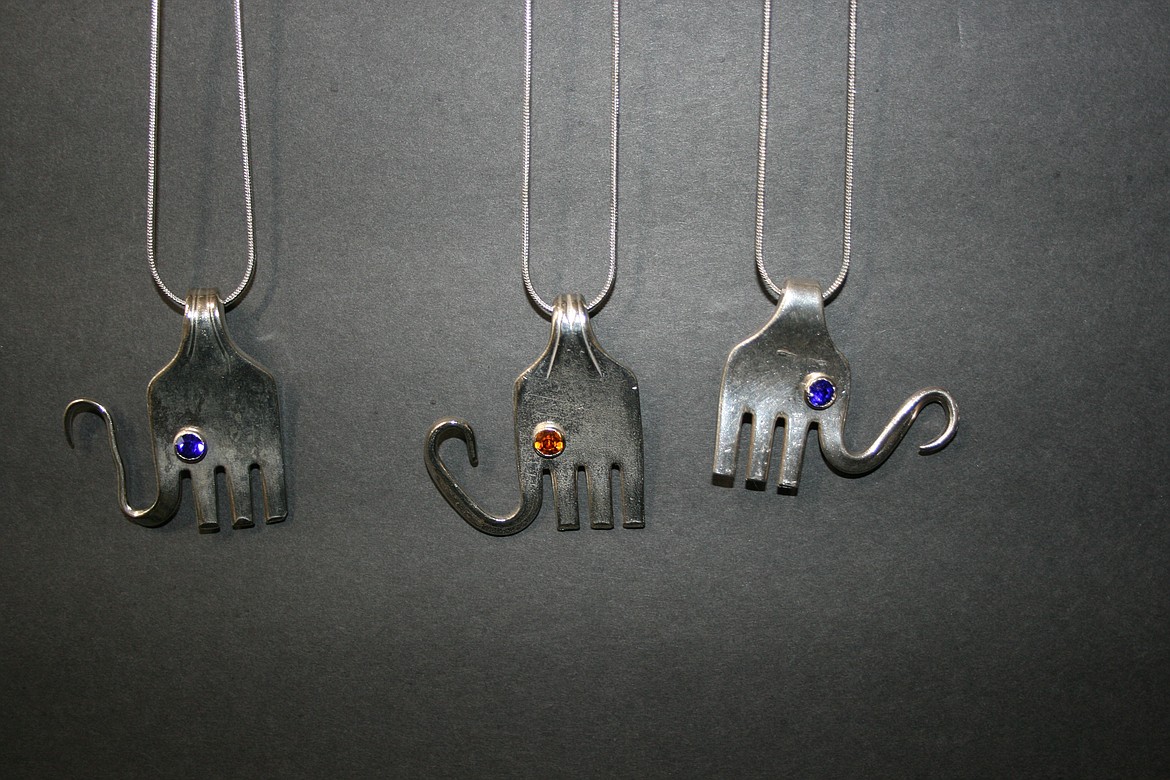 Elephant pendants are among the pieces Mary Courtright refashions from old silver tableware.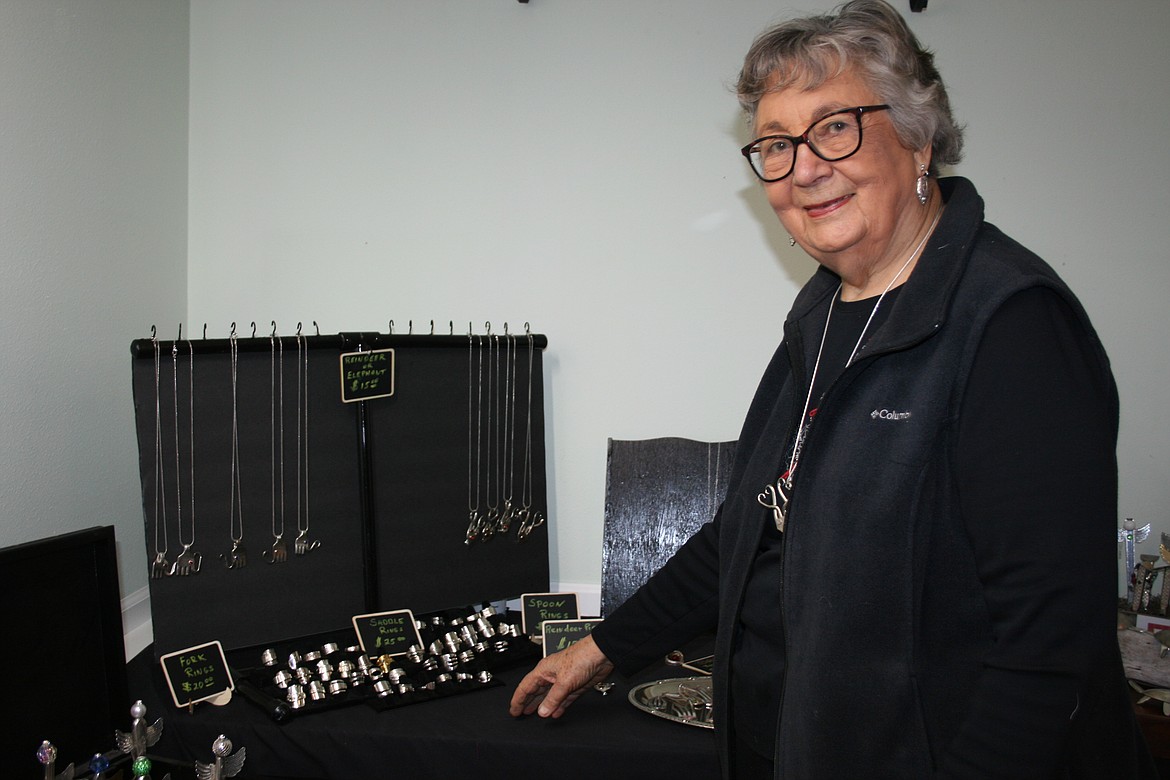 Mary Courtright shows off some of her turtle figurines.
Previous
Next
by
CHERYL SCHWEIZER
Staff Writer
|
December 17, 2021 1:00 AM
MOSES LAKE — Mary Courtright said she got bored when the COVID-19 pandemic confined her to her Moses Lake home.
Courtright, 88, was categorized as high-risk, so she didn't go much of anywhere. And she was used to building and creating.
"I've always loved to build things," she said. "I used to do a lot of woodworking projects. I built a lot of furniture, I built things out of skis. Then I really couldn't do that anymore, and I gave my grandson all my woodworking tools."
She found something new while working on her computer one day.
"I just happened to run across a video about bending silverware, flatware," Courtright said.
It looked interesting, taking old forks, spoons and knives, turning them into jewelry and – well, all kinds of other things.
"I happened onto this video, and I thought, 'I can do that,'" she said.
"It gave me something to do during the COVID times, when there wasn't much else going on. It was just a real blessing to have projects to keep me busy," she added.
She started with a few tools, cutting the bowls off spoons to make wind chimes. But that was only the beginning.
"One thing led to another and now I have all these tools to work with silverware," Courtright said.
Her home studio is filled with a small jigsaw and band saw, a small drill press, grinders and a press that she supplemented with special attachments. The raw materials – old forks and teaspoons, knives, serving spoons and more – are corralled in baskets on the studio shelves.
From the raw materials come earrings and pendants, rings, bracelets, seam rippers, key chains, figurines, ornaments and wind chimes, ski figurines and more.
She purchased a set of jigs to help bend pieces, and that purchase came with entry into a social media group for people working in old silverware.
"They are very generous about sharing their ideas," she said.
She started with raw material from her own dining room, the sterling silverware place settings for 12 that she had received as a wedding gift. She turned some of it into jewelry, including a ring and earrings, bracelet and necklace. Some of it went into a special family project.
"Each one of my family members came and made a Christmas tree ornament. All my great-grandchildren," she said. "And we had a great time doing it."
The project not only produced ornaments, but also memories of being together and creating, she said.
"That way, everybody has a piece of Grandma's silver, but nobody has to polish a whole set," she said.
The flatware is not difficult to find.
"I've had friends give me whole sets that they didn't want anymore," she said. "I found it at second-hand stores. Thrift stores, antique stores. I have friends that shop for me. I have gotten quite the stash."
The forks are turned into reindeer and elephant pendants, the spoon and fork handles become bracelets and earrings, knife handles are raw materials for seam rippers. The teaspoon bowls are incorporated into wind chimes.
Serving spoons can be flattened and serve as the base for figurines – big and small angels, skiers or swimmers. Serving spoon bowls also are the base for turtles.
Courtright demonstrated the technique of turning a fork into a reindeer. The fork tines are bent and twisted into curves, the handle is cut off, the bottom of the pendant gets some shaping and black and jeweled rivets are added for the eyes and nose. She started by gluing those features on, but the rivets look more professional, she said.
Earrings are made from the end of knife handles. She split the handle of a butter knife in two to make a matching set, she said.
Elephant pendants are made of forks with part of the tines cut off and one bent into the animal's trunk. The figurines use knife handles for bodies and the fork tines for arms and legs.
Courtright estimated she's made at least 200 of the small angels.
"They just keep selling," she said.
Her creations have become more complicated as she got more equipment, she said. She also does custom orders.
Cheryl Schweizer can be reached via email at cschweizer@columbiabasinherald.com.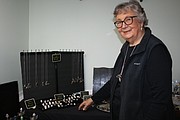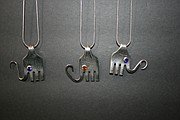 Recent Headlines
---