Stoked about being in Moses Lake: Space company obtains funds for R&D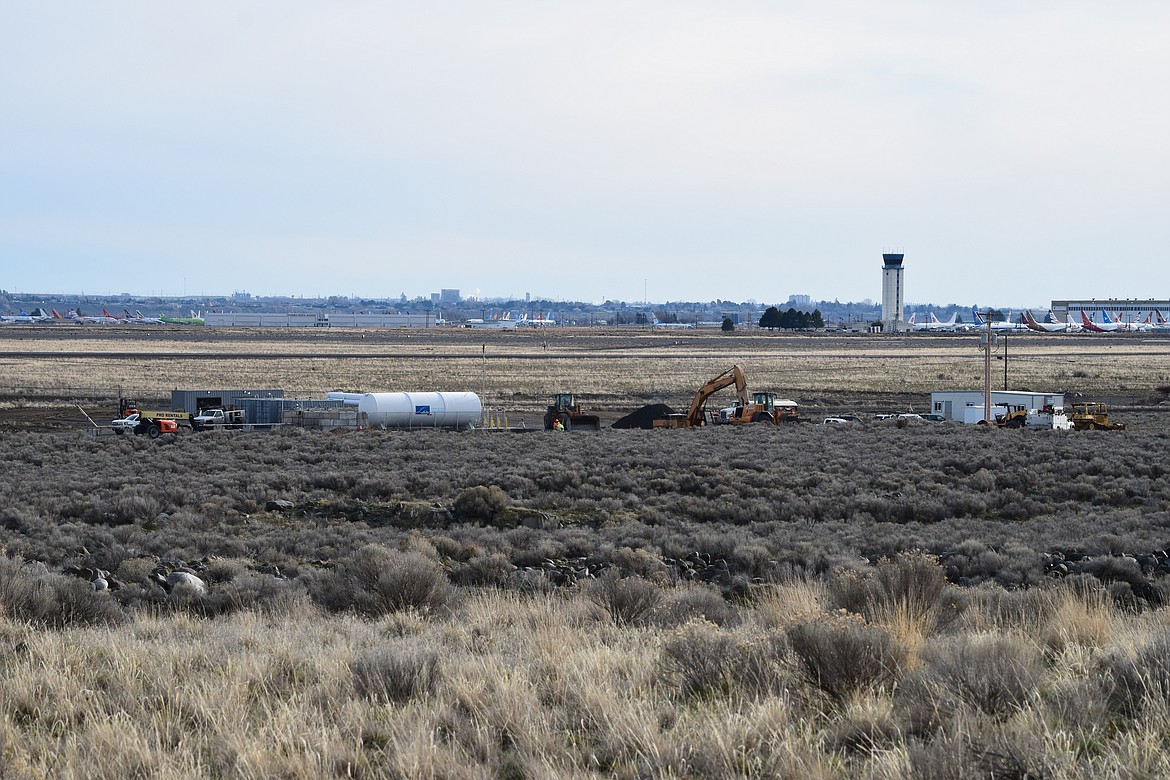 STOKE Space Technologies' Moses Lake facility is on Road G Northeast, just west of the Grant County International Airport. The company is expanding the facility.
Charles H. Featherstone/Columbia Basin Herald
by
CHARLES H. FEATHERSTONE
Staff Writer
|
December 16, 2021 1:05 AM
MOSES LAKE — STOKE Space Technologies, which is testing engines as part of an effort to create a reusable second stage rocket, announced Wednesday it has secured $65 million in funding to continue its research and development work.
"This lets us scale up the operations and get to the next step," said Andy Lapsa, CEO and co-founder of the Kent-based company. "And a lot of that work will be done in Moses Lake."
According to a company press release, the $65 million was raised as part of an initial sale of shares in STOKE Space Technologies to a host of companies led by Breakthrough Energy Ventures — a venture capital firm founded by Bill Gates with the purpose of investing in companies developing green and sustainable energy — known as Series A funding.
STOKE is developing "a fully and rapidly reusable" rocket that "will provide low-cost, on-demand access to and from any location in orbit," from low-earth orbit to geostationary positions and even the moon, according to the press release.
Lapsa previously oversaw rocket engine design for Amazon founder Jeff Bezos's reusable rocket company Blue Origin. Blue Origin's New Shepard suborbital capsule carried former Star Trek actor William Shatner and three others into space during a roughly 10-minute long flight on Oct. 13.
Lapsa said the company is creating a completely reusable second-stage vehicle, and not just the rocket engines, and that when he founded Stoke Space Technologies with fellow Blue Origin veteran and STOKE Chief Technology Officer Thomas Feldman, they had no idea how they were going to create that 100% reusable second-stage-to-orbit vehicle.
"It's the last unsolved problem," Lapsa told the Columbia Basin Herald. "Coming back from orbit is very different, there are different phases of aerodynamics. It's a very challenging proposition."
"We had no idea how we were going to do it," he added.
Lapsa said STOKE has already started construction work expanding its Moses Lake test facility, located west of the Grant County International Airport in the Port of Moses Lake's new West Side Employment Center and is advertising a number of new positions on its web site in Moses Lake, everything from general helper to rocket technicians, test engineers and project managers.
"We're excited to build a state-of-the-art facility out there," Lapsa said. "The Port of Moses Lake and the community have been overwhelmingly supportive. I'm glad we made the decision to go out there."
Recent Headlines
---