Political banner removed from school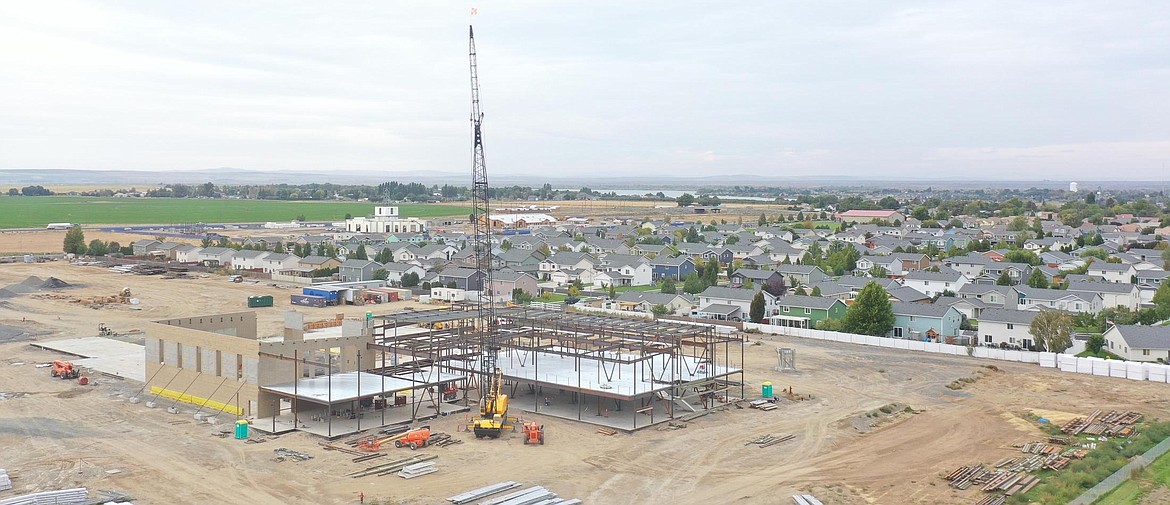 Work is ongoing on Yonezawa Boulevard where the Moses Lake School District is building Vanguard Academy, a new high school that will provide hands-on learning to students while still covering core curriculum.
Moses Lake School District/Courtesy photo
by
R. HANS MILLER
|
December 16, 2021 1:07 AM
Passers-by of Moses Lake School District's newest campus on Yonezawa Boulevard, Vanguard Academy, Tuesday morning may have been shocked, as a political banner with a slur toward President Joe Biden was displayed.
"Early in the morning of Tuesday, December 14th, the Moses Lake School District was made aware of an unsanctioned, crude and politically-motivated banner posted at the construction site of Vanguard Academy. Upon investigation, the flag was posted by an unaffiliated subcontractor of Absher Construction and was promptly removed," an MLSD statement said.
The district said it does not condone the type of language presented on the banner and appreciated Absher Construction's follow-up to the situation in getting the signage removed.
Absher Construction President Jeff Richards said via telephone the company is investigating exactly what happened. Thus far, it was determined employees of a subcontractor initiated hanging the banner and no direct employees of the company were involved.
"We're looking into it currently to make sure it was an isolated incident with a subcontractor," Richards said. "A couple of their employees decided to do this (and) they're seeing disciplinary actions through that subcontractor."
Richards added the company is taking steps to ensure similar issues never happen again. The subcontractor was asked to stand down from the Vanguard Academy project. A group meeting with that construction crew was held to discuss why the banner was inappropriate and Richards said another meeting would be held to ensure everyone with all of Absher Construction's partners on the project was aware of the company's position.
"At this point, we understand this was an isolated subcontractor employee incident and will be dealt directly with that subcontractor. Absher Construction does not tolerate this type of activity, has no affiliation to any part of this incident, and we have reminded all of the subcontractors of this obligation," a formal statement from Absher Construction said.
The construction site is at 740 E. Yonezawa Blvd. in Moses Lake and is slated to open for the fall semester in 2022. The 135,000-square-foot facility is funded through bonds approved by voters in 2017 and has a projected cost of $58 million to build.
Recent Headlines
---