Growing district, growing schools: Quincy looks for levy approval in February election
by
R. HANS MILLER
|
December 15, 2021 1:07 AM
QUINCY — Quincy School District will ask voters to approve a $1.25 per $1,000 home valuation levy during a special election Feb. 8.
"We use this levy for all of the purposes – for technology, for safety and security, for maintaining our buildings," said QSD Superintendent John Boyd.
Boyd said the levy is not a new tax but rather an extension of an old tax that pays for operational expenses for the district. The organization's last levy election set a rate of 44 cents per $1,000 in 2020, $1.52 for 2021 followed by $1.24 for 2022. The February ballot measure, if approved by Quincy voters, would set a rate of $1.25 each year from 2023 to 2026, Boyd said. Thus, the proposed rate would cost taxpayers $125 per $100,000 in home value, or about $375 for a $300,000 home.
According to Zillow.com, the typical home value in Quincy is about $363,000, so the typical homeowner could see a tax bill of $453.75 in support of the QSD levy alone. As the city of Quincy grows, property values have increased, as well. Zillow.com points out typical values in 2021 were about $159,000.
"Our assessed (property values districtwide) grew 27% this year," Boyd said. "And, to put that into context, Quincy is at almost $6.5 billion worth of assessed value. It's over $1 billion more than Moses Lake."
With increased property value in the district, that would spread the cost for supporting an increasing student body in the district among new residents and old, reducing the financial impact on individual homeowners, Boyd said.
Boyd said the ongoing support of the community for a school levy is vital for key programs. Funding from the election will fill gaps that state and federal funding leave. Levy funding accounts for 16% of the district's overall operating budget, he said. That includes paying for school bus trips to field trips, sporting and club events. Student-oriented programs such as the district's Highly Capable program for gifted and talented students, the arts, academic clubs, special education, textbooks and early childhood education are also paid for through levy funding.
"The state helps us with some of that funding, but we also have to buy materials, structures and different things that support early learning," Boyd said. "And then, the last thing I'll mention is access to rigorous course offerings, such as college in the high school."
The college program allows Quincy students to obtain dual credit for courses that are applicable to both high school and college for credit. The levy funding helps break down income barriers for low-income students to take those dual-credit classes, Boyd said.
About 81% of the student body – about 2,570 of the district's 3,171 students – in Quincy meets guidelines to be considered low-income, according to documentation provided by the district. Additionally, Boyd said the district is continuing to grow with district estimates indicating more than 3,300 students by the 2023-24 school year.
"We're adding between 80 and 100 students a year," Boyd said. "Quincy's really exploding, growth-wise."
A large portion of the levied property taxes will come from data centers such as Microsoft, Boyd said. The data centers account for about 60% of the district's overall land value, he said.
Voters should receive their ballots in January by mail at their registered address and votes must be returned by 8 p.m. Feb. 8.
With the pandemic ongoing, Boyd said the levy will also be important to support additional nursing staff for the district to keep students healthy.
"The state doesn't fully fund our nursing program, and especially during COVID and all of the things required to that, so that's an example of where levy funds help us with only partially funded things from the state school nursing programs, highly capable enrichments, arts and music, academic clubs, library program (and) transportation," Boyd said.
Learning about the levy
For more information on the Quincy School District Levy, visit the district's website or contact the district as noted below. Quincy School District Superintendent John Boyd said he invites voters to contact him and Assistant Superintendent Nik Bergman via telephone with any election questions they may have.
Phone: 509-787-4571
Web: https://bit.ly/QUINCYLEVY22
FactSheet: https://bit.ly/QUINCYFACTS1
PowerPoint: https://bit.ly/QUINCYPPT1
State-Level Education Levy: https://bit.ly/WAEDLEVY
Voter registration: https://www.sos.wa.gov/elections/voters/
R. Hans Miller can be reached via email at rmiller@columbiabasinherald.com.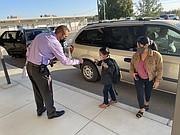 Recent Headlines
---