MLSD hires firm in search for new chief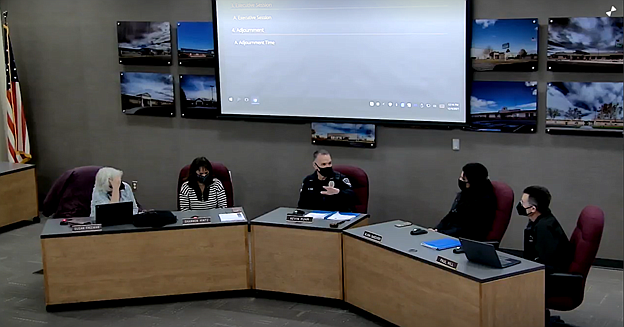 The Moses Lake School District Board of Directors meet for about 14 minutes Thursday afternoon to discuss hiring a recruiting firm to help the district in its search for a new superintendent.
Moses Lake School District/CHAMP/Courtesy photo
by
R. Hans Miller, Staff Writer
|
December 13, 2021 1:00 AM
MOSES LAKE — During a special meeting at noon Thursday, the Moses Lake School District Board of Directors unanimously voted to award a contract to Northwest Leadership Associates to help the district find candidates for the open superintendent position.
"They already know the candidates that are searching or will be searching for jobs that they can reach out to, and then they also have those that they don't know yet," said board president Kevin Fuhr. "I was more in favor of the Northwest Leadership Associates because of a local connection."
Hiring the Liberty Lake, Washington-based firm for about $17,000 comes about after the district dismissed former superintendent Josh Meek in August after an investigation into financial concerns, including possible inappropriate use of a district credit card. Assistant Superintendent Carole Meyer has served as interim superintendent since that time.
Four companies responded to a request for proposals issued by the district seeking a consultant to help identify candidates to fill the open superintendent seat permanently, said Moses Lake School Board member Susan Freeman. Of those, Northwest Leadership Associates and Arizona-based firm GR Recruiting came out as the two most competitive bids.
Directors compared the two and preferred the local connection overall. Fuhr said he was fine with either firm because costs were roughly the same but had a slight preference for Northwest Leadership Associates because they would be able to attract candidates who lived closer to Moses Lake and would be more likely to draw strong candidates to the area.
Freeman preferred GR Recruiting because of the larger organization's reach nationally.
"I like the fact that they have offices in other regions so their puddle is a little deeper," Freeman said.
The board is tentatively expecting to meet with representatives from Northwest Leadership Associates on Dec. 20 to discuss first steps in the hiring process.
"They talked about putting out a tickler before the holidays that would basically say that the superintendent job is forthcoming," Fuhr said. "And just so that people would see that the job will be posted in January so that anybody that wanted to (and) that would be interested could come to Moses Lake during the holidays to check out the area, check out the schools, check out the community."
R. Hans Miller can be reached via email at rmiller@columbiabasinherald.com.
Recent Headlines
---