Sights and sounds: Moses Lake artist paints what she hears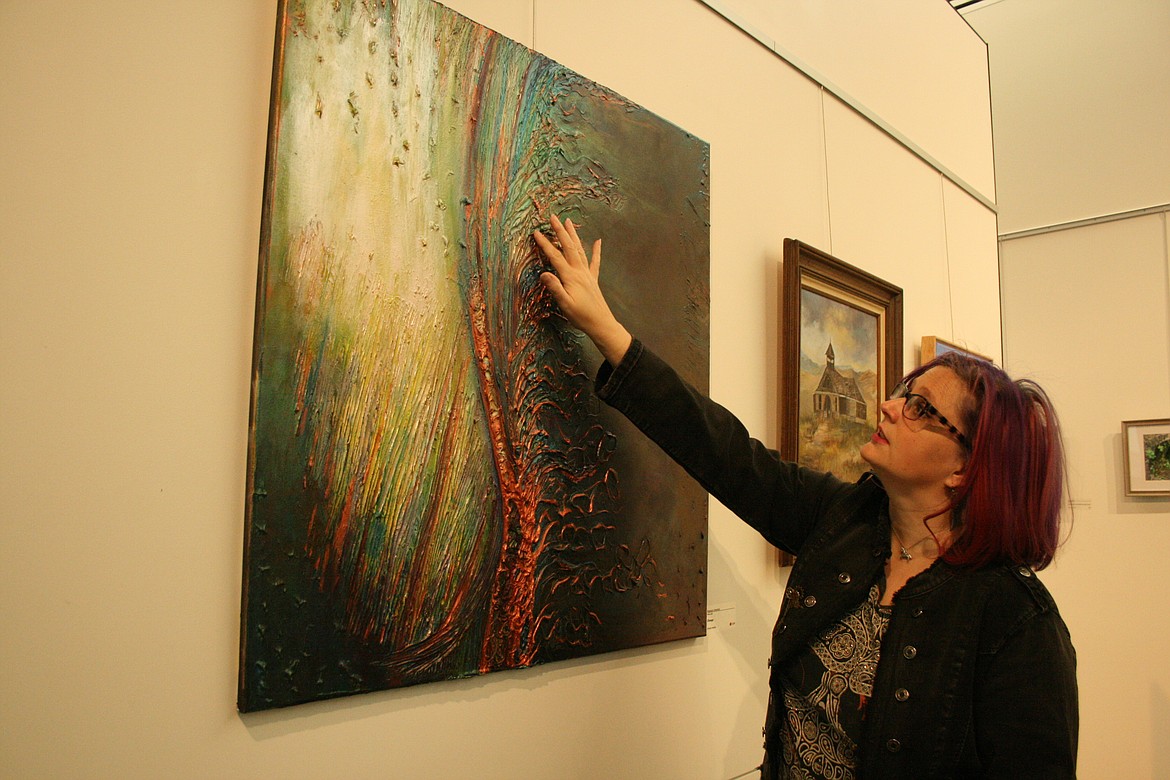 Rebekah Littlefield highlights the texture on one of her paintings in the members only exhibit at the Moses Lake Museum & Art Center.
Cheryl Schweizer/Columbia Basin Herald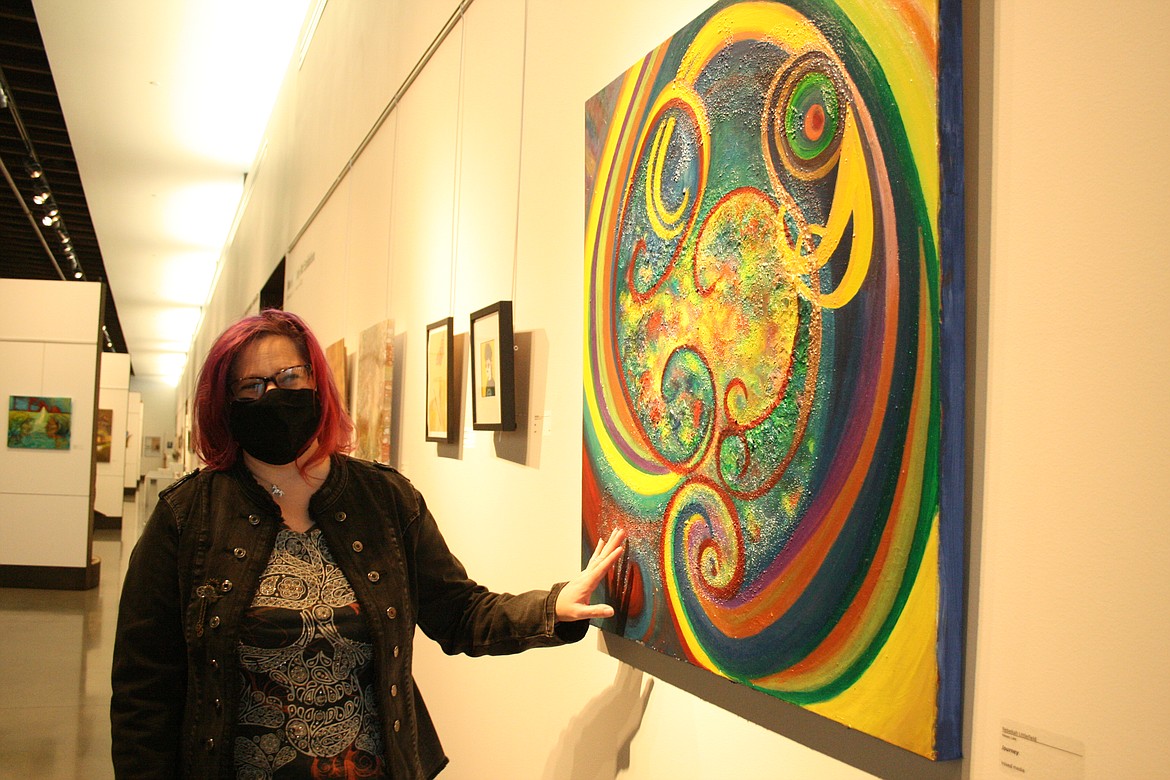 Artist Rebekah Littlefield talks about her technique, which involves painting what she sees when listening to music.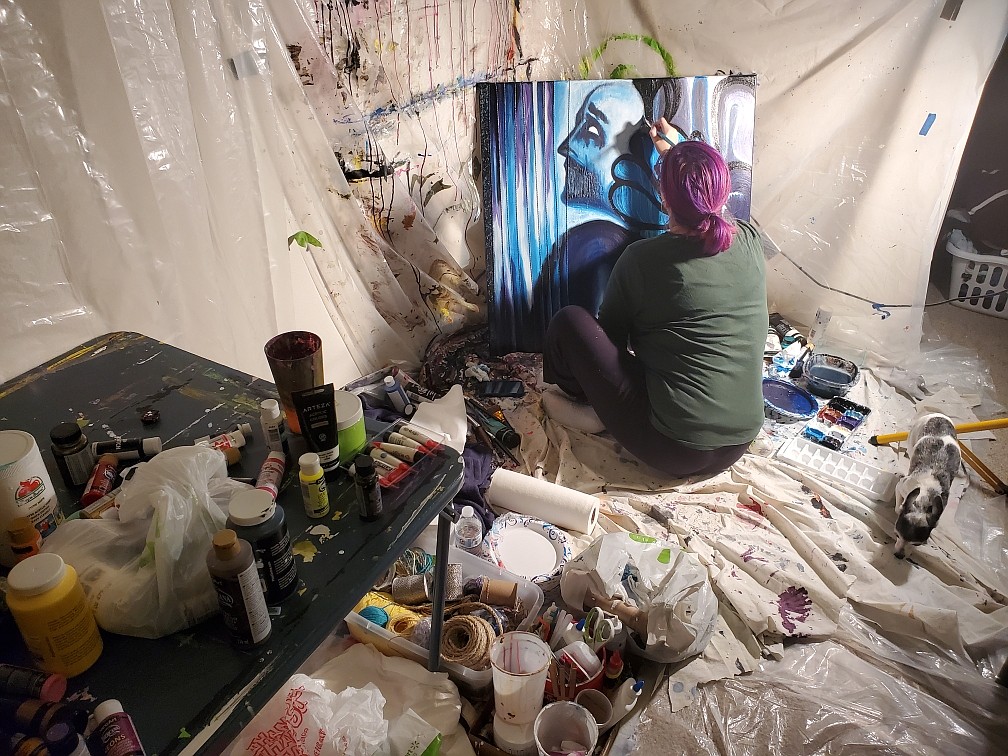 Rebekah Littlefield works on a painting in her home studio, with her dog Echo keeping her company.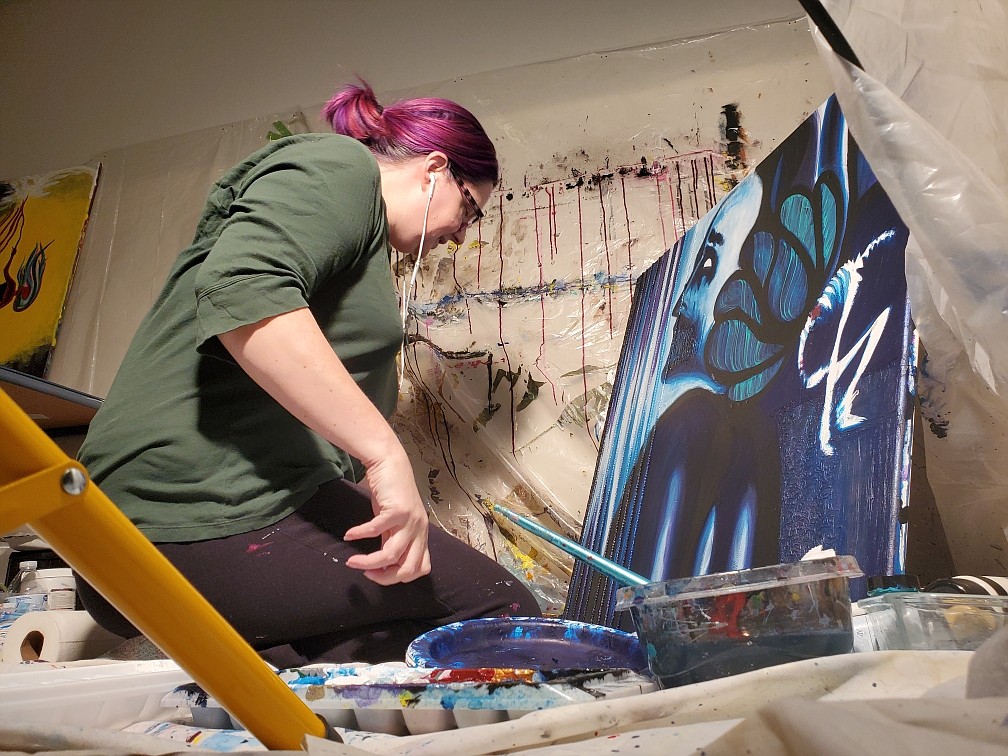 Artist Rebekah Littlefield said she puts the colors and shapes she sees when listening to music down on canvas.
Previous
Next
by
CHERYL SCHWEIZER
Staff Writer
|
December 9, 2021 1:00 AM
MOSES LAKE — Rebekah Littlefield sees her art in music and words. Literally sees it.
"It's called synesthesia," she said. "What happens is, when I listen to music, it creates these colors and these shapes, and sometimes it just hits me pretty hard. And I have to create these images," she added. "It's pretty intense."
Four of Littlefield's works are on display in the members only show, the current exhibition at the Moses Lake Museum & Art Center.
Many of Littlefield's paintings are filled with swirling shapes, with a color palette that runs the whole spectrum. Texture plays a major role in her art – surfaces are built up, sometimes with paint alone, sometimes with other materials like twine.
"With each painting it's very different," she said. "When I hear the song, I get these massive flashes of what it needs to be. And then it will kind of evolve as I go with it. I'll listen to the song numerous times as I'm in it, and it will continue to kind of guide me where it needs to go."
Littlefield said she started painting in 2010, and her works have sold steadily. She also does commissioned pieces.
So it's a little ironic the instructor in the one painting and design class she took was skeptical.
She drew a lot as a kid, she said, copying the Sunday cartoon pages, and at one time she wanted to be a Disney animator. She attended college, with a focus on art. But the painting class didn't go well.
"I barely passed my painting and design class," she said. "It just did not make any sense to me. So I did not do anything like this at all."
Then her brother died.
"It was a pretty hard hit," she said.
He was a poet, and had compiled a book of his poems.
"I heard a very loud urging to read his words," she said. "And when I was doing that, I also heard, 'Paint his words, bring his words to life.' So I went to Walmart, and got all the materials, and I started doing that. I put in his favorite music, and I started painting his words. I would actually put his words on canvas, with the colors and shapes and stuff like that. Just to connect with my brother, connect with his words."
It was a way to deal with some of the emotions that came with her brother's death.
She displayed some of her paintings on her social media page, and they got an immediate response.
"It was received very, very well," she said. "I was quite surprised."
Within a few months she was invited to display her works at a local business, then an invitation for a show at an Issaquah gallery.
"It just took off. I just kept going and going. My art was received very, very well by this community. It was pretty fantastic." she said.
"So yes, I would have to say a D in design and painting worked out very well," she added.
Both color and texture are crucial to her art.
"I think the texture is very, very important," she said. "I love how it kind of pops out at you, and you can immerse yourself into it a little bit more."
Whatever direction the painting goes, the music and words are the guide.
"As you can see, it changes and evolves. It's fascinating to see how much it changes," she said. "I think it evolves with my own personal growth as well," she said.
One of the paintings in the members only show features a woman's figure, which is a complete departure from anything she's done before, she said. And that came as a surprise.
"When I (painted it), it was like, 'Whoa.' It's exciting. It's very exciting." she said.
That, too, goes back to personal growth, she said. The impact of her brother's death sent her in an abstract direction, she said.
"Now I feel like at this point I'm able to kind of reconnect with the physical world," she said.
That painting featuring the female figure led to another discovery.
"That's when I also realized, in my work I am the only one who tells myself, 'I can't do that.' So I have to continue to make sure I say, 'I can do that,' and keep trying. What's the worst that can happen? I start a new canvas. And I've done that plenty of times."
Her artworks have always been well received, she said – in fact, one of them sold the first night of the members only exhibition.
"I do a lot of custom work as well," she said. "Send me your favorite songs. Send me your favorite poems. Tell me your favorite colors. Tell me about yourself. And it feels like I can step into their world and get to know them. And I'll go from that and I'll create a piece just for them. It's really nice. So satisfying."
The art has brought her a lot of pleasure, she said.
"It's a wonderful journey, too. And it's been great to share it with people."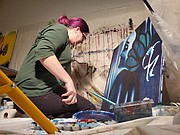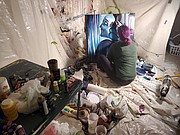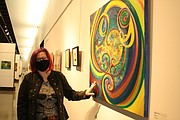 Recent Headlines
---