Oscar Wilde may have had a handle on the Psalms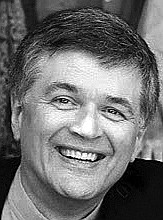 |
December 9, 2021 1:00 AM
In the year 1889, the playwright Oscar Wilde penned a memorable philosophical position: "Life imitates Art far more than Art imitates Life."
Wilde explained: "The self-conscious aim of Life is to find expression, and that Art offers it certain beautiful forms through which it may realise that energy."
Wilde's assertion was that created art, once we are exposed to it, influences how we then view reality. We never see things quite the same way again. It gives us new perspective, widens our horizons, and enriches the whole picture.
One can interpret a good deal of the Bible as "divinely-inspired art" that has been motivated by the passionate purpose of worshiping and serving God.
A most evident form of art within Scripture is the book of Psalms, which is a collection of poetry. Many believe that these poems were gathered and arranged in a particular order to convey greater meaning.
Taken together, they serve to give rich commentary on the people's relationship with God and the world, displayed through the anguish of human lament (more so in the beginning Psalms), and ultimately growing toward greater praise (more so in the later Psalms).
The Psalms are an expression of art that have the capacity to influence how we live life.
The poetry of the Psalms includes movements from hurt and doubt, to healing, confidence and ultimately praise – a recognition that challenges can be overcome in time.
This may in turn become an inspiration to others, that they have the capacity to do the same, or even do greater things.
This is truly the most beautiful artwork of all.
Walter is pastor of Immanuel Lutheran Church in Moses Lake and has served as parish pastor for more than 30 years.
Recent Headlines
---