Farm Family Brunch honors farmers, brings local families together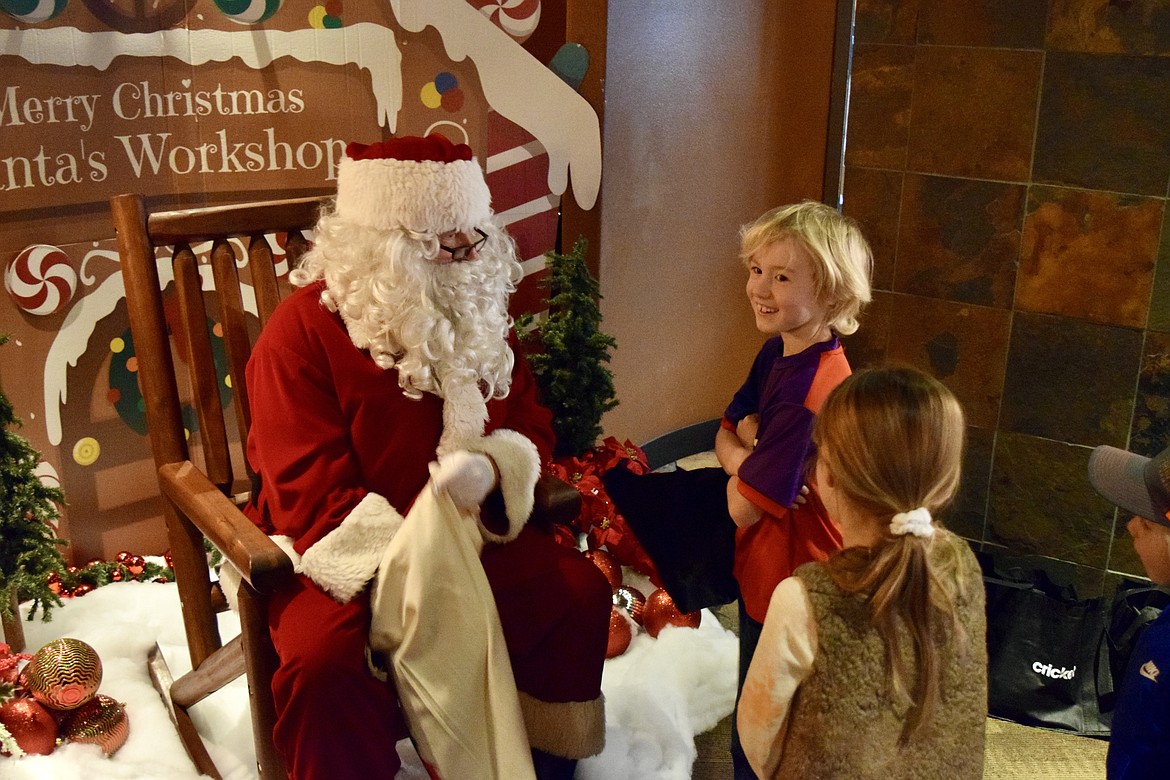 Santa Claus, who is a friend of Grant County Fairgrounds Director Jim McKiernan, speaks with Sebastian Friehe, 8, and his sister Emma, 6, at the Farm Family Brunch in Moses Lake on Saturday.
Charles H. Featherstone/Columbia Basin Herald
by
CHARLES H. FEATHERSTONE
Staff Writer
|
December 8, 2021 1:03 AM
MOSES LAKE — It may have been 8 a.m. on a Saturday, but Michael's on the Lake was filled with several hundred farmers and their families for the annual Farm Family Brunch.
Because only farmers could gather for something that early in the morning and call it "brunch."
"We pulled up and my husband said it's packed," said Amber Friehe, who runs Friehe Farms east of Moses Lake with her husband Derek. "I said it's farmers, babe, they're all going to be up and at 'em."
Organized by the Moses Lake Chamber of Commerce, the Farm Family Brunch is a way to honor local farmers and their families and give them a chance to socialize, as well as have the kids meet and get their pictures taken with Santa.
"It's the one event where they get together every year, and I'm pretty sure a lot of them don't see each other except for this event," said Alan Heroux, a local real estate agent and active member of the Moses Lake Chamber of Commerce. "Michael's does an amazing job putting on a spread for us, it's great."
According to chamber president Debbie Doran-Martinez, about 350 families registered this year for the two-hour long buffet breakfast to thank local farmers for their essential contribution to the local, national and global economy.
"It's absolutely a big deal, and they were very disappointed when we had to pivot to something different, but they're happy to be back," she said.
Friehe, who attended the brunch with her husband and their six young children, said it's a fun tradition for their family.
"I have a book full of all of their Santa pictures," she said. "We bring out the book every year with all of their Christmas books, their read-along books, and they get to look at all of their Santa pictures. We love it."
"It's really special, and it's neat that they do it," Friehe added.
Grant County Fairgrounds Director Jim McKiernan, who has been the brunch's Santa Claus for the last 12 years, said he enjoys being Santa in person at the annual brunch and likes watching kids get older as the years go by.
"There are a whole group of kids who are under 2 who haven't seen a real Santa," he said. "A virtual Santa isn't quite the same thing."
As he talks with three of the Friehe kids, the oldest, 8-year-old Sebastian, tells Santa he wants a fishing pole.
"This is always a fun event," McKiernan said afterwards. "It's a great event, to celebrate the farmers in the community and give back a little bit."
Charles H. Featherstone can be reached at cfeatherstone@columbiabasinherald.com.
Recent Headlines
---