Fa-La-La-La-La: Soap Lake comes together for Winterfest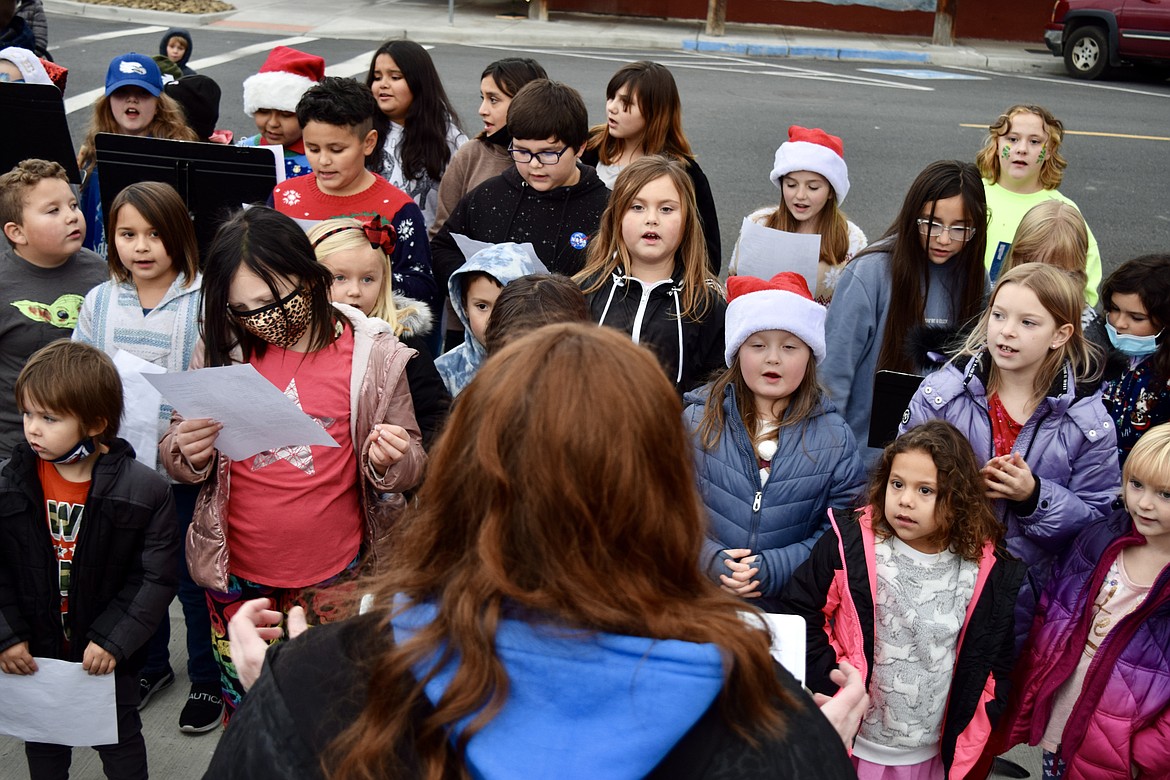 Students from Soap Lake Elementary School, under the direction of music teacher Allison Pheasant, sing Christmas songs in Sam Israel Panayiri Square on Saturday during the town's annual Winterfest celebration.
Charles H. Featherstone/Columbia Basin Herald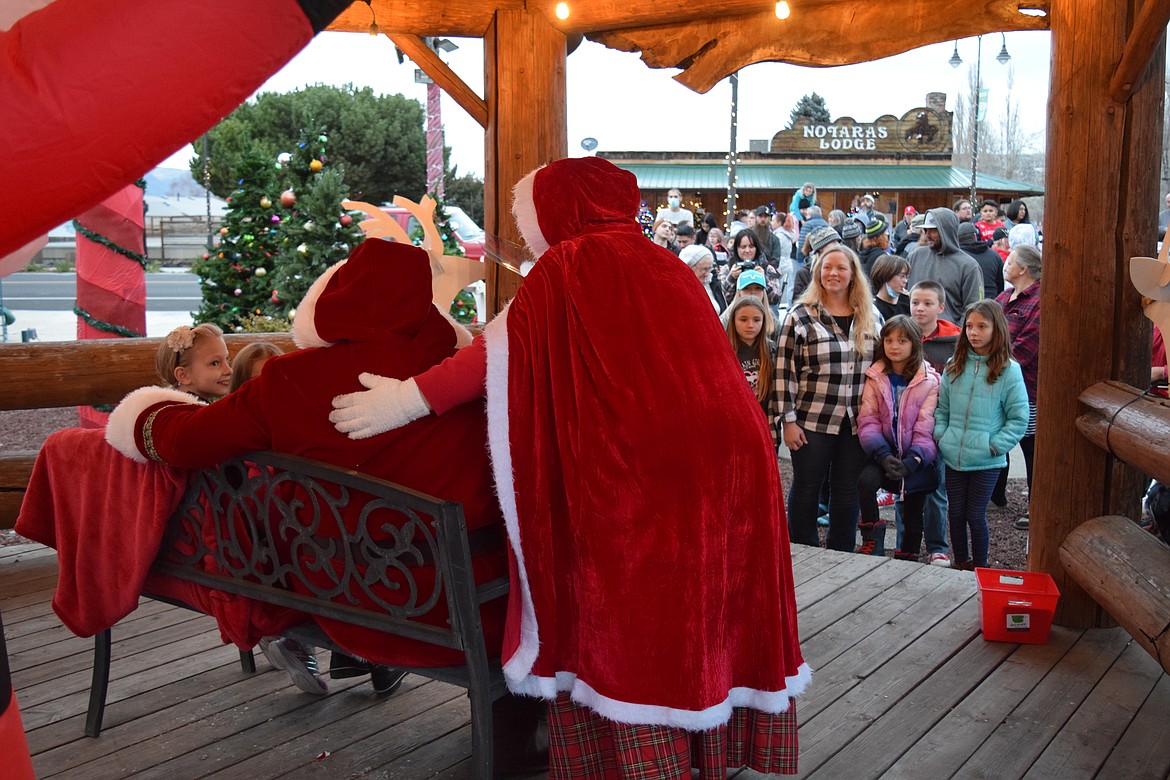 Santa and Mrs. Claus, who are close friends of Glenn and Joey Owens of Marysville, Washington, meet with kids during the Soap Lake Winterfest celebration Saturday.
Previous
Next
by
CHARLES H. FEATHERSTONE
Staff Writer
|
December 8, 2021 1:07 AM
SOAP LAKE — Several hundred people gathered in the center of Soap Lake on Saturday to meet Santa Claus, hear the city's children sing Christmas songs, and see the lighting of a host of Christmas trees.
In fact, there were so many people at the intersection of Canna Street and Main Avenue it was hard to get around on foot, much less drive by.
"Yes, there are a lot of people," said Soap Lake resident Cindi Rang, owner of The Fabric Patch in Ephrata and one of the organizers of this year's Soap Lake Winterfest.
Rang also runs a quilting retreat center in Soap Lake.
"I think that people were ready after COVID to have fun," Rang added. "It's been really nice."
Winterfest, which began at 11 a.m. and lasted through the tree-lighting in tiny park Sam Israel Panayiri Square at 3:30 p.m. and a performance of the holiday play, "Sleeping Indoors," at Masquers Theater at 7:30 p.m., also included karaoke at RISE Academy, a performance of Christmas tunes by groups of elementary school, middle school and high school students.
"Oh it's lovely, and a little chaotic because of how many people are here and the little space," said Allison Pheasant, music teacher at the Soap Lake School District, after the concert was done. "But it's fun still."
And there was a long line of kids and their families eager to meet and get a small gift from Santa.
Rang said they gave out around 300 gifts to kids "and three dogs," though parents were lining up even after the trees — all decorated by city kids — were lit.
"Every year Santa comes, every year every child gets a gift," Rang said. "It's not a lot, nothing fancy, but everyone goes home with something."
Rang said it's an important event for the community, and brings many of the town's 1,600 residents and its organizations together — from the Soap Lake Food Bank, which did face painting for kids, to the McKay Healthcare and Rehabilitation Center, which handed out cookies and hot chocolate.
"It is very tight-knit," she said. "It's nice having a smaller community. Everybody knows everybody, everybody parties together, it's nice."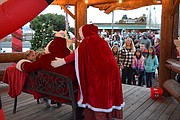 Recent Headlines
---