Moses Lake girls lose to Chiawana in overtime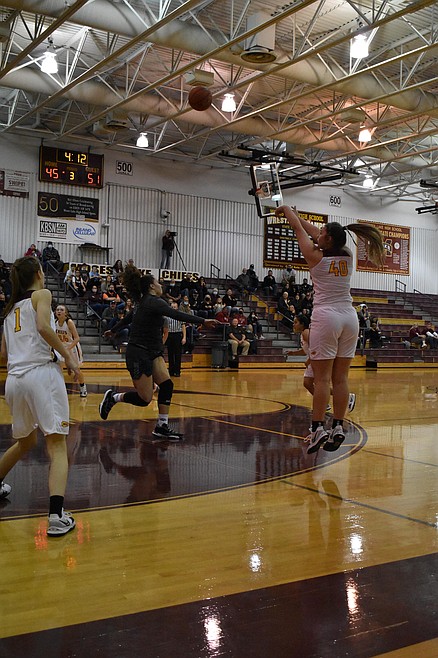 Moses Lake senior Meagan Karstetter (40) shoots for a three-pointer during the first game of the season on Friday against Chiawana High School.
Rebecca Pettingill/Columbia Basin Herald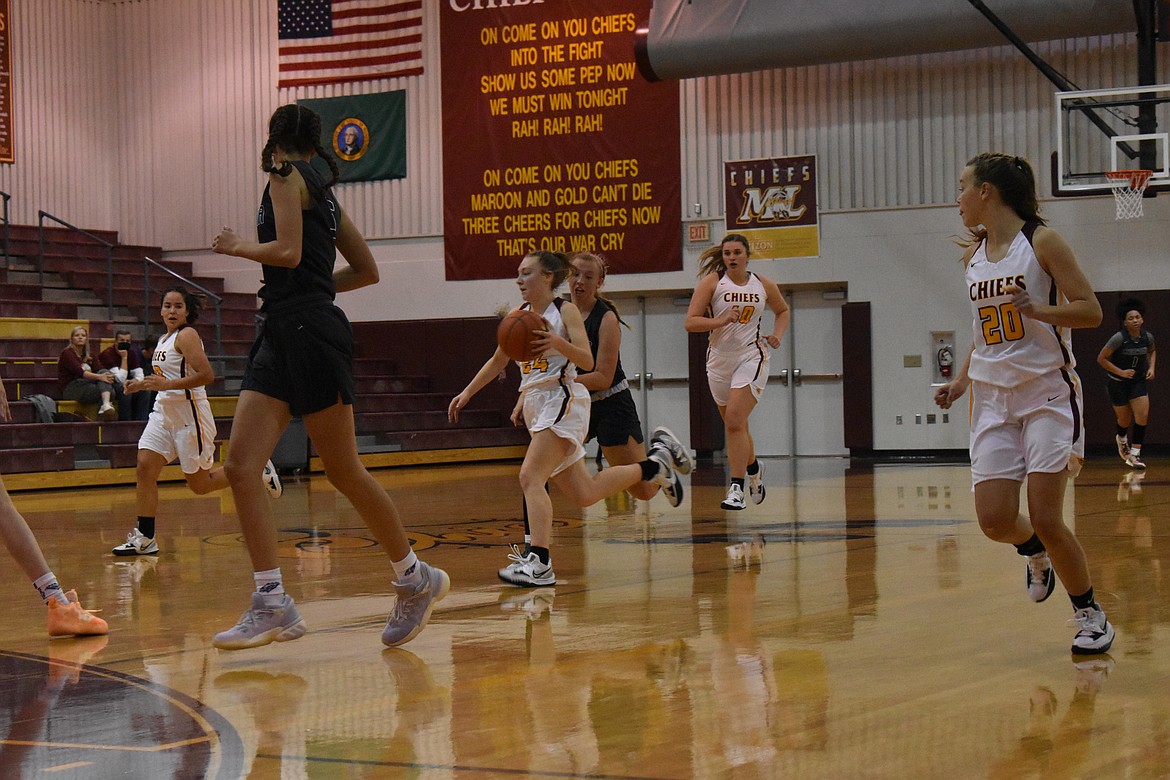 Senior Teagan Wiltbank (24) drives the ball down court Friday. Wiltbank was the high scorer of the game for Moses Lake, with 27 points.
Previous
Next
by
Rebecca Pettingill
Staff Writer
|
December 7, 2021 1:00 AM
MOSES LAKE — The Moses Lake High School girls basketball team took a tough loss Friday night against Chiawana High School in the season opener.
What started out to be an easy lead for the Lady Chiefs quickly turned to a battle. It all came down to the wire in overtime, where Moses Lake fell, 78-85.
"Well, first game of the season; a game like this shows us a lot about ourselves and I think it exposes things on the positive side, but also on the negative side, too," Moses Lake head coach Matt Strophy said.
While Chiawana was able to get on the scoreboard first, the Lady Chiefs quickly got to work making layups and even a couple three-pointers. Moses Lake also made five out of six free throws in the first quarter. Moses Lake had the lead 27-14 by the end of the first quarter.
Both teams, being very fast, made a lot of fast breaks and steals, rather than setting up a play every time.
The second quarter got turbulent when the Lady Chiefs only managed 12 points and Chiawana was able to score 30. This brought Chiawana ahead 44-39 at the half.
"I know people probably wanted me to call a timeout in that second quarter somewhere, but those that have known me for the last 19 years know, I'm not going to do that. I want the girls to learn to play through things like that," Strophy said.
Despite best efforts, Moses Lake was not able to catch up to Chiawana in the third quarter. The Lady Chiefs seemed to struggle to complete passes, miss rebounds and the ball just would not go into their basket.
Starting the fourth quarter, Moses Lake was behind 53-64. The Lady Chiefs picked up the pace, getting within inches of Chiawana at times.
It all came down to the wire, when with one minute, five seconds left in the fourth quarter, Moses Lake was only down by one point. It got down to 2.5 seconds left and Moses Lake had possession. It was down three points and needed to quickly pass the ball inbounds and score to have a chance at tying with Chiawana. A buzzer beater three-pointer by Moses Lake senior Teagan Wiltbank tied the game at 76-all, driving the crowd crazy and throwing the game into overtime.
Overtime was a four-minute quarter in which Chiawana bagged three, three-pointers to secure its victory, 85-78, while the Lady Chiefs only made one basket.
"I just love what we have started; that we can build off of in just game one, so I'm pretty proud of them," Strophy said.
Box scores:
Moses Lake - 27 12 14 23 2 - 78
Chiawana - 14 30 20 12 9 - 85
Moses Lake players' points: Teagan Wiltbank 27, Meagan Karstetter 16, Lexi Cox 13, Sydney Macdonald 10, Kendall Reffett 5, Marissa Bischoff 3, Kylee Voss 2, Ella Heaps 2.
Chiawana: A'niyah Heavens 29, Kaia Foster 23, Malia Ruud 18, Mattlee Woolf 5, Camryn Cartwright 4.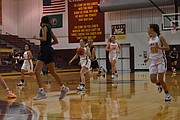 Recent Headlines
---