Busy season: Winter farmers market, Cocoa for K9s, part of weekend in Moses Lake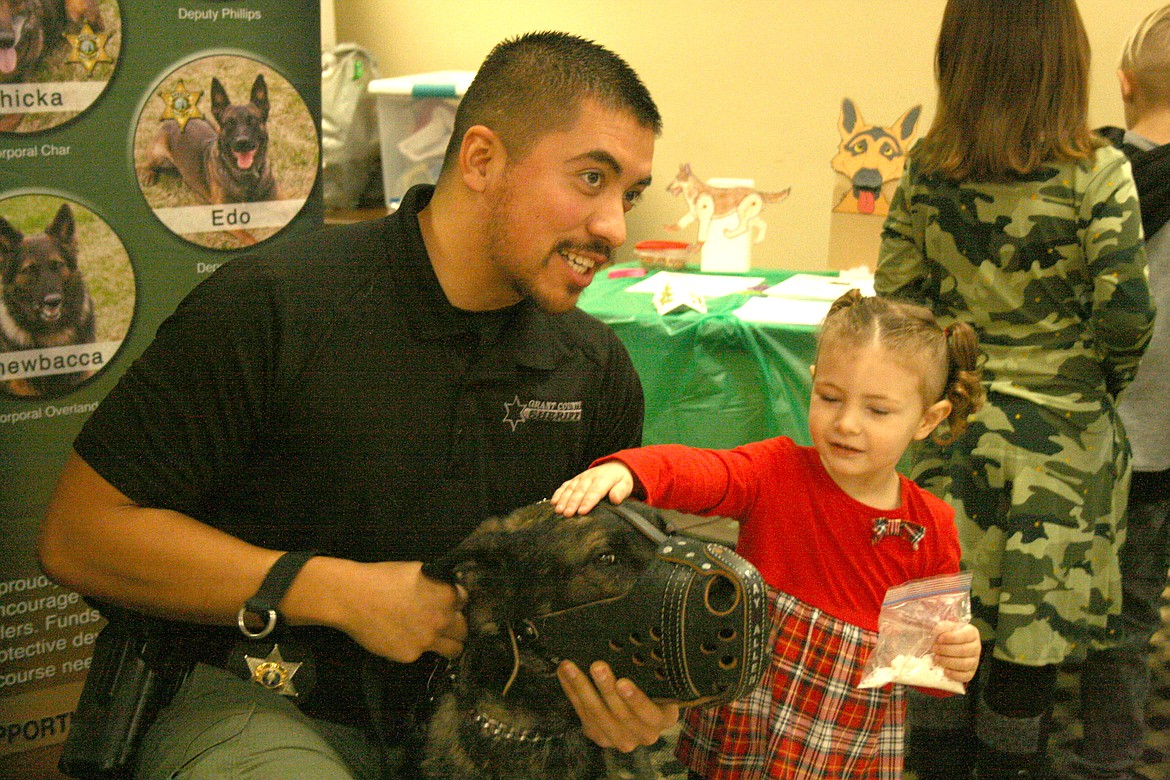 K-9 Zedd gets a pet from Brynleigh-Rose Wixom during the Cocoa for K9s fundraiser Saturday at the Columbia Basin Elks Lodge in Moses Lake. Zedd's handler is Grant County Sheriff's Office K-9 Deputy Luis Jimenez.
Cheryl Schweizer/Columbia Basin Herald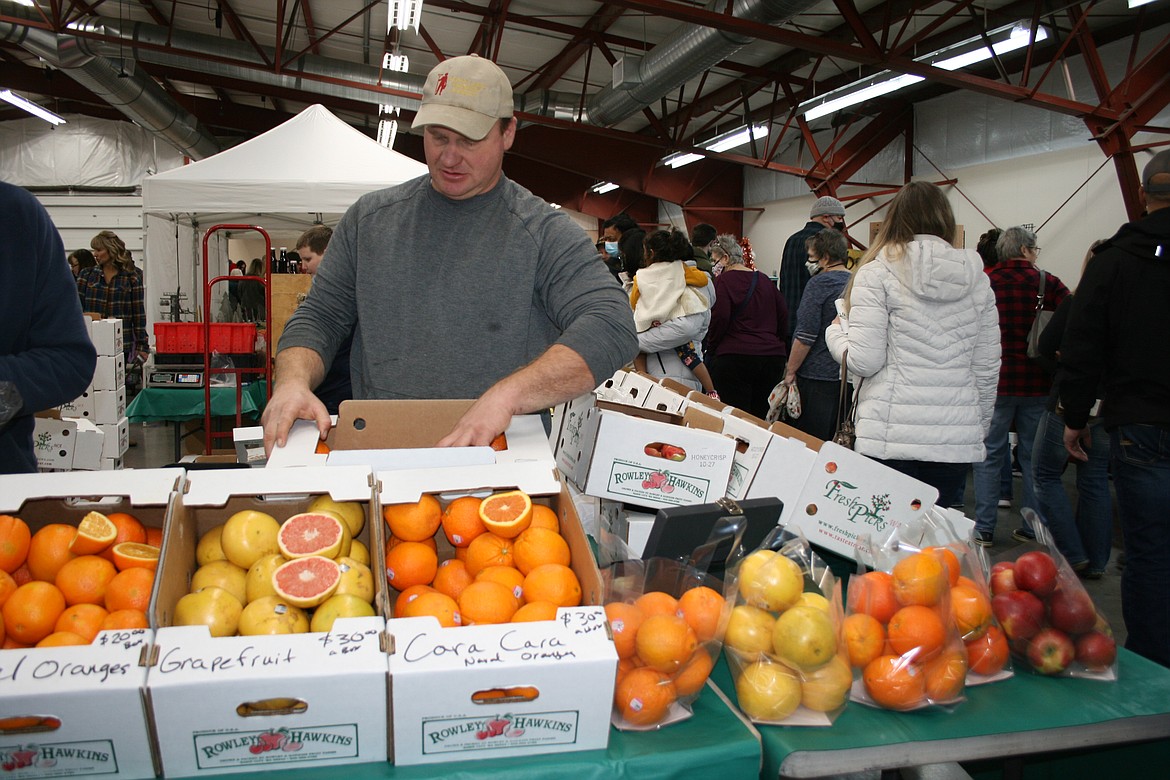 Mark Rowley of Rowley & Hawkins Fruit Farms adds to the displays at his stand during the Moses Lake Farmers Market Winter Market Saturday at the Grant County Fairgrounds.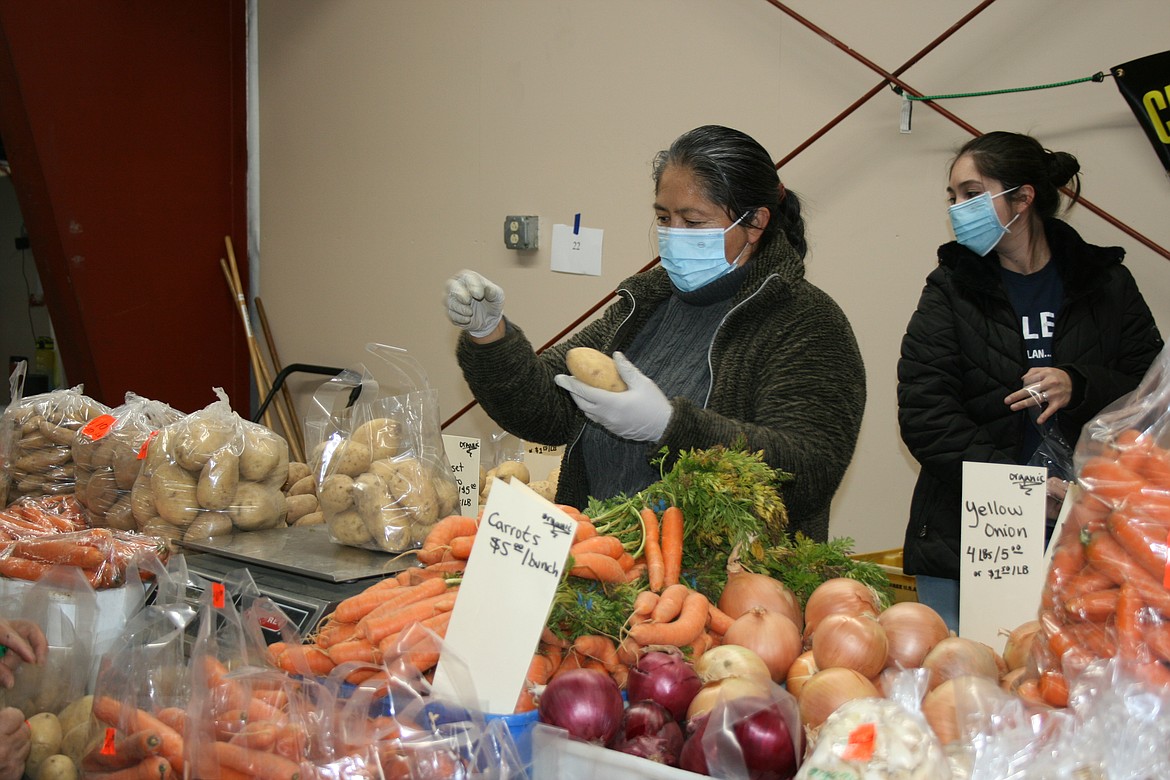 Araceli Guadarrama, with Royal Produce, fills a bag for a customer during the Moses Lake Farmers Market Winter Market Saturday.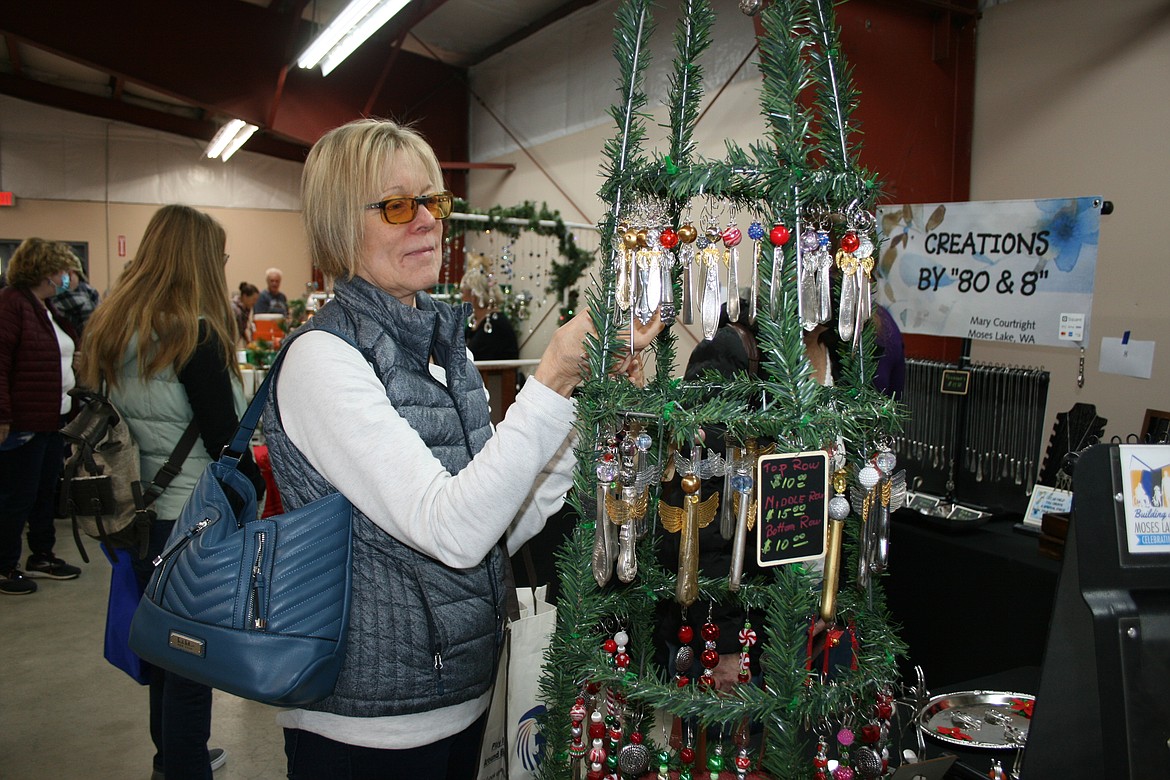 Sue Seibel looks through ornaments made from recycled silver during the Moses Lake Farmers Market Winter Market at the Grant County Fairgrounds Saturday.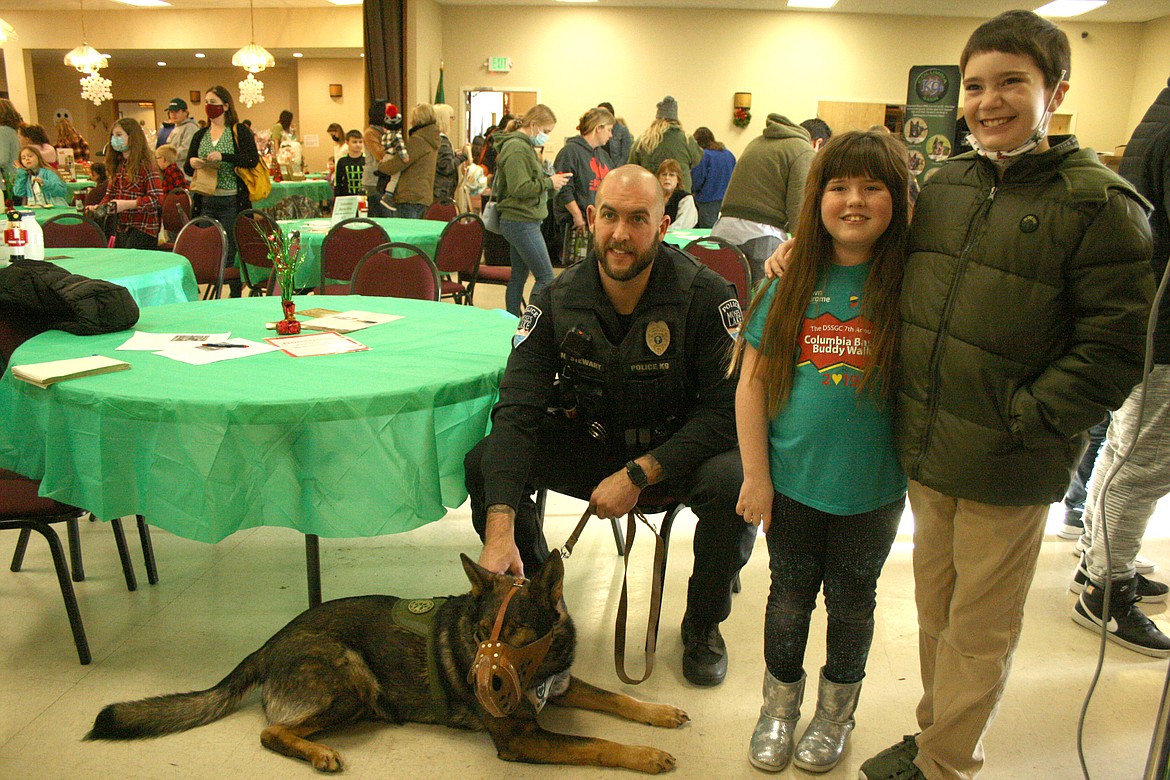 Moses Lake Police Department K-9 Officer Nick Stewart, left, and retired K-9 Chief pose for a picture with Tempi Whisler, center, and Ben Goebel during the Cocoa for K9s fundraiser Saturday at the Elks Lodge in Moses Lake.
Previous
Next
by
CHERYL SCHWEIZER
Staff Writer
|
December 7, 2021 1:03 AM
MOSES LAKE — The Commercial Building at the Grant County Fairgrounds was filled with vendors, selling everything from fresh fruit to leather art, and filled with a crowd looking over the possibilities.
The big room at the Columbia Basin Elks Lodge 1930, in Moses Lake, was filled too, with crowds enjoying cocoa and maybe a little breakfast with officers and dogs from the K-9 units of the Moses Lake Police Department and the Grant County Sheriff's Office.
The Moses Lake Farmers Market held its Winter Market Saturday, and the Elks hosted "Cocoa for K9s." It was a busy weekend around the Columbia Basin, with events in Quincy, Soap Lake and Othello, as well as Moses Lake.
Cocoa for K9s has been going on for about four years, and gives the community a chance to meet the dogs and their handlers. Families got a chance to get pictures with the dogs, and with Santa and the dogs, if they chose.
Retired K-9 Chief (who lost an eye in the line of duty) understood Cocoa for K9s offered the potential for belly rubs, lots of belly rubs, and he acted accordingly, stretching out on his back. And many of the kids and adults who came by granted his wish.
The dogs didn't always follow the instructions to look at the camera, but they were on their best behavior, letting kids get close and pet them. Grant County Sheriff K-9 Deputy Luis Jimenez said one of the benefits is the dogs learn crowds can be OK.
Cocoa for K9s was a fundraiser for the Columbia Basin law enforcement kennel project, with the goal of building a K-9 kennel and obstacle course. Jimenez said the kennel would provide a central training location for all local K-9 units. In addition, the dogs live with their handlers, but they are working dogs, which means they need special care. The kennel would provide a place for the dogs when their owners go out of town, and a place where they could be exercised.
But it's not cheap.
"It's like building a house. It's expensive," Jimenez said.
The kennel project is being funded entirely by donations.
It was also the fourth year for the winter farmers market. Market manager Dawn Leslie said it's a way to provide a venue for market vendors in the off-season. And it drew a lot of interest, from vendors and customers alike.
"We have 59 vendors," Leslie said.
Market managers changed the venue for 2021, moving to the Commercial Building from the Columbia Basin Technical Skills Center. The building was bigger, and so was the crowd.
"We're very pleasantly surprised," Leslie said of the turnout.
And the vendors were doing a brisk business. Matt Boyce is a regular at the summer market, but this was the first winter market for Boyce and his wife Amanda. They were selling what Boyce called their side gig, Boyce's Famous Fudge.
"It's awesome today. Way busier than we expected," Matt Boyce said.
The crew at Royal Produce, a first-time vendor, was busy filling bags with carrots and potatoes. Mark Rowley, of Rowley & Hawkins Fruit Farms, and his assistants were kept busy selling apples and oranges, cherry and apple cider, jams and salsa made from their fruit.
Rowley said the farm is a regular at the summer market, having a booth for 29 years. He also comes to the winter market because Moses Lake has an appetite for fresh fruit, winter and summer.
"All these people here," he said, pointing to the crowded aisles. "That's why we come here. My best customers are from Moses Lake."
Customers had their choice of gourmet popcorn, custom-baked goods, Western metal art, fine art, yarn by the hank, fresh pies and leather jewelry. Debbie Doran-Martinez, co-owner of the gourmet popcorn Cornfusion, said she was impressed by all the choices available.
"Lots of vendors, lots of variety in vendors. And of course, the best popcorn ever," she said.
Sue Seibel was looking at pendants made from old silverware.
"I love the farmers market; I go all summer," Seibel said. "And I have to have my winter fix."
Gordon Gardens owner Sean Gordon said he decided to try the winter market because he and his wife Shana wanted to show their support and commitment to the market. He was surprised by the turnout, and the market provided an unusual opportunity for shoppers.
"The best family environment you can have right now," Sean Gordon said. "And the best shopping experience, too."
Recent Headlines
---