Tip-a-Cop event packs the house at ML restaurant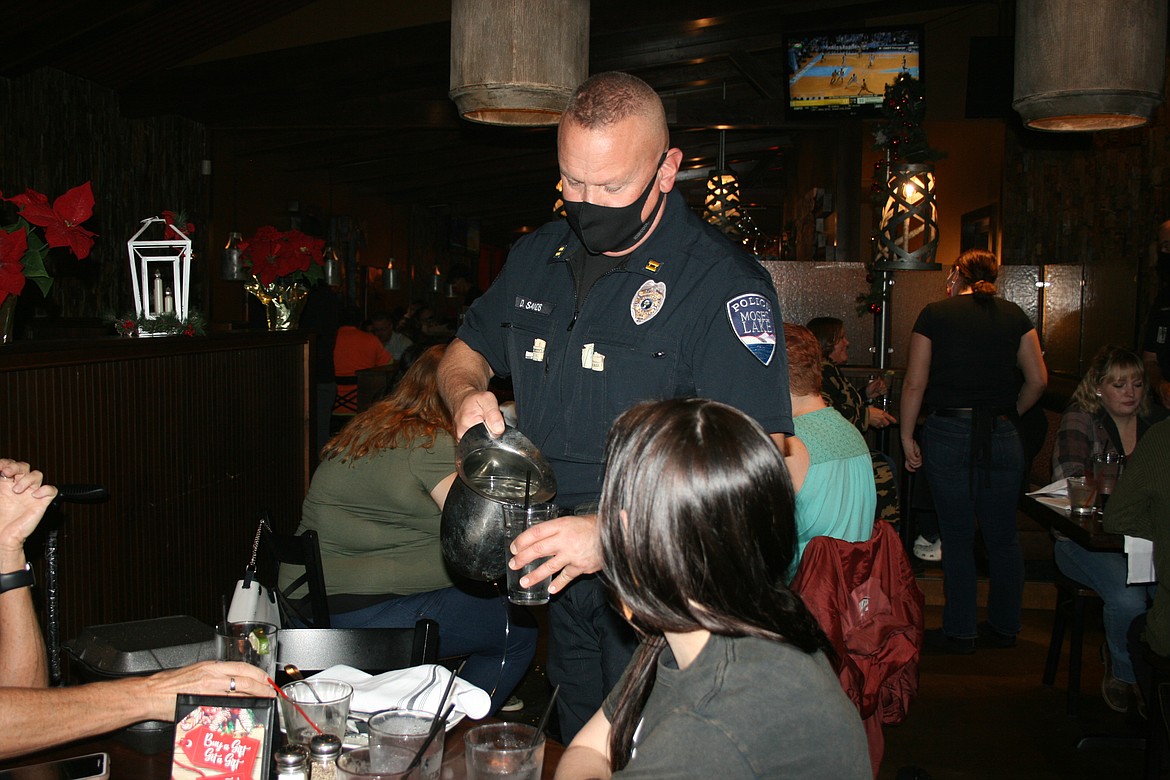 Moses Lake Police Department Capt. Dave Sands pours water for customers at the Tip-a-Cop fundraiser at Rock Top Burgers & Brew on Wednesday.
Cheryl Schweizer/Columbia Basin Herald
by
CHERYL SCHWEIZER
Staff Writer
|
December 6, 2021 1:03 AM
MOSES LAKE — Grant County Undersheriff Ryan Rectenwald sang "Rudolph the Red-Nosed Reindeer" while filling water glasses Wednesday night at Rock Top Burgers & Brew. He got a nice tip for it, too.
And Moses Lake Police Department Chief Kevin Fuhr cleaned tables.
Turning over tables in a really busy restaurant is a little bit of work on a warm night.
"It's not easy. And I'm wearing a long-sleeve shirt with a vest. It's even warmer," Fuhr said, right before another table needed clearing.
Actually a couple of tables needed attention.
"OK, where am I off to next?" Fuhr asked.
Fuhr and Rectenwald were among the volunteers from the Grant County Sheriff's Office and Moses Lake Police Department working the floor at the Tip-a-Cop fundraiser. Proceeds go to the Shop With A Cop program, which partners kids with law enforcement officers for a night of Christmas shopping. The Rock Top staff also makes a donation.
Law enforcement officers waited tables for two hours, delivering drinks and food, refilling water glasses and yes, cleaning tables.
This is the fourth year for Tip-a-Cop, the brainchild of the restaurant's owners, Mike and Jordan Hamilton, and company marketing coordinator Lindsey Crothers. There was a hiatus in 2020, the result of the COVID-19 pandemic.
"We genuinely look forward to it every year," Crothers said.
The amount raised wasn't available at press time. Grant County Sheriff Tom Jones said the previous Tip-a-Cop evenings raised about $5,000 each year.
"It would be awesome to hit that again," Jones said.
The Rock Top was just as busy as previous years, Jones said, and customers were leaving some good tips, including those paying by check and card.
"We've got some very generous people," Jones said.
Jones said he's learned something about the restaurant business over the four years he's been waiting tables.
"I have a profound appreciation for the servers that do this job day in and day out. It's tough," Jones said.
There wasn't an empty seat in the restaurant, at least not for long, and Crothers said customers come back every year.
"We've got a great turnout. This is the kind of event that brings people out," Fuhr said.
And while it's busy, it's a lot of fun. Fuhr said it provides a good chance to interact with the community.
"It's a blast," he said.
Recent Headlines
---