Moses Lake man wins Club Championship, Pointe Cup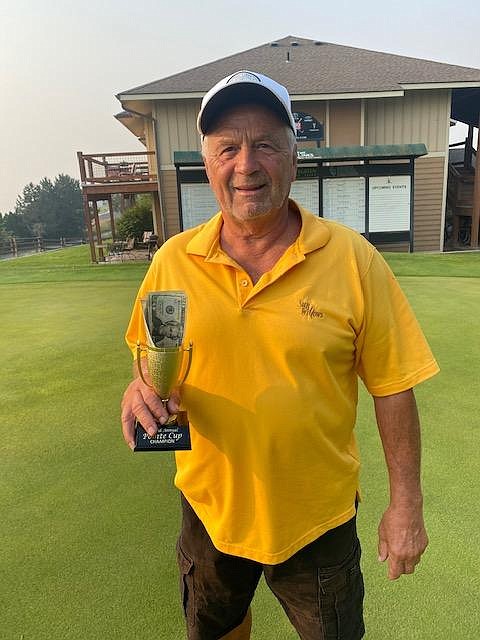 Jim Adolphson, of Moses Lake, holds up his trophy after winning the Pointe Cup at The Links at Moses Pointe Golf Course.
Bill Porter/courtesy photo
|
August 24, 2021 1:00 AM
Jim Adolphson, of Moses Lake picked up two big victories at The Links at Moses Pointe Golf Course two weeks ago, winning the Moses Pointe Club Championship just three days after winning the final match play event in the Pointe Cup tournament Aug. 12.
The Pointe Cup featured golfers pitted against one another, with match play kicking off in May. Adolphson fought back from the loser's bracket to defeat Jon Middleton in the final match of the Pointe Cup.
In the Club Champion-ship Aug. 14-15, Adolphson finished with scores of 75 and 74 to tie with Tim Cameron and force a playoff. In the first hole of the playoff, Adolphson said he hit a couple of good shots for a birdie and walked away as Club Champion for the second time.
Adolphson said he was pretty surprised to beat Cameron, who he believes is a better golfer.
"I couldn't hardly believe it myself, I was just playing in it just to play, but to win it this time against Tim was pretty special," Adolphson said.
Adolphson first won the Club Championship around 2017. He said he's been golfing at The Links at Moses Pointe since about 2004.
---