Crash course: Northwest Ag Demolition Derby returns, expands to two nights
by
CHERYL SCHWEIZER
Staff Writer
|
August 13, 2021 1:07 AM
MOSES LAKE — After a pandemic-induced year off, the Northwest Ag Demolition Derby returns to the Moses Lake Roundup arena at 3953 Airway Drive NE.
Not only is the demo derby coming back, it's expanding to two nights.
Stan Cafferty, director of the demolition derby and ticketing, said usually it's been a Wednesday night event, but for 2021, events are added on Tuesday.
"We've just gotten to the limits of what we're capable of doing on Wednesday night," Cafferty said. "It's always a sellout crowd, and I know there are a lot of people who are kind of disappointed when they can't get in. So the thought process of a two-night demo is to give the fans more of an opportunity to come out. Two nights of action there. And even for the racers. They build these cars, and run them year after year after year. This just gives them an opportunity, another time to run."
Time trials are from 5-6:30 p.m., with the heat races starting at 7 p.m.
"At our demolition derby, we do racing. We do dirt-track racing, which is very popular," Cafferty said.
But this isn't like classic dirt-track racing. The cars get in each other's way.
"They're racing, but they're crashing, too," Cafferty said.
Most races are eight laps. On both nights, heat winners come back for the Donnie Merrill Memorial Race, named in honor of a longtime demo derby supporter who died earlier this year. Steve Rimple, owner-manager at Moses Lake Steel Supply Inc., has donated a cash prize for both nights, Cafferty said.
Both nights will feature the women's-only Powder Puff race.
Tuesday will feature two events new to Moses Lake, pickup truck racing and the small car demolition derby.
The small car demo derby will follow the end of the heat racing, Cafferty said. There is a definition of what constitutes a small demo car.
"It's more of a front-wheel drive car, more of a compact car," Cafferty said. "They're super-exciting, because these cars are really tough. They last a long time, and it's hard to stop them."
It's not the description of a traditional demo car.
"Most of your regular traditional demo (cars) are going to be big, heavy cars from, like, the '70s, that are really strong, with rear-wheel drive." Cafferty said. "They're bigger cars, older, big, heavy cars. Like Crown Victorias, cop cars."
Wednesday night will feature a demo race for 1980s cars, he said.
"That's going to be early 1980s and newer; your big family sedans. Your big cars, Cadillacs, and (Chevrolet) Caprice," he said. "These '80s car demos are very, very popular in the demolition derby world."
Wednesday night also features a race just for kids, what are known as Power Wheels.
"It's going to be the first time for us," Cafferty said. "It's kind of what we do for mutton busting, same kind of deal. We're going to put a balloon on each corner of their machines, and they're going to try to pop each other's balloon."
Wednesday night also will feature a figure-eight race, just like it sounds.
"The same format as the heat races, the same cars that go out there, but instead of just going in a circle, they actually cut through the middle, do an actual figure eight. They're crossing in the middle of the arena," Cafferty said.
Both nights also have an Australian pursuit race. Ten cars start the race, evenly spaced around the arena.
"In that race, when you get passed, you're out," Cafferty said. "The winner is the last car that has passed everybody. It usually gets down to two, and then they battle it out,"
The final two cars have two minutes to come to a decision.
"They're really exciting races," Cafferty said. "It's all exciting. Everybody has their favorite."
Currently, there are not a lot of local venues for racing, and the demo derby gives drivers a chance to get out on the track and fans a chance to see cars in action.
"One thing that we do provide is for all these people to come out and show off what they've got, and their talents. Some of these guys are really talented for what they do," he said.
For tickets, visit http://moseslakeroundup.com.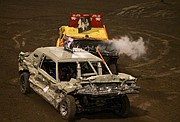 ---