Pinning down success: Big Bend wrestling builds a winning tradition on the mat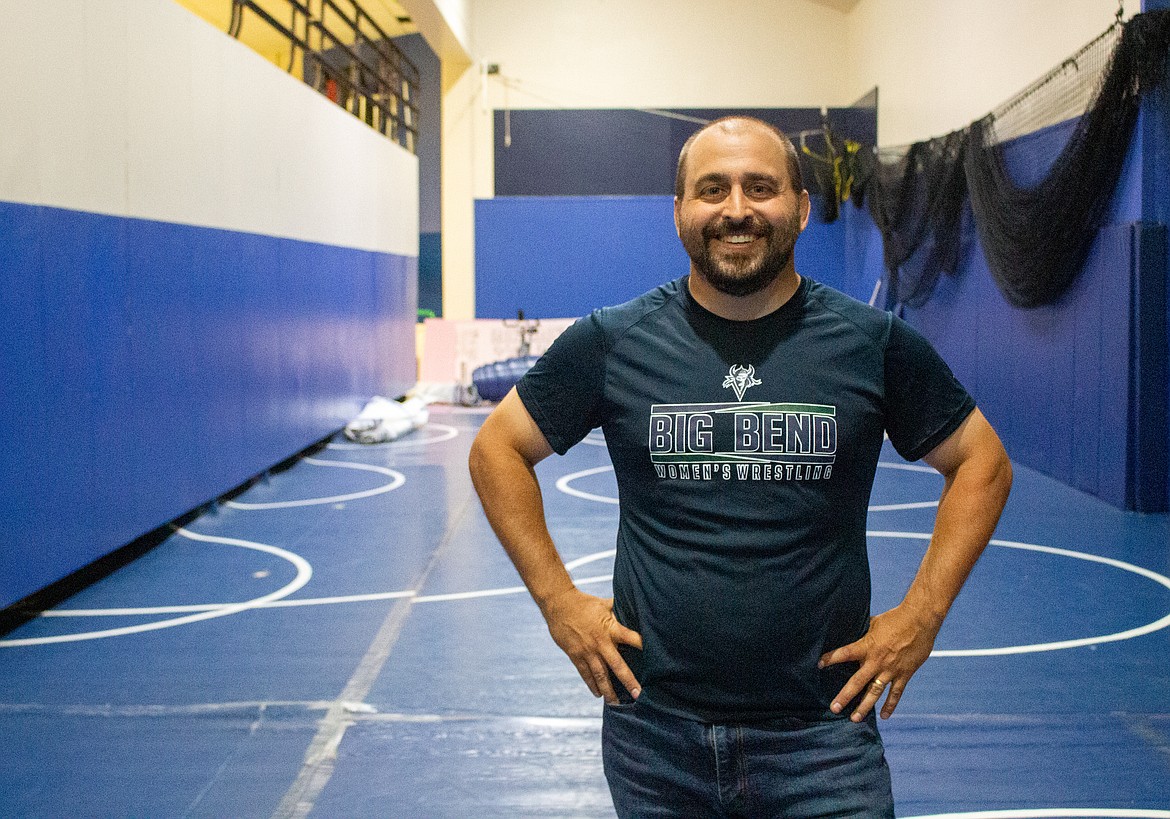 Big Bend head women's wrestling coach Bryan Seibel stands on the mat in the wrestling room at the ATEC Building on campus on Tuesday afternoon in Moses Lake.
Casey McCarthy/Columbia Basin Herald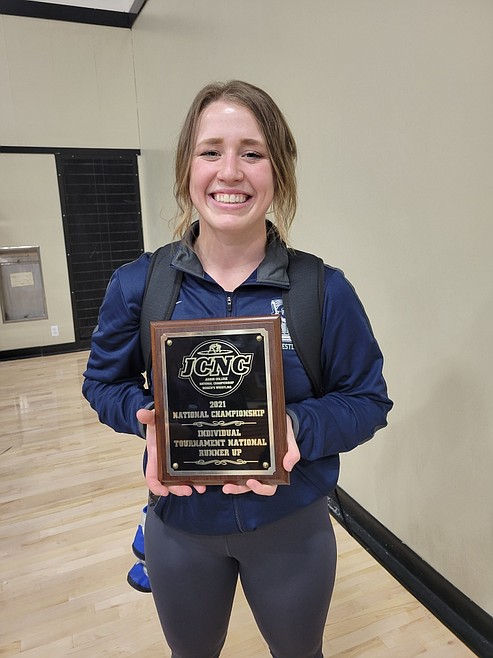 Big Bend Community College women's wrestling assistant coach Tatum Sparks holds up a plaque from the Women's Junior College National Championship this spring.
Previous
Next
by
CASEY MCCARTHY
Staff Writer
|
August 11, 2021 1:07 AM
MOSES LAKE — After wrapping up a successful season, Big Bend Community College women's wrestling coaches recently reflected on growing their young program.
The Vikings ended the year with a second-place finish and three individual champions at the Women's Junior College National Championship in Roseburg, Oregon.
Looking back at his second season, head coach Bryan Seibel said, as any coach can at times, he found himself second-guessing decisions throughout this season. Seibel said he tried to focus on his wrestlers' health, particularly their mental health, and it paid off.
"I took pride in trying to get this program started, coming from Moses Lake and knowing this area can produce really good wrestlers," Seibel said. "It's not easy; you've got to gain trust and really brand your image and talk to coaches. ... you gotta let the people know who you are."
The Big Bend wrestling program made a statement in this, its third year, with three wrestlers crowned National Champions at the culminating JCNC event in Oregon. After coming up short of the overall title by just one match, Seibel said, he has been busy recruiting and has 12 wrestlers already signed for next year.
Big Bend and Grays Harbor College are the only two colleges in the state of Washington with official school wrestling programs. Washington State University and the University of Washington have club teams.
Seibel said with the dual victories over Grays Harbor during the season completed, he sees his team as the top program in the state at the moment for women's wrestling.
The difference between year one and year two was "night and day," Seibel said. In his first year, he had only seven wrestlers, which made competing in duals difficult.
For the second season, the team was up to about 15 wrestlers, which in turn made a huge difference in wrestler development and results at meets.
Seibel also tipped his hat to "one of the best assistant coaches in the country," Tatum Sparks, who joined the program after five years wrestling in college.
Sparks said it was a great experience watching the team overcome a mountain of hurdles and succeed in the final event.
"I'm so happy to be a part of that experience with the girls and have them overcome so much," Sparks said. "We were telling them all year they were improving, but they never could see it until they went out there and showed it on the mat."
Sparks said it took some time to adapt to the pandemic-related guidelines and protocols in practice, which she admitted could be difficult, wrestling being such a hands-on sport. But, she said, the team took everything in stride.
As a former college and high school wrestler herself, Sparks said it was exciting seeing the Big Bend wrestlers make history at the inaugural JCNC event, and she is thrilled to see opportunities like that increase for women's wrestling.
Seibel said there were a lot of people and teams that quit or fell apart last year, but his team didn't.
Next year, he expects events like the JCNC will only double in size as everyone adjusts to the "new normal." He said he's hoping to open camps and clinics for youth wrestlers.
Seibel said none of the program's success would be possible without the support of the college administration and athletic director Mark Poth. He said he's hoping that, as the program grows, resources and budget available will grow, too. Seibel said he would love to see a dedicated wrestling room and other training facilities become available to the program.
At Big Bend, he said women's wrestling has been treated with equal opportunities compared to other programs.
Poth said both the men's and women's wrestling programs were started three years ago and continue to grow with coaches and athletes working hard. Poth said the decision to add the new athletics programs came about, as there aren't a lot of opportunities for women wrestlers in the state of Washington.
"Women's wrestling is one of the fastest growing high school sports right now; we just decided it'd be a great opportunity to expand our athletic department," Poth said. "And Moses Lake has a tradition of excellence with wrestling and strong community support."
Poth said improvements for the wrestling facilities are on the list of capital projects the college staff hopes to address in the near future. This summer, Big Bend is updating the gym floor and bleachers and the outdoor facilities and wrestling facilities are next on the list.
"It's really identifying exactly what we need to do, the funds that it's going to take to do it, and it'll probably be a combination of a lot of fundraising activities to be honest," Poth said.
First-year Moses Lake High School head girls wrestling coach David Peralez said he's super excited to see what Seibel has in store at Big Bend.
He also said it's nice to see barriers to women's wrestling starting to come down.
"I'm excited to be a part of this growth in Moses Lake with coaches that have passion and want to see wrestlers succeed, not only on the mat," Peralez said. "It's just fun to see more people getting involved in this and I think it's just going to continue to grow."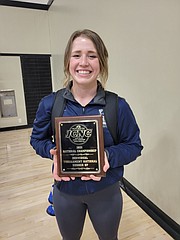 Recent Headlines
---