Taking a leap: Moses Lake dancer to join CWU dance team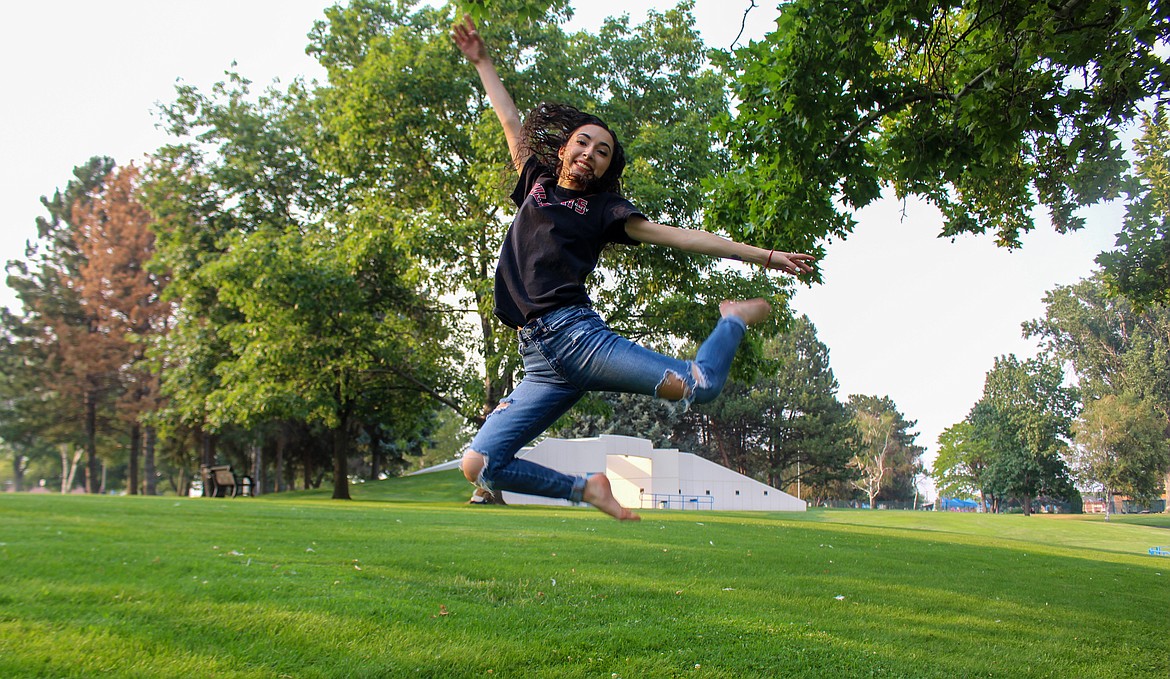 Darianna Vela shows off her dance moves with a stag leap at McCosh Park in Moses Lake Tuesday afternoon.
Casey McCarthy/Columbia Basin Herald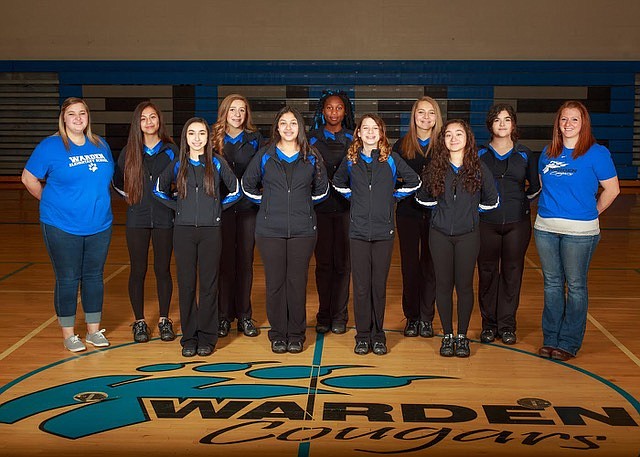 Darianna Vela, front row left, poses with her Warden High School dance team during her junior year.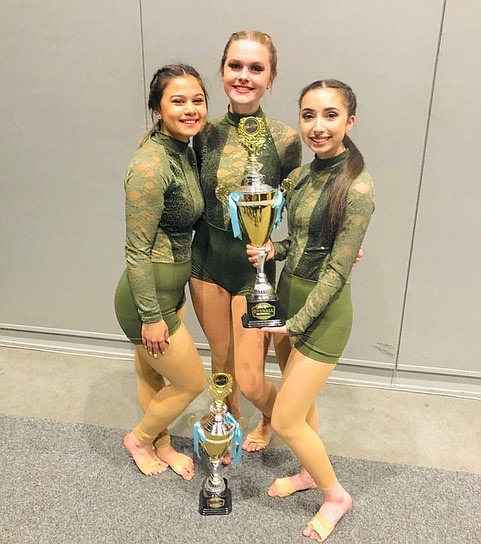 Darianna Vela, right, holds up a trophy with her teammates after taking first place for the third straight year at the Showstopper Dance Competition in May 2019.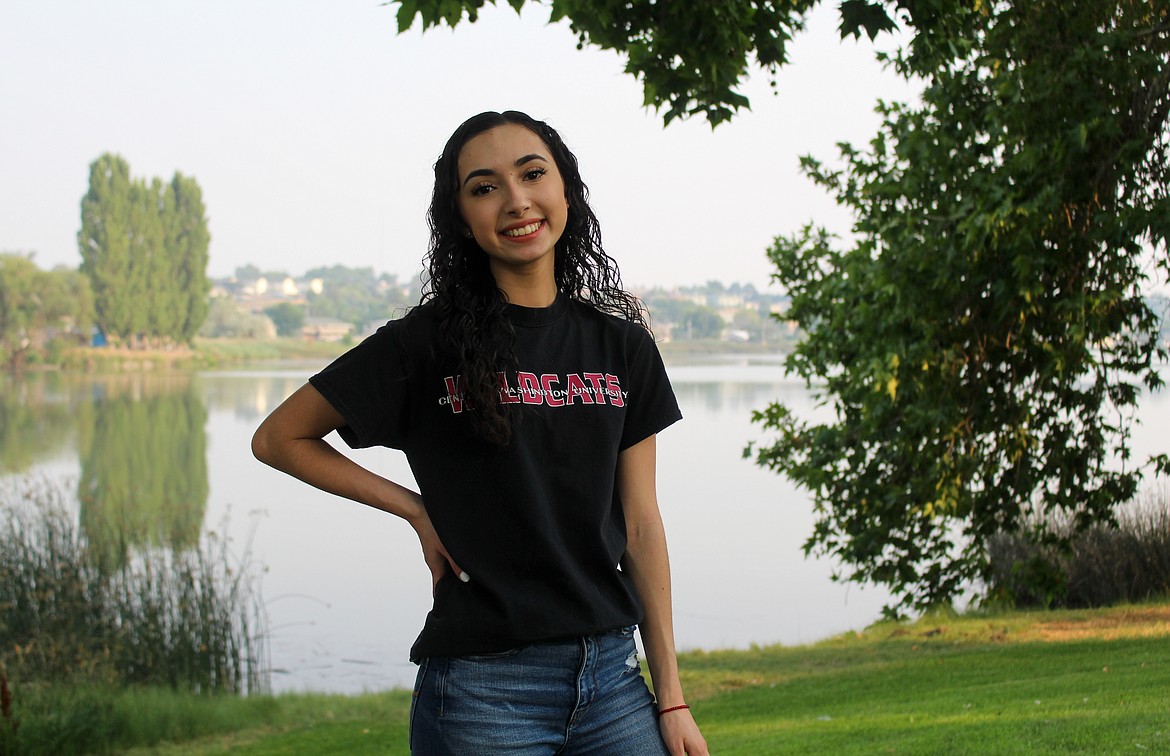 Darianna Vela of Moses Lake poses for a photo by the lake at McCosh Park in Moses Lake Tuesday afternoon.
Previous
Next
by
CASEY MCCARTHY
Staff Writer
|
August 6, 2021 1:00 AM
MOSES LAKE — It's been a few years since Darianna Vela geared up for a year at Warden High School with the dance program. But that's not stopping her from capping off her academic career as a senior with a dance team this year at Central Washington University.
Vela has lived in Moses Lake for about the past 10 years, but attended school in Warden from kindergarten through her senior year. Around fourth or fifth grade, she said one of her teachers asked their daughter to come in and perform a clogging routine for the class.
"I was just amazed at what was going on, I just saw her dancing and thought, whoa, that's cool," Vela said.
After finding out the dancer who'd come in was a student at Dance FX in Moses Lake, Vela said she went with the intention of joining the clogging class. But after walking through the studio doors and seeing jazz and lyrical dancers training, she said she decided to pursue that instead before making her way back to clogging.
When starting out, Vela said she had "no technique, whatsoever" and was possibly the least flexible dancer in her class. She said it's crazy to think of how far she's come as a dancer since those first few years, with technique probably her strong point now.
Flexibility-wise, Vela said there's always room for improvement, which is one of the great things about dance. There's always room for improvement and fine-tuning.
When Vela moved on to Warden High School as a freshman, she said the school didn't have a dance team and she was determined to change that.
"I brought it up to my principal, the school board, they told me I needed to get a petition signed, write a proposal and I did all of that," Vela said. "But I didn't feel like I was being taken seriously at first."
Vela said she found an elementary teacher in the school district who'd been a part of her own high school dance program in Spokane and was willing to help with the cause. The pair teamed up on their proposal and presented at a school board meeting, getting accepted for a pilot season Vela's junior year.
After feeling like a lot of people had doubted her at first, Vela said it felt great to see her goal come to fruition. She said even if the proposal had been rejected, she would have been right back in front of the board the next year.
The dance team didn't compete in competitions in its lone season of existence, performing at a football game, basketball game and a few school assemblies. The program was unfortunately cancelled after just one year due to funding, Vela said.
Vela took part in the Running Start program through Big Bend Community College her junior and senior year and will begin her senior year at CWU in just her third year there.
She said she didn't know CWU had a dance program her first year or she would have tried out before COVID-19 restrictions cut down her shot last year.
"I was still dancing at Dance FX my freshman year; I would go to school on weekdays and come home on the weekends and work," Vela said. "On those weekends I was here working, I was also practicing with Toby (Black) and the girls for competitions."
Tryouts for the dance team this year were a day-long process in May, Vela said. Split into groups of threes, the dancers performed all day before waiting together for an hour until results were announced.
While waiting in her group, Vela said the dancers chatted about how they thought the tryout went, what if they make the team, what if they don't. As the doors opened for the roster to be announced, Vela said she kept thinking her assigned number wouldn't be called, as more and more girls heard theirs called.
Finally, the last number to be called was Vela's. She said dancing has been her passion since she was young, so having the chance to continue in her final year in college is pretty special.
"Dancing brings you closer to your teammates, helps you find friends and helps you find confidence," Vela said. "In a way, I was pretty shy when I was younger, when I first started dancing. Now that I've been dancing for years, it's just a really big confidence boost."
Camp and training for the CWU dance team is set for the last week of August. Vela said the team will learn about four routines before performing in a parade in Ellensburg that weekend.
From there, it's practice three times a week and performances at football games, basketball games and a few other local events.
Vela said her mom, Nilda Vela, has always been encouraging in her pursuits with dance, taking her to competitions and paying for classes. Toby Black, her dance instructor and owner of Dance FX, has been a big inspiration for her, not only as a dancer, but as a person.
"I visited last week and went into the studio just to go visit and he was talking and motivating the younger ones," Vela said. "He was talking to them about realizing how good they are at what they do and it made me think about how nervous I was at tryouts and not thinking I was good enough. He helped me see I am good enough."
Vela is an accounting intern for Moss Adams this summer with hopes of netting a job offer with the firm for after she graduates. She said it's been a relief to see internships aren't like the movies and it's been very hands-on.
She said she would love to keep dancing in her life as long as she can, as something she loves and holds dear. Coaching is something she's considered down the road, having helped out with some of the toddler classes at Dance FX. For her senior project at Warden High School, Vela held a dance camp for elementary students that eventually performed at halftime of a football game.
"It was nice to have them exposed to the world of dance and see them have fun performing," Vela said.
For her, Vela said dance has been an escape from reality, where she can let go of life's stresses and really reflect on her own thoughts and emotions. In lyrical dance performances, where a story is being told, she said it's nice to acknowledge her own emotions and feelings in the story she's sharing.
Casey McCarthy can be reached via email at cmccarthy@columbiabasinherald.com.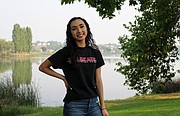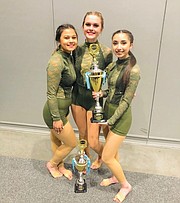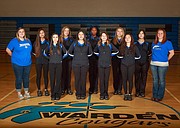 Recent Headlines
---