Rev. Klockers: Watching the Olympics helps remind us what is truly golden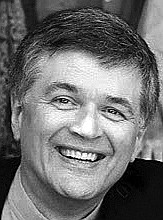 by
Rev. WALTER KLOCKERS
|
August 5, 2021 1:00 AM
Ephesians 4:29 from the New Revised Standard Version of the Bible says: "Let no evil talk come out of your mouths, but only what is useful for building up, as there is a need, so that your words may give grace to those who hear."
Have you been watching the Olympic Games? I have been doing so most nights.
I was raised with the notion that a successful American Olympic athlete had to win gold in order to achieve success. Anything less would be considered a failure.
I had never seen the image of an Olympian on a box of Wheaties who was a silver medalist.
Anyway, that was rolling around in my head as a youth.
As I've grown in years, I began to rethink things.
While I still believe a gold medal is the ultimate goal of any Olympic athlete, I no longer think of falling short of that goal as an abysmal failure.
Also, those who place second and third do not lose the gold; on the contrary, they have won a silver or bronze medal.
And those who do not finish in the top three positions are not losers either; they were chosen to be Olympic athletes representing their respective countries. They share having already won that great honor.
Everyone in the Olympic games is a celebrated athlete. Competition provides the opportunity for even greater recognition, adding to the accolades that they have already earned.
So, they are all winners.
This is a different way of seeing things, and I believe it represents a healthier outlook.
In Ephesians, the Apostle Paul writes to a Christian community to remind them of key teachings. One of them is to love one another. Paul's advice is to speak words that are "useful for building up."
The world may teach us to elevate ourselves above those we somehow deem inferior and tear down anything different from ourselves.
However, I believe that there is a different way of seeing things.
We can recognize that each of us has been created by God. As such, we all share that honor.
The gold medalists among us are those who outdo others in striving for the greater good over self-interest.
Now that's something that we should celebrate every day and not just every four years.
Walter is pastor of Immanuel Lutheran Church in Moses Lake and has served as parish pastor for more than 30 years.
Recent Headlines
---