Family friendly fishing tournament coming to MarDon Resort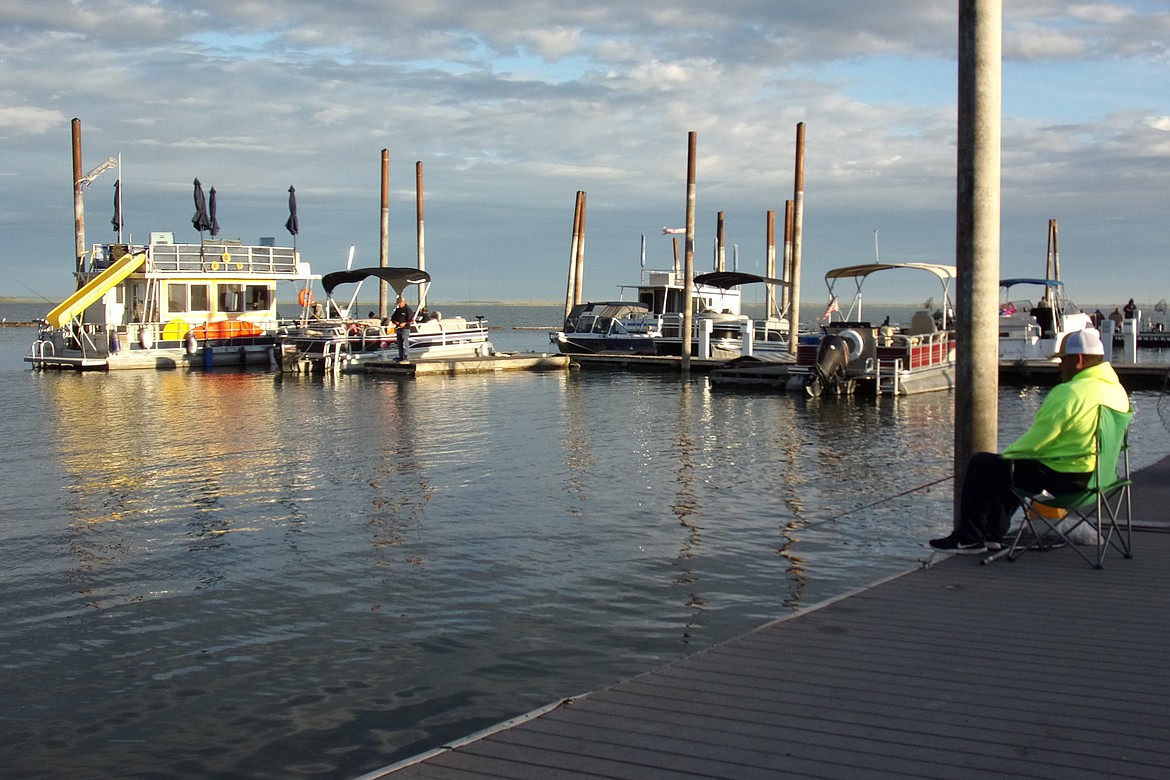 Early morning anglers fish during an earlier MarDon Dock Tourney.
John Kruse
by
By JOHN KRUSE, Washington Outdoors Report
|
August 5, 2021 1:00 AM
Generally speaking, you need a boat to compete in a fishing tournament but one fun exception to this rule is the annual MarDon Dock Tourney, taking place at MarDon Resort on Potholes Reservoir Sept. 17-19.
The resort has an extensive dock system at its marina. Anglers fishing from the docks will be doing their best to land the biggest fish from 10 species, which are bluegill, crappie, largemouth bass, smallmouth bass, perch, trout, catfish, bullhead, carp and walleye.
Cash is paid out to the two heaviest fish caught from each species. Many of the contestants stay at the resort to take advantage of the fact you can fish through the night during this tournament.
The entry fee is only $40.
One great thing about this event is that it is very family friendly, and anyone jigging off the dock or fishing a nightcrawler off the bottom has a chance to win with 20 different cash paying spots available.
With a store and restaurant at the resort, you can fish to your heart's content, take a meal break, buy some more bait and come back to fish more. Limited to 140 anglers, this event will likely sell out, so you'll want to register soon if you want to participate. You can do so by going to www.mardonresort.com. Just go to the upcoming events section, look for the MarDon Dock Tourney, and register.
Bear hunting

The fall black bear hunting season opened statewide on Aug. 1 and runs until Nov. 15. Between Department of Natural Resource land closures and overnight camping restrictions on Washington Department of Fish and Wildlife lands east of the Cascade crest, many bear hunters will be changing their game plans this year.
Past harvest data can give you some ideas about where to go this season. In 2019, Game Management Unit (GMU) 578 – West Klickitat, gave up 44 bears. A total of 43 bears were harvested in GMU 124 – Mount Spokane, and 58 were taken in GMU 117 – 49 Degrees North. North of Wenatchee, 38 bears were harvested in GMU 250 – Swakane, and 44 bears were taken in GMU 204 – Okanogan East.
When it comes to hunting bears in the fall, it's all about the berries. Bears will be fattening up on ripe berries in August and September at mid- to high elevations, and scanning hillsides with berry patches is a good way to find a bear. The best berry patches for bears? Those would be huckleberry patches but bears will also eat salal berries, blackberries and service berries.
Hunters are allowed two bears per season, a change enacted in 2019 because of increased bear populations. If you are hunting an area that has the potential to have grizzly bears in it, you must take an online bear identification course offered by WDFW before you go hunting and have proof of completion of that course on your person.
Last but not least, remember to submit a premolar tooth from any bear you harvest. Envelopes are available at local WDFW offices.
Recent Headlines
---