Early count sets stage: Grant County voters have their say on who advances to general election, MLSD levy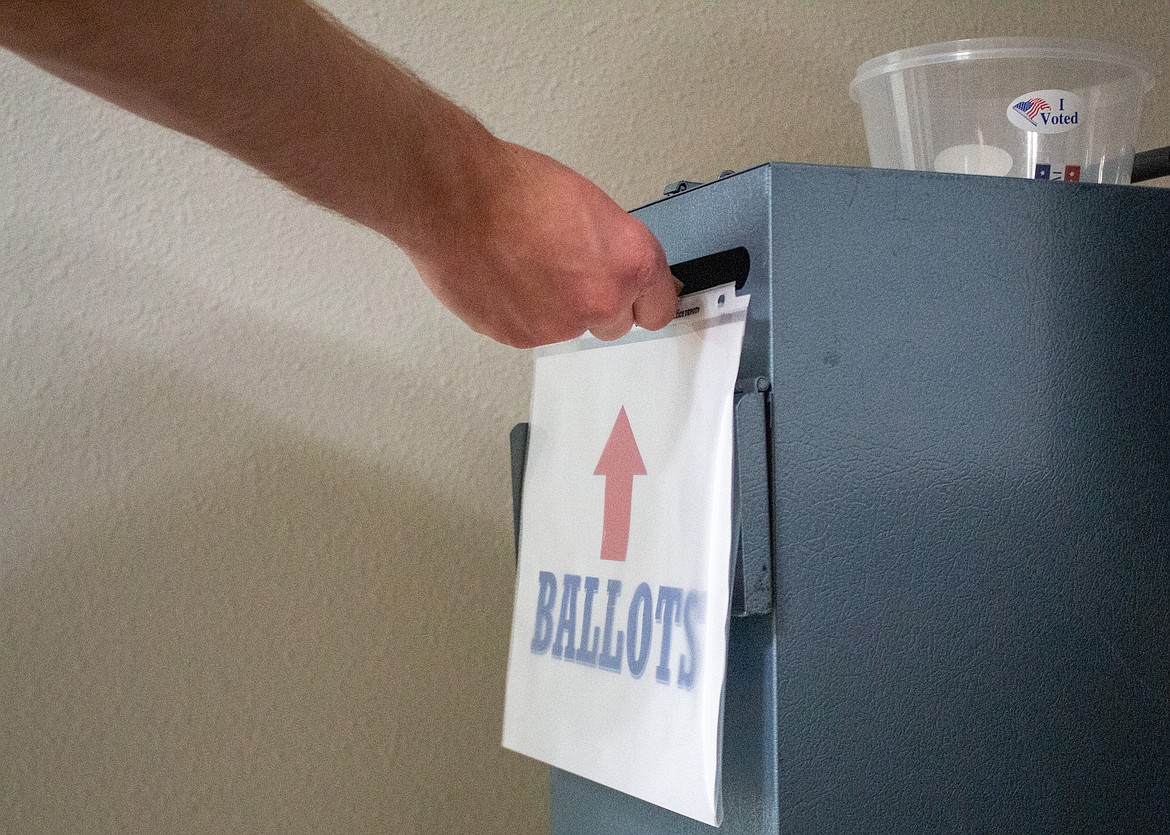 by
CHARLES H. FEATHERSTONE
Staff Writer
|
August 4, 2021 1:00 AM
MOSES LAKE — Voters in Moses Lake and Quincy decided Tuesday on the candidates who will vie this fall for three school board seats — two in Moses Lake and one in Quincy.
Voters also chose who will advance in other races. As of Tuesday night, only 16% of Grant County's 31,750 registered voters' ballots were counted. The next ballot count is 5 p.m. Wednesday, with about 450 ballots to be counted, and the results will be certified Aug. 17.
In unofficial results posted after the polls closed on Tuesday for the three-way race for Moses Lake School Board Director District 2 between Paul Hill, Noah Zemke and incumbent school board member and current board president Vickey Melcher, Melcher and Hill will continue on to the November ballot with about 53% and 32% of the votes, respectively.
In third with 15% of the vote, Zemke will not be on November's ballot.
In the four-way race to succeed outgoing board member Elliott Goodrich between Moses Lake Police Chief Kevin Fuhr, James Liebrecht, Rachel Roylance Gallacci and Matt Paluch, top vote-getters Fuhr and Roylance Gallacci will be facing off again in November, with 41% and 37% respectively as of Tuesday night.
Paluch received about 15% while Liebrecht received 7% in Tuesday's primary votes.
Unless further vote counting makes a drastic difference, it appears district voters squashed a three-year levy of $1.50 per $1,000 of assessed value to help pay for district programs not covered by the state, such as sports, technology and extracurricular activities. The percentage of "no" votes as of Tuesday night was just under 54, while the "yes" votes were about 46%.
The district, which will put the levy before voters again in November, stands to lose not only roughly $7 million in local funding, but an additional $7 million in state matching funds every year as a result of the measure's defeat.
Finally, in the three-way race for Quincy School Board Director District 5 between incumbent Liliana Garcia — appointed to the board in 2020 — Chad Lower and Enrique Hernandez, district voters cast ballots to ensure Lower and Garcia will face off in November with about 49% and 29% of the vote, respectively.
In the three-way seat for Council Member 4 on the George City Council, Julia Schooler was ahead Tuesday night with about 39% of the vote. She will face John Ammons, whose vote tally constituted 33% of the total, in November. Katrina Rodriguez, also running for the seat, received 27% of the vote, and will not go on to the November general election. There were only 33 votes cast in the election.
Three candidates are running to be the next Council Member 1 of the Grand Coulee City Council. Ben Hughes, with 68% of the vote as of Tuesday night, will face Tracy Justice Wright, with 17%, in the November general election. Frank Jones came in third with 10%. Only 116 people voted.
In the town of Hartline, three candidates are running to become the next occupant of the Council Member 2 seat. Goldye Moyer, with about 55% of the vote Tuesday night, will face Brian Sayler, with 39.39%, in November, while Mark Frye came in third with 6%. Just 33 people voted.
In Moses Lake, two races for city council seats had more than two candidates. For Council Member 2, Karen Liebrecht received about 37% of the vote as of Tuesday. She will likely face off with Eric Eleazar Salgado, who received 32%. Dustin Swartz came in third with 30%.
In the race for Council Member 5, Judy Madewell received about 46% of the votes as of Tuesday, while David Curnel garnered 42%. Devin Deitrick came in third with 11%.
Recent Headlines
---