On display: Basalt Collective features local, regional artists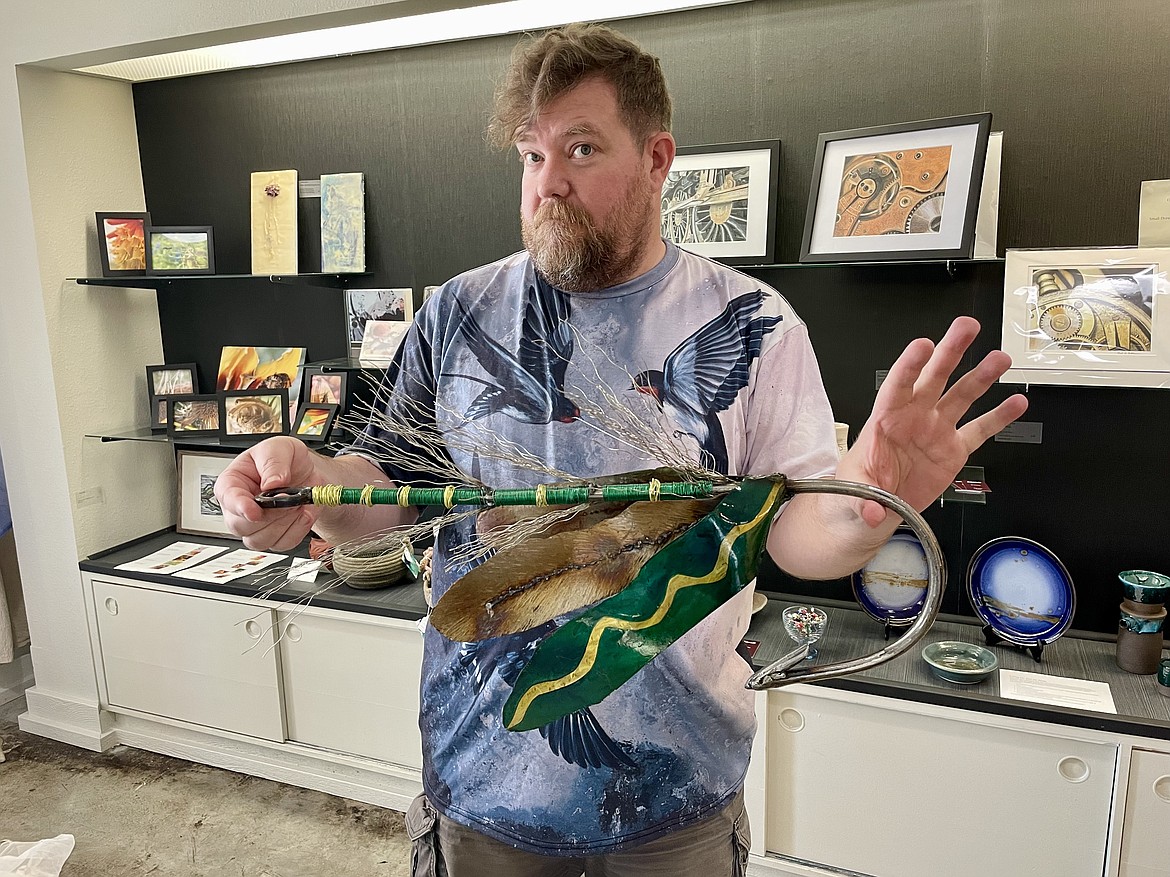 Basalt Collective art gallery owner Nate Ulmer with a giant fly fishing hook sculpted by regional artist Andrea Johnson.
Charles H. Featherstone/Columbia Basin Herald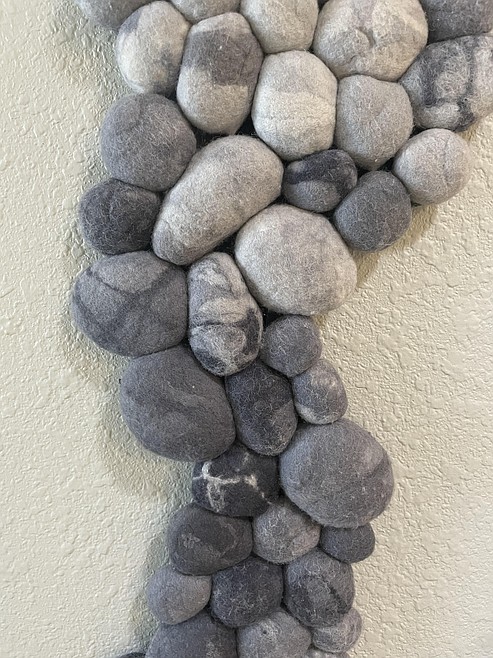 A portion of Ron Ulrich's creation "River Rock," a collection of solid felt balls made to look like rocks on the bed of a mountain stream.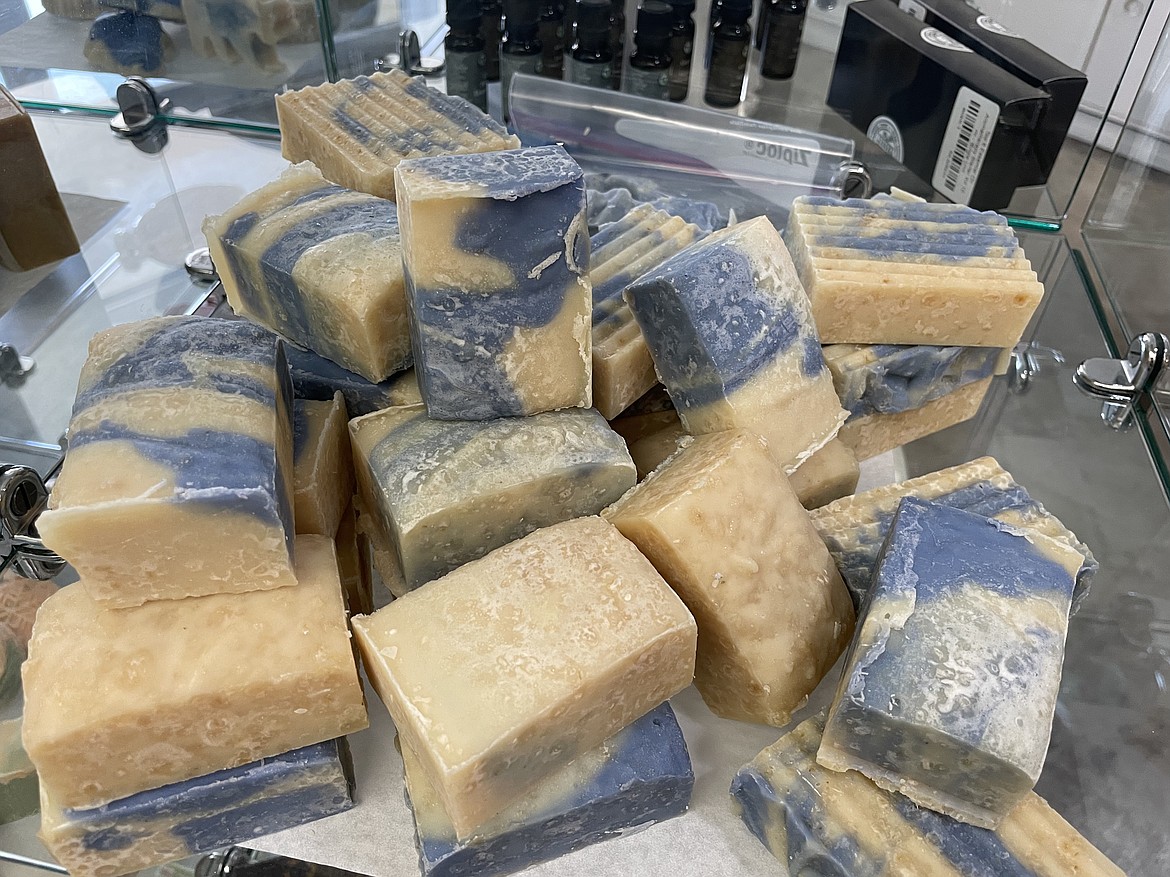 A pile of soap made by Basalt Collective owner Nate Ulmer is for sale in Ulmer's gallery in downtown Moses Lake.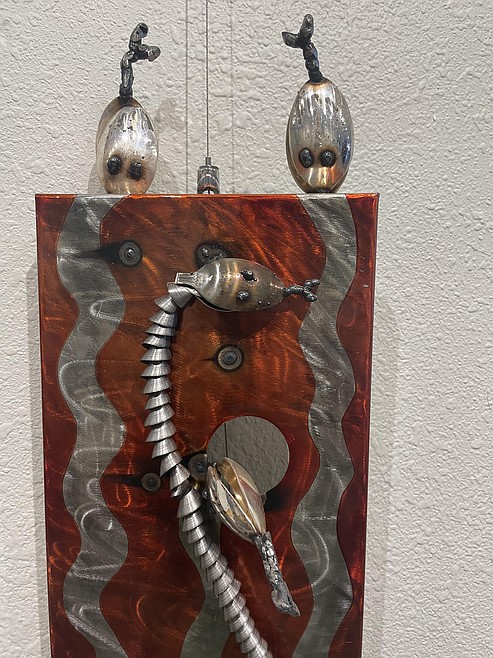 A closeup of one of Andrea Johnson's metal sculptures featuring snakes made of spoons and flexible plumbing pipe.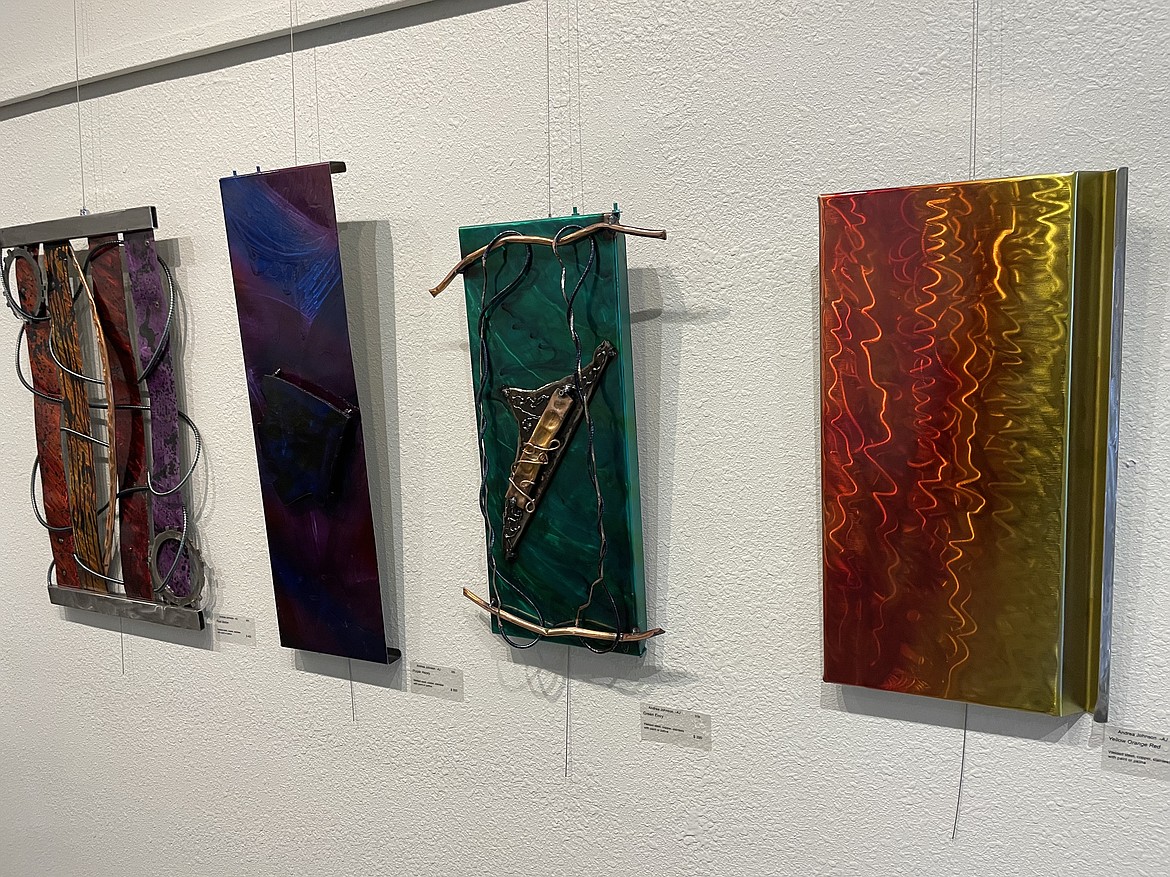 A series of metal sculptures by regional artist Andrea Johnson.
Previous
Next
by
CHARLES H. FEATHERSTONE
Staff Writer
|
August 2, 2021 1:03 AM
MOSES LAKE — At first glance, it looks like a bunch of rocks somehow strung together and hanging on the wall of Nate Ulmer's Basalt Collective art gallery.
But when you get a little closer and take a good look, you realize it's not.
In fact, what you are looking at is carefully crafted of felt and then woven into a mat. North Idaho artist Ron Ulrich created these pieces — it's hard to know exactly what to call them — as bath mats.
Bath mats made of exquisitely crafted little felt balls that look just like rocks you'd find in a mountain stream.
"I think anybody here that would get them would be, 'they're too pretty to use that way,'" said gallery owner Nate Ulmer. "But you could."
Ulmer, who opened Basalt Collective at 114 E. Third Ave. in downtown Moses Lake in 2019, is displaying some of Ulrich's work. The two felt "bath mats," a hanging work of Ulrich's of solid felt "rocks" woven together to look like a stream, and a series of photos of the north Idaho-based artist hiking the entire 2,600-mile length of the Pacific Crest Trail in a series of wedding dresses – some of which are hanging, dirty and tattered, in Ulmer's gallery.
But it is the felt rocks that has Ulmer, an artist himself, so fascinated.
"The first time he showed them to me my brain kind of had a meltdown, because they were so cool. I'm still kind of speechless because I'm in awe of them," he said, looking at the two bath mats hanging on his gallery wall.
For Ulmer, the beauty of the felt rocks is the artwork plays a trick on your brain, and forces you to think about what exactly you're seeing.
"It looks enough like a rock, but then you get close enough and you touch it and it's soft, it's wool," he said. "It kind of does that push-pull in your brain."
"It's a good thing for art to do," Ulmer added.
Ulmer opened Basalt Collective, as a way to come back and be close to family in Moses Lake after earning an art degree at Central Washington University and a masters in fine art at the University of Idaho. He strives to feature local artists, and in addition to Ulrich's felt rocks and wedding dresses, he also has on display a number of metal sculptures from self-taught artist Andrea Johnson, pottery and prints from various creators and several cases full of different kinds of soap he made himself.
And Lego sets. Big colorful Lego sets Ulmer described as "painting with blocks."
And while the gallery has been able to make a go of things, Ulmer said it remains a struggle, and he's having to learn some business skills and think in ways that art school never taught him.
"When I was going to school, the galleries and show spaces that were part of the school were all publicly funded, by grants and institutions and the government, and that's what I learned," he said. "And me, being set up like (a limited liability corporation) trying to be for profit, I'm still behaving like that."
Which means fewer rotating shows and more works from longstanding local artists whose art sells.
"You have to have some flux to drive interest," he said. "But doing a complete gallery change over every couple of months, I'm stepping away from that."
Ulmer said there are a lot of artists in Grant County, everything from professionals to people who draw, or paint, or sculpt as a form of "art therapy."
"That's kind of how I started, too," he said, noting the incomplete painting sitting on an easel in his workspace at the rear of the gallery. "For me, it's part of healing and soothing and calming, as opposed to getting all worked up."
Ulmer said he knows some artists can get angry and paint, but not him.
"I can't do that. I don't want to burn and use that energy because it damages me. It's like running the wrong fuel for your engine," he said.
All art, however, has an "entry point," Ulmer said, a place where people can engage it. For example, Ulmer noted Ulrich's felt rocks, or Johnson's striking metalwork, is fairly easy and has enough variety for just about anyone to appreciate. In fact, Ulmer said he was especially fond of Johnson's sculpture of snakes made out of spoons welded together.
"They're abstract enough that they don't have a lot of heavy baggage with them," he said. "I don't like to use the word 'cute' in art, but the snakes are cute."
Whereas, he points to something a little more difficult for some, Ulrich's photos of himself hiking in a wedding dress. Ulmer said those photos can create the kind of mental push-pull the mats of felt rocks do, but without an easy resolution.
"Look at the photos ... takes a while to know it's a dude in a dress," he said. "It creates that juxtaposition of pushing and pulling, cognitive dissonance. Some people, it leaves them hanging, while others can cut right through it and see the beauty of it."
Ulmer's always happy to see local artists come in, and always wants to see samples of work he can show off and sell.
"And they come in, sometimes they show their work, and sometimes they check out the space, and that's cool," he said.
Basalt Collective is open from noon to 6 p.m. Wednesday through Saturday.
Recent Headlines
---