Tough defense on both sides as Huskies take Pullman, 1-0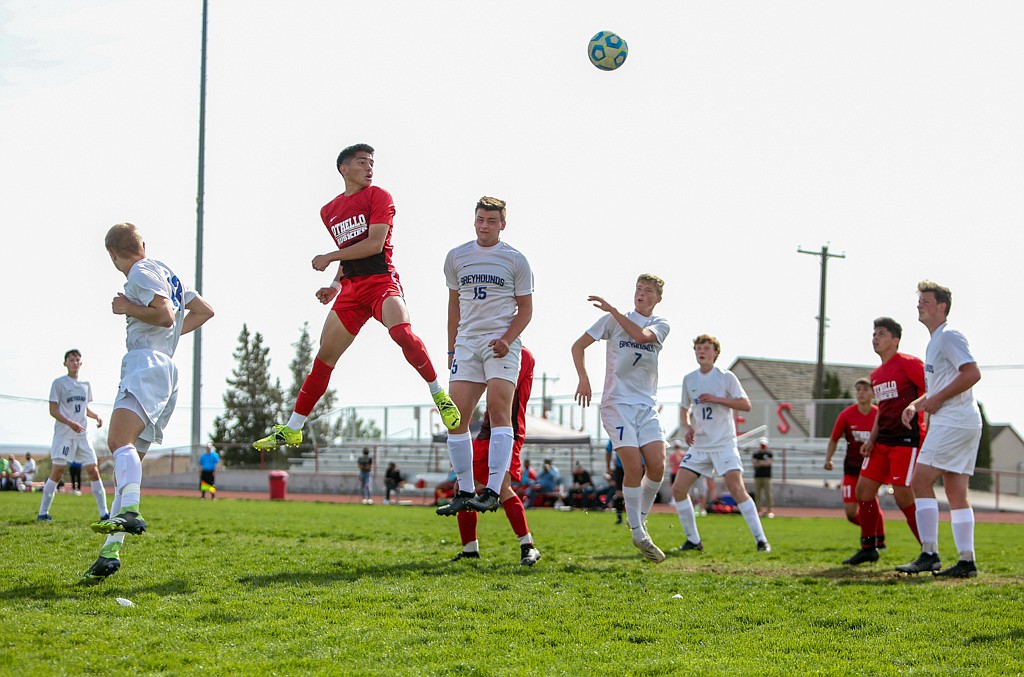 Othello High School's Jonathan Alfaro skies up for a header off a corner kick in the first half on Thursday afternoon that went just over the bar.
Casey McCarthy/Columbia Basin Herald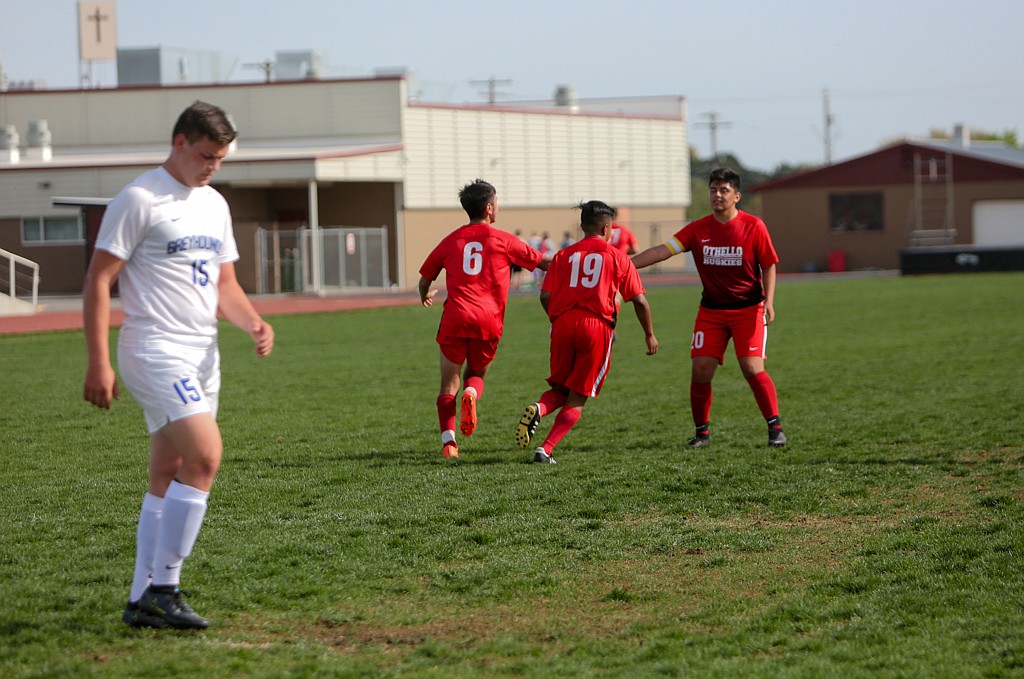 Anthony Ontiveros (6) celebrates with his teammates after putting away the penalty kick in the first half to give the Huskies the 1-0 lead against Pullman High School on Thursday in Othello.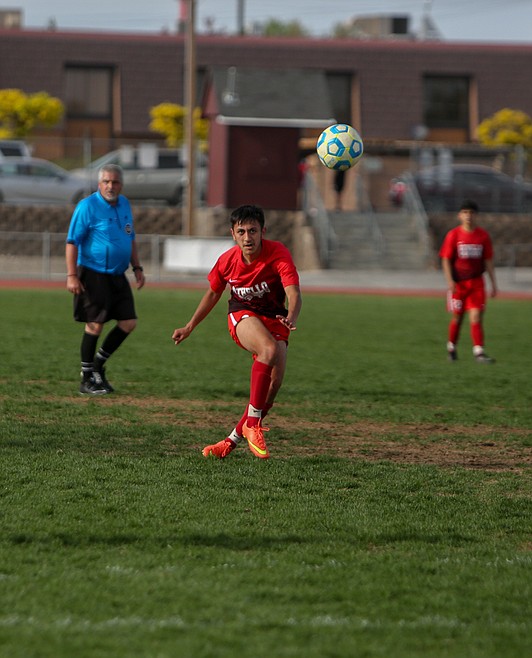 Othello's Anthony Ontiveros puts a shot toward goal from outside the box in the second half against Pullman High School on Thursday afternoon in Othello.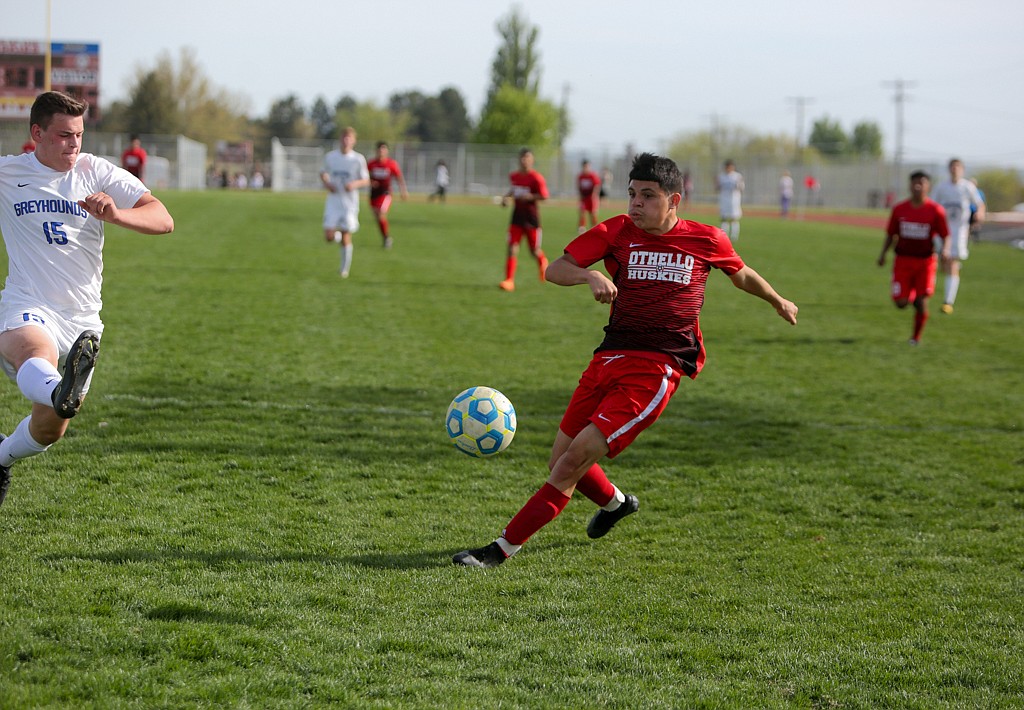 Miguel Ramirez fires a shot toward goal for Othello High School on Thursday afternoon in the 1-0 win over Pullman High School in Othello.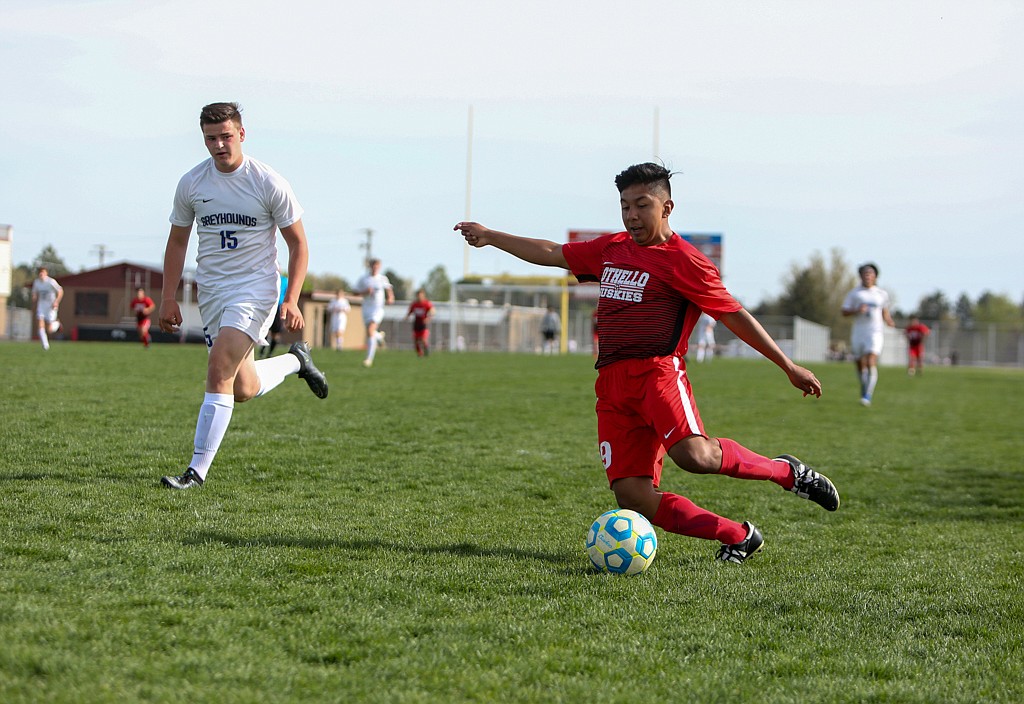 Juan Diego Lauriano fires in a cross from the side of the field in the first half for Othello High School in the win at home over Pullman on Thursday afternoon.
Previous
Next
by
CASEY MCCARTHY
Staff Writer
|
April 30, 2021 1:00 AM
The Othello High School boys soccer team remained undefeated after a 1-0 victory over Pullman High School on Senior Night Thursday at Othello High School.
The Othello Huskies held the vast majority in shot attempts in the first half as the offense put the pressure on Pullman early and often. Othello just missed putting in an early goal on a couple of crosses into the box.
The pressure paid off with about 14 minutes left in the first half. Othello was awarded a penalty kick on a handball, with Anthony Ontiveros scoring to give the Huskies the 1-0 lead.
Pullman began putting on some pressure of their own in the end of the first half and carried that momentum on into the second half. The Huskies held a much more defensive stance on the field in the second half, protecting their lead.
Pullman landed a few chances throughout the second half, but were unable to find the back of the net for an equalizer. Othello had a few chances to double their lead, but were unable to put anything past the Pullman defense.
Othello moves to 5-0 in the first and only season in the Greater Spokane League and holds first place in the GSL. Anthony Ontiveros said it felt amazing putting his team in front in the first half with the lone goal.
"It feels amazing," Ontiveros said. "After I scored, now we've just got to keep the pressure up, keep fighting. That's what we do."
Ontiveros said it's been a lot different playing in the GSL, with longer bus rides to Spokane. But, he said, it's been good. He said the team's been training hard and it's paid off with an undefeated start to the season.
Othello head coach Bernie Garza said his team kept the pressure high in the first half, looking to take advantage on the scoreboard before dropping back a bit to protect the lead in the second.
Garza said playing in what he said is one of the toughest leagues in the state for boys soccer, the Central Washington Athletic Conference, every season has helped his team adjust to facing off against a completely new set of opponents and play style.
"It's nice playing in the GSL because you see different teams, different strategies, but we've come to realize they play more of an aggressive, physical, 'I'm gonna run you over' type of soccer," Garza said. "We're more of a ticky-tacky, ticky-tacky style and then get our goals. We still play physical, but not as physical as them."
Garza expressed hope the physicality his team has learned can carry over to the CWAC next season. He said it's a huge benefit having a strong program, with more than 60 players between C team, junior varsity and varsity.
With no season last spring, he said last year's JV kids have stepped up in a big way on varsity this season. Garza said he expects next year's crop to do the same.
"We just reload," Garza said. "Next year, we've got a good group of kids coming up, so it's never-ending."
Thirteen Othello seniors played their final regular season home game on Thursday afternoon. Garza said he's been coaching most of these players since they were little and added they've been a great group of seniors to coach.
Next for Othello is a match on the road against Rogers High School Tuesday at 4 p.m.
---