Born to rock: Young Moses Lake guitarist has sights set on stardom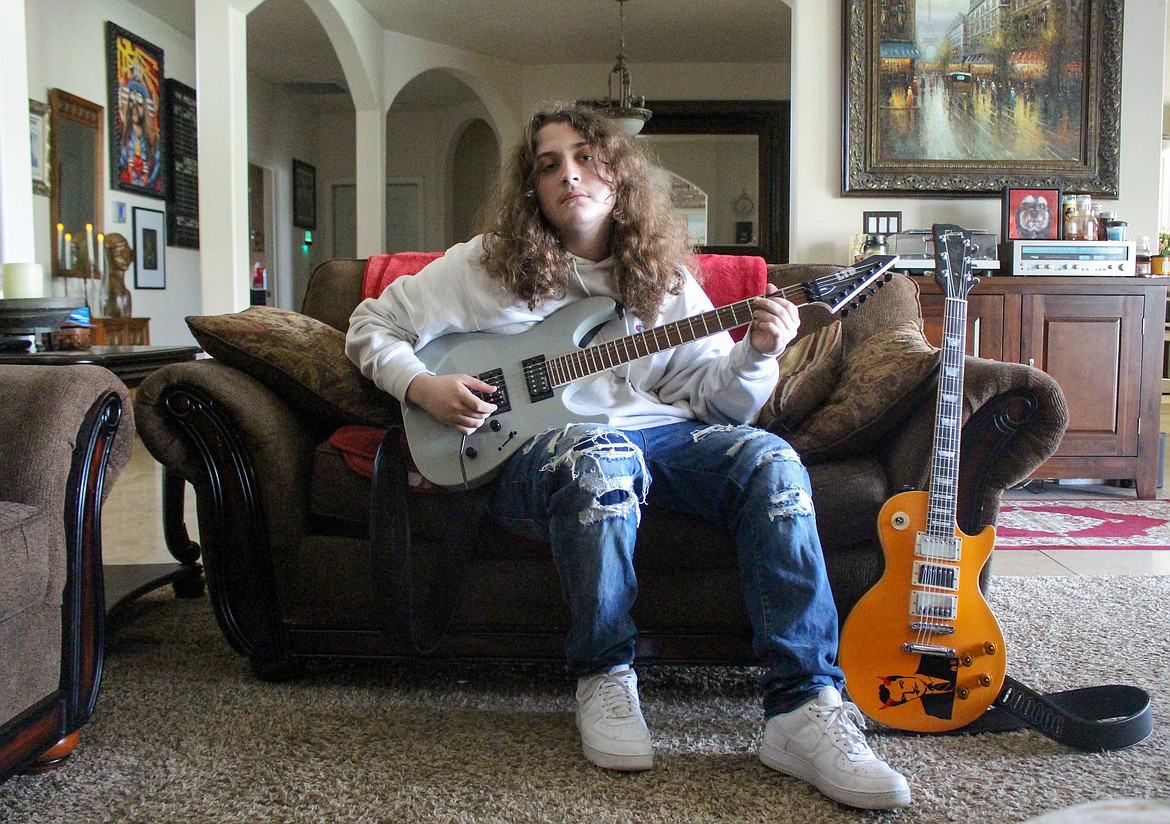 Gunnar Rimple, a high school freshman in Moses Lake, holds his guitar in hand on Tuesday afternoon which he hopes will help launch him toward his dreams of rock 'n' roll fame.
Casey McCarthy/Columbia Basin Herald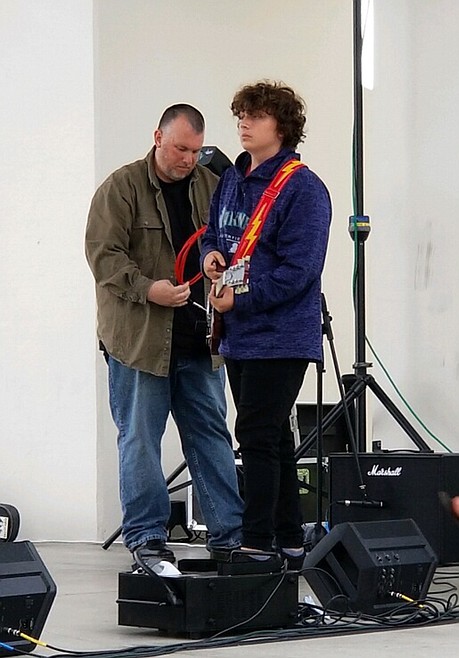 Steve Rimple helps "roadie" for his son Gunnar Rimple before he performs the National Anthem at Spring Fest in 2019.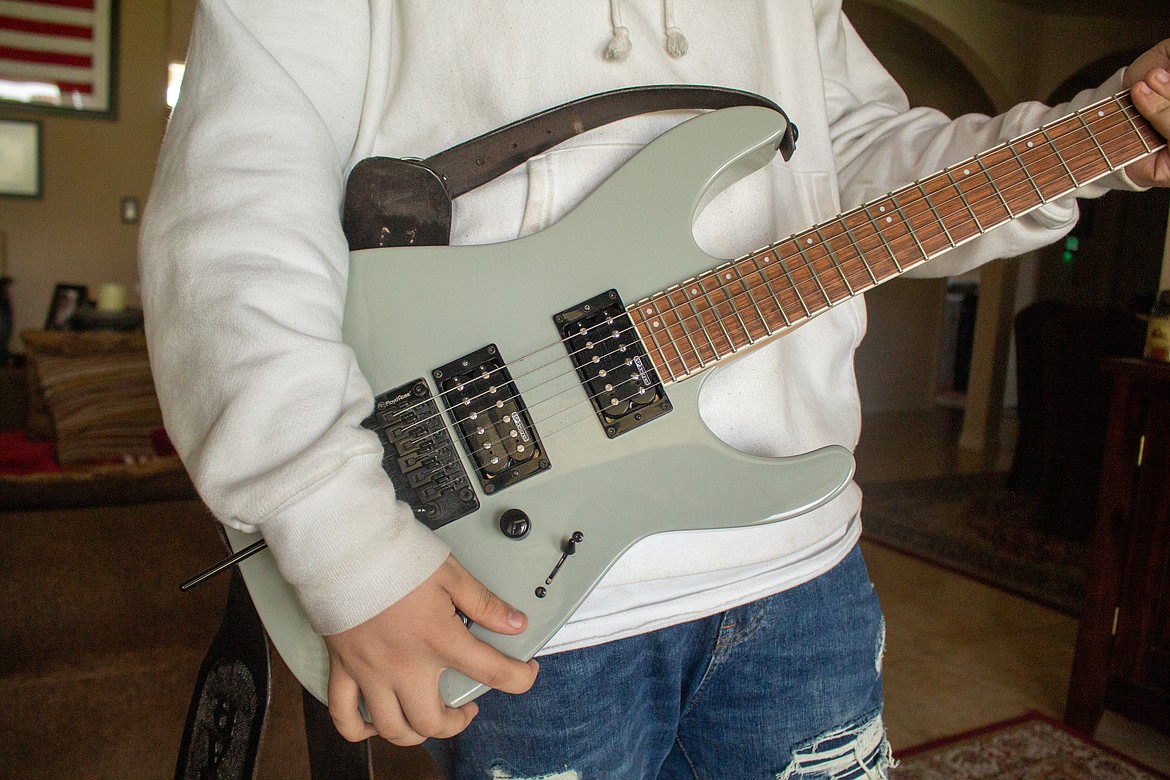 Gunnar Rimple of Moses Lake holds his "go-to" guitar, a gray LTD electric guitar with a Floyd Rose bridge inside his family's home in Moses Lake on Tuesday afternoon.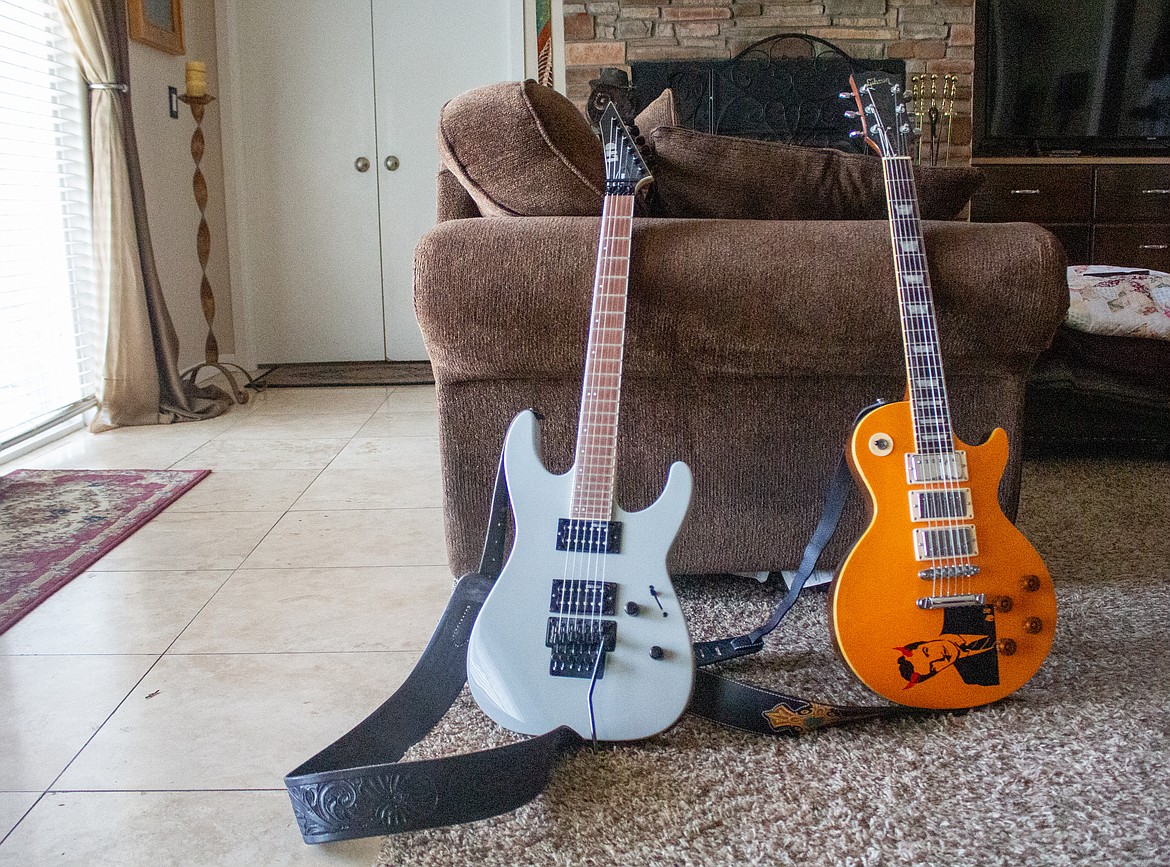 Gunnar Rimple's LTD and Gibson Les Paul electric guitars are the two out of his collection that he said he comes back to play with the most.
Previous
Next
by
CASEY MCCARTHY
Staff Writer
|
April 30, 2021 1:00 AM
GMOSES LAKE — Gunnar Rimple said it felt like yesterday he was picking up his first guitar and strumming along. But the 15-year-old Moses Lake High School student has played for almost seven years and has found a passion playing guitar.
Rimple is a budding young guitar player who continues to fine-tune his craft as he sets his sights on world fame and a legendary career in rock 'n' roll. With both his parents, Steve and Carmen Rimple, passionate artists and musicians in their own right, they are definitely the reason he picked up the musician's bug.
"They're definitely the reason," Rimple said. "My dad has always been a huge rock 'n' roll fan, I've also been a huge rock 'n roll fan. It's something that's been around my whole life and it's definitely something I want to do."
Carmen Rimple said if someone picks up an instrument in their home, it doesn't take long for a jam session to kick off. She said she and her husband play a lot with local musician friends.
"Gunnar has jammed with Brian Coakley of The Cadillac Tramps, Justin Warren of Moral Crux, John Nymann of Y&T and Bonnie Guitar," Carmen Rimple said.
When he picked up his first guitar around the age of 8 or 9, he said he was just a little kid strumming along. Today, he said he's able to learn songs by ear just from listening in addition to looking up guitar tabs, chords and guitar charts on YouTube or other sites online.
With about 10 guitars in his collection, Rimple said he tends to go with his LTD electric guitar with a Floyd Rose bridge.
"Either that or a Gibson Les Paul," Rimple said.
When discussing what guitarists he looks up to or hopes to learn from, Rimple referenced a quote from legendary guitarist Eddie Van Halen.
"He said, 'I just play my own way, I don't look up to anybody, I just play the way I want to play,'" Rimple said. "I kind of took that as a lesson and I'm just playing my own way."
While he enjoys playing along to his favorite tunes, he said he's been getting more into crafting his own music as he's progressed.
He said he's been playing with his friend, Colin Carter, a drummer, since they were both younger and recently started collaborating with another young guitar player and friend, Rylan Hamilton.
"We've all just been talking and we actually have some ideas, too, for what we want to do," Rimple said. "We have almost set … what we want to do already. We have the ideas, we just don't have the people."
Rimple said the group has planned on the band name, "Blackwood," something simple, but still unique. He described the band's sound as progressive hard rock.
"It's almost a mix of if Pink Floyd met with Van Halen and made a song together, that's how we explain it," Rimple said.
Rimple said the trio wants to put a story behind their music, with each album almost resembling a chapter book in a much deeper saga. The group already has some ideas for the saga they want to tell.
To summarize it briefly, Rimple said it's a fantasy saga focused around a woman's quest to bring back her lover only to discover she's a part of a much deeper situation involving a cascading realm of dream-like illusions.
Rimple said the trio is determined to be something no one has ever seen before, and wants to become "the next big thing in rock 'n roll." He said the group is still looking down the road before they start performing together and are still in the "idea phase" for now.
But his goal remains set on going on tour the first opportunity he gets after he graduates.
"Just seeing all my heroes and all the people that inspired me, I want to be just like them," Rimple said. "I want to do what they do and experience what that's like. I want to live it."
Casey McCarthy can be reached via email at cmccarthy@columbiabasinherald.com.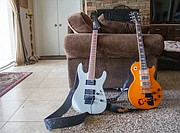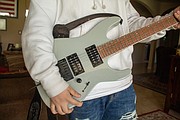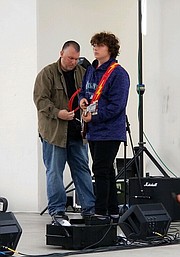 ---