Rev. Klockers: When trash becomes treasure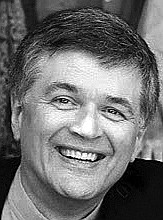 Psalm 51:10-12 from the New Revised Standard Version of the Bible says:
"Create in me a clean heart, O God, and put a new and right spirit within me. Do not cast me away from your presence, and do not take your holy spirit from me. Restore to me the joy of your salvation, and sustain in me a willing spirit."
In 2013, my daughter and I visited a place called Glass Beach, near Port Townsend, on the Olympic Peninsula.
This beach is best visited when there is a low tide; otherwise, one can get trapped by the rising tide that can reach the base of cliffs.
So, we had to time our trip just right – when the tide was receding.
On our outing, one of the things we wanted to do was to scour the area for beach glass.
Many years ago, the local populace used that place to throw their trash. They would cast rubbish over the cliffs to the beach below. This included quite a lot of glass containers.
As a result, many years later, combing the area for beach glass could be rewarding.
Naturally, as time marched on, major finds of choice glass became more difficult to come by. Nevertheless, during our visit, we were determined to pick up some decent pieces.
I am happy to report that we were successful. We claimed a good number of blue, red, green and clear glass. Most were smaller in size, but that didn't matter to us.
When the tide was at its lowest, we had the added benefit of being able to explore tidal pools for small marine life. That was fun.
To top things off, through the thick fog we saw the outline of two vessels out on the calm water. They moved by slowly, powered by people using paddles.
I greeted them with a shout and waved my hand. They returned the gesture.
I then lifted my camera and took a picture of a foreground of seaweed covered beach boulders and the outline of two fully occupied, fog-shrouded dugout canoes not far from shore.
I later learned that those canoes were part of an annual "Paddle Journey" made by many tribes of Pacific Northwest American Indians, traveling westward toward the coast.
It was an amazing sight and one that we will never forget.
I sent the digital image to a photo lab, had it placed on wood, and it now hangs on the wall.
What wonderful day my daughter and I shared. Both the above experiences and our conversations were quite meaningful – all from a site where people had once left their rubbish.
With the passage of time, glass that was once cast out became treasure. What once was considered worthless was transformed into something valued, pursued, gathered and a blessing.
Sometimes we may feel that God has cast us out, that God does not care. We may have convinced ourselves of this because of life's experiences. Things may not have gone our way.
If so, know this: in time, God may use what you consider trash to become treasure. It may take many years for this to come about. It may be when you share like experiences with another to commiserate.
May you then recognize that God never actually cast you out, but remained in the midst of your pain.
May that experience with another be shared treasure like no other found upon this earth.
Walter is pastor of Immanuel Lutheran Church in Moses Lake and has served as parish pastor for more than 30 years.
Recent Headlines
---