Royal hopes to rekindle fire after 5-1 loss to Wenatchee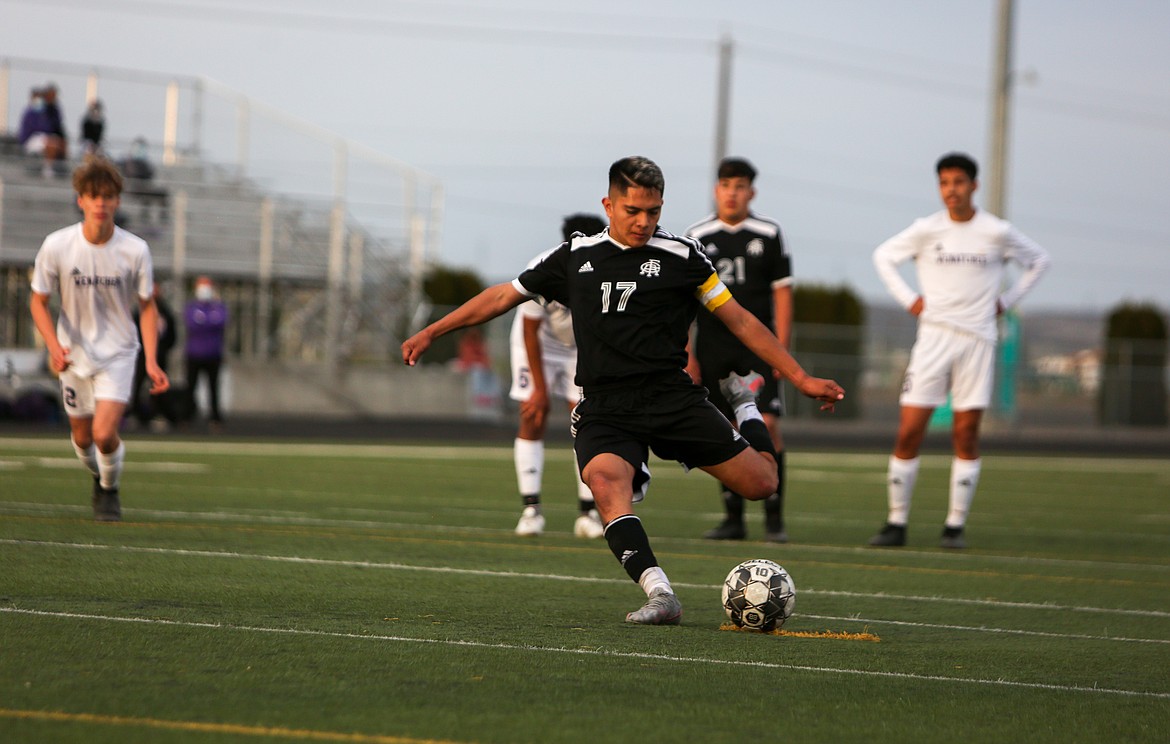 Royal High School's Eliseo Romero takes the penalty kick to score in the second half against Wenatchee High School on Friday night in Royal City.
Casey McCarthy/Columbia Basin Herald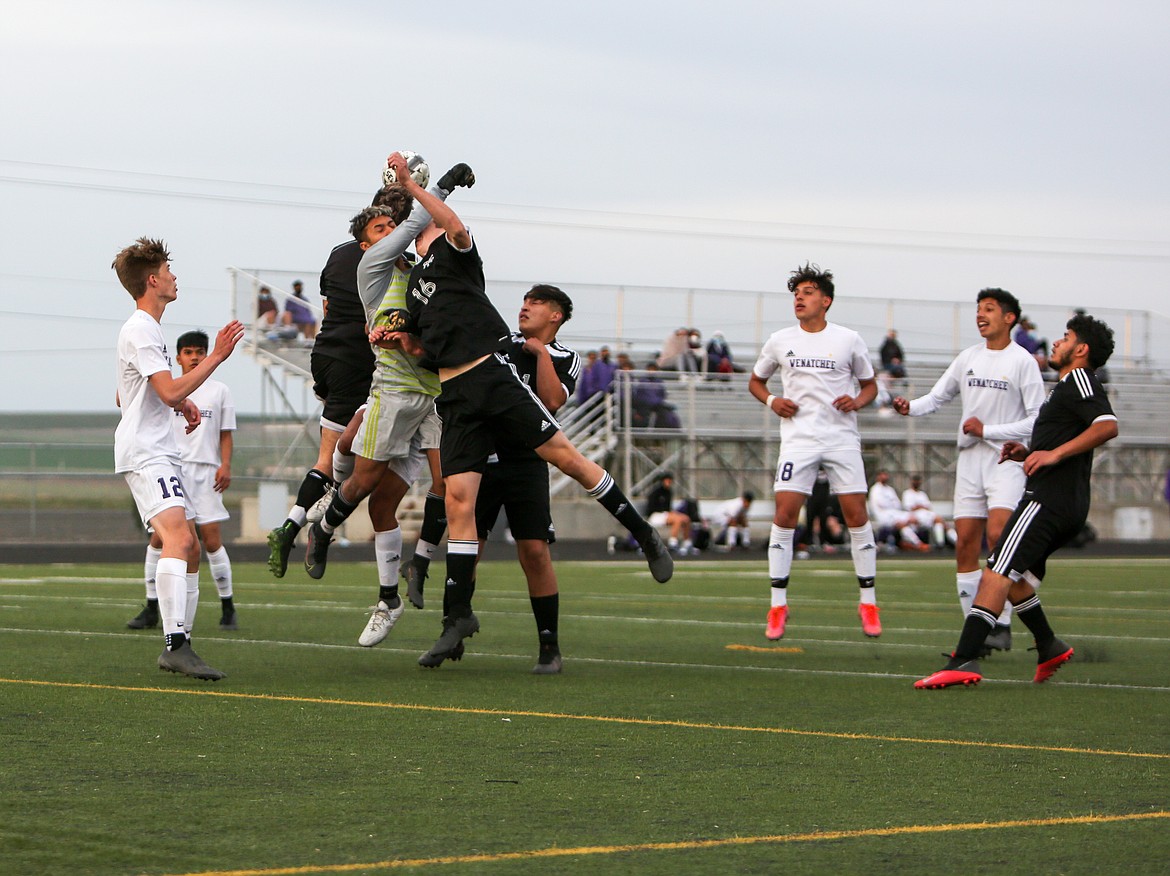 A pair of Royal High School players collide with the Wenatchee goalkeeper in the second half as the trio go up for a ball on Friday night at Royal High School.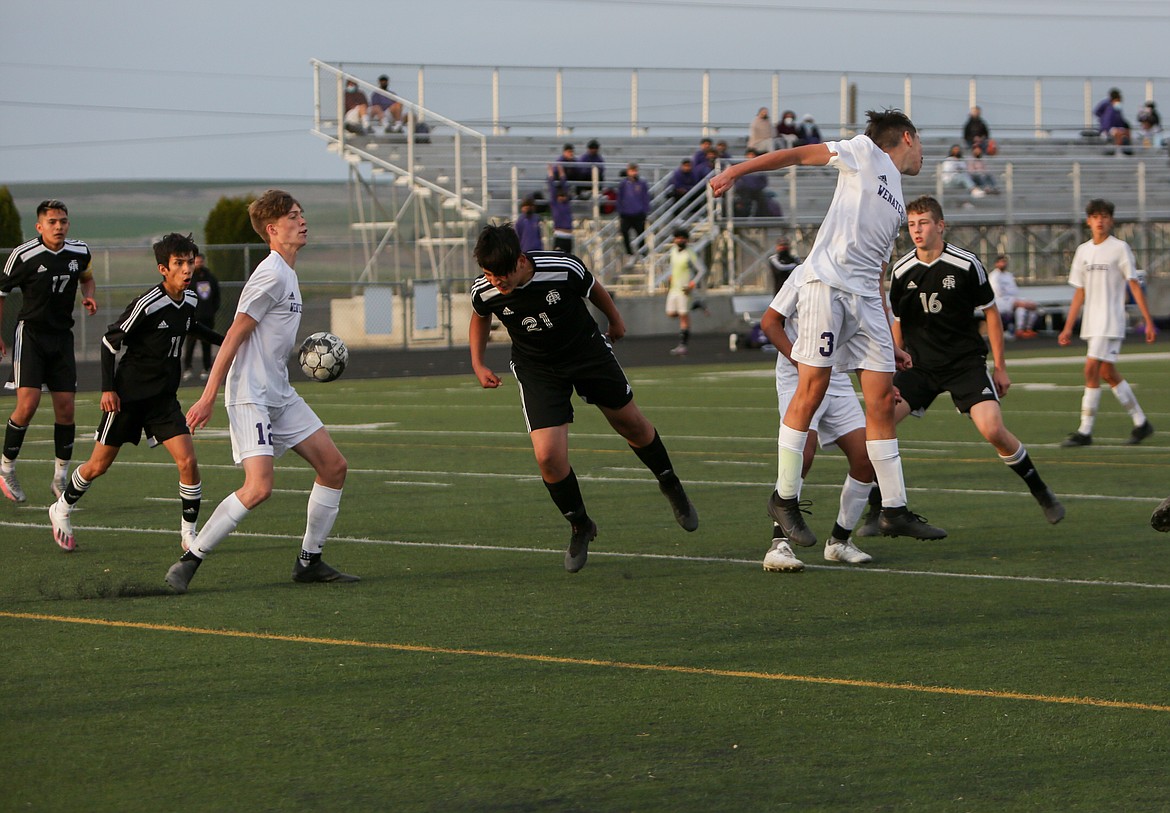 Royal High School's Luis Cruz heads a ball toward the Wenatchee goal in the second half on Friday night in Royal City.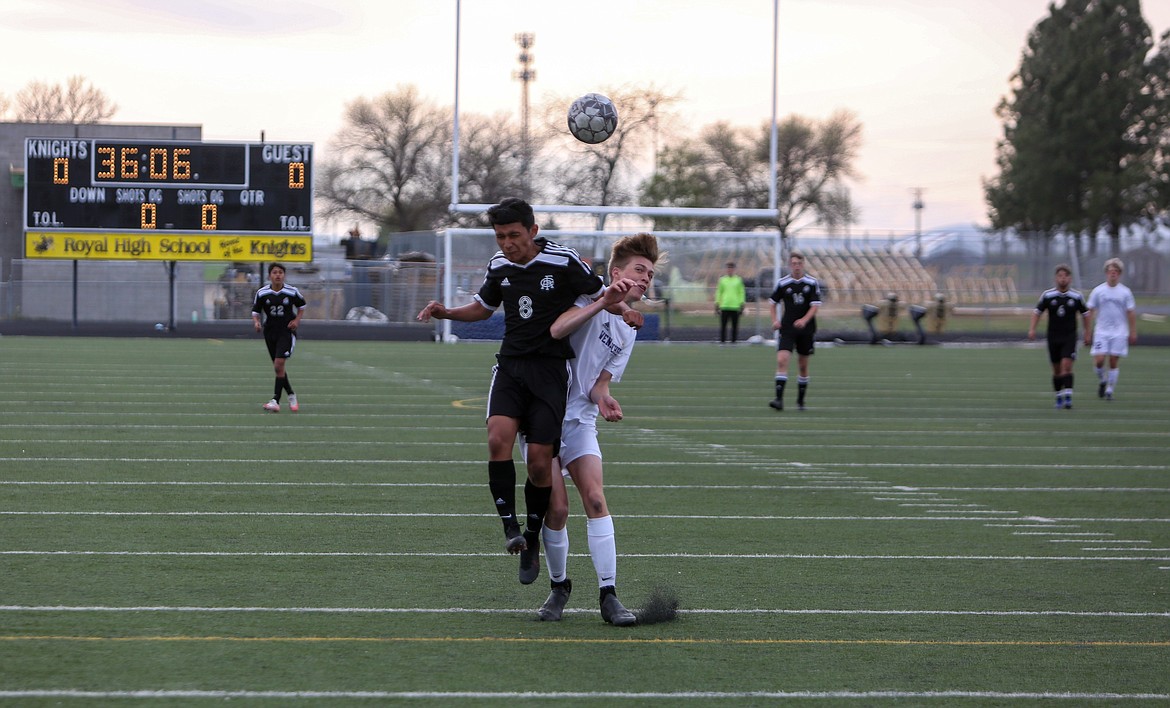 Royal High School's Josue Rodriguez goes up for a header against the Wenatchee player in the first half on Friday night at Royal High School.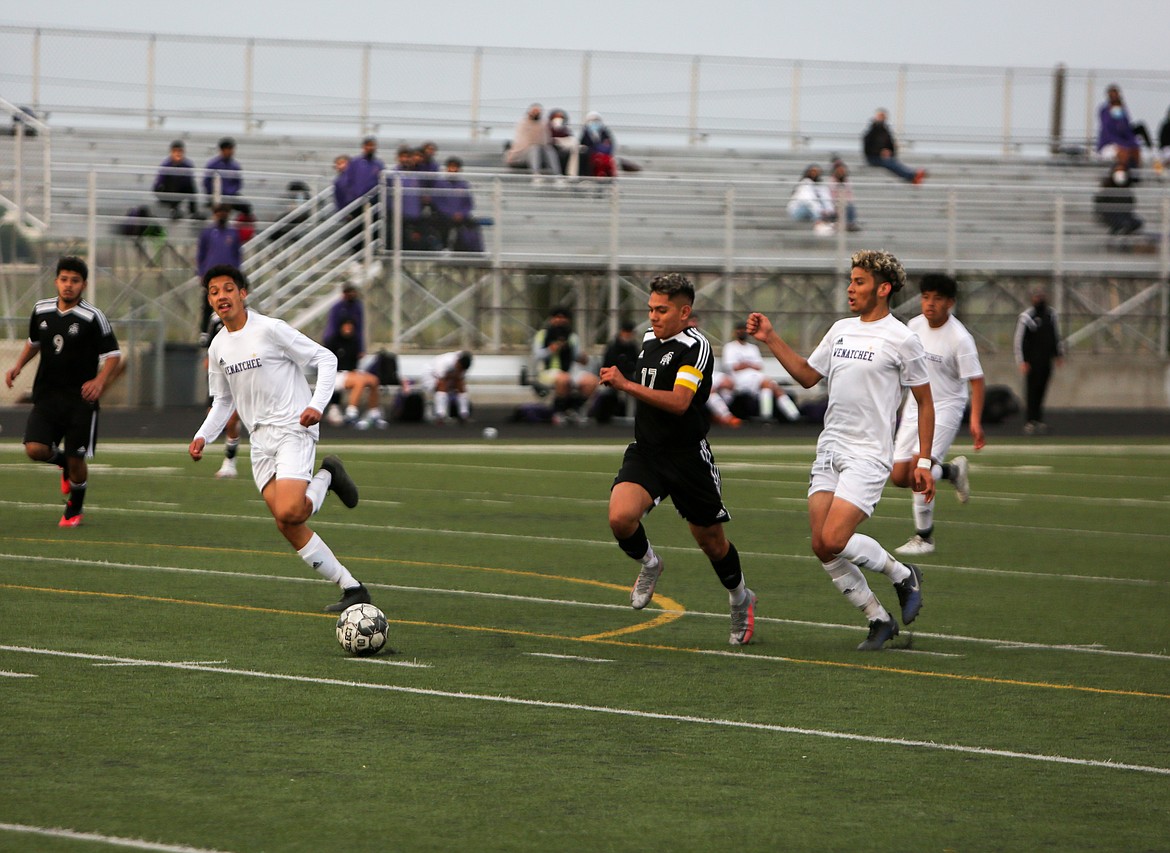 Royal High School's Eliseo Romero sprints toward goal with Wenatchee players in pursuit in the second half on Friday night at Royal High School.
Previous
Next
by
CASEY MCCARTHY
Staff Writer
|
April 28, 2021 1:00 AM
ROYAL CITY — Royal High School soccer lost 5-1 at home to Wenatchee High School on Friday night, moving to 1-3 for the season.
Wenatchee scored the opening goal off a cross just over 10 minutes into the first half. The Panthers doubled their lead minutes later on a bad clearance from the Knights defense. Wenatchee kept the pressure on for the remainder of the first half, keeping Royal from any real chance on goal.
Just minutes into the second half, the Panthers pulled ahead to 3-0, then added a fourth goal. The Knights got a break soon after through a penalty kick. Eliseo Romero put the penalty in the back of the net to prevent a shutout and give the Knights some much-needed energy.
Royal narrowly missed doubling its score on a 3-on-1 break, with the shot going over the top bar of the goal. Wenatchee shut down any hope of a comeback on a counterattack, ending the match at 5-1.
The Knights' loss followed their first win of the season last Tuesday against a tough Wahluke High School team. Royal head coach Jens Jensen said he wasn't sure if it was a "hangover" from the win, but said his team lacked the energy and will to compete Friday.
"Intensity, unfortunately, wasn't there and it was hard," Jensen said. "It seemed like at times they'd have little passages of play where it was like, okay, we're going to do this. And then there's these big lulls in between where they're like, I don't know."
Jensen said the team bought into the game plan against Wahluke on Tuesday and had the energy to win. He said there might have been an extra fire from his players facing a usual league opponent in Wahluke as opposed to a non-conference 4A opponent like Wenatchee that the Knights wouldn't ordinarily see.
"Wahluke felt like a league game and Wenatchee felt like a friendly, but the interesting thing is that both games are friendlies," Jensen said. "But that's how it felt in the team talk, the team's spirit, the commitment."
Turnovers were costly as the Knights struggled to piece anything together against the Panthers' defense. Jensen said there were moments of play that looked good, but his team just couldn't sustain them.
He added even the best teams in the world will show up and get whooped from time to time.
"When you have a team like Real Madrid that gets beat five or six to zero, it's like, how does that even happen?" Jensen said.
Eliseo Romero scored the Knights' lone goal for the Knights and has been a consistent force all season. Jensen said Romero isn't his most dangerous player or his most athletically or physically gifted. Rather, what he is is the "classiest player on the field."
"Situations where every other kid is freaking out, he looks as calm as you can possibly be," Jensen said. "He's in traffic, in pressure and he has guys running circles around him trying to get the ball off of him, and the entire time it looks like he's thinking about what he's going to eat later. It's crazy."
Romero was able to draw a lot of pressure from the Wenatchee defense, creating space for other players to attack. Unfortunately, Jensen said, he tried every formation and pattern he could and just couldn't seem to get anything to work.
While Friday was frustrating and a game Jensen said he'll simply learn from and move on, the win last Tuesday against Wahluke provides a standard that he can now hold his players to.
"It's not a question of whether or not you can't, it's a question of whether or not you have the will to believe and the desire to put in the work," Jensen said.
The Royal head coach said it's tough at times to stay motivated in a season where every game is a friendly. But, he said, he hopes that Friday can be a reality check for his team, and ignite the same spirit the Knights showed in Mattawa.
Casey McCarthy can be reached via email at cmccarthy@columbiabasinherald.com.
---