Outside chance: Moses Lake auction funds another year of hunting and fishing opportunities for kids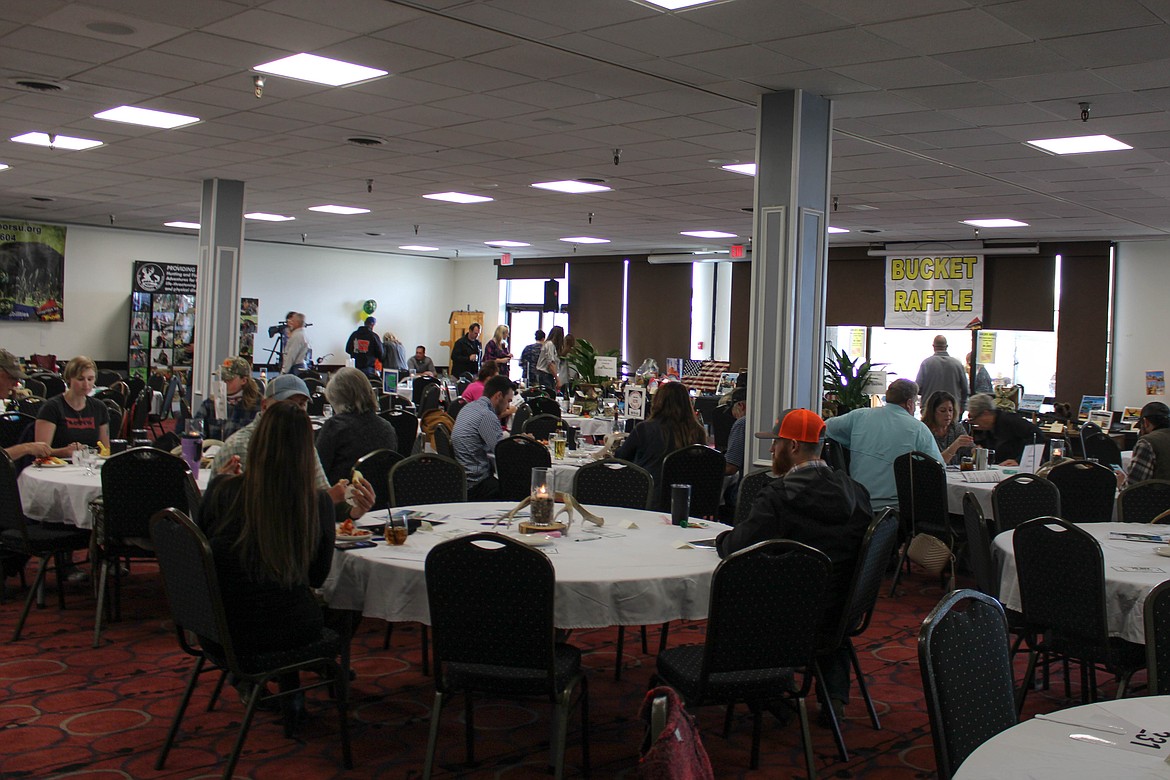 Donors find their tables at Saturday's Youth Outdoors Unlimited Auction at the Best Western Plus Lake Front Hotel.
Sam Fletcher/Columbia Basin Herald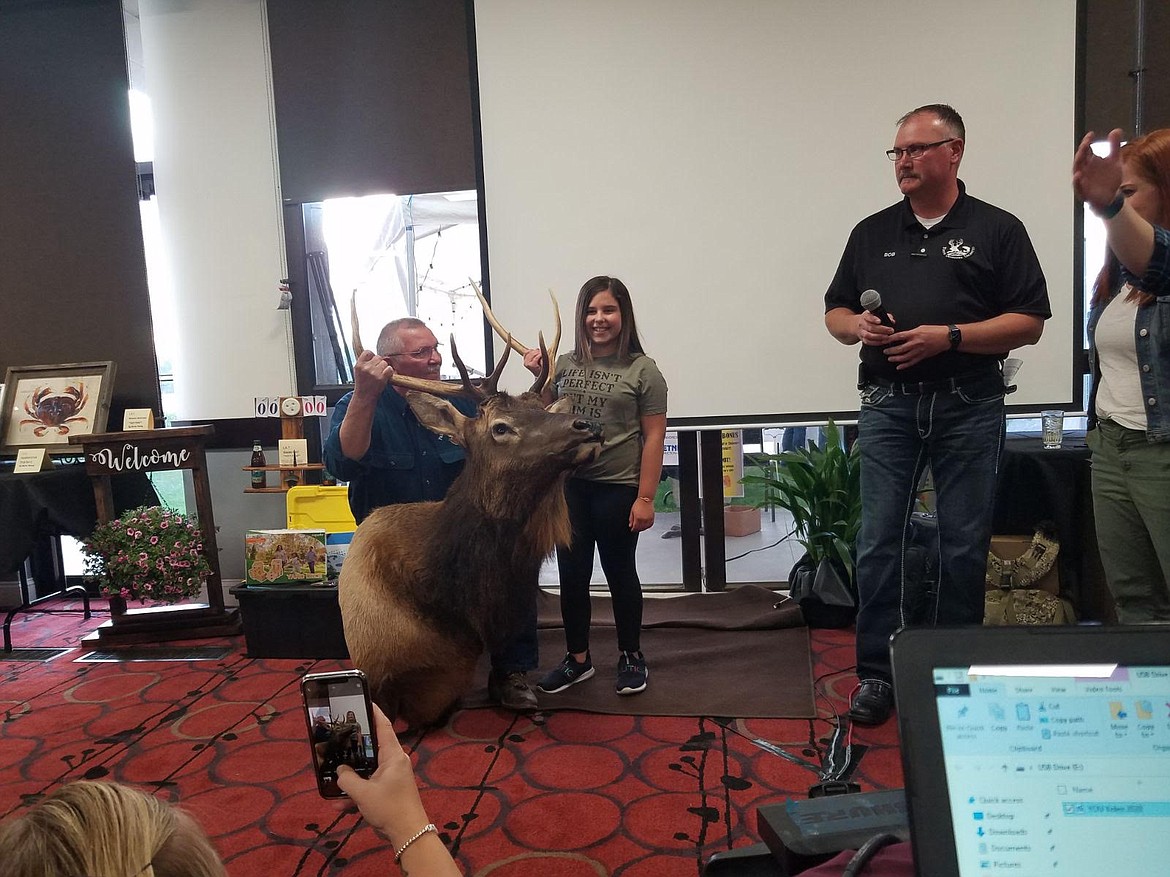 Ten-year-old Avery Reyes receives her elk mount from a Youth Outdoors Unlimited hunt last fall at Saturday's auction.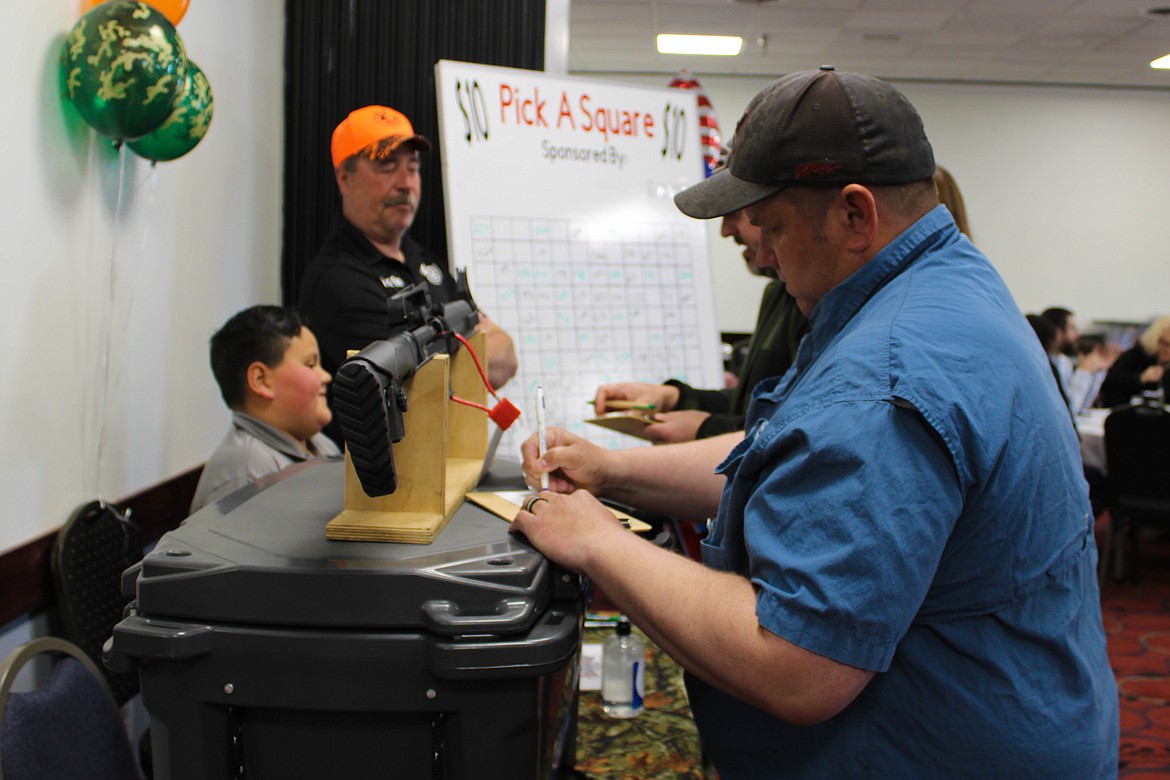 Youth Outdoors Unlimited secretary Martin Monsey (orange hat) displays an AR-10 as people place bids for the silent auction on Saturday.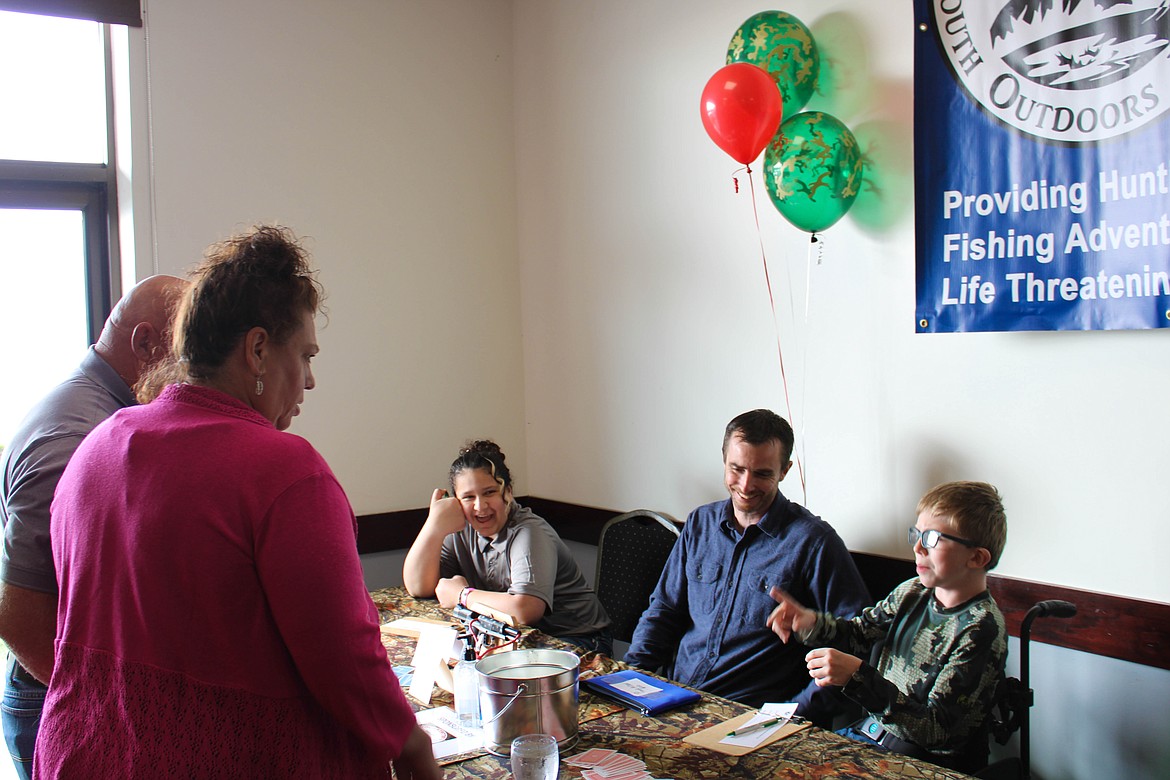 Jared Chartier (center) and his son, Caleb (right), sell 'tear cards,' chances to win the Colt 1911 pistol on the table.
Previous
Next
by
SAM FLETCHER
Staff Writer
|
April 27, 2021 1:00 AM
MOSES LAKE — The Youth Outdoors Unlimited auction crowd was smaller than usual Saturday evening, at around 100, said executive director Cindy Carpenter, but perhaps even more generous.
"It was awesome," she said. "Everybody in the room was there to have fun and support the kids. It was probably the top three banquets we've ever had."
The live auction at the Best Western Plus Lake Front Hotel rattled off all kinds of prizes, including a Stoeger 9mm pistol, a TriStar 12G Cobra shotgun, an AR-10 308 custom rifle, custom woodworking, local and international guided fishing and hunting trips, resort packages, granite countertop installation, taxidermy, Chico's pizza for a year, an electric smoker and more.
The event brought in around $70,000, she said, which is good compared to years without the pandemic.
"They were raising their paddles right and left and I was like 'holy cow,' I couldn't even keep up," she said.
The Washington-based nonprofit started in Moses Lake in 2011, and serves communities across the state, dipping into Idaho and Oregon as well, Carpenter said. Leaders of the organization take kids with life threatening illnesses or physical disabilities on hunting and fishing adventures across the Pacific Northwest. They've even hunted black bears in British Columbia, she said, but not this past year due to COVID-19.
Pandemic restrictions have restrained its typical auctions, she said. Normally, it holds the Moses Lake banquet the first Saturday of March. This year, it was pushed back, awaiting restrictions to lift.
Earlier this month, however, it held its first auction in Lewiston, Idaho. It's done trips in Idaho for a long time, she said, so holding a banquet there made sense. Plus, there are fewer restrictions across Washington's eastern border.
Taking kids whose bodies don't cooperate on these types of trips builds their self esteem, she said. Some of the kids spend most of their time in treatments and hospitals.
It's important to get them out and let them be a kid and a hunter, and not just a sick kid, she said.
"People in our communities and beyond ... have started to look at these kids and the things they can do and not the things they can't do," she said.
Caleb Chartier, a 10-year-old from Lookingglass, Oregon, was born with cerebral palsy. At Saturday's auction, he ran a raffle booth to win a Colt 1911 pistol.
"All my family can walk. I watch my sister all the time walking and I'm like, man, I wish I could do that," he said. "Some kids are like that. They get something that someone else doesn't and they wish they didn't have what they have, but I'm just glad to be alive because I had a 50% chance of dying, then I lived, so that's kind of a highlight, but I came out with a curse."
Last year, he shot his first deer with Youth Outdoors Unlimited, a 200-pound, 4x3 buck. It was really fun, he said.
Ten-year-old Avery Reyes heard about the program when she was diagnosed with a cancerous brain tumor, she said.
In the fall, Youth Outdoors Unlimited took her out to shoot an elk near Sedro-Woolley, she said. At Saturday's event, she received her mount.
"They treated her like a queen," her grandpa added.
The organization couldn't continue without the Moses Lake community, Carpenter said.
"Youth Outdoors started in Moses Lake, Washington, and because of the generosity of this community we've been able to go for 10 years now and continue to help kids, and we still see people be enthusiastic," she said. "Hats off to people in this area who see the value of outdoor activities."
Youth Outdoors Unlimited is holding auctions July 24 in Olympia, Sept. 25 in Yakima and Oct. 2 in Pasco.
For more information or to donate, visit youthoutdooru.org.
Sam Fletcher can be reached via email at sfletcher@columbiabasinherald.com.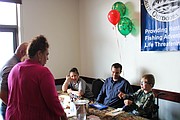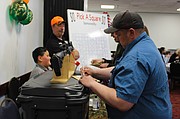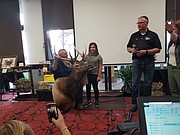 ---