New soccer club coming in June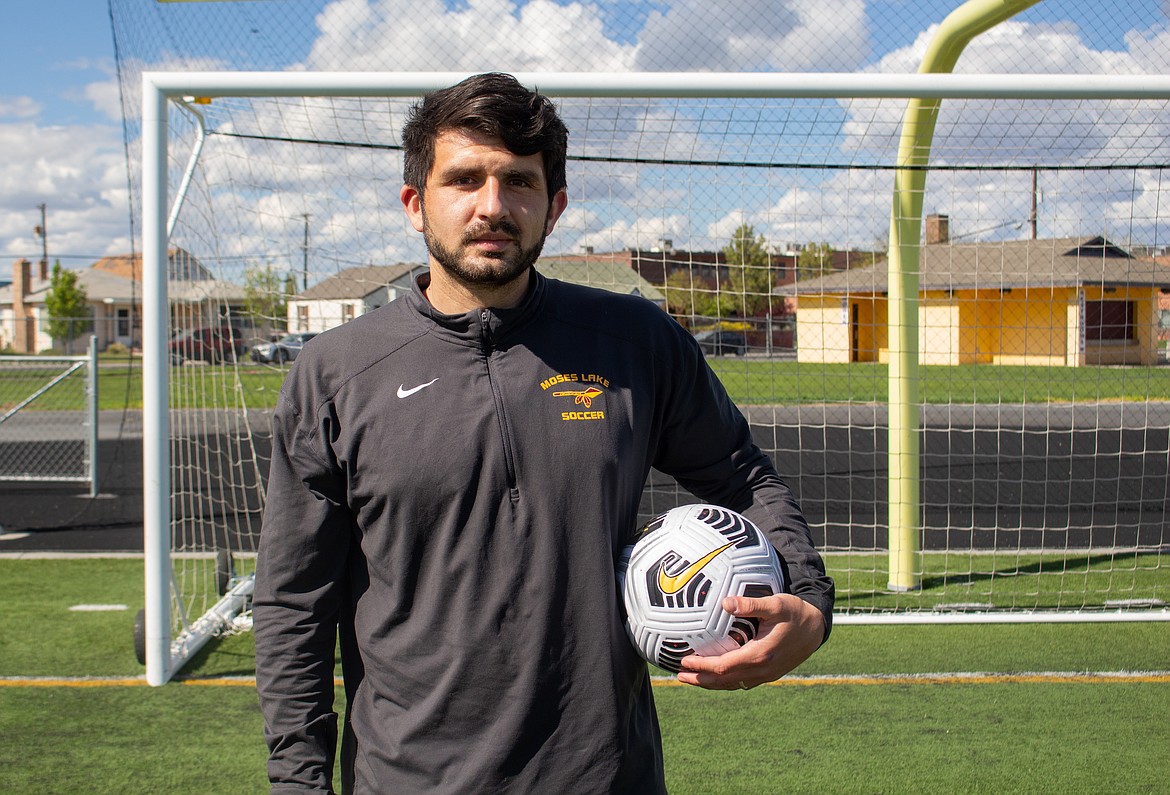 Moses Lake High School head boys soccer coach Derrick Gonzales will serve as Director of Coaching for the new Basin Sounders Soccer Club.
Casey McCarthy/Columbia Basin Herald
by
CASEY MCCARTHY
Staff Writer
|
April 27, 2021 1:00 AM
The Columbia Basin will have a new soccer club this summer. Endeavor Soccer Academy is set to become Basin Sounders Soccer Club in a new partnership with Spokane Sounders Soccer Club.
Using Endeavor's structure, players, teams and coaches pool under new branding, the new club offers a direct link to the Spokane Sounders' resources and pipelines created through the club's ties to the Seattle Sounders.
The new club will be overseen by a local committee consisting of current Endeavor board members. Nick Wallace, one of the founders of Endeavor in 2011, will serve on the Spokane Sounders board of direction as a voting member, offering the Columbia Basin a local representative on the Spokane side of operations.
Derrick Gonzales, the current head boys soccer coach at Moses Lake High School, will serve as director of coaching. Gonzales said all of his operations will be overseen by the Spokane Sounders board.
Gonzales said he has been working closely with Spokane Sounders director Abbas Faridnia the last few months on this partnership, but said this is an idea that has been in the works since before COVID-19 struck last spring.
Through the new partnership, Basin Sounders will have access to coaches' training, curriculum, clinic and development. Gonzales said those coaching resources will be available to many coaches in the Basin, not just those involved with the club.
Secondly, he said, the new club will allow players to maintain their relationship with their team and help prevent the local talent pool from being depleted.
"With the partnership, there's a lot of opportunity for players to get a call up to play in the state leagues, for example the RCL, that Spokane Sounders have access to that we as a local club don't have access to just yet," Gonzales said.
Basin Sounders players will compete with their respective age groups in the Puget Sound Premier League. Gonzales said this new partnership will allow the Columbia Basin to maintain a lot of core players who might typically just go play in Spokane without those players feeling like they're sacrificing anything.
He hopes the partnership will allow the community to see the new club as a means of developing young soccer players, he said. Reaching out to other "stakeholders" in the soccer community in Royal City, Othello, Quincy and Mattawa, Gonzales said he hopes eventually to see this partnership become a Basin league where local communities have teams competing on a consistent basis.
Much of his desire to push forward youth soccer in the Columbia Basin comes from his own experience growing up in Moses Lake, he said.
"There's so much potential here, so much talent here, so much enthusiasm for the sport here that we know it's time," Gonzales said. "It's long overdue that we've been unified in our vision and our mission of working together with soccer in the community."
He said working with a professional organization like the Spokane Sounders and incorporating their know-how and expertise seems like the best way to build something special in the Columbia Basin.
Watching other "hotbeds" of soccer talent around the country, Gonzales said he believes this community is ready, and just needs a shared vision and structure to move to the next level.
As a 501(c)(3) non-profit organization, Gonzales said, Basin Sounders will work to build up the support of the local business community. He said he hopes Basin Sounders can receive enough sponsorships to let the club offer scholarships to every demographic of player in the Basin.
Gonzales said the Basin Sounders website is expected to launch this weekend with the first big registration event opening up on May 12. Exact age groups aren't known just yet, but he said teams will range at least from children born in 2012 up to high school ages. A "player ID" event will take place on June 5 to get a better understanding of the player pool before teams are put together. Gonzales said teams will most likely be announced the following week with training and potential tournaments kicking off right away.
The PSPL will kick off its season in the fall.
Casey McCarthy can be reached via email at cmccarthy@columbiabasinherald.com.
Recent Headlines
---