Capital gains, low-carbon fuel bills go to governor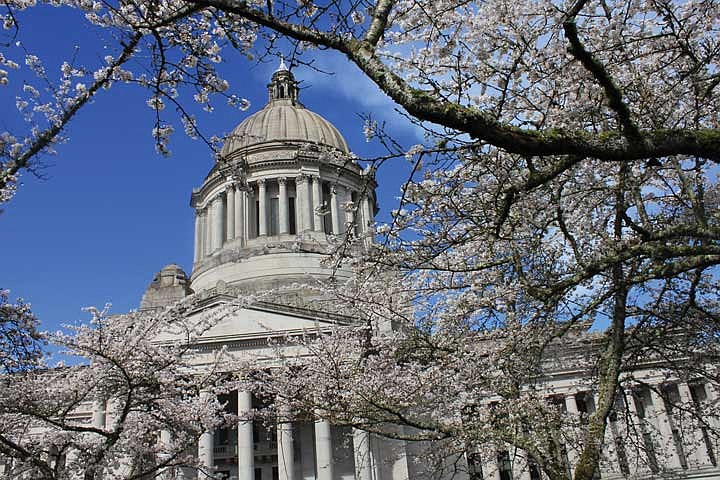 by
Angelica Relente, Herald Legislative Writer
|
April 26, 2021 1:00 AM
As the Washington state Legislature reaches its final day of this session, Senators passed bills that would impose a capital gains tax and create a low-carbon fuel standard during a virtual legislative debate Sunday. Both bills will head to the governor's desk.
Senate Bill 5096, which passed in a 25-24 vote, would impose a 7% capital gains tax as early as Jan. 1, 2022, on "the sale or other voluntary exchange of long-term capital assets by individuals," according to the bill's text.
Sen. June Robinson, D-Everett, is SB 5096's primary sponsor. Robinson said during the debate she thought about her late father, who held a "generational belief" that people are responsible for taking care of each other.
"This is a step towards asking those who can pay a little more in taxes to do that for the sake of all Washingtonians (and) for the sake of creating a safer and healthier future for our state," Robinson said.
Sen. Judy Warnick, R-Moses Lake, said during the debate she is afraid SB 5096 and other bills considered during this legislative session will cause small family farms to run out of business.
"This is a complicated bill and (agriculture) land is still included in the underlying bill," Warnick said.
Under SB 5096, capital gains worth less than $250,000 would be excluded from the tax, according to the bill's text. One of the many capital assets exempt from the tax includes livestock used in farming or ranching.
Sen. Lynda Wilson, R-Vancouver, said during the debate SB 5096 is still unnecessary and unconstitutional as it is written. The bill will enact a "full-blown income tax," which is an idea voters have rejected repeatedly, she said.
"We have no reason to create this new tax but here we are doing it anyway," Wilson said.
Sen. Marko Liias, D-Lynwood, said during the debate Washington has the most upside-down tax system in the country, which disproportionately impacts the middle class and working Washingtonians.
"The poorest families in Washington are asked to pay 17 to 18 cents of every dollar they earn to taxes. The wealthiest few in our state … pay one to two cents of their income to state and local taxes," Liias said. "That is fundamentally unfair."
Another bill the Senate passed, in a 26-23 vote, is House Bill 1091. The bill would allow the state Department of Ecology to establish the Clean Fuels Program for the purpose of reducing greenhouse gas emissions in transportation fuel to 20% by 2035.
Sen. Reuven Carlyle, D-Seattle, said during the debate opponents say HB 1091 will affect the price of gas. But Oregon, one of the states that already enacted a clean fuel standard policy, only had to raise its gas prices by less than two cents.
"This is a responsible public policy," Carlyle said. "It allows us to have a deep decarbonization strategy for the transportation sector."
Sen. Curtis King, R-Yakima, said during the debate HB 1091is "a very expensive bill" and will only penalize Washingtonians. The bill will not do much to reduce greenhouse gas emissions, he said.
"There are numerous ways that we could do to incentivize rather than penalize," King said. "This (bill) is not the answer."
---