Weekly prep roundup: ACH's Correia named WIAA Athlete of the Week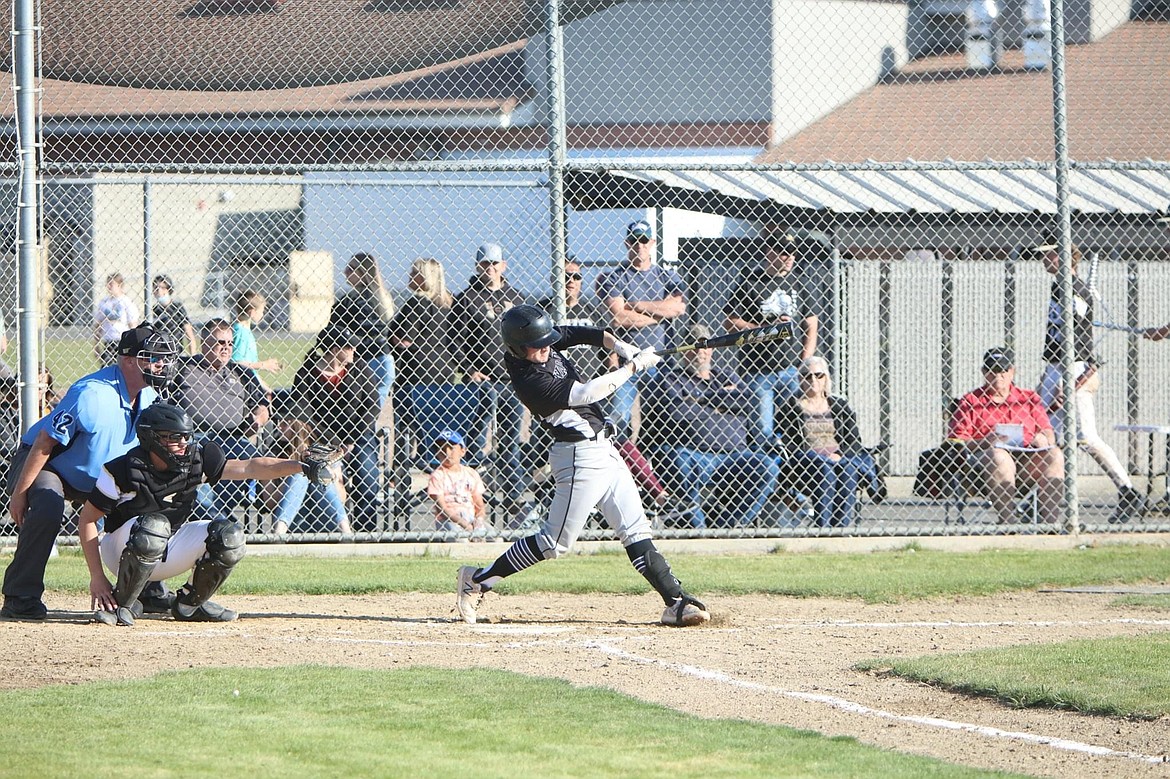 Almira-Coulee-Hartline High School's Cooper Correia fires a shot for the Warriors from the plate. Correia was selected as a WIAA Athlete of the Week for his performance against Omak last weekend.
Courtesy Photo/Carrie Isaak
by
CASEY MCCARTHY
Staff Writer
|
April 23, 2021 1:00 AM
Almira/Coulee-Hartline High School baseball player Cooper Correia was named a Washington Interscholastic Activities Association Athlete of the Week for Week 9. Correia finished 3-4 from the plate in a sweep of Omak last weekend with a single, double and triple. He finished with seven stolen bases, seven RBIs and six earned runs.
In two innings on the mound in the second game of the doubleheader, Correia surrendered no hits with seven strikeouts.
Baseball
Ephrata 5, Moses Lake 3
The Chiefs took an early lead against Ephrata on Tuesday with two runs in the bottom of the first, but a late scoring run in the fourth and fifth helped the Tigers claw their way back for the win. Winston Roberts finished 3-4 from the plate for Ephrata while Beau Dechenne added a pair of hits.
Michael Getzinger took the loss on the mound for the Chiefs, allowing four runs on three hits through four innings, with eight strikeouts.
Other scores:
Warden 15, Pateros 0
Royal 13, Almira/Coulee-Hartline 0
Othello 0, North Central 1
Quincy 0, Liberty Bell 15
Wahluke 5, Cashmere 25
Softball
Moses Lake 10, Warden 5
Raegan Hofheins finished 2-3 from the plate for the Chiefs, with a home run, two RBIs and three earned runs. Taylor Hofheins and Laurissa Martinez both added homers for Moses Lake.
Moses Lake 7, Lake City 11
Despite a seven-run sixth inning to force extra innings, the Chiefs' comeback attempt in the first game of the doubleheader Wednesday came up short, with Lake City scoring four in the top of the ninth to seal. Sidney Ries, Ali Stanley and Rylee Sanchez each recorded multiple hits.
Moses Lake 3, Lake City 5
A pair of late runs pushed Lake City past the Chiefs in the second game. Ciarrah Knoll and Laurissa Martinez recorded the only hits for Moses Lake, both doubles. Morgan Ross pitched the entire game, surrendering five runs off six hits with six strikeouts.
Other scores:
Othello 4, Pullman 2
Othello 11, Pullman 1
Quincy 11, Cascade 24
Wahluke 1, Cashmere 23
Soap Lake 14, Bridgeport 13
ACH 13, Tonasket 22
Soccer
Royal 3, Wahluke 1
Gunnar Anderson, Eliseo Romero and Angel Vega scored for the Knights in the road win over Wahluke on Tuesday afternoon. Romero added two assists in the win. Wahluke's lone score came on an own goal from Royal.
Quincy 3, Eastmont 1
Jorge Nuñez scored two goals with Adrian Borja adding the third for the Jacks' win over 4A Eastmont on Tuesday. Felipe Zepeda finished with two assists, with Isaac Lopez assisting on the third goal. Quincy head coach Francisco Tafoya said he credited the defense with stepping up, and said his team did a good job of settling down and playing their game in the second half.
Moses Lake 1, Cascade 1 (ML win on penalties)
Reynaldo Rodriguez scored to push the game into extra time. Moses Lake came out on top in penalties.
Othello 3, East Valley 0
Miguel Ramirez, Anthony Ontiveros and Jose Galvan scored for the Huskies in the win over East Valley High School on Tuesday. Galvan added an assist.
Other scores:
Ephrata 3, Bridgeport 1
Boys Tennis
Ephrata 5, Moses Lake 0
Singles:
1 Leo Lopez (EPH) defeated Tyler Wiseman (ML) 6-4, 4-6, 6-4
2 Colton Murray (E) d. Joshua Acevedo (M) 6-3, 6-2
Doubles:
1 Kyle Steward, Chase Addink (E) d. Ryan Hone/Adam Wiseman (M) 6-1, 6-0
2 Tony Amaya, Tino McDonnell (E) d. Malachi Carpenter, Isaiah Carpenter (M) 6-0,6-2
3 Jobe Van Heusden, Xavier Hughes (E) d. Daniel Bowen, Ian Wiseman (M) 6-1, 6-1
Girls tennis
Ephrata 5, Moses Lake 0
Singles:
1 Kendra Mullings (E) d. Cece Trinnaman (M) 6-0, 6-4
2 Lindsay Addink (E) d. Jenna Young (M) 6-0,6-0
Doubles:
1 Anna Pugh, McKell Johns (E) d. Julia Pimentel, Allison Davis (M) 6-4, 6-3
2 Addie Mills, Kacie Shannon (E) d. Natalie James, Eden Figuroa (M) 6-2, 6-1
3 Emily Pugh, Campbell Grizzel (E) d. Sara Carpenter, Delia Garcia (M) 6-3,6-2
Men's basketball
Big Bend 89, Columbia Basin 108
The Vikings fell behind early against Columbia Basin College on Tuesday, trailing 53-34 after the first half. Jahvonta Jones led Big Bend with 27 points and 10 rebounds. Keenan Miller chipped in 17, while Zack Welch had 12 points off the bench.
Other scores:
Big Bend 80, Spokane 97
Casey McCarthy can be reached via email at cmccarthy@columbiabasinherald.com.
---