'Bean' builder: Camper project turns into growing business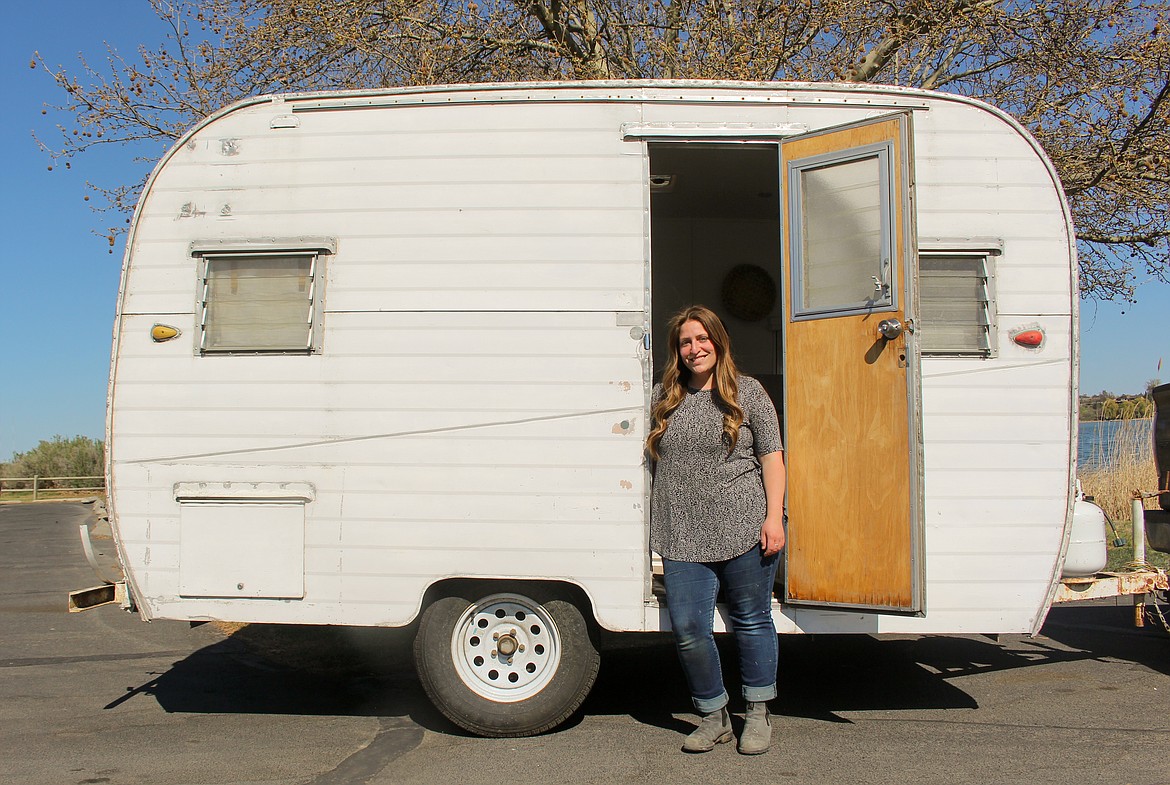 Nicole Case sits beside her remodeled camper trailer at Lower Peninsula Park in Moses Lake on Tuesday afternoon.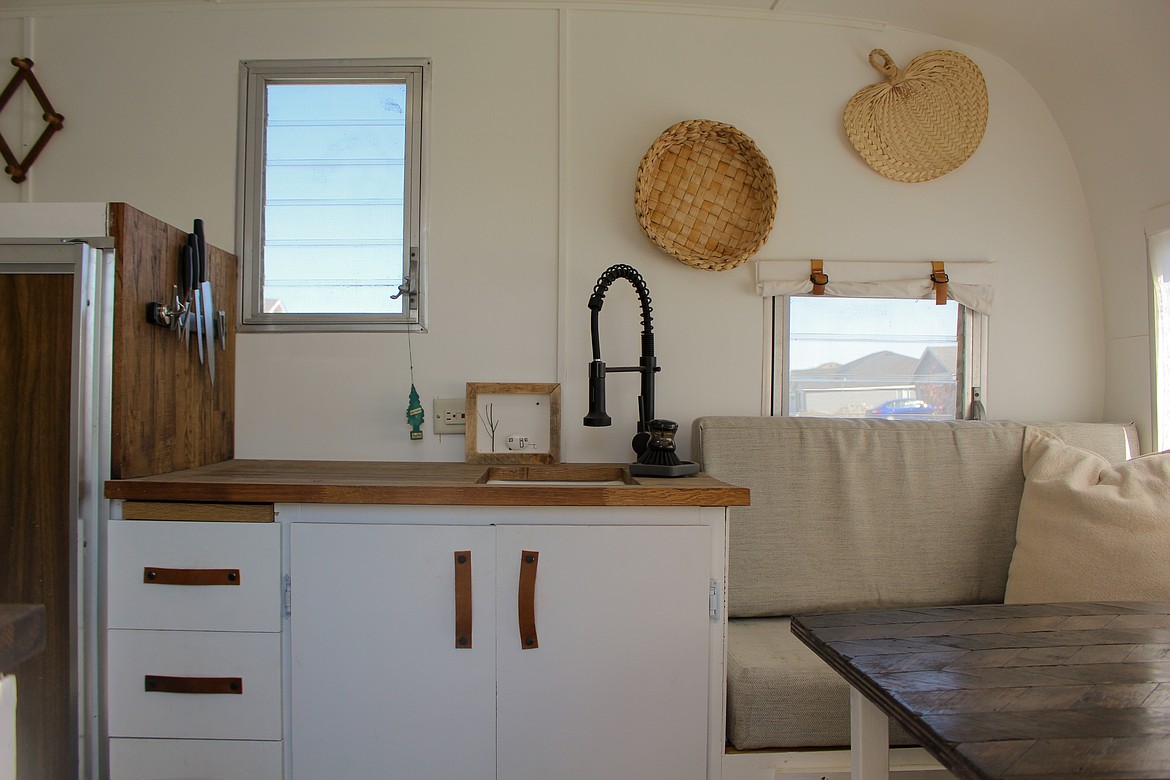 A look inside Nicole Case's remodeled camper trailer, complete with custom cabinets and table made by Case and helping to launch Bean Handmade Co.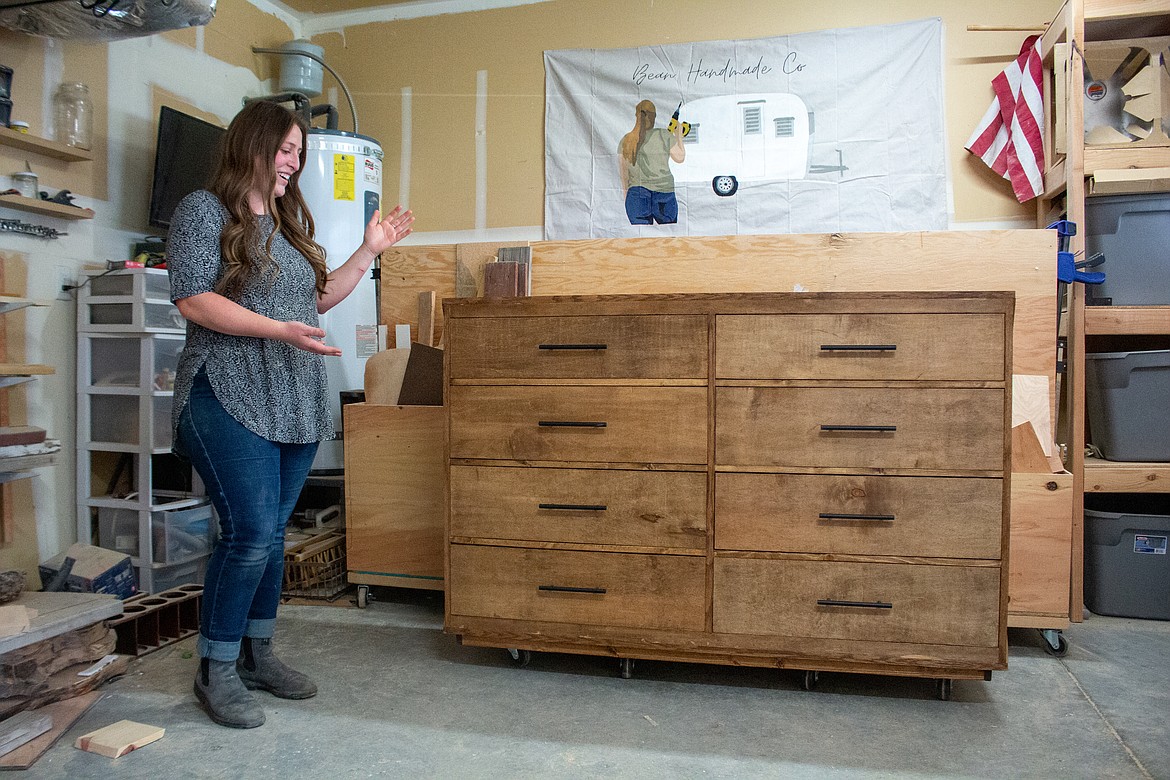 Nicole Case showcases a dresser she recently completed for an expecting coworker's nursery in her garage beside her home in Moses Lake on Tuesday afternoon.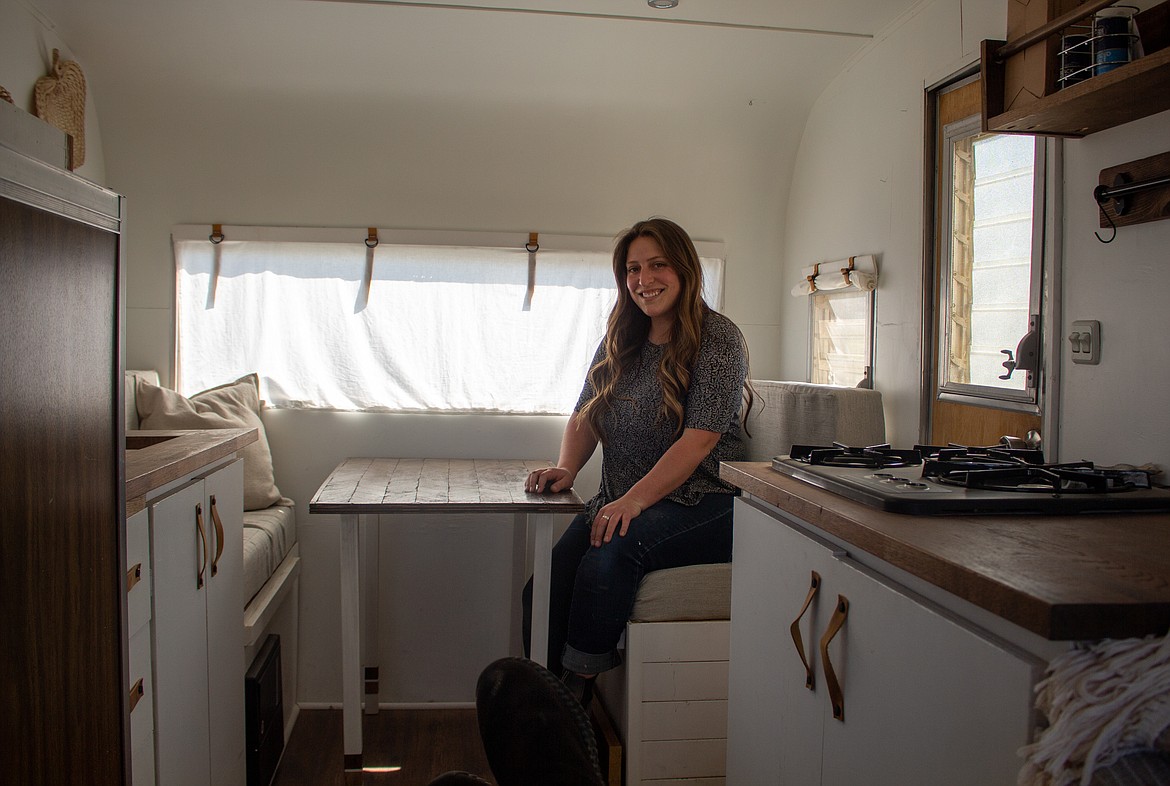 Nicole Case sits inside her recently remodeled camper trailer, nicknamed "The Bean," outside her home in Moses Lake on Tuesday afternoon.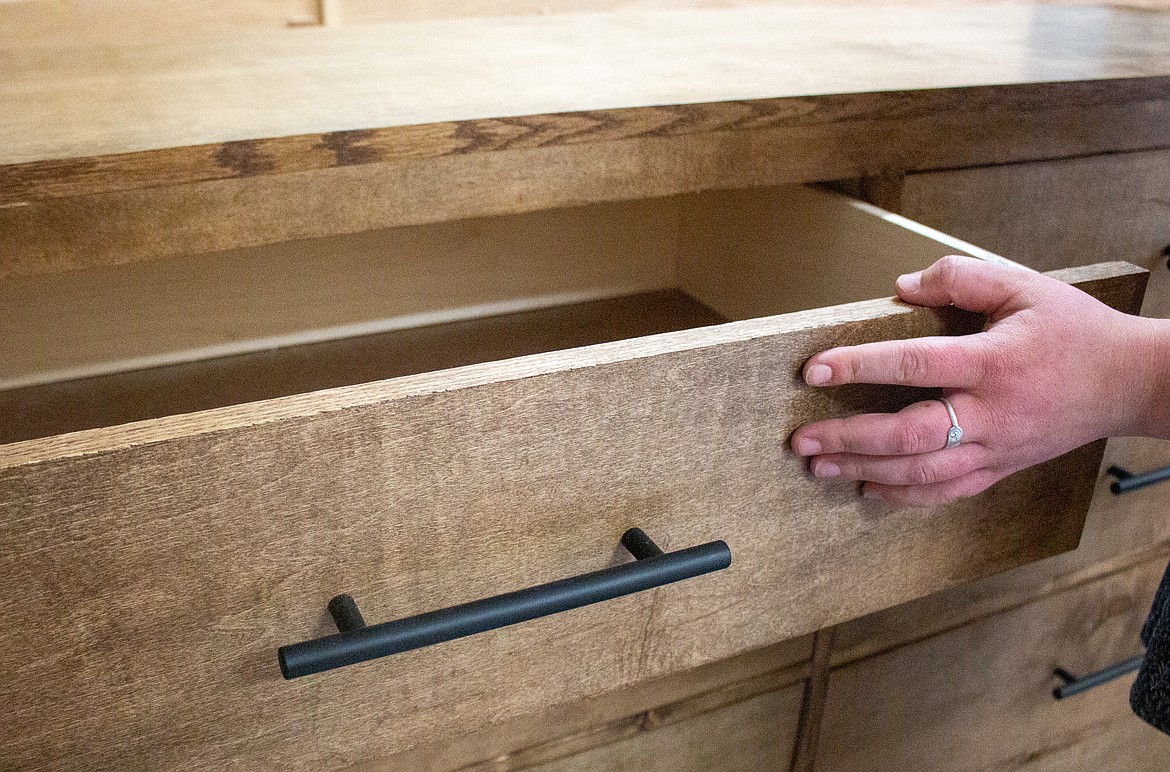 Nicole Case pulls out a drawer on a recently completed dresser in her garage in Moses Lake on Tuesday afternoon.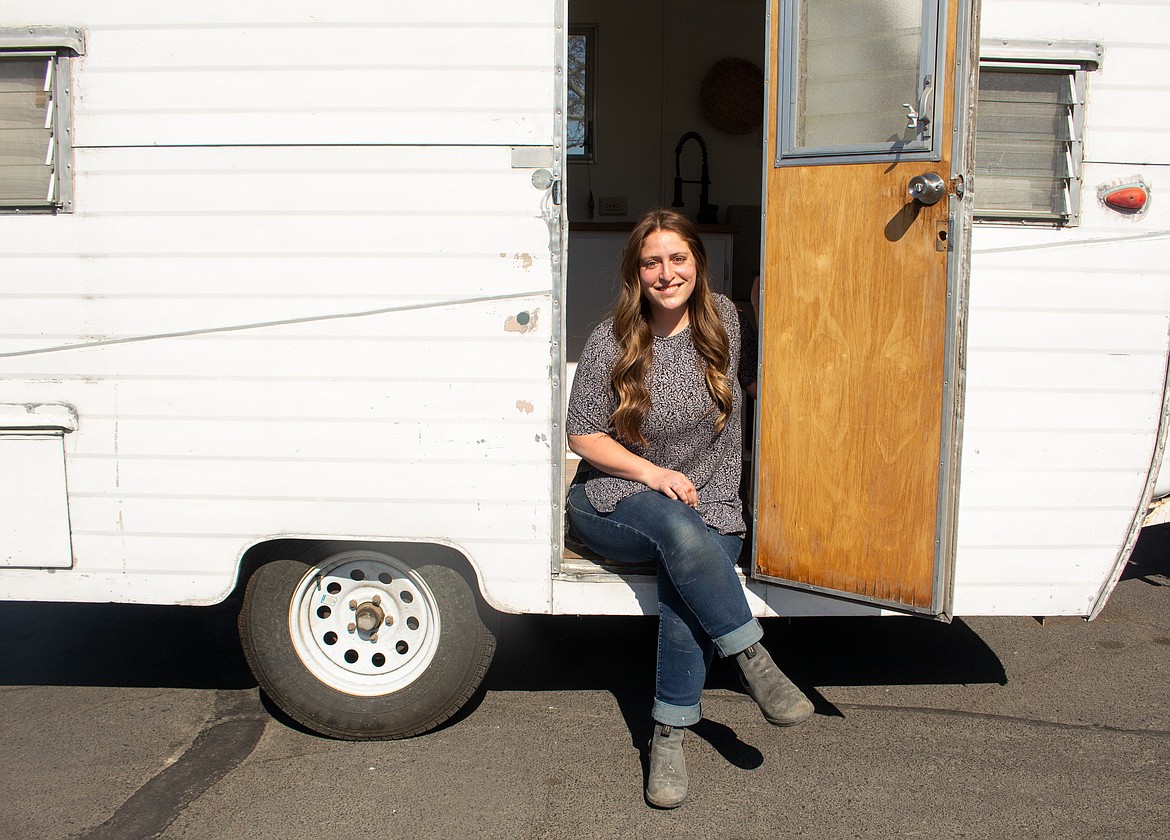 Nicole Case sits beside her remodeled camper trailer at Lower Peninsula Park in Moses Lake on Tuesday afternoon.
Previous
Next
by
CASEY MCCARTHY
Staff Writer
|
April 23, 2021 1:00 AM
MOSES LAKE — What started with a rebuild of a camper in the summer of 2019 has blossomed into far more than Nicole Case ever realized.
Case shared her 1961 RV camper rebuild project on social media after finishing the project last May. Through the traction from social media and people asking about custom projects of their own, Bean Handmade Co., a custom build and remodel business, was born.
The business's name came from her newly remodeled trailer, "The Bean," and a nickname, "Cocoa Bean," she had growing up. The inspiration for her own trailer rebuild came from a desire to spend time with her friends who were growing up and starting families.
She didn't want to worry about inconveniencing her friends if she came to visit or find a hotel room, and Case said she wanted the freedom to travel when she wanted.
"I have two dogs, I wanted to be able to hop in my truck, hitch up to the trailer and visit all of my friends for all these big moments that they're having and have my own home on wheels and not worry about inconveniencing them," Case said.
She said she grew up in California before moving to Washington about four years ago for a job. Her parents were pretty handy around the house and everyone in her family is artistic.
Case said it seems natural for her to work with her hands and she's always been a "hands-on learner."
"As I got older, if something got repaired or if I wanted something, like I wanted a chicken coop, well I'll just build one," Case said. "I kind of just started doing it; I didn't really learn from anyone; I didn't watch any YouTube videos; I kind of just started doing it."
After completing her rebuild of The Bean, she said she started to get a lot of requests about taking on some builds.
"People toward the end of the project started reaching out to me and asking if I would make things for them, specifically for their campers, trailers and RVs," Case said.
The new custom build and remodel business has grown far beyond working with campers and RVs. Case said she's done countertop pieces, custom cabinets, desks, tables and other projects around Moses Lake. She's done projects for people as far away as Texas, Florida and Washington, D.C., in addition to projects in Washington, Oregon and Idaho.
Case said she had the chance to renovate an old RV for a couple and would love to do more. She said building furniture and smaller projects has come easier since she can visualize the piece and configure it in her head.
"My RV I had to learn about the structural pieces of the trailer because there's a lot that goes into it," Case said. "They're built from the inside out, not the outside in, so you kind of have to mimic that."
Case added the RV and trailer projects are a lot more time-consuming and she doesn't want to limit herself to just that niche market, as her custom build business continues to take off.
Case works on projects in her two-car garage beside her home in Moses Lake, after she finishes her day at her full-time job as a raw scheduling specialist with Simplot Grower Solutions. With a full work week and being on call 24/7 with Simplot, she said she's got a pretty jam-packed schedule.
"My career job is very time-consuming and demanding, but I look forward to building," Case said. "It definitely has become my therapy, my hobby and my passion. Every day, I come home from work and I go straight to the garage and start working on whatever specific project I'm working on."
Case was recently highlighted on Begin RV's 2021 RV Influencer List with her Instagram account and will have a related interview from the section posted in the next few weeks. She said it was an amazing honor to be recognized.
As someone who doesn't live in or work with RV trailers full-time, she said she wasn't sure if she even deserved the recognition, but was super grateful for it. Case said she hopes, if nothing else, her works with Bean Handmade Co. inspire other people to not be afraid to take on repairs and projects themselves.
Case said it's been incredible to see her progress as a craftsperson in a short time. Working on a new dresser for a coworker's nursery, Case said she can see how far she's come since building her own cabinets for The Bean.
The Bean remains her favorite project she's completed and she said she'll still catch herself looking at it and wondering how she was able to do it. Case said she'd love to do her business full-time, but doesn't know when she'll have the courage to take the leap.
"I'd love to continue doing it until I hate it," Case said.
Casey McCarthy can be reached via email at cmccarthy@columbiabasinherald.com.
---