Sandra Zamora Flores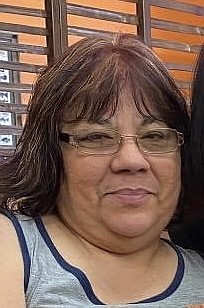 December 29, 1960 – April 14, 2021
Sandra Zamora Flores, a lifelong resident of Moses Lake, Washington, passed away on April 14, 2021, at the age of 60, due to complications of COVID-19.
Sandra, known as Sandy, is survived by her husband Alfredo Flores Sr.; children Audra Turner (Michael), Samantha Flores, Sonya Marie Gutierrez (Noel Dagoberto) and Alfredo Flores Jr.; parents Pete Jr and Gloria Zamora; siblings Sonia Mora, Shirley Mende (Michael) and Pedro Zamora III (Veronica); grandchildren Savannah, Quirino, Brooklynn, Alyson (Penny), Jeremiah (Miah), Dylan, Calob, Jaden, Noel Jr., Isaiah, Christian, Braden, Julian, Audrina and Keelin and other aunts, uncles, nieces, nephews and relatives. She was preceded in death by her in-laws Fernando Sr. and Maria Rita Flores, nephew Brandon Mende, brother-in-law Frank Mora Sr. and uncle Benito "Benny" Zamora.
Sandy was born in Carrizo Springs, Texas, on Dec. 29, 1960. Sandy followed her parents to Washington in 1962. She grew up in the Peninsula area and attended Moses Lake area schools, graduating from Moses Lake High School in 1979.
Sandy welcomed her firstborn, Audra, in 1981. Shortly after, she married the love of her life Fred Flores on Dec. 21, 1983. Later they welcomed three beautiful children of their own: Samantha, Sonya and Freddy.
Her children were the most important part of her life. She was a devoted wife, mother, grandmother, daughter and sister.
Sandy was employed by Aging & Adult Care as a caretaker and she loved her job. Sandy loved gardening and shopping but she never missed a step when it came to getting her pedicures. If you knew Sandy you know her as the life of the party at Tejano night. She was also the Dallas Cowboys' No. 1 fan.
When it came to her grandchildren she would move heaven and earth to make anything possible for them.
She will be deeply missed by family, friends and all who knew and loved her.
Services will be held privately for immediate family only on Thursday, April 22.
Flowers, donations and condolences can be sent to 2312 W. Willow St., Moses Lake, WA 98837.
Please express your thoughts and memories at www.kayserschapel.com. Arrangements are under the care of Kayser's Chapel of Memories of Moses Lake, Washington.
---