Rite of angling: Potholes Open takes to the water again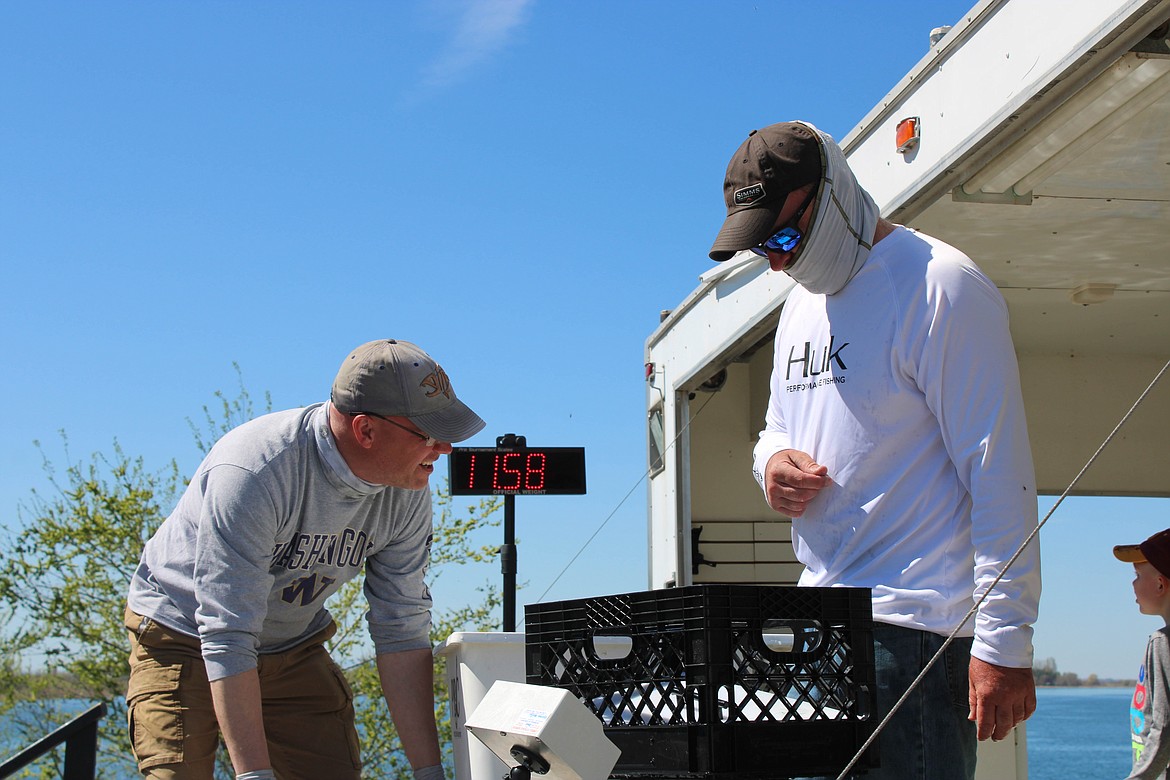 Jon Warner (left) weighs in his Sunday fish at the 41st Potholes Open.
Sam Fletcher/Columbia Basin Herald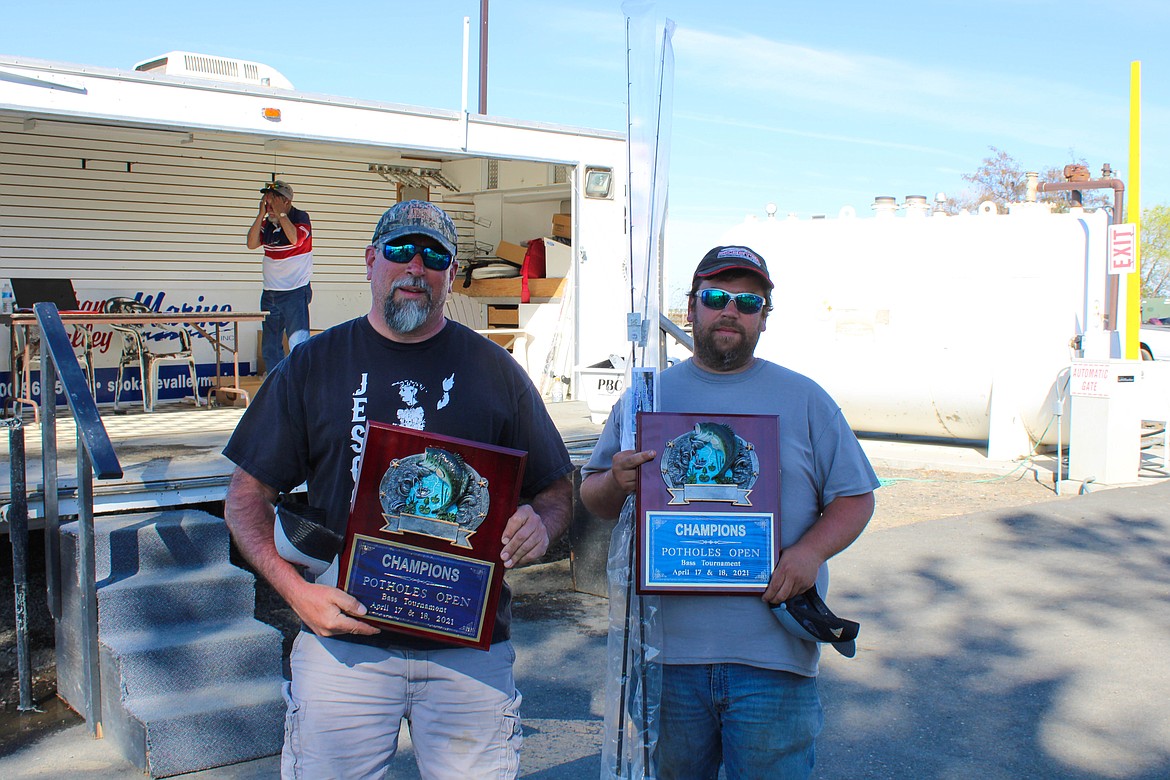 Lee Sims (left) and Ben Sims (right) took home the first place prizes at the 41st Potholes Open on Sunday.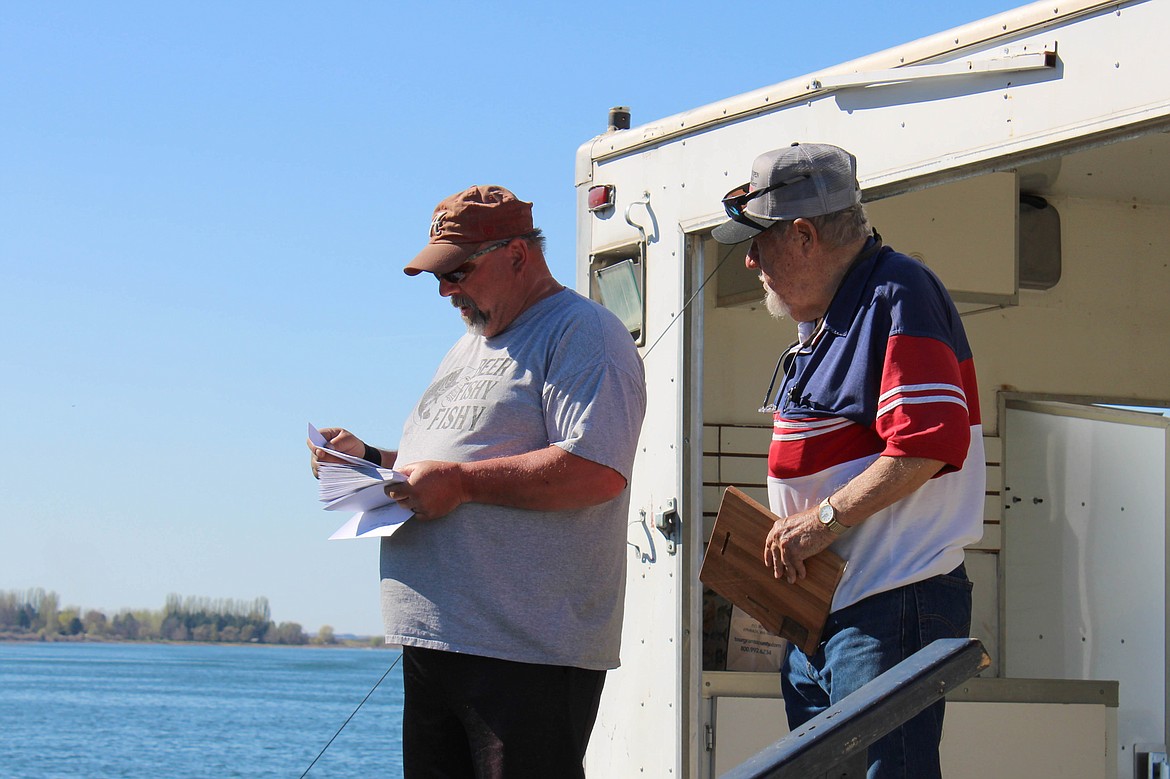 Potholes Bass Club president Paul Harmon (left) and treasurer Merle Armstrong (right) read of winners at the 41st Potholes Open on Sunday.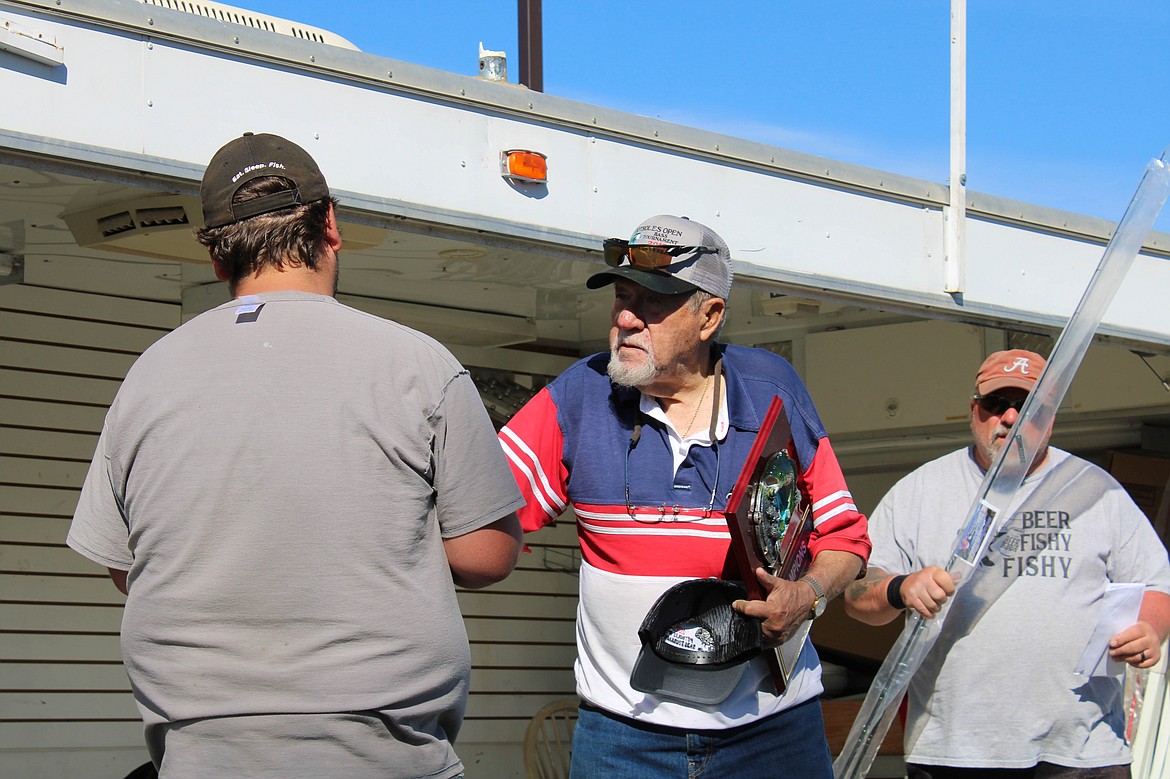 Ben Sims of Wenatchee accepts the first place plaque from Potholes Bass Club treasurer Merle Armstrong at the 41st Potholes Open on Sunday.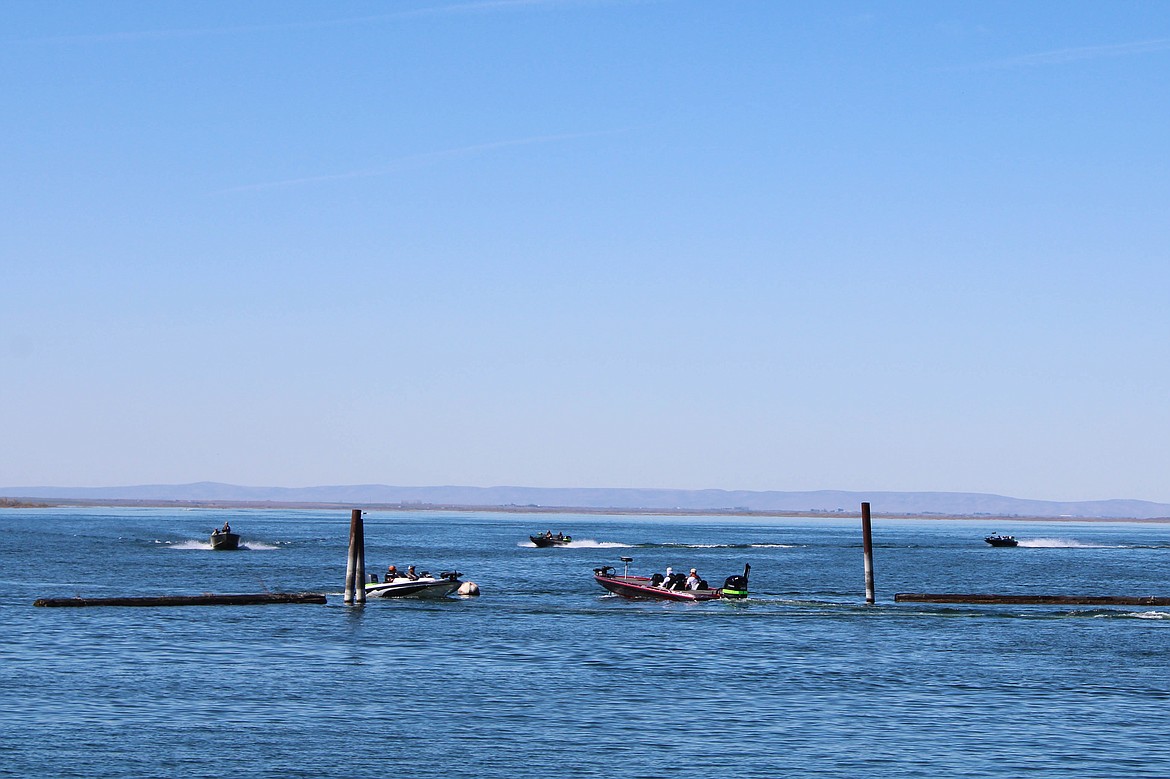 Boats returning to the dock to weigh in at the 41st Potholes Open bass tournament.
Previous
Next
by
SAM FLETCHER
Staff Writer
|
April 21, 2021 1:00 AM
Last year, the Potholes Bass Club made hats that read "2020 41st Potholes Open," just in time for fishing to shut down, due to COVID-19, two weeks before its tournament. This year, members took the same hats, added a "-21," and are back at it once again.
Because of last year's struggles, members are being very COVID-cautious, said club president and tournament director Paul Harmon.
While the club holds seven tournaments a year, Saturday and Sunday were its 41st year doing an open tournament, he said, meaning competitors don't have to be club members. Once the invitations went out, the first 150 boats to sign up got to fish.
Starting at 8 a.m., the boats staggered in 38-boat flights to begin the Potholes Open Bass Tournament.
"Both days were gorgeous," Harmon said. "(Saturday) there wasn't even a breeze."
The tournament is a fan favorite, he said.
"It's one of the most enjoyed fishing activities we do," said Mike Meseberg, owner of MarDon Resort, which hosted the event.
The reservoir, for unknown reasons, was lower for this year's tournament than ever before. This meant the fish were not in their usual places.
It also meant some different winners because of this, Meseberg said, as opposed to the same faces in other years.
"It's a new situation and the fishermen are adjusting well," he said.
A lot of younger people are in the game now, he said. It's one of the only tournaments where spectators can look out and see four decades of bass boats.
So many bass are spawning right now, anglers can see 10 fish before they get one to bite, Harmon said.
While the tournament doesn't give out big money like others, money isn't the biggest prize, he said. It's the tournament jackets.
"When you win, you and your partner get a jacket, and that is banty-rooster, puff-your-chest-up stuff; you get to strut with that, 'Yeah, I got the jacket,'" he said.
First, second and third place, which include the weight accumulation of five fish, get trophies, he said. First place gets a custom-made rod as well. The top 25 boats get cash prizes.
First place this year went to Lee and Ben Sims of Wenatchee, as did $1,000. Their top five fish weighed in at 34.86 pounds.
It was a great weekend, Harmon said.
"I'm excited just to do this again," he said. "It's been two years since we've had this. This is a tournament that you only get to see people once a year. We have people from the West Side, Idaho, Oregon, Montana that show up for this. So you get to see these people once a year, and when you see them you smile."

Recent Headlines
---