Cougars look to build on early test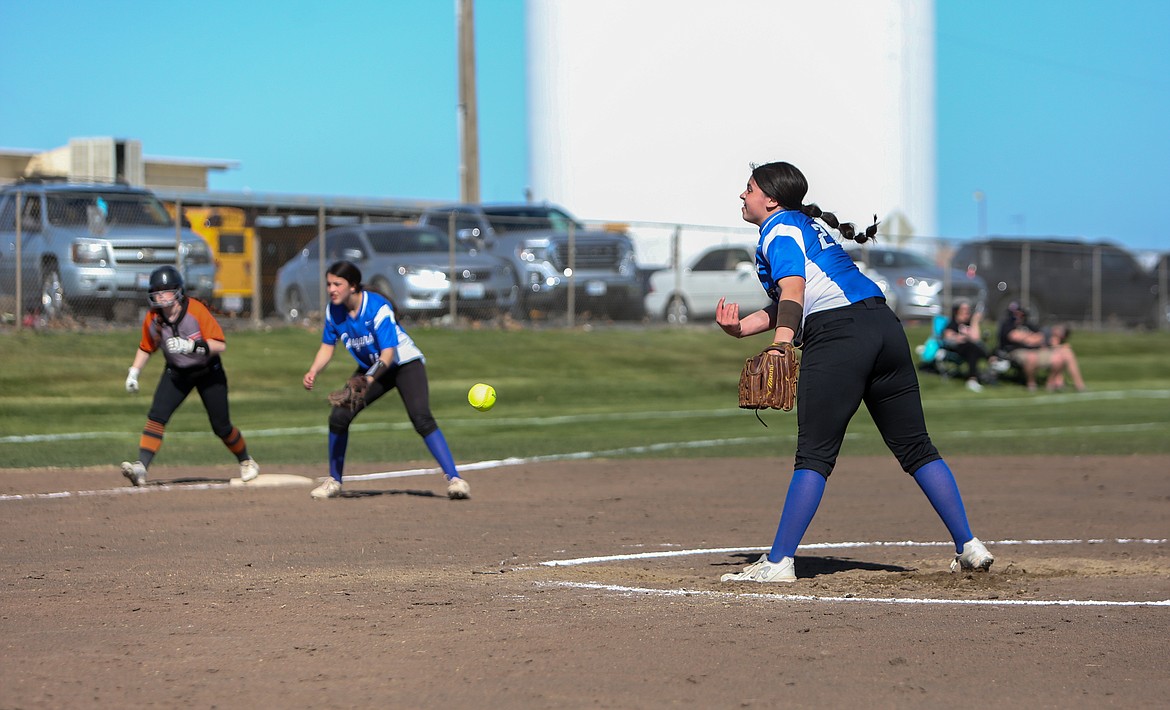 Warden High School's Alexsus Leinweber fires a pitch from the mound against Ephrata in the opening game of the doubleheader on Friday afternoon at Warden High School.
Casey McCarthy/Columbia Basin Herald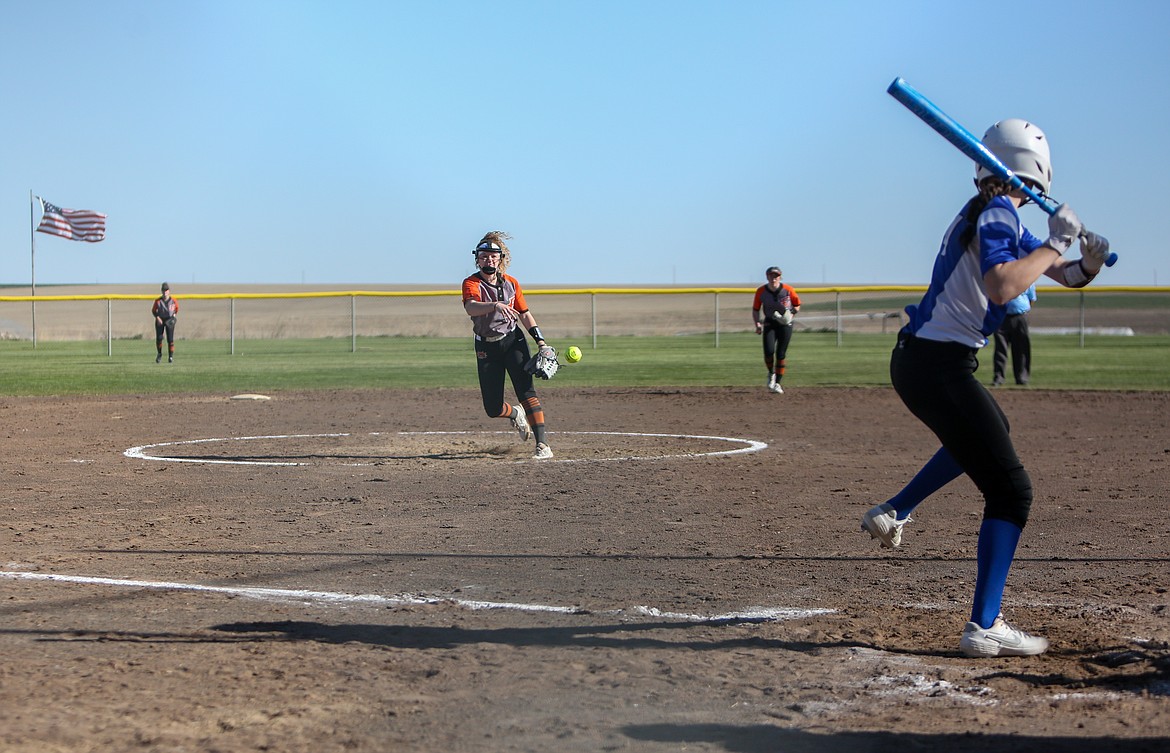 Warden's Jada Hernandez waits for the pitch from Ephrata's Rylee Peters in the first game of the doubleheader on Friday afternoon at Warden High School.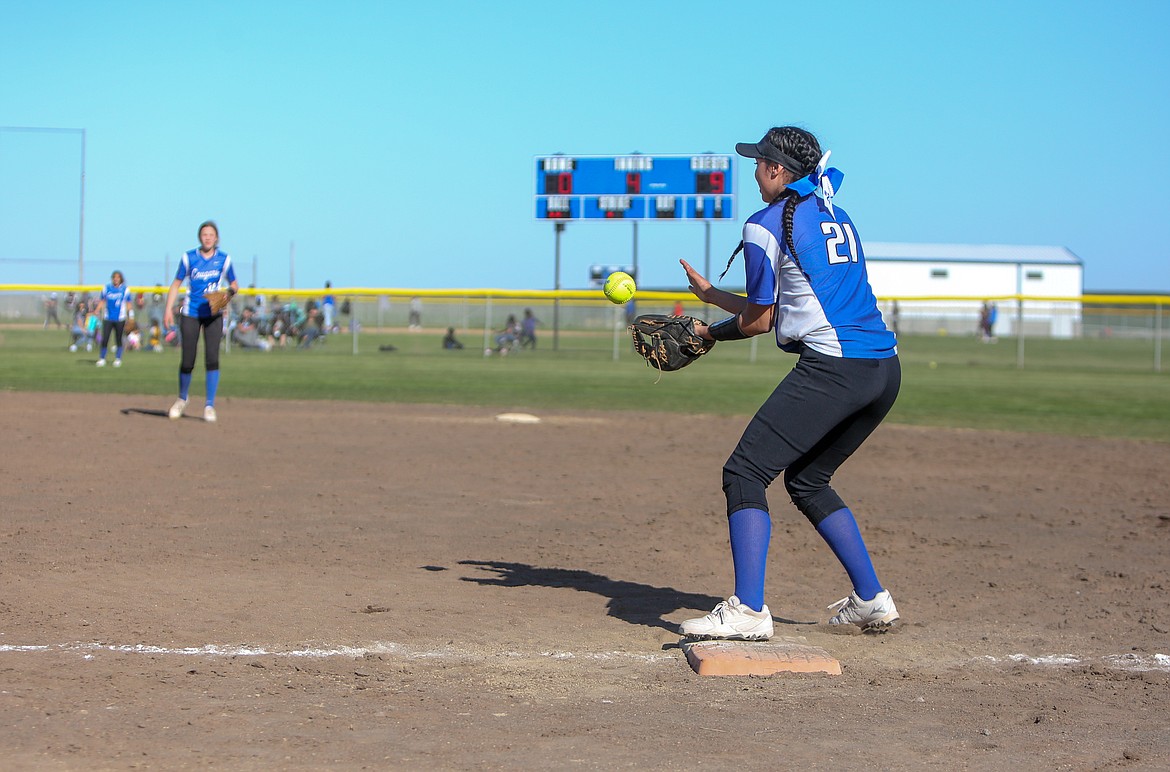 Jlynn Rios makes a catch at first base for the out in the doubleheader series versus Ephrata High School on Friday afternoon at Warden High School.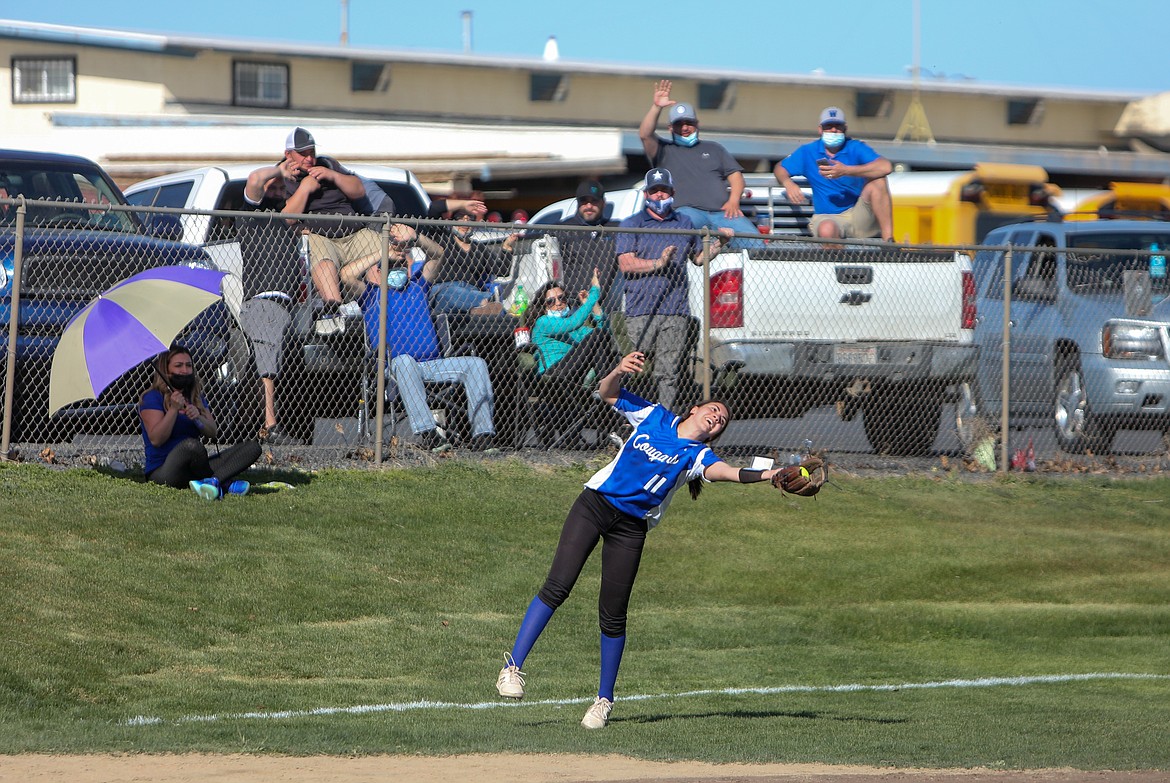 Warden's Aliza Leinweber adjusts to make the catch on a fly ball just off the third base line against Ephrata High School on Friday afternoon.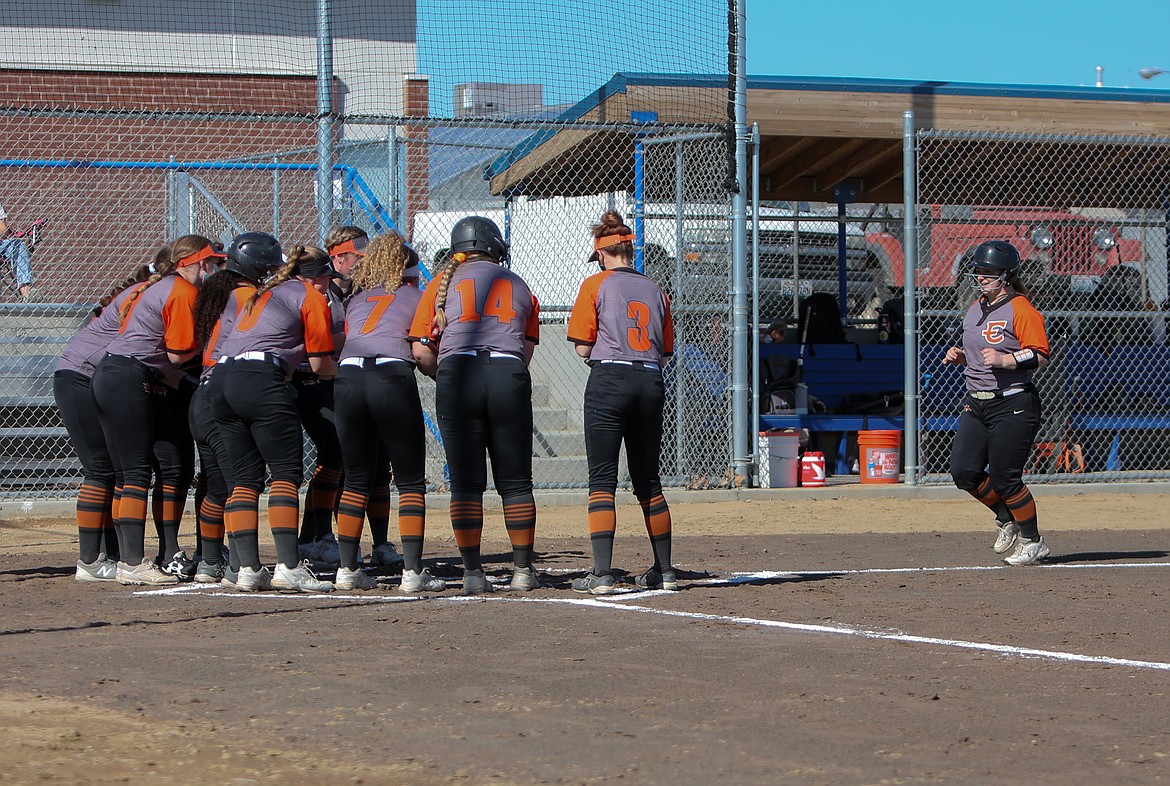 Ephrata High School softball players wait at home plate to celebrate with Kylar Heston (10) after knocking a home run on Friday afternoon at Warden High School.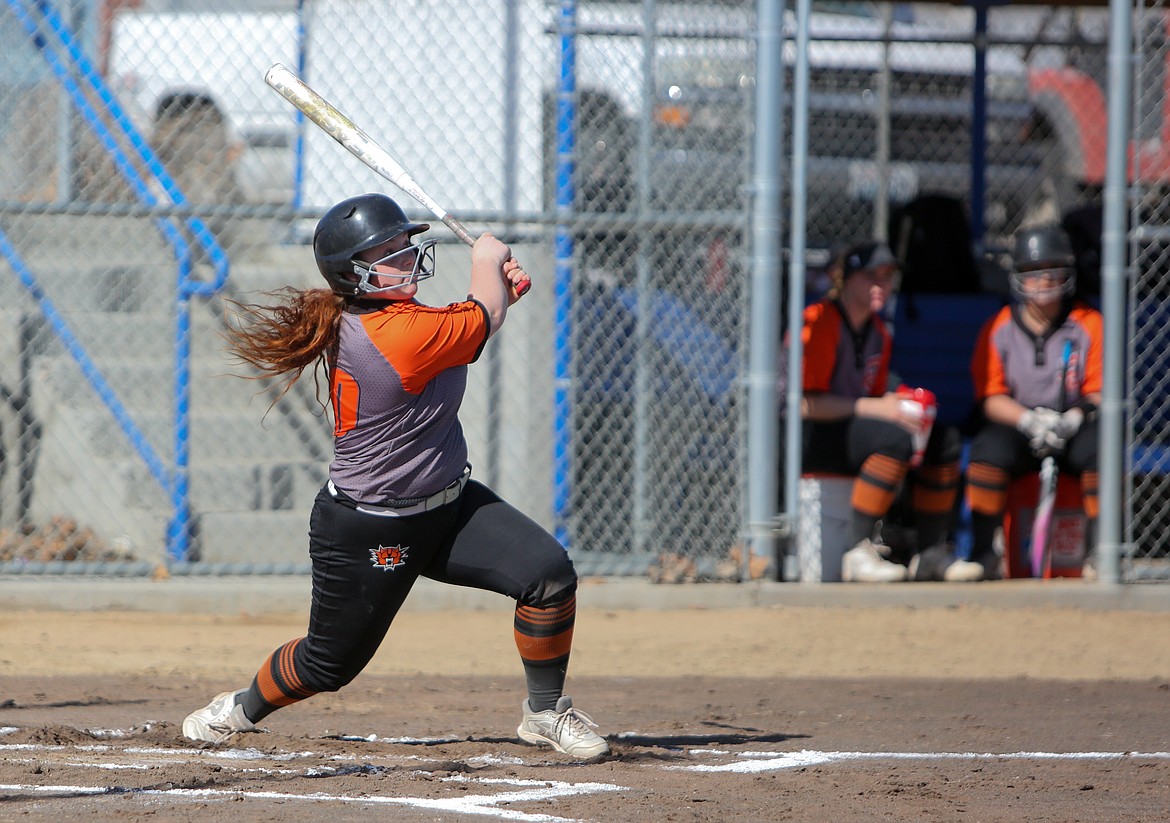 Ephrata's Kylar Heston watches the ball after knocking a shot deep against the Cougars at Warden High School on Friday afternoon.
Previous
Next
by
CASEY MCCARTHY
Staff Writer
|
April 21, 2021 1:00 AM
WARDEN — The Warden High School softball team opened its spring season Friday afternoon with a doubleheader against visiting Ephrata High School.
Ephrata won both games, 10-0 and 3-0.
In the first game, the Tigers logged a dominant second inning, pouring in 10 runs.
The Cougars stifled Ephrata for much of the rest of the game, but couldn't get their bats going.
Kylar Heston finished 3-3 from the plate for the Tigers, with a pair of doubles and a home run in game one.
Rylee Peters tossed five strikeouts and surrendered three hits for Ephrata.
In the second game, the Tigers scored three times in the first inning for an early lead.
Jocelyn Eisen gave up just one hit, with four strikeouts and no runs earned.
Warden freshman Lauryn Madsen pitched the entire game, surrendering three runs in the first inning before finding her rhythm with nine strikeouts.
Head coach Wes Richins said he is really proud of his team's effort against a tough opponent like Ephrata. Defensively, he said, most of the damage in both games came in just one inning, with the Warden defense holding strong the remainder of the game.
"They'd already played, and that makes a legitimate difference," Richins said. "Both their pitchers played really well, and they have a formidable lineup with big bats."
Offensively, Richins said, the Cougars didn't hit the ball particularly well. He pinned some of the issues to early season nerves. That's what first games are for, he said, to figure out where the team is, something that's even more important when it includes a lot of freshmen and sophomores.
Richins said the bout with Ephrata was a good test of where his team is at and what it can work on during the first few weeks. He added playing in the North Central Washington Region means the schedule won't get any easier, with tough squads like Moses Lake and Wenatchee ahead.
"We're excited, though; we're excited to be able to play those teams, go to Wenatchee, Eastmont, Moses Lake, Ephrata," Richins said. "This is going to be a really good test for us, and we're going to take some lumps and bruises. But we'll get better for it."
Richins said the Cougars have another matchup with Ephrata in a few weeks, and he hopes to be able to show off some improvement and growth then.
"Just gotta stay healthy," he said.
Ephrata remains unbeaten at 3-0.
Casey McCarthy can be reached via email at cmccarthy@columbiabasinherald.com.
---